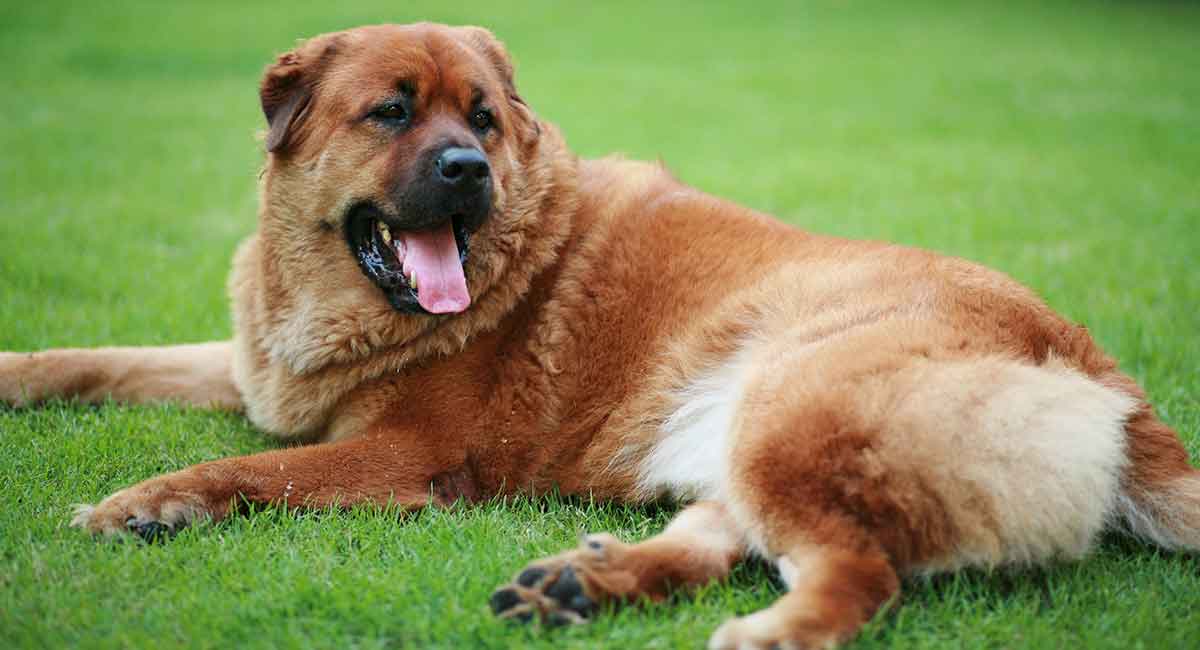 Chow Chow mix puppies can be as adorable as their Chow parent.
But they can be very different too.
It all depends on who they are combined with!
The Chow Chow is a powerful dog.
They can grow up to 21 inches tall, and weigh between 44 and 70 pounds.
Chow Chows need good early socialization and positive reinforcement training.
They can be strong-willed and have a history as working dogs.
But if you throw something else into the mix, the results can be very different.
The Chow Chow
The Chow Chow is a member of the Chinese breed group.
The breed is one of the world's oldest, and has been around for over 2,000 years. It dates back to the ancient Han Dynasty in 150-206 B.C.!
These pups were originally bred for use as a sporting dog and were used by the Chinese aristocracy to hunt game birds.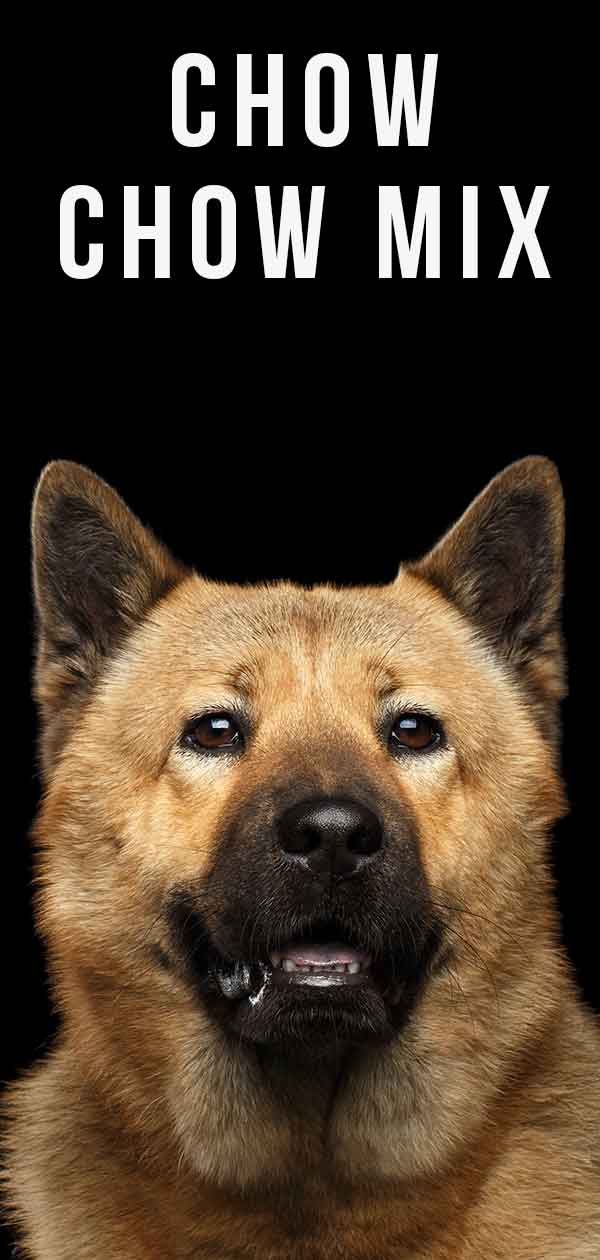 The Chow Chow is sturdy and well-built with a characteristic high-set tail.
These pups have large, square heads and short, deep muzzles.
One of the Chow Chow's unique features is a blue or black tongue!
They can be solid-colored, or they may have patches of color.
Chow Chows have a double coat. The undercoat is soft, and the top coat is either rough or smooth.
But what can you expect from a Chow Chow mix?
The Lab-Chow
As you've probably guessed, the Lab-Chow is a cross between a Chow Chow and a Labrador Retriever.
The Labrador Retriever is a medium-sized dog with a great temperament.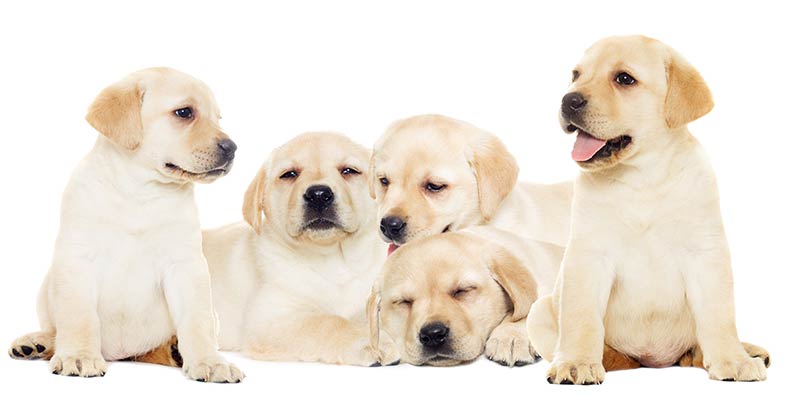 Friendly, calm, and easily trainable, Labs make wonderful family pets and are also awesome working field dogs.
The Lab-Chow is a calm, even-tempered mix that makes a good family dog.
They are excellent guard dogs, and bark to alert you to the presence of strangers around your home.
Lab-Chows have dense, fluffy coats that require frequent grooming.
They have the furry mane of the Chow Chow with the long face of the Lab.
These are big dogs, weighing up to 70 pounds. They also need lots of outdoor play and exercise.
If you take on one of these pups, you can expect your new fuzzy, furry friend to be around for between 9 and 12 years.
The Chusky
The Chusky is a mix between a Chow Chow and a Siberian Husky.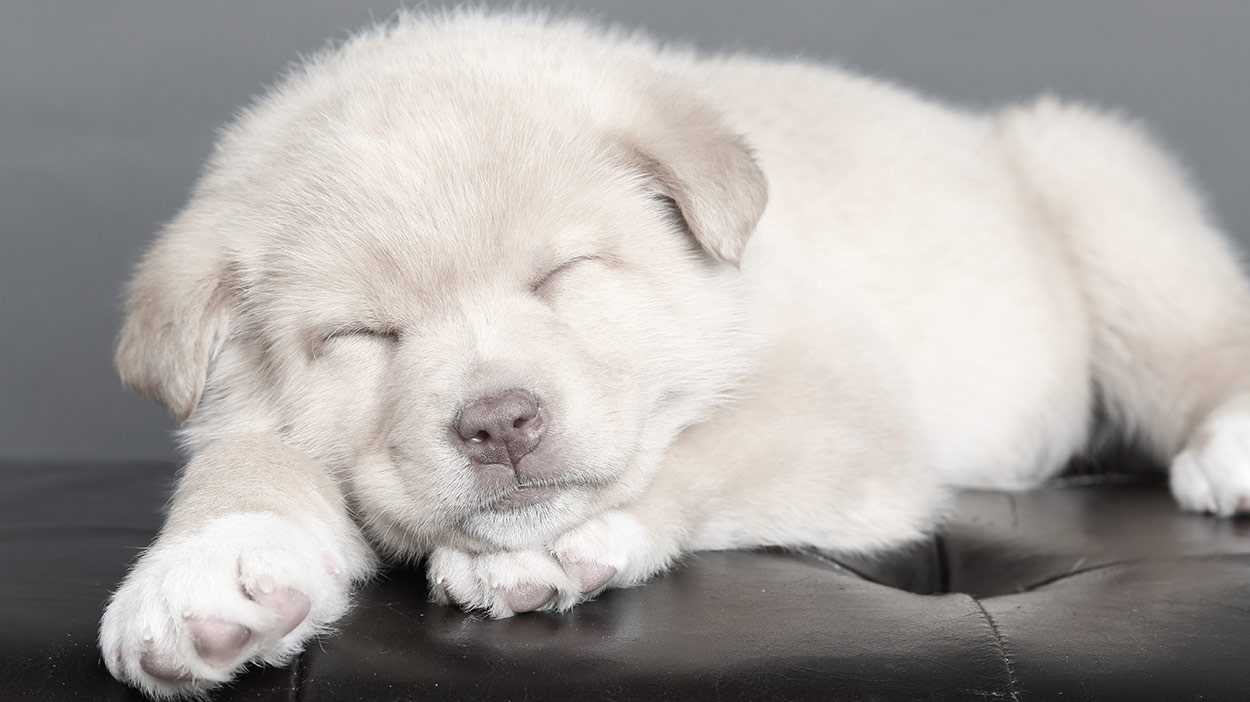 The Siberian Husky is a traditional working dog that hails from the frozen north where it was used for transporting heavy loads of goods and provisions between settlements.
Huskies make devoted pets but will require early socialization if they're to mix well with other pets.
Chuskies are highly intelligent, playful dogs that can be very protective of their human family. They do get on well with other dogs provided they are well-socialized as puppies.
Both the Chow Chow and the Husky are working breeds, so that the Chusky will need lots of stimulation and a moderate amount of exercise.
A full-grown Chusky can weigh up to 65 pounds.
Chuskies have black noses and faces that are typically more like a Husky than a Chow Chow.
If you take on one of these pups, you'll need to be prepared for some heavy shedding!
And you'll need to have your Chusky's thick coat trimmed by a professional groomer during hot weather.
You must be prepared to groom your Chusky's heavy, double coat at least twice a week to keep it in good condition.
Some Chuskies may suffer from a rare dental condition that causes teeth in the middle of the sides of the mouth to be missing.
The Chow Pei
The Chow Pei is a cross between a Chow Chow and a Chinese Shar-Pei.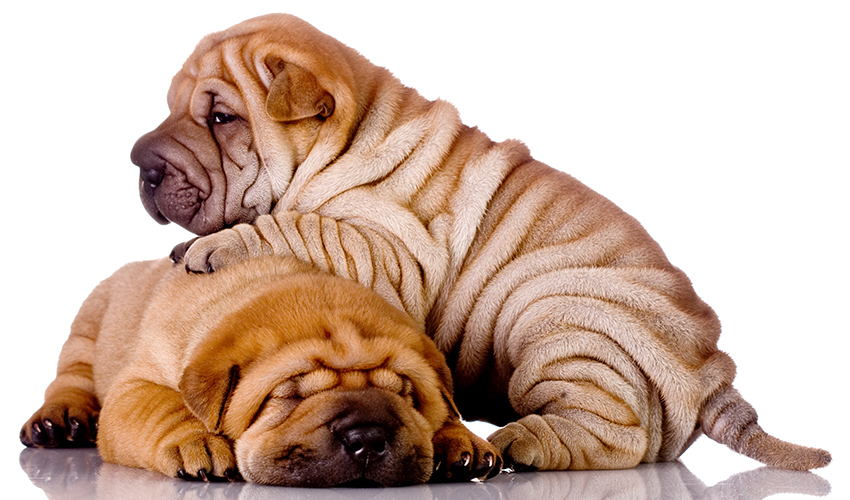 The Shar-Pei hails from Canton, China. The name is thought to be derived from the Cantonese word, meaning "sand skin," referring to the breed's short, rough coat.
The Shar-Pei was initially bred to be a herding and guarding dog.
The Chow Pei is an intelligent dog with a regal, dignified persona. These pups make great family dogs and are good with children if they are treated correctly.
The Chow Pei typically has a long, soft coat that requires regular brushing.
This cross-breed requires plenty of exercise every day but is equally happy living the city or country life.
Often, this Chow Chow mix has loose, wrinkled skin on their head and neck, resembling a Shar-Pei head on a Chow Chow body!
These are medium-sized dogs, reaching around 20 inches tall and weighing up to 60 pounds.
Although the Chow Pei can live to be 15 years of age, he may suffer a few health problems during his lifetime.
The Chow Pei can be prone to entropion. This condition requires attention from a vet every few weeks, although it may be corrected by surgery.
The Chow Hound
The Chow Hound is a cross between a Chow Chow and a Basset Hound.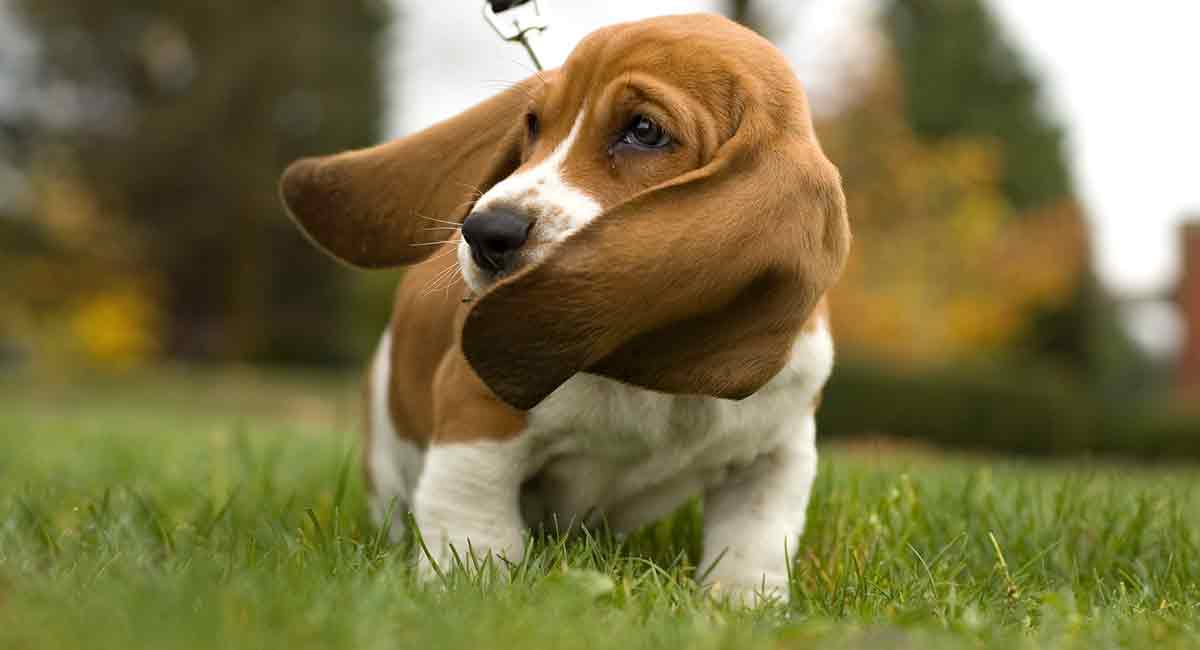 The sweet-tempered, affectionate Basset Hound is short-legged and floppy-eared, making a great family pet. The Basset is a scent hound, originally bred for hunting hares.
This cross-breed pup makes a beautiful family dog, and they're usually great with kids!
The Chow Hound is a smart, friendly dog that makes a perfect companion.
This breed is small in stature, like a Basset hound.
The fur is soft like the Chow Chow and takes moderate grooming to keep in good shape. The Chow Hound can be brindle or brown.
This cross-breed Chow Chow mix doesn't usually inherit the short, flat face of the purebred Chow Chow and generally enjoys good health, living to around 14 years.
The Chow Shepherd
The Chow Shepherd is a cross between a Chow Chow and a German Shepherd.
The German Shepherd, or GSD as fans of the breed fondly call them, was bred as a herding dog.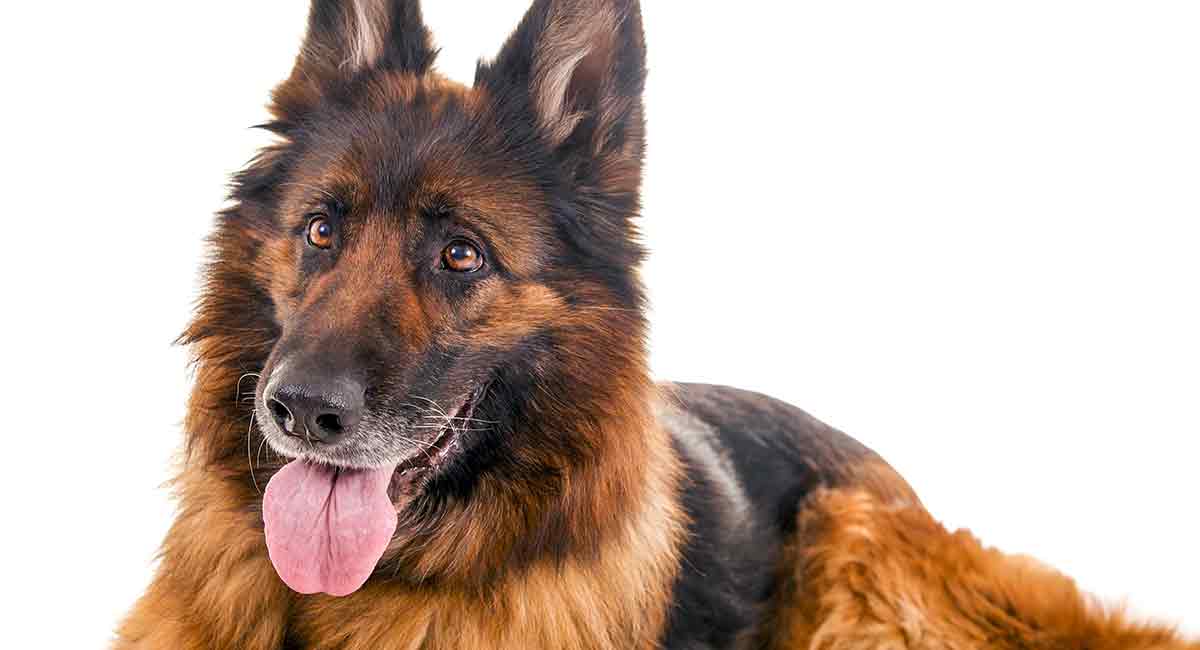 Nowadays, the GSD is used as a working dog by police forces and militaries around the world.
The GSD is fiercely loyal and highly trainable. They make great family dogs, but they will also guard their human family and property fiercely.
The Chow Shepherd is an intelligent, reserved personality with an independent spirit.
These pups are protective like a German Shepherd, but friendlier with strangers than a purebred.
If you have other pets, a Chow Shepherd might not be the best dog for you. These pups can be okay with children, but some may tend to be short-tempered and snappy.
The Chow Shepherd would make a great dog for a single person or a couple.
You'll need to brush your Chow Shepherd regularly, especially when they're shedding during the summer and winter.
They have long, thick coats that can be coarse and profuse.
The Chow Shepherd needs about half an hour's exercise every day.
These are quite big dogs, reaching 23 inches tall and weighing around 80 pounds. They are sturdy, powerful, and muscular in build.
Generally, these dogs are very healthy, with a life expectancy of around 12 years.
The Pitchow
The Pitchow is a cross between a Pit Bull and a Chow Chow.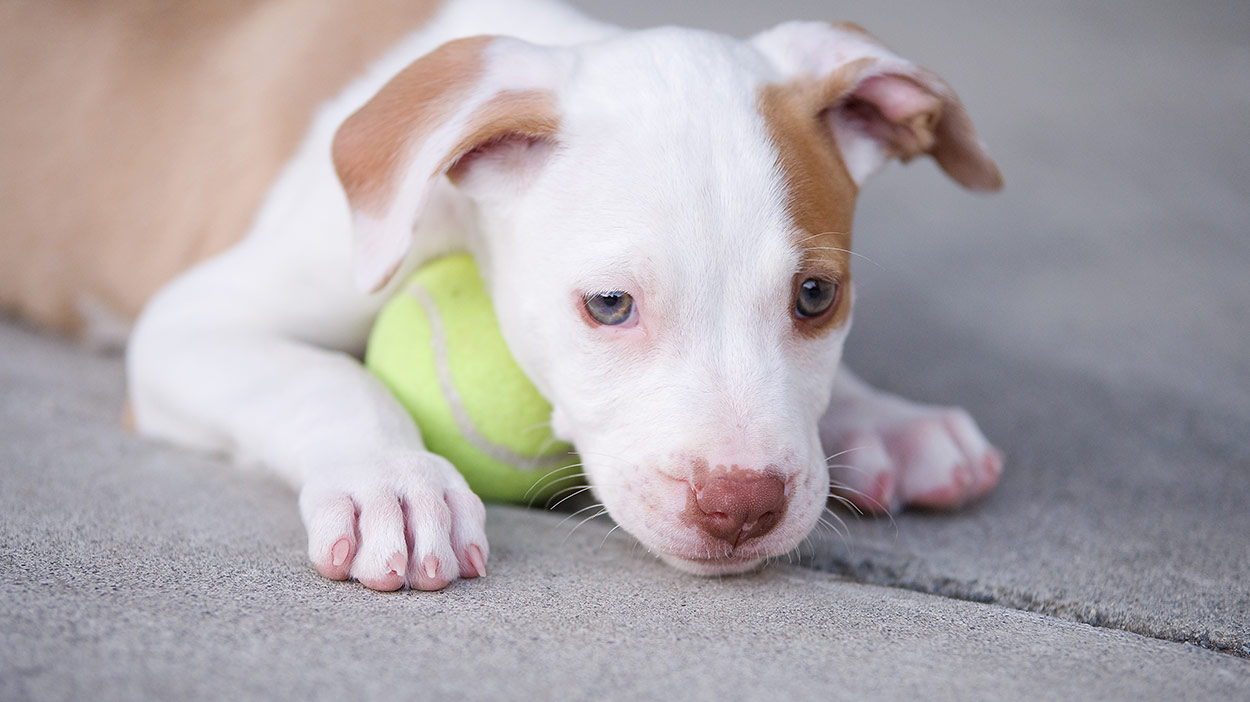 The American Pit Bull Terrier had its origins in the British Staffordshire Bull Terrier and was used in the 1800s for blood sports such as bull baiting.
When such sports were banned, the Pit Bull was used in the U.S. to catch semi-wild cattle and hogs, to drive and hunt livestock, and as a family companion.
Pitchows are typically playful and independent.
Although they are good with members of the human family, they can be very wary of strangers and are not always great with other dogs.
They will tolerate kids but prefer not to be bothered by them.
The Pitchow's coat can be either short or fluffy, depending on which parent your puppy takes after.
Pitchows need plenty of exercise, and many enjoy swimming.
The Pitchow is best-suited to a home with plenty of space and a yard to run in. These are big dogs, weighing up to 50 pounds, and consequently, they don't do well in small apartments.
Pitchows have a slightly shorter muzzle than that of a Pit Bull, but they don't fall into the flat-faced breed category with its associated health problems.
The Pitchow's jaw is wide, and his tongue is often long and purple like that of a Pit Bull.
The Pitchow's coat can be the classic Chow Chow red shade, red with Pit Bull markings, or a rich brindle. Coat length varies between the short Pit Bull coat and the long Chow Chow fur.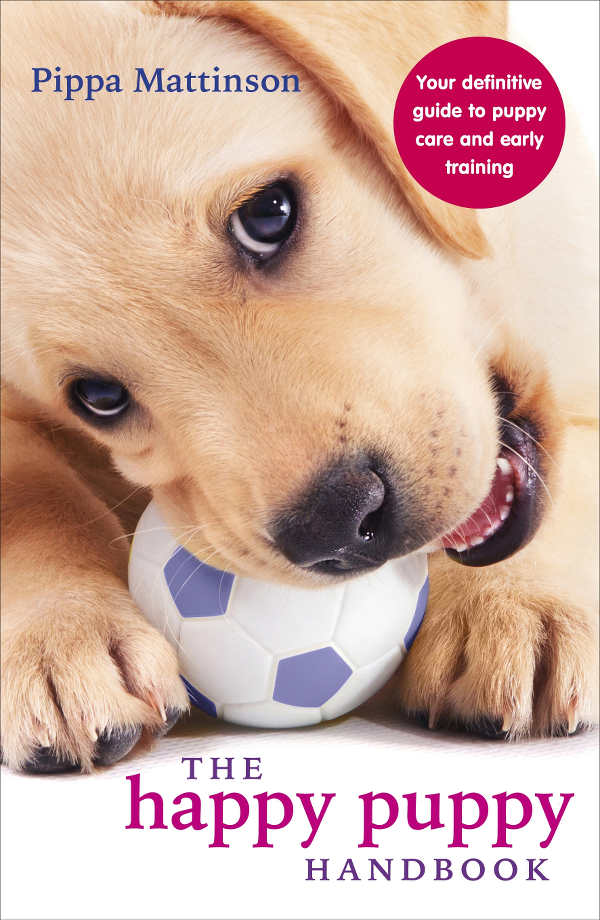 Chow Chow health
The Chow Chow has deep-set eyes and its face is covered by folds of skin, which can cause eye problems.
When you buy a Chow Chow mix you risk taking on these problems too.
Other common health issues that may affect this breed include:
The Chow Chow is also classed as a brachycephalic breed. These flat-faced dogs can suffer from compromised breathing and are prone to overheating.
However, many vets class Chow Chows as mesocephalic dogs.
That means their heads are medium length, rather than flat.
It's important to bear all these potential health issues in mind when choosing a Chow Chow mix breed dog.
Mixed breeds can inherit the characteristics and health problems of either or both parents.
You can't tell exactly how your puppy will turn out, so be very wary of choosing a cross between a Chow Chow and another dog breed with a flat face.
Chow Chow Mixes
All cross-breed dogs will inherit some of the looks, personality, and health problems that affect both their parents.
Chow chows are not the friendliest of dogs around small kids.
They won't appreciate a rough and tumble game and are best in a home with no children or with older kids who understand how to treat a dog correctly.
Bear this in mind when choosing a Chow Chow mix if you have children in your household.
Is A Chow Chow Mix Right For Me?
Many Chow Chow mixes make great pets, but they can be intolerant of small children and other pets.
The size, temperament, and looks of your Chow Chow mix will depend on which of his parents he most takes after.
Before deciding to take a Chow Chow mix puppy home with you, be sure to ask to see his parents.
Also, you should ask the breeder to show you any veterinary certificates that are available for conditions such as hip and elbow dysplasia.
If either parent has a history of either of these conditions, it would be best to look elsewhere.
Do you have a Chow Chow mix?
If you do, we'd love to hear all about him! Please share your story in the comments section below.
References and Resources