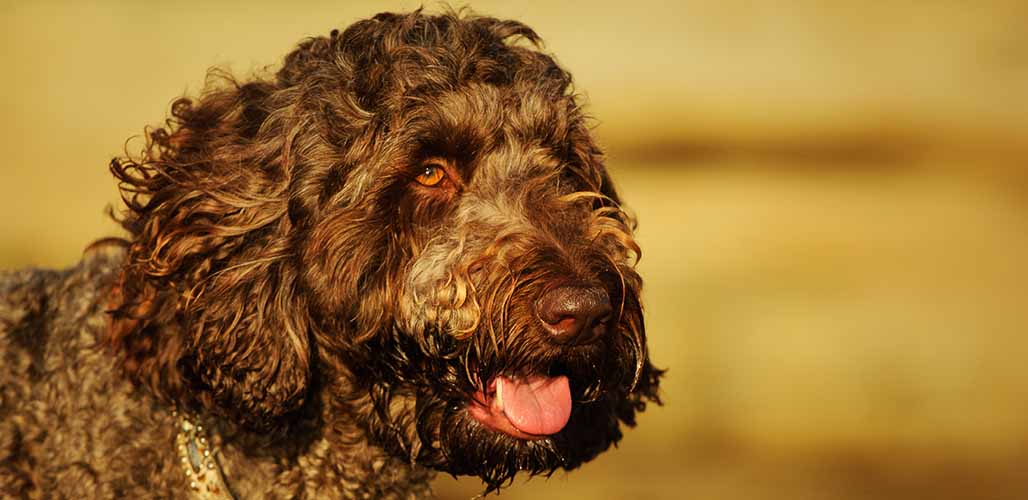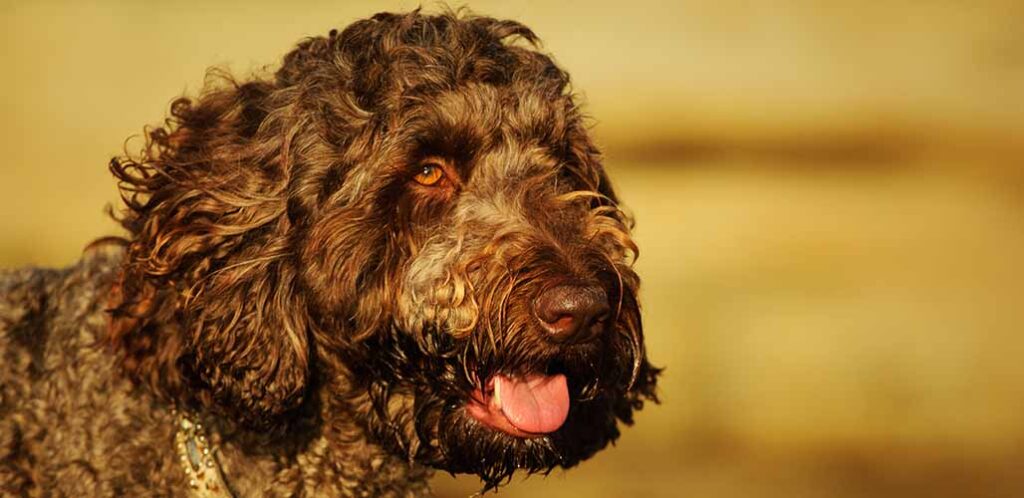 The chocolate Goldendoodle is one of my favorite shades for a Poodle Golden Retriever mix! Chocolate coloring is a rich shade of brown. In the Goldendoodle, chocolate coloring is usually passed down from the Poodle parent. The chocolate Goldendoodle's distinctive brown coat might make them stand out from other Goldendoodle variations, but they are no different in terms of size, temperament and health. So, is the chocolate Goldendoodle the right choice for your family? In this guide, I'll explain everything you need to know about this mix to help you find out!
Contents
What is a Chocolate Goldendoodle?
Goldendoodles are designer dogs. They are a mix between the Poodle and the Golden Retriever. Depending on the size of the Poodle parent, Goldendoodles can be miniature, medium or standard-sized. They also have a large variety of colors, including chocolate.
The term "chocolate" describes the brown coat color range and comes in various shades. But the most popular is a dark chocolate color. In some chocolate Goldendoodles, silvering can occur, causing silver beige or cafe au lait coloring. As they carry the chocolate gene, chocolate Goldendoodles have liver-colored lips, nose, eye rims and paw pads, instead of black. Aside from their coloring, these Goldendoodles will be just as loving and affectionate as any other shade!
How do Chocolate Goldendoodles get Their Color?
Chocolate coloring in dogs comes from a recessive gene. This means Goldendoodle puppies must inherit it from both parents to express chocolate fur. However, Golden Retrievers do not possess the chocolate gene. So, breeding them with a chocolate Poodle does not produce a chocolate Goldendoodle.
First-generation Goldendoodles (purebred Poodle x purebred Golden Retriever) only possess one copy of the chocolate gene. So they do not express the chocolate color. To get chocolate fur, breeders will backcross an F1 Goldendoodle with a chocolate Poodle, or mix them with another, previously established, chocolate Goldendoodle. Backcrossing to a Poodle makes it more likely to inherit other Poodle-like qualities. So, you might notice that chocolate Goldendoodles tend to have curlier fur than some yellow shades!
Are Chocolate Goldendoodles Rare?
Chocolate Goldendoodles are not the most common shade for this mix. It can take several generations of breeding before the color is well established, so some breeders may avoid it and stick to golden puppies. But, other breeders may specialise in producing brown Goldendoodle puppies. So, don't give up if your heart is set on this shade!
Chocolate Goldendoodles might be uncommon, but they're not as rare as some other Goldendoodle colors. Options like blue, silver, and gray are very hard to come across.
Chocolate Goldendoodle Coat Types and Grooming
Goldendoodles can have three coat types: straight, curly, and wavy. Each of these different coats has different grooming requirements. As a general rule, chocolate Goldendoodles tend to have wavy or curly fur. This is because breeders usually have to backcross puppies to a purebred Poodle to achieve the genes for chocolate coloring. However, you may be lucky enough to stumble across an uncommon chocolate Goldendoodle with straight fur.
The curlier a Goldendoodle's fur, the more you will need to groom them. So, a straight coat type requires regular brushing, but won't need as many expensive trips to a professional groomer. Curly coat Goldendoodles need to be brushed multiple times a day to prevent painful tangles and knots. Clipping and trimming their coat regularly by a professional groomer makes them cleaner and more manageable. And wavy-coat Goldendoodles are somewhere in between. They need regular brushing, but not quite as much as curly coat Doodles.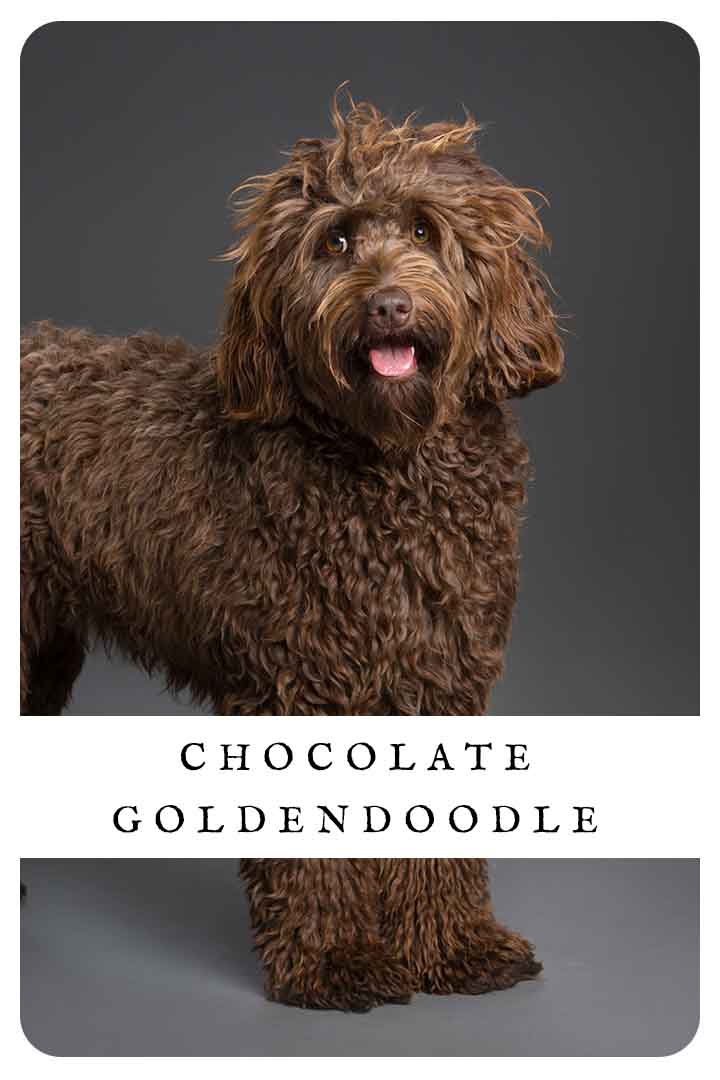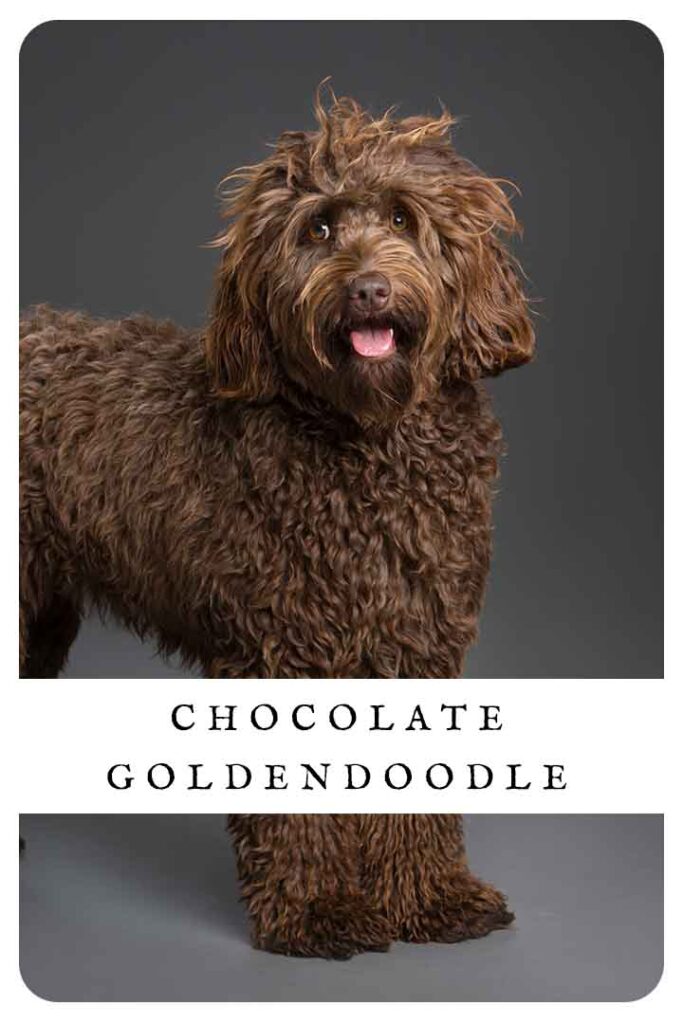 Shedding and Allergies
The straighter your Doodle's fur, the more it will resemble the Golden Retriever, and the more likely it is to shed. This means curly and wavy coats are in high demand. Aside from the adorable teddy bear appearance, these coats shed less, and any loose hairs get caught in your dog's curls.
This can also make them ideal for people with allergies. The proteins which trigger allergy symptoms are not found in dog hair. Instead, they're in dander, saliva, and sweat. But, dander and saliva-coated hairs will be trapped in curly coats when they shed, rather than falling around your house. So, you may find your allergies are not so bad with a curly-coated Goldendoodle.
Since chocolate Goldendoodles are often backcrossed to Poodles, they are more likely to have wavy or curly fur. This means they are less likely to shed than golden puppies with straight coats. But, they also tend to have high grooming requirements, which will take up a lot of your time.
How Big Will a Chocolate Goldendoodle Get?
The great thing about chocolate Goldendoodles is they come in various sizes, giving you more options to suit your home and lifestyle. Goldendoodles can be standard, medium, or miniature, depending on the size of their Poodle parent.
Standard Goldendoodles are the largest of these three, and miniatures are the smallest. However, all three sizes will be energetic and will have high mental stimulation needs. So, make sure you can provide the right space and care for whichever size variety you choose.
Chocolate Goldendoodle Temperament and Personality
One of my favorite things about this mix is their temperament. Goldendoodles are renowned for being extremely affectionate and intelligent. They love people, are patient and tolerant of children and get along with other pets. If you want a guard dog or a watchdog, a Goldendoodle is no good as it is highly likely they would befriend an intruder!
It's important to train and socialize your Goldendoodle well from a young age to encourage the best possible personality. This will also help to reduce any fear-associated behaviors. And to familiarise them with greeting strangers, who are bound to want to come and stroke them when you're out and about!
Chocolate Goldendoodle Training and Exercise
Because of their willingness to please and intelligence, chocolate Goldendoodles are easy to train. Especially when using positive reinforcement methods. Training will give your dog good manners and strengthen the bond between the two of you. But, it can also provide some much-needed mental stimulation. Since Goldendoodles are so clever, they can be easily bored. A bored chocolate Goldendoodle will try and make its own fun – usually through unwanted behaviors like digging, barking, chewing, and so on.
It's also worth noting that these are high-energy dogs. Exercise needs will vary depending on their size. But, a standard chocolate Goldendoodle will need at least an hour of exercise per day. And even the smallest variety will need at least 20 to 30 minutes.
Chocolate Goldendoodle Health and Lifespan
Chocolate Goldendoodles are relatively healthy dogs with an average lifespan of between ten and fifteen years. Although mixed breed dogs tend to be healthier than purebred dogs, they can still inherit conditions from the parent breeds. Common health issues in chocolate Goldendoodles are as follows: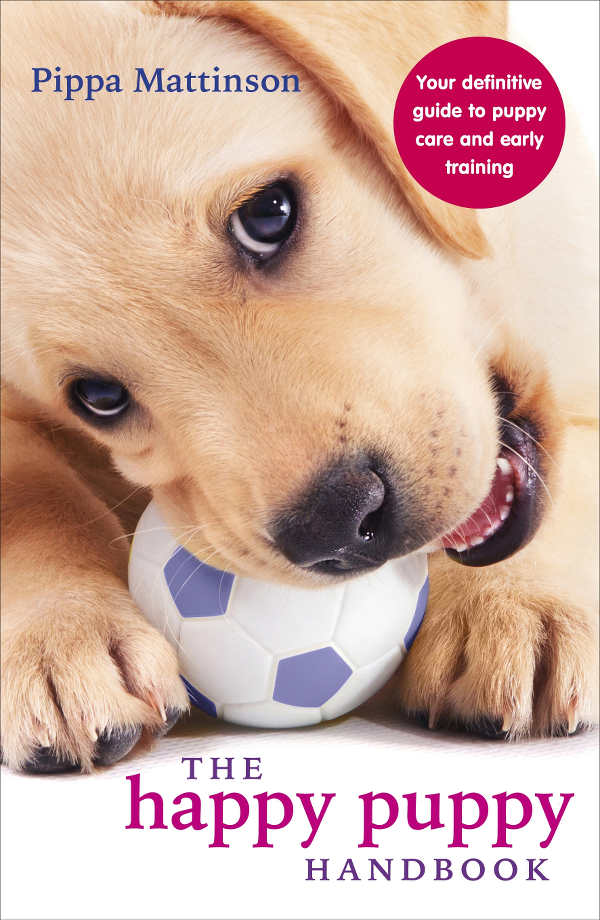 Cataracts
Cancer
Von Willebrand's Disease
Subvalvular Aortic Stenosis
Ear Infections
Patellar Luxation
Hip Dysplasia
Epilepsy
Bloat
Progressive Retinal Atrophy
Buying your chocolate Goldendoodle puppy from a knowledgeable and reputable breeder who has had the parents genetically tested increases your chances of having a healthy dog.
Finding Chocolate Goldendoodle Puppies
Chocolate is not the most common or popular shade for Goldendoodles. So, you'll need to be patient when searching for a puppy. I'd recommend searching for reputable breeders that specialize in this color. This might mean travelling a little further than you'd expect to get a puppy, but will be worth it when you bring home a healthy, happy Goldendoodle.
Reputable breeders will undertake all necessary health checks and will provide the best possible care for their dogs and puppies. They will also be very knowledgeable about the breed, and keen to find their puppies the best homes. A chocolate Goldendoodle puppy will usually cost between $1500 and $3000.
Be wary of puppies from puppy mills, pet stores, and backyard breeders. Puppies from these sources are usually not health tested and not so well cared for. They can also experience more behavioral issues as a result of their early upbringing.
Do Chocolate Goldendoodles Make Good Family Pets?
Because of the chocolate Goldendoodle's affectionate and patient nature, they make the ideal family pet. However, these energetic dogs need plenty of exercise to stop them from becoming bored. So, make sure you can meet their care needs before bringing one home! Have you fallen in love with the adorable chocolate Goldendoodle?
Learn More About Goldendoodles
References