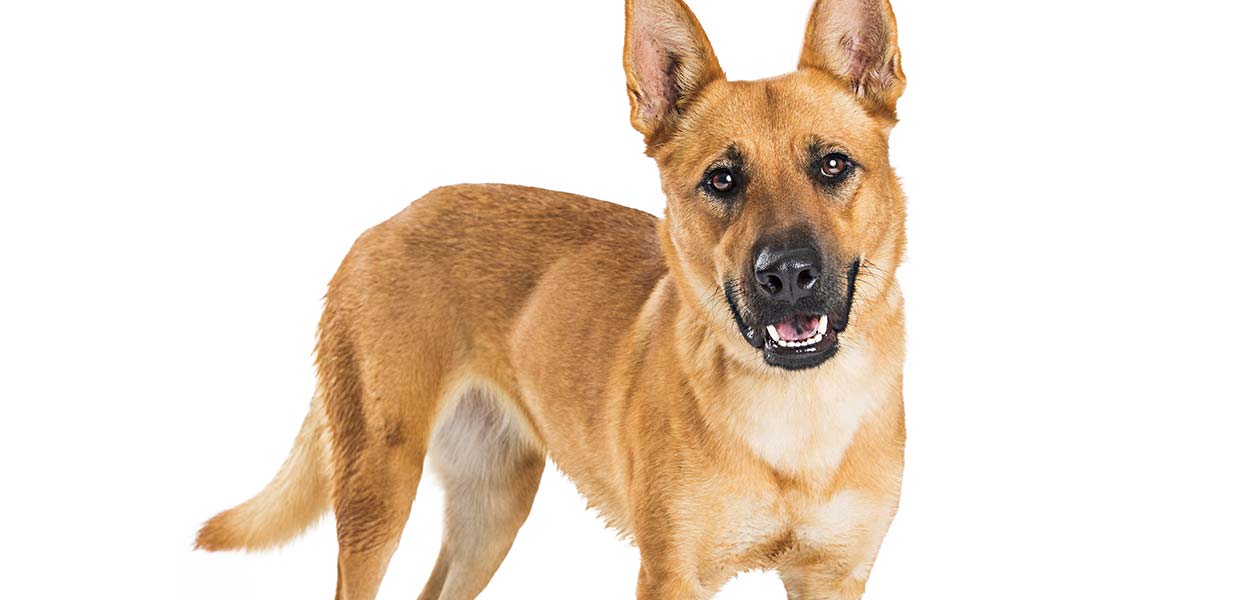 The Carolina Dog breed is not a very popular domestic pet. In fact, many still live naturally in the wild.
These dogs are medium sized. They grow from 17.5 to 19.5 inches tall, and weigh 30 to 55 pounds as adults.
They are intelligent, loyal, and independent. But they have a very strong pack mentality.
Carolina dogs as pets are likely to form strong bonds with their families. But, they will be wary of strangers. Socialization is vital with this uncommon breed.
What's In This Guide
Carolina Dog FAQs
Here are some of our readers' most popular and frequently asked questions about the Carolina Dog.
Looking for some quick stats about the Carolina breed?
Breed At A Glance
Popularity: Uncommon as pets
Purpose: Hound dog
Weight: 30 – 55 pounds
Temperament: loyal, intelligent, independent.
Are you wondering if the Carolina Dog breed is right for your family?
Carolina Dog Breed Review: Contents
You're not alone if you haven't heard much about the Carolina breed. So, let's start by finding out what they are, and where they come from.
History and Original Purpose
The Carolina Dog has been around for a long time. But it is still not hugely common as a domesticated pet.
Their history stretches back thousands of years. Many believe they were originally domesticated from Asian wolves, and then brought across the Bering land bridge to North America with primitive humans.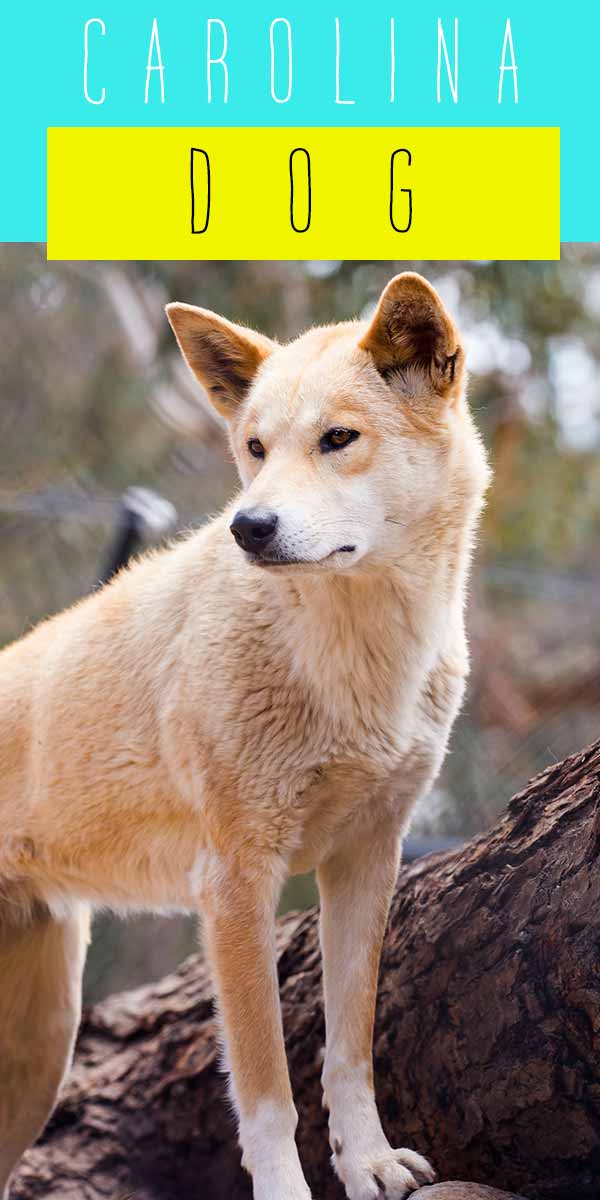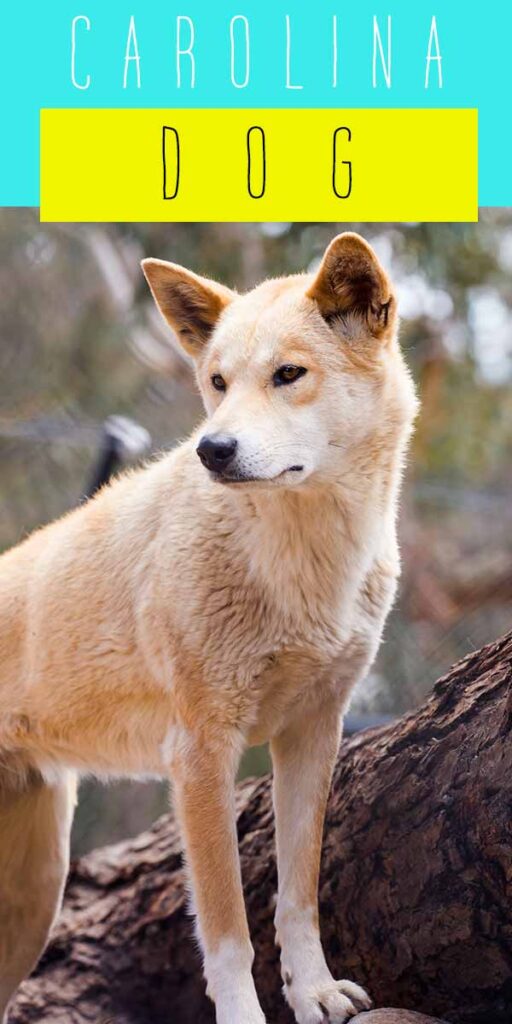 This history has been deduced from mummified and skeletal remains of these dogs discovered alongside artifacts from Native Americans.
Carolina Dogs still live in the wild today. They're very uncommon as pets, but can be found living in rural areas.
Their name was given by Dr. I. Lehr Brisbin, president of the Carolina Dog Club and godfather of the modern breed.
Fun Facts About Carolina Dogs
Carolina Dogs are not a common domestic pet. They have been accepted into the AKC's Foundation Stock Service since 2017.
But, they do not yet have complete breed recognition.
These dogs go by a number of different names. You might hear them called yellow dogs, Dixie Dingoes, American Dingoes, North American Native dogs, and Indian dogs.
These dogs can be hard to find. But, they have certainly made their mark on the pet world.
In fact, a Carolina Dog called Ginger has modelled for the popular brand 'Hill's Science Diet' pet food!
Carolina Dog Appearance
This breed is foxy in its appearance. They have triangular ears, narrow snouts, and a curved tail.
Many compare the appearance of these dogs to that of the Australian Dingo.
They are medium sized dogs, growing to between 17.5 and 19.5 inches tall. Healthy adult Carolina Dogs usually weigh between 30 and 55 pounds.
Coat Type and Colors
These dogs have a short to medium length coat that needs little grooming. They can come in a variety of colors, including:
black
black and tan
buff
red
tawny
white
and yellow.
White markings, piebald, and Irish markings are all common.
Carolina Dog Temperament
The Carolina breed temperament won't suit every family. So, make sure to learn as much about it as possible before choosing this breed.
These dogs have a very strong pack mentality. They still live wild in many rural areas of America.
This means domesticated Carolina Dogs will be both independent and loyal. They will form strong bonds with their closest family members. But they are likely to be very wary of strangers.
This can be problematic if you don't have the time to properly socialize and train your dog from the moment you bring them home.
Carolina Dogs are also intelligent. So, they need plenty to stimulate their minds. Boredom can result in destructive behaviors.
Importance of Socialization
Socializing a puppy from a young age will help to prevent fearful, aggressive reactions when your dog is older.
Puppies need to be introduced to as many new people, things, and environments as possible before they are 16 weeks old.
This will help to create a confident adult dog. And will reduce the risk that your Carolina Dog is aggressive to strangers, or even to welcome guest who don't live in your household.
Natural Instincts
Carolina Dogs have been categorised as hound dogs. In the wild, these dogs would hunt for themselves in order to eat.
As a recently domesticated breed, they will likely have strong natural instincts to chase other small animals.
This means they may not be the best breed if you have other pets at home. Particularly cats and small dogs.
Powerful natural instincts like this cannot be trained out of dogs. So, be careful when exercising your dog in non-enclosed spaces.
If let off the leash in non-enclosed areas, even the best recall won't help if your dog takes off after a squirrel or rabbit.
Training and Exercising your Carolina Dog
Carolina Dogs are eager to please. But they have an independent streak. Individual dogs will react differently to training.
Some will be easier to train than others.
The key is to use consistent, positive reward training methods. As an intelligent, alert breed, the Carolina Dog will pick up new commands quickly.
Keep training sessions short and exciting to keep your dog's interest.
For more training tips, take a look at our online training course details.
Exercise Needs
This breed needs lots of daily exercise. They do best when they have the opportunity to run in a safe, enclosed area.
You can incorporate exercise and training in fun games for your dog. They will enjoy games like fetch and hide and seek.
Carolina Dogs make great candidates for dog sports like agility, obedience, and rally.
Carolina Dog Health and Care
Compared to a lot of more common breeds, there have been relatively few studies on the health of this semi-wild breed.
But, this doesn't mean that the Carolina breed is completely free of hereditary problems.
Some studies suggest that Carolina dogs can have an MDR1 gene mutation. This is common in other breeds like the Collie, Australian Shepherd, and Shetland Sheepdog.
This gene mutation can cause a sensitivity to ivermectin, which is a common ingredient in flea and mite treatments.
Your dog can be tested for the MDR1 mutation. If your Carolina dog tests positive, check ingredients of medications and treatments carefully before giving them to your dog.
Health Testing
The Orthopedic Foundation for Animals doesn't currently recommend any tests for the Carolina Dog specifically. But, it's worth speaking to your vet to see if there are any they advise.
There has been limited data collected on health tests in this breed. But, the OFA has recorded cases of Carolina dogs with degenerative myelopathy.
This is a disease that affects a dog's spine. It leads to paraplegia, and can require euthanasia.
Your vet may also recommend health tests for hip and elbow dysplasia, eye diseases, and cardiac problems.
Make sure to ask reputable breeders for any health certificates.
Do Carolina Dogs Make Good Family Pets?
For the right family, the Carolina breed can make a great new companion. But, they aren't best for first-time dog owners.
They need lots of training and socialization from puppyhood. They have strong pack mentalities, and may have natural hunting instincts that make them unsuitable for homes with other pets and very young children.
This breed needs a family that can exercise them every day. Plus, they need plenty of mental stimulation.
This can be in the form of training, games, or even canine sports.
Overall, this is a pretty healthy breed. But, you might find it hard to find Carolina Dog puppies, as they are quite uncommon.
Rescuing a Carolina Dog
It's possible that you'll find a Carolina Dog in rescue centers. If people are unprepared for the amount of care and time that these dogs need, they may give them up.
Not all dogs in rescue centers have behavioral problems. But, it's important to ask lots of questions to make sure the dog will suit your home.
Rescue dogs are often cheaper than puppies from reputable breeders. Plus, adoption is a great way to give an older dog a loving home.
Be prepared for rescue centers to ask you lots of questions. They will be keen to match potential owners to the best breed for them.
If you're looking to adopt a Carolina Dog, scroll to the end of this article to find some links that will help you start your search.
Finding a Carolina Dog Puppy
Carolina Dogs are not very common. So, you might struggle to find a breeder.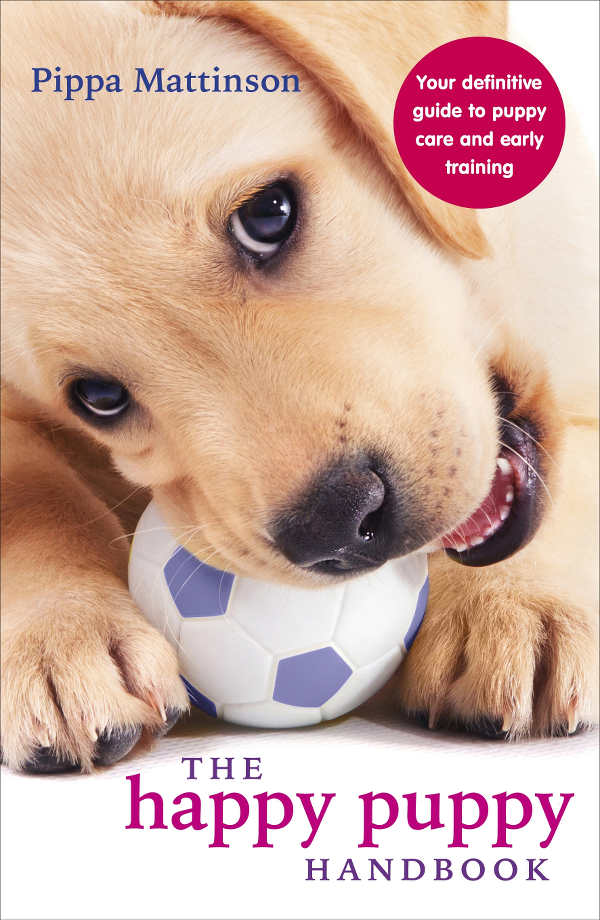 Despite this, it's important to make sure you're only buying puppies from reputable breeders. Avoid pet stores and puppy mills.
You can search online, on social media, and in newspaper ads. If you're still struggling, speak to your vet. They may be able to point you towards local breeders.
Take a look at our puppy search guide for more tips on finding a healthy puppy.
Raising a Carolina Dog Puppy
Raising any puppy is a lot of work. But, this breed needs particular care when it comes to training and socialization.
Luckily, we have some great guides to help you with raising a Carolina puppy. Take a look at some of them using the links below.
We also have an online Puppy Parenting course that new puppy owners may find useful.
Similar Breeds
The Carolina Dog isn't for everyone. But, here are some similar breeds that might be more suitable for your family.
Now let's recap the pros and cons of this loyal breed.
Pros And Cons of Getting A Carolina Dog
Hopefully, this quick summary will help you finalise your decision about getting a Carolina Dog.
Cons
Can be very wary of strangers
Not the best for homes with small children or other pets
Hard to find puppies
Very few studies on health problems
Pros
Very loyal breed
If raised with other dogs, likely to get along well with them
Takes to training well
Great breed for canine sports
If you've decided to bring one of these dogs home, you'll need to prepare for their arrival.
Carolina Dog Products and Accessories
New puppies require a lot of stuff. So, here are some guides that will help you find the best products for your new friend.
Thinking of trying to rescue one of these loyal dogs?
Carolina Dog Breed Rescues
As a pretty uncommon breed, it might be hard to find breed-specific rescue centers for the Carolina Dog.
If you're looking for this dog, check with local non-specific breed rescues. Some will keep an eye out for you if you are looking for a specific breed.
Here are some rescue center links to help you start your search.
If you know of any others, please leave them in the comments.
References And Resources