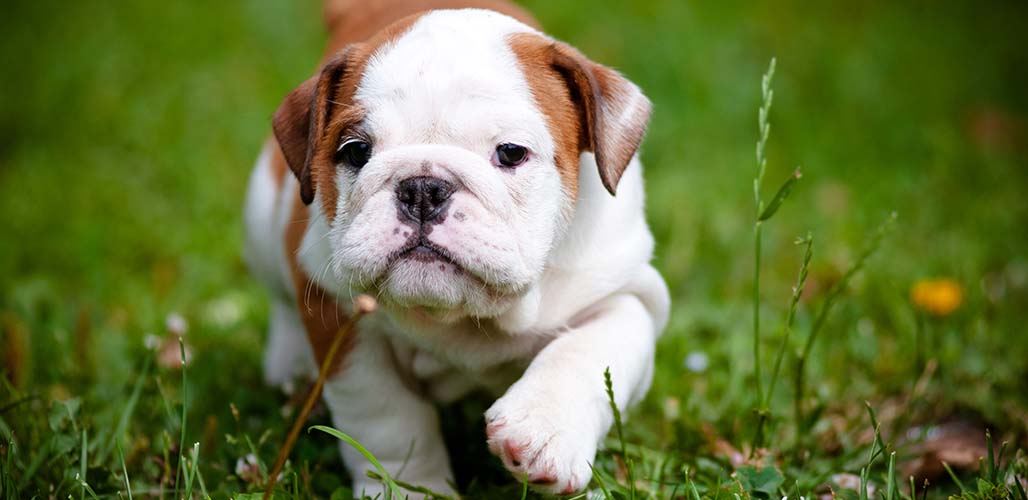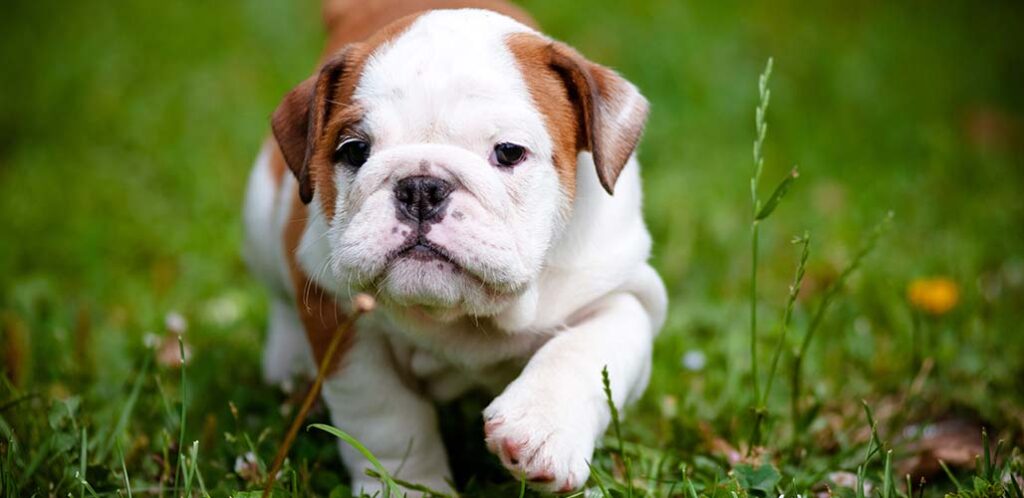 Bulldog names are great fun to find! With their sweet disposition, calm demeanor, large head, and sturdy, muscular physique, the iconic Bulldog is one of the most lovable dog breeds. Their unusual build and personality traits lead to loads of unique Bulldog name possibilities. Their short, easy-to-groom coat also comes in plenty of gorgeous colors that can also inspire. Plus, there's a wealth of movies, cartoons, and other famous Bulldog name options. Today we'll share 100s of ideas for naming a Bulldog.
Contents
If you're thinking of getting a Bulldog, consider adopting an older dog from a shelter or rescue center. If your heart is set on a puppy, then find a breeder that has dogs with longer than average muzzles to reduce the chances of breathing and overheating problems associated with a flat face.
Girl Bulldog Names
Female bulldogs tend to weigh less and be slightly shorter than males. Their heads are usually slightly smaller as well. Here are some human female names that will suit a sweet girl bulldog.
Coco
Ophelia
Gladys
Bertha
Petunia
Nellie
Lily
Ella
Lorna
Lola
Barbie
Violet
Ethel
Dixie
Jojo
Betsy
Olympia
Roxy
Daisy
Boy Bulldog Names
Some say the male Bulldog can be the more aggressive of the sexes, but overall this is an affectionate breed that loves to play games and cuddle up on the couch. Choosing traditional boy names is an excellent option when naming a pet.
Archie
Otis
Grover
Rudy
Charlie
Arlo
Eddie
Marco
Fred
Leo
Axel
Bruno
Butch
Barney
Buford
Buddy
Benji
Zeus
Marvin
Sheldon
Cute Bulldog Names
Since Bulldogs can look so fierce yet be so lovable, choosing a cute bulldog name is often the best way to go. See if one of these ideas works for your favourite Bulldog.
Toad
Ziggy
Lion
Brutus
Gremlin
Baby
Buttercup
Cupcake
Peanut
Tinkerbell
Tulip
Brawny
Meatball
Princess
Dimples
Funny Bulldog Names
With so many adorable traits, just looking at a Bulldog is enough to put a smile on your face. You can opt for a name that describes their appearance or temperament or is the exact opposite.
Kermit
Bandit
Chomper
Goliath
Tiny
Hulk
Rambo
Spike
Porky
Yoda
Wrinkles
Gizmo
Bruiser
Bluto
Capote
Churchill
Boss
Mr. Big
Brawny
Famous Bulldog Names
With their stocky body, oversized head, and square jaws, Bulldogs seem destined to play a starring role in pop culture. From cartoons to feature films, here are some famous Bulldog names to inspire you.
Angus (Mr. Magoo)
Astro (The Jetsons)
Brian (Family Guy)
Brinkley (You've Got Mail)
Chance (Homeward Bound)
Charles (Space Jam)
Colossus (Van Wilder)
Comet (Full House)
Curly (Leatherheads)
Gunner (Cheaper by the Dozen)
Hector (Tweety and Sylvester)
Max (Jake and the Fatman)
McBarker (Mr. Magoo)
Mr. Beefy (Little Nicky)
Rocky (Leatherheads)
Rubble (Paw Patrol)
Sonny (Due Date)
Spike (Tom & Jerry)
Tyke (Tom & Jerry)
Mascot Bulldog Names
The good-natured Bulldog is a favorite icon for numerous high schools, colleges, companies, and other organizations. Check out our list of mascot bulldog names.
Addie (University of Redlands)
Barney (Gardner-Webb University)
Ben (McPherson College)
Boomer (Dean College)
BRANDI and DUKE (Southwestern Oklahoma State University)
Bruiser (Adrian College)
Brutus (Ferris State University)
Bully (Barton College)
Buster (Union University)
Butch (Bowie State University)
Butker Blue (Butler University)
Charge (University of Montana Western)
Colonel Rock (Western Illinois University)
Duke dog (James Madison University)
General and Boo V (The Citadel)
General Determination (Kettering University)
Griff (Drake University)
Handsome Dan (Yale University)
Ironclad Tupper (Bryant University)
Jack (Georgetown University)
Jerry (Arkansas Tech University)
Simone (Truman State University)
Spike (Allan Hancock College)
Tarzan (University of Puerto Rico)
Timeout and Victor E (California State University)
White Bulldog Names
Although Bulldogs coat colors come in many different combinations, such as piebald and tri-color, some Bulldogs are purely white from nose to tail, with no markings on the body. Here are some name suggestions for a white Bulldog.
Marshmallow
Snow White
Snowball
Pearl
Ice Cube
Sugar Cube
Snoopy
Casper
Cotton Ball
Avalanche
Milkshake
Glacier
Bubbles
Creampuff
Alaska
Orca
Swan
Blondie
Bones
Red Bulldog Names
Red is a standard English Bulldog color that ranges from light ginger to deep mahogany. It's a hue that inspires a lot of good names.
Big Red
Ruby
Poppy
Rufus
Berry
Jelly
Cherry
Blaze
Foxy
Pippi
Brick
Rusty
Ginger
Pepperoni
Sparks
Rouge
Cinnamon
Brindle Bulldog Names
Brindle is a distinctive coat pattern especially prevalent in English Bulldogs. Red is the most common brindle color, but these dogs come in all colors, including black, lilac, and fawn. These markings all over their body are unique and offer great inspiration for naming a brindle Bulldog.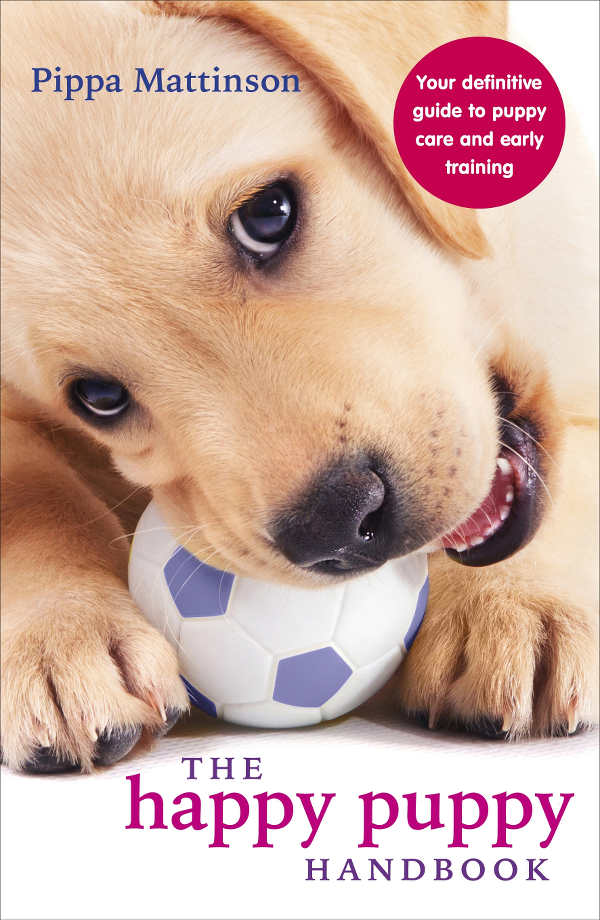 Patch
Guinness
Speckles
Freckles
Pepper
Mahogany
Buff
Brandy
Pebbles
Pixel
Sprinkles
Streak
Truffles
Smudge
Cammie
Tiger
Fallow Bulldog Names
The fallow or fawn Bulldog's coat occurs in varying shades, from pale tannish yellow to a darker red. Here's our list of fallow Bulldog names.
Toffee
Sandy
Tawny
Bambi
Maple
Toast
Topaz
Cookie
Dumpling
Savannah
Thistle
Butters
Scotch
Doughy
Fawn
Rosie
Blue Bulldog Names
The blue Bulldog boasts a dilute bluish-gray coat with a distinct icy sheen, sometimes accompanied by beautiful baby blue eyes. Although dogs with this coat are usually not one solid color, that doesn't mean you can't choose a name that makes the most of this unique shade when naming a blue Bulldog.
Smurf
Blueberry
Sky
Bluebell
Slate
Cobalt
Indigo
Aster
Bleu
Cookie Monster
Denim
Neptune
Peacock
Sapphire
Violet
Periwinkle
Naming Your Bulldog
Bulldogs make terrific pets, but sadly these dogs have been saddled with health problems due to their flat face and body structure. We highly recommend adopting a Bulldog rather than contributing to an industry that intentionally breeds puppies destined for poor health. Choosing to adopt a dog not only means it's more likely you'll know how much they're affected by breathing difficulties, but it also means giving an older dog a loving home.
Find Out More About Bulldogs