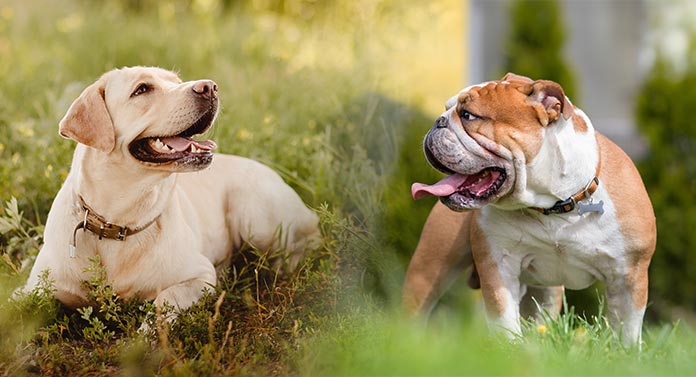 The Bulldog Lab mix is a cross between the popular Labrador Retriever and the English Bulldog.
The Bullador is friendly and intelligent. They take to training well and love spending plenty of time with their families.
However, the health of these dogs can really vary depending on the face shape they inherit.
Read on to find out if this breed will suit your home.
What's In This Guide
Bulldog Lab Mix FAQs
Here are some questions we often get asked about the English Bulldog Lab mix.
The English Bulldog Lab mix is a cross between two popular purebreds. But there is quite a bit to know about this hybrid before you decide to bring him home!
Bulldog Lab Mix: Breed At A Glance
Popularity: Growing slowly!
Purpose: Family companion
Weight: 40 to 80 pounds.
Temperament: Friendly, intelligent, social.
Do you think the Bullador sounds right for you?
Bulldog Lab Mix Breed Review: Contents
Firstly, let's find out where this hybrid breed comes from.
History and Original Purpose
Designer dogs are nothing new. But a steady rise in popularity over the last 20 years has brought mixed opinions to the surface.
For instance, many insist that mixed breeds and mutts are one and the same.
But, there are others who point out that crossbreeds are the offspring of two specifically chosen purebred parents. Mutts, on the other hand, are simply "mixed breeds" created by accident with a largely unknown lineage.
To learn more about the debate regarding mutts versus crossbreeds, visit us here.
Considered a first-generation crossbreed, the Labrador Bulldog cross has a questionable origin. It's also still not hugely common.
Since we cannot pinpoint exactly how he came to be, let's take a look at the histories of purebred parents.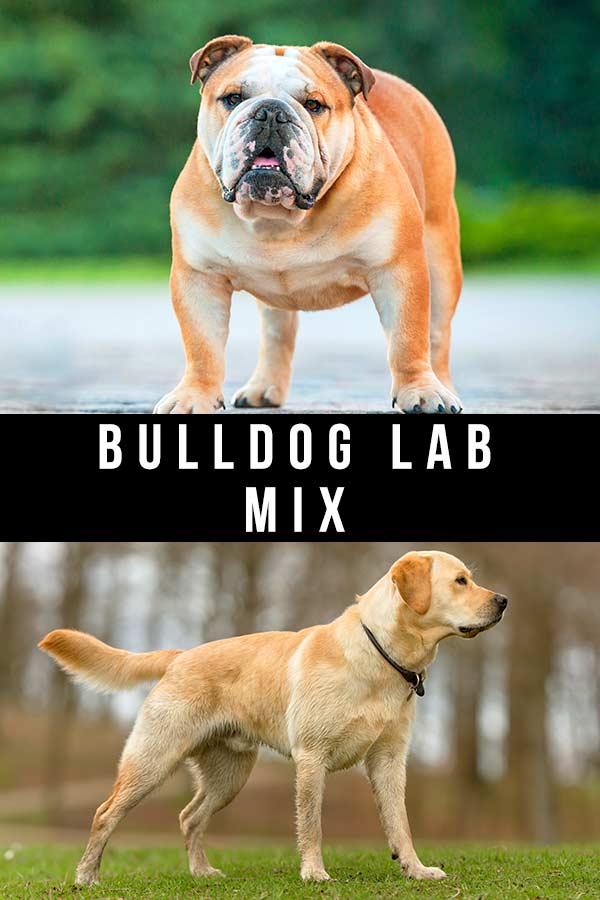 Bulldog History
Hailing from England, many believe the Bulldog was bred for bull baiting in the 13th Century.
The cruel practice of bull baiting was considered a sport during this time. Audiences would bet on packs of Bulldogs as they went head-to-head with an angry bull.
Many Bulldogs died during this violent practice. But it is believed that this vicious "game" is what resulted in the modern-day Bulldog's unwavering courage and extremely high pain tolerance.
Once bull baiting was banned in 1835, the Bulldog became a useless pawn to gamblers and dog-fighters, and thus faced extinction.
Luckily for the breed, there were those who felt he would make a better lover than a fighter. These people worked to convert the Bulldog from his bull baiting ways to an adoring family companion.
By 1886, the Bulldog was recognized by the American Kennel Club (AKC).
Labrador History
Hailing from Newfoundland, Canada, the Labrador is an ancient breed who has existed since before the 1500s!
As a duck hunting dog who also excelled in retrieving fish, the Labrador was a fisherman's best friend.
The Lab had a perfect build for working alongside his master on boats with his weather-resistant coat, his unique intelligence, and his natural instinct to retrieve.
Plus, the Labrador's "otter-tail" made for the perfect propeller, helping him to move through the frigid Canadian waters to retrieve his master's catch.
The breed continued to be polished during the 19th Century by British enthusiasts. But, it is said that the modern-day Labrador maintains many of his original traits that made him so popular from day one!
Registered by the AKC in 1917, the Labrador resides impressively at number one on the organization's list of America's most popular dog breeds.
Fun Facts About Bulldog Lab Mixes
As the English Bulldog Lab mix is quite a new and still uncommon choice, there aren't many fun facts about the breed combination! But, there's lots to learn about the two parent breeds.
An English breed through-and-through, the resilient Bulldog has been a long-standing icon for England. He is also the mascot for a number of American University sports teams.
Unfortunately, due to what many would consider irresponsible breeding practices throughout history,
The Bulldog of today is very different from the Bulldog of the past, thus resulting in some serious health and skeletal issues.
Regardless, as of 2019, the Bulldog is considered the fifth most popular dog in America by the American Kennel Club.
The Labrador Retriever actually manages to beat this score in terms of popularity. Labradors have held this number one spot in the AKC's lists since 1991!
So, it's easy to see why people would want a combination of these two dogs.
Bulldog Lab Mix Appearance
No two Bulldog Lab mixes are the same. There's no way to predict which traits Bullador puppies will inherit until they are born.
To get a better idea of what the puppies may look like, you should examine the appearances of each parent.
Here's a brief look at some physical breed traits that Bullador puppies could inherit.
Bulldog Appearance Traits
The Bulldog is a unique-looking breed with an unmistakable wide head, squat legs, muscular body, jowls, short ears, and curled tail.
This breed has a distinctive flat face. But, this trait can come with some health issues, which we will look at more closely later on.
He weighs in at 40-50 pounds and stands at 14-15 inches tall. The Bulldog also has a short, sleek coat that comes in a number of colors, including:
White
Fawn
Piebald
Tan
Brindle and White
Red Brindle
Red and White
Fawn and White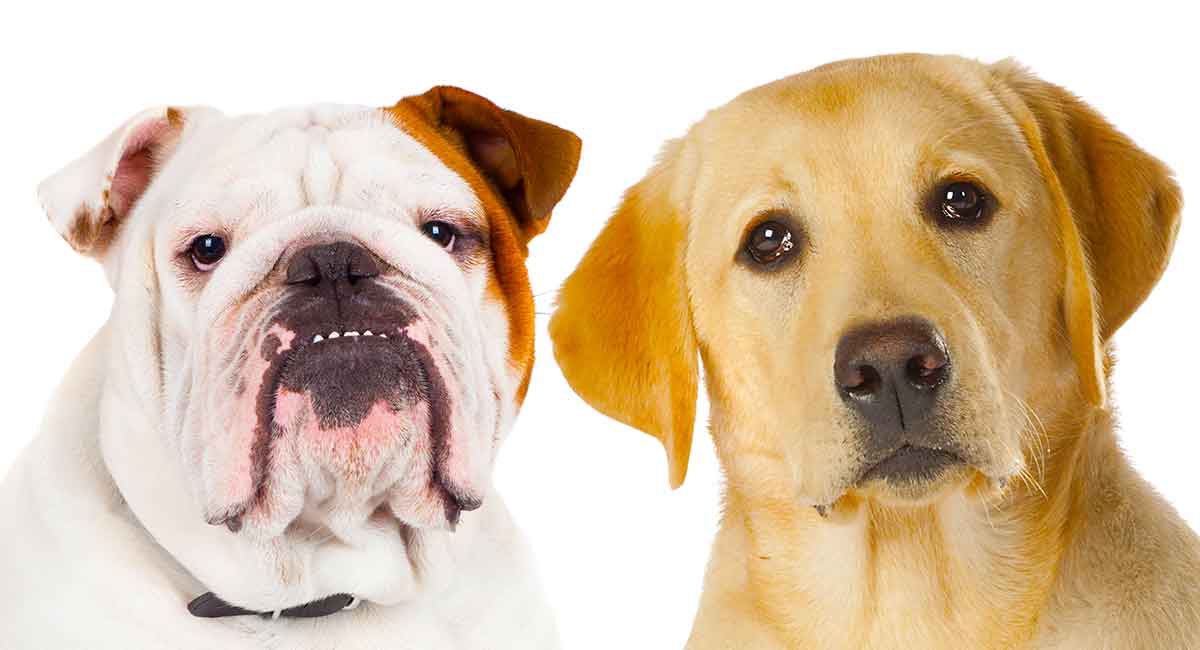 Labrador Appearance
The Labrador is around 22-25 inches tall and weighs about 55-80 pounds.
With his floppy ears, expressive face, and long "otter tail," the Labrador is a beauty inside and out!
His weather-resistant coat comes in three standard color options:
Remember, a Bulldog Lab mix could inherit any number of the above mentioned physical traits. It will all be left up to chance and genetics!
Bulldog Lab Mix Temperament
Considering both the Bulldog and the Labrador are friendly, intelligent breeds, it comes as no surprise that their English Bulldog and Labrador crossbreed would be the same.
Still, as with all crossbreeds, there are other personality traits that will be left up to chance when it comes to the English Bulldog and Labrador mix.
We recommend early socialization and obedience training for all dogs, and we also encourage you to look into the temperamental traits of this crossbreed's parents.
Let's begin with the Bulldog.
Bulldog Temperament
Being brave is a staple for this mighty breed who, despite his stout size, is celebrated for his unique perseverance and apparent imperviousness to pain.
However, this breed is also adored for his approachable nature and calm, loving disposition.
This is a people-oriented breed who does best when he is with his family.
In fact, he will actively seek out his people's affections and wants nothing more than to please those he loves.
Natural Instincts and Destructive Behaviors
A properly socialized Bulldog makes for a wonderful family companion, although he can have territorial instincts if not properly trained at an early age.
Due to his courage, the English Bulldog makes a great watchdog, and he also gets along well with family pets he was raised with.
However, the Bulldog has been known to show aggression towards strange dogs.
Also, keep in mind that the Bulldog loves to chew and if he becomes bored, his chew toy of choice could become your furniture or personal belongings!
Experts recommend plenty of chew toys and mental stimulation to keep this breed from becoming destructive.
Early socialization will also be key to ensuring the Bulldog is well-rounded into adulthood. A prospective owner should consider obedience training as well beginning in puppyhood.
Labrador Temperament
The Labrador is a gregarious companion who gets along with just about everyone! With a loyal and intelligent nature, the Lab is eager to please and learns quickly.
He is gentle and kind-hearted but he can be slow to mature and behave in a puppy-like way into adulthood.
The Lab can also be a chewer, and his intelligence means he will need mental stimulation as well as exercise to keep him from becoming bored and destructive, just like the Bulldog.
Early socialization and obedience training should be utilized with the Lab as well.
What You Should Expect From a Mix
Of course, as previously mentioned, your Bulldog Lab mix could inherit any number of the temperamental traits listed above.
So, you must be prepared for any possible outcome.
The most important way to ensure your puppy grows up confident, friendly, and happy is to socialize and train them well from a young age. Make sure they have plenty of mental stimulation to prevent destructive boredom.
Spend some time with the parents of your puppy to see what their personalities are like. But, remember, there's no guarantee your pup will be more Lab than Bulldog, or vice versa.
Training and Exercising your Bulldog Lab Mix
Since both the Labrador and the Bulldog are intelligent breeds, you can expect a Labrador Bulldog mix to be clever and pick up new commands and tricks with ease.
Both the Lab and the Bulldog are eager to please and they are likely to pass this sentiment on to their offspring.
However, keep in mind that the Bulldog and the Labrador are both chewers and can be prone to destructive behaviors when bored.
As previously mentioned, early socialization, obedience training, plenty of chew toys, exercise, and mental stimulation will help to alleviate undesirable behaviors.
But what about exercise?
Exercise Needs
The Bulldog and the Labrador are quite different when it comes to their exercise needs. So, owners should look at their individual puppies and use their judgement, or speak to their vet if unsure.
Let's take a look at the contrasting needs of the two parent breeds, so you can see what a puppy may inherit.
Lab Exercise Needs
The Labrador is a very athletic and energetic breed who needs about an hour of exercise a day, plus lots of playtime in the backyard.
Long walks and games of fetch or Frisbee are an excellent choice for an active Lab, and of course, he does enjoy swimming.
This purebred dog needs a family that can offer enough exercise.
Without enough exercise, Labs can easily become overweight and unhappy.
Bulldog Exercise Needs
This is at odds with the Bulldog. The unhealthy conformation of the Bulldog breed has led to some real problems with exercising.
Short walks and a game of tug-of-war are enough to keep this breed in shape.
His flat face means breathing can be quite difficult, particularly on hot days. We will look more at these problems in a moment.
Bulldogs should be kept indoors during especially warm days, as they can be prone to severe breathing issues which can be made worse by heat.
Also, unlike the Labrador, who loves to swim, the Bulldog cannot be left alone in water that is deeper than his elbows.
What to Expect from the Mix
Sadly, there's a very large risk that a Bulldog Lab mix will inherit the flatter face of the Bulldog breed.
If it does, the puppy will likely have the health issues that accompany this face shape. This means overheating and over-exercising can be a real problem.
Moderate exercise is usually enough for one of these puppies, but sadly, some may even struggle with this amount.
Bulldog Lab Mix Health and Care
As many of us know, purebred dogs have been excessively bred throughout the years by breeders struggling to maintain breed standard.
What has resulted is a very small gene pool in which genetic disease is continuously passed down to new generations.
Supporters of crossbreeding point out the practice enlarges the gene pool and in turn may reduce the chances of health problems being passed down. But, there is still no guarantee that cross breeds are healthier.
In fact, many specialists argue that purebred dogs and crossbreed dogs are still equally susceptible to inheriting genetic diseases.
For more information on the conflict of crossbreeding, click here.
While we still don't know who is correct on the issue of crossbreeding, we do think it's important to learn as much about your prospective new dog as possible before you get him.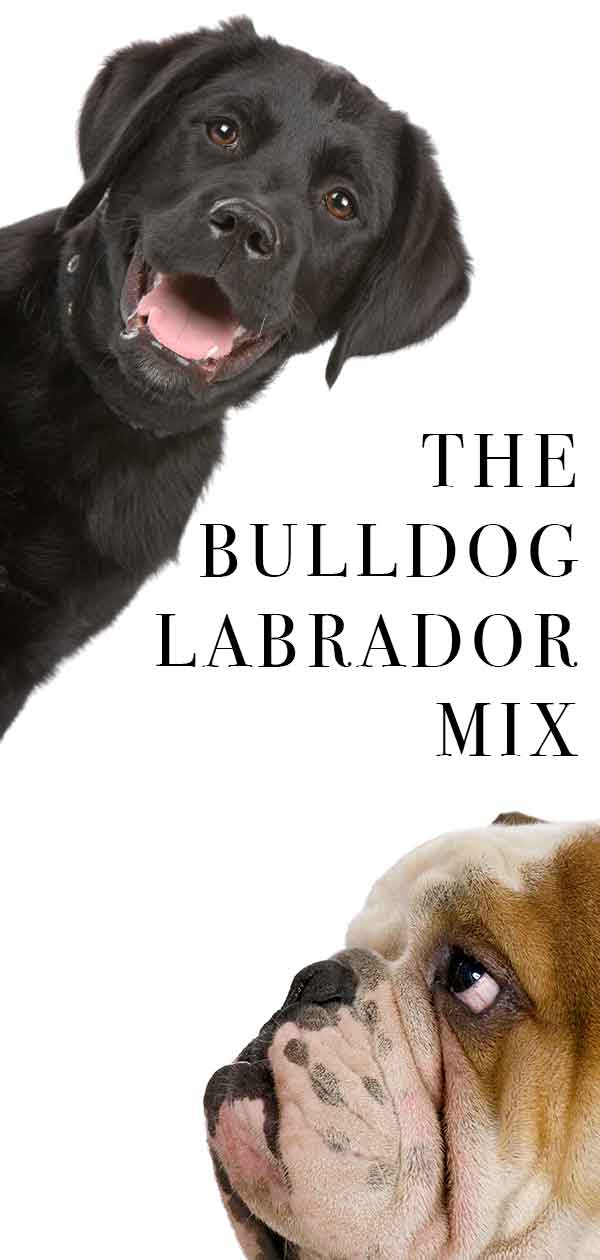 Bulldog Health Issues
While it is true that many experts insist cross breeds are healthier than purebreds, the reality is that there is no guarantee of what you are going to get with a hybrid dog.
In this case especially, prospective owners of a Bulldog or Bulldog cross need to be aware of the health issues of the breed.
The Bulldog suffers from a very serious breathing issue called Brachycephaly Airway Obstruction Syndrome as a result of his squashed face. This is unpleasant and dangerous for the dog and can be devastating for an owner both emotionally and financially down the road.
The Bulldog also suffers from an issue known as Screw Tail, which is a health complication resulting in dogs with very curly tails, like the Bulldog.
There are a number of other health problems your Bulldog crossbreed could face that you should be aware of.
With a lifespan of 8-10 years, you might not get to enjoy your dog as long as you would like.
Other Bulldog Problems
The purebred Bulldog is also prone to:
Overheating
Skin issues like allergies, eczema, dry skin, and acne
Arthritis
Degenerative spine disease
Cherry eye
Hip dysplasia
Joint and ligament injuries
Idiopathic head tremors
Vomiting and regurgitation
Fold dermatitis
Heart disease.
And sadly, the Bulldog also has the highest cancer rate compared to any other dog breed.
Labrador Health Issues
Compared to the Bulldog, the Labrador is relatively healthy.
With a lifespan of 10-12 years, he can be prone to:
Elbow dysplasia
Hip dysplasia
Loose knee joints
Ruptured ligaments in their hind legs
Heart disease
Eye disease
Epilepsy
Cancer
Obesity
Bloat
Chronic allergies.
While we always recommend early health screening, health screening is especially important for the Bulldog Lab mix so that you can understand and prepare for any health issues he may face in the future.
Bulldog Lab Mix Grooming and Care
Grooming an English Bulldog Labrador mix is going to be contingent on the type of coat he inherits from his purebred parents.
Still, a prospective Bulldog mix Labrador owner should expect to brush this crossbreed about two to three times a week.
This is because both the Labrador and the Bulldog are shedding breeds who shed more heavily during shedding season.
While the Bulldog Lab mix will only require intermittent bathing, he will need his nails trimmed on a consistent basis to keep them from tearing.
His ears will need to be cleaned regularly to avoid ear infections.
Do Bulldog Lab Mixes Make Good Family Pets?
The English Bulldog mix with Lab is friendly and intelligent. But he will likely come with some special needs a novice dog owner isn't prepared for.
Due to the many serious health implications of a Bulldog or a Bulldog crossbreed, a prospective owner should truly think long and hard before deciding if this is the dog for them.
Aside from health issues, you should also consider your lifestyle.
A Bulldog Lab cross will do best in family settings with people who have the time and patience to train him, exercise him, and play with him every day.
Your Bulldog Lab mix will also need to be brushed two to three times a week, and he will thrive on your companionship and affections.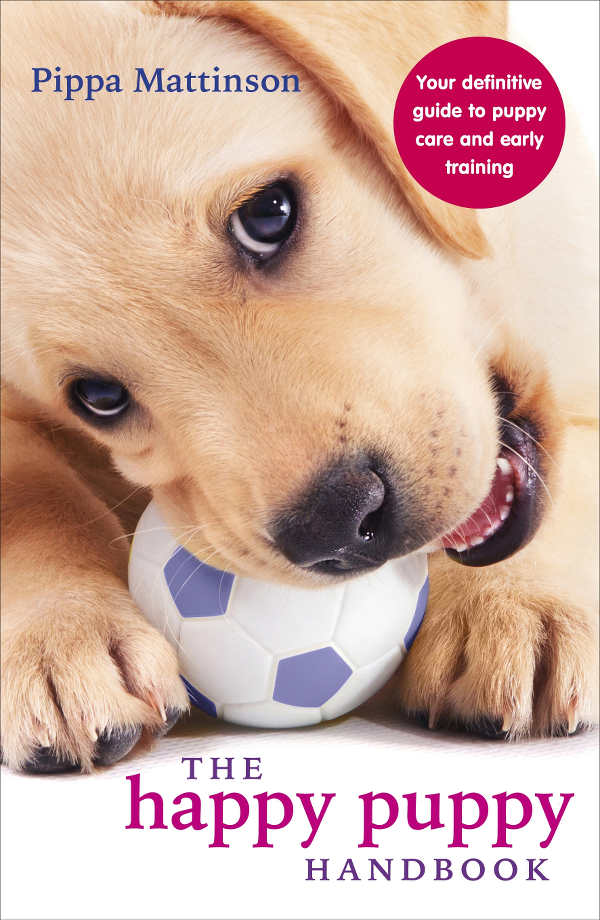 If you can't offer the time for proper training, socialization, and care, you should not get this mixed breed.
And, due to health problems, you may want to also consider rescuing an older dog.
Rescuing a Bulldog Lab Mix
Many new owners of Bulldog mixes like this don't realise just how many health issues these dogs are at risk of. This can lead to many Bulldog mixes being given up when owners can't cope or afford them any more.
If your heart is set on a Bulldog Lab mix, you should consider looking for a rescue dog.
Many of the dogs in rescue centers are put there for no fault of their own. You can take a look at rescue centers for the parent breeds, if there are no Bulldog Lab mixes that you can find in general rescues.
Rescues are often cheaper up front than puppies, and often have basic training, so you won't need to worry about house training.
But, make sure to go to rescue centers with lots of questions to make sure the dog is definitely right for you.
We've included some links to rescue centers at the end of this guide to help you with your search.
Finding a Bulldog Lab Mix Puppy
Remember, English Bulldog Lab mix puppies are crossbreeds and could very well inherit the serious health issues of their Bulldog parent breed.
For this reason, getting your English Bulldog Labrador mix from the right source is of the utmost importance.
Research is key, so whether you are going through a rescue or a breeder to get your Bulldog and Labrador Mix, make sure you do plenty of it!
On average, Bulldog Lab mix puppies go for $500 to over $1000.
Reputable Breeders
However, one benefit of going through a breeder is that you'll have the opportunity to ask questions about any health or temperament issues that may have cropped up with the parent breeds or previous litters.
Furthermore, reputable breeders will have health screened their puppies and will be able to provide you with certificates proving your puppy is healthy and ready to go home with you.
But, remember, there is no way to screen for problems like brachycephaly. All puppies will be at risk of these issues if they inherit the Bulldog's flatter face.
Raising a Bulldog Lab Puppy
Caring for any puppy is a lot of work, let alone one that is at risk of conformational issues like brachycephaly.
We have some great guides that can help you with all aspects of puppy care and training. You can find them listed on our puppy care page.
There are also options like online Puppy Parenting courses to help owners with every step of raising a healthy, happy puppy.
Bulldog Lab Mix Products and Accessories
Mixed breed dogs are all very different from one another, even those from the same litter. So, it's hard to choose the best products and accessories for them.
Take a look at some of the guides we've written below for more help choosing the right stuff for your puppy.
Dog Food For Skin Allergies And Sensitive Skin
Pros And Cons of Getting A Bulldog Lab Mix
If you're still unsure whether this mix is right for you, here's a quick summary.
Cons
Can be at risk of some serious health issues
Can have conformational health problems due to flat faces
Destructive tendencies if bored
If not socialized well, can be aggressive
Heavy shedder, especially in shedding seasons
Unpredictable appearance and temperament
Pros
Friendly, social, people-oriented breed
Will likely get along well with kids
Takes well to positive reward training
Only needs moderate exercise
The Bulldog Lab mix isn't right for everyone. But there are plenty of similar breeds to consider.
Similar Breeds
Despite all it's great traits, this is a pretty unhealthy mixed breed. There are plenty of other purebred and mixed breed dogs you can consider that have similar temperaments and care needs to this one.
Take a look at some of the following guides.
And, finally, here are some rescue centers to start your search with if your heart is set on the Bulldog Lab mix.
Bulldog Lab Mix Breed Rescues
If you know of any other good rescues to add to this list, leave them in the comments below.
References And Resources
Hendricks, J. (et al), 'The English Bulldog: A Natural Model of Sleep-Disordered Breathing', Journal of Applied Physiology (1987)
Poncet, C. (et al), 'Prevalence of Gastrointestinal Tract Lesions in 73 Brachycephalic Dogs with Upper Respiratory Syndrome', Journal of Small Animal Practice (2005)
Hendricks, J. 'Brachycephalic Airway Syndrome', Veterinary Clinics of North America: Small Animal Practice (1992)
Turcsan, B. (et al), 'Owner Perceived Differences Between Mixed-Breed and Purebred Dogs', PLOS One (2017)
Howell, T. (et al), 'Puppy Parties and Beyond: the Role of Early Age Socialization Practices on Adult Dog Behavior', Veterinary Medicine: Research and Reports (2015)
Sutter, N. & Ostrander, E. 'Dog Star Rising: The Canine Genetic System', Nature Reviews Genetics (2004)
Acumen, L. 'The Genetic Connection; a Guide to Health Problems in Purebred Dogs', Second Edition (2011)
Beuchat, C. 'The Myth of Hybrid Vigor in Dogs…Is A Myth The Institute of Canine Biology (2014)
Gough, A. (et al) 'Breed Predispositions to Disease In Dogs and Cats', Wiley Blackwell (2018)
O'Neill (et al) 'Longevity and Mortality of Owned Dogs In England', The Veterinary Journal (2013)
Packer (et al) 'Impact of Facial Conformation On Canine Health', PlosOne (2015)