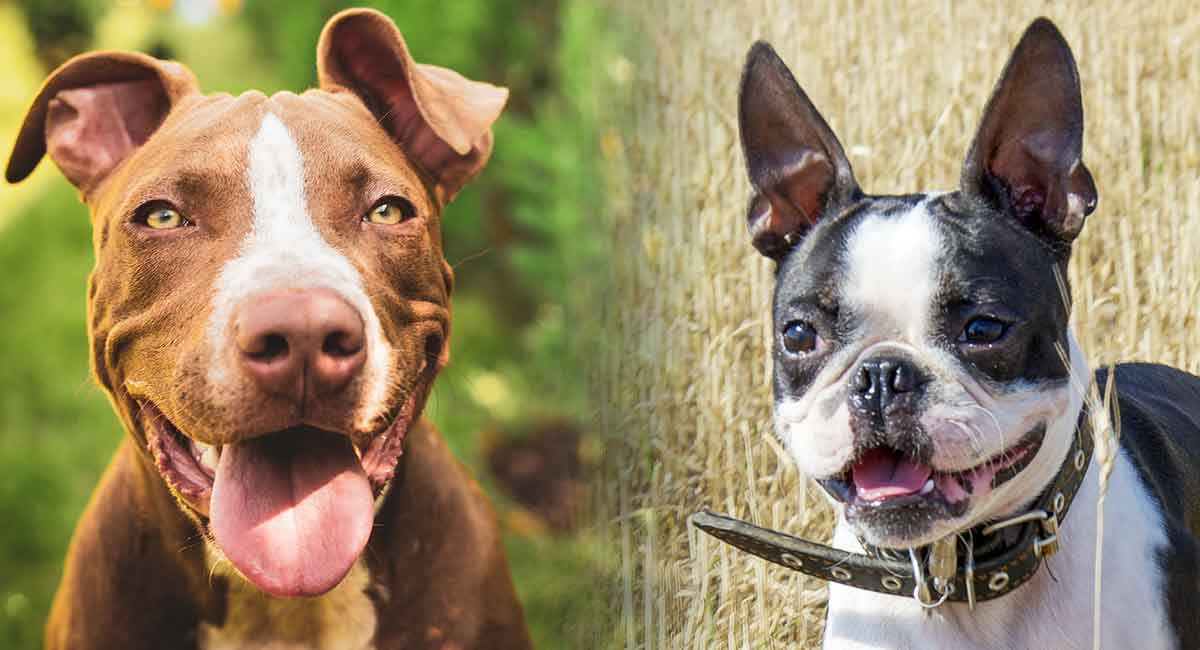 The Boston Terrier Pitbull mix combines a Boston Terrier and a Pitbull
On the outside they have a lot of physical attributes in common – it's easy to imagine how a mix of these two American stalwarts of the canine community might look.
But what about on the inside?
Is a Boston Terrrier Pitbull mix a good pet? Are they healthy or easy to train?
Let's have a look!
Where Does the Boston Terrier Pitbull Mix Come From?
In 1870 Robert C. Hooper hailing from Boston, purchased a dog named Judge, of Pitbull and Terrier lineage.
It's Hopper's Judge that the American Kennel Club cites as the ancestor of nearly all true modern Boston Terriers. His offspring bred with one or more French Bulldogs, laying the foundation of the Boston Terrier breed
The first Pitbulls were also created by crossing Terriers and Bulldogs, to unite agility and strength
More about Pitbulls:
In the United Kingdom, these dogs were used for bull-baiting and bear-baiting, until blood sports were banned in 1835
Today, Pitbulls in the US have a difficult reputation. Misuse and mistreatment of these dogs means they are closely associated with aggression and violence, which responsible owners are still trying to overcome
The Boston Terrier Pitbull is a hybrid of these two dogs – in a sense it is breeding coming full circle for both of them
There is some controversy surrounding hybrid dog breeds. Mixing tow different pedigrees has unpredictable results, however, mixed breeds tend to be healthier than purebred dogs due to their more diverse gene pool.
Fun Facts About the Boston Terrier Pitbull Mix
The Pitbull has been through several name changes to help them be adopted into loving families – many consider the American Staffordshire Terrier a Pitbull in all but name
Boston Terriers were also bred to be fighters, but they've enjoyed a more successful rehabilitation as lap dogs, owing to their small size
The Boston Terrier is the state dog of Massachusetts, his famous fans include Jake Gyllenhaal and the late, great Robin Williams
Celebrity Pit Bull owners include Kaley Cuoco and Jessica Biel.
Boston Terrier Pitbull Mix Appearance
When you look at a Boston Terrier and Pitbull, it's no surprise to find out they're distantly related cousins after all
Their mixed breed puppies are certain to have a short, smooth coat, and triangular ears. But what other features might they inherit?
The Boston Terrier has a maximum height of fifteen inches weighing no more than twenty-five pounds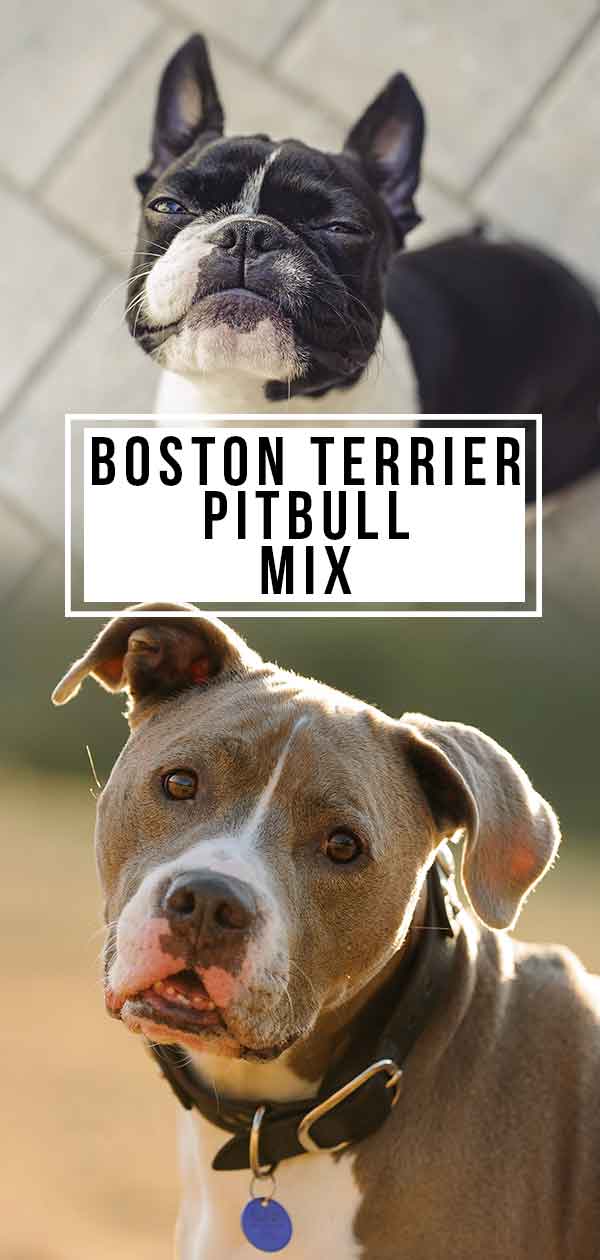 Coat colors vary from brindle, seal, and black with white. The Boston Terrier is a small framed dog with short legs and a round head
Pitbulls are medium sized dogs that stand from eighteen to twenty-four inches tall and weighs around thirty to sixty pounds.
They have a muscular build and are powerful for their medium size. They have a large wedge-shaped head with wrinkles present on the forehead.
Their coat can come in any color of the canine rainbow except merle and may have solid color or patches of color
Boston Terrier Pitbull mix puppies could grow up to be anywhere between 25 and 60 pounds. Their shape resemble one of their parents more closely than the other, or be a perfect middle ground
Boston Terrier Pitbull Mix Temperament
The Boston Terrier temperament varies from dog to dog. Some can be rowdy, and some can be sassy, others may be more mellow and subdued, while others will do anything for fun
All Boston Terriers love people, activities, and attention. These dogs are suited perfectly to people can keep their Boston Terrier by their side for most of the day, because they love company
Many Boston Terrier owners say their dog can sense when their owner is sad, happy, lonely, or angry
Pitbulls have a fearsome reputation. Their violent history is a result of bad breeding by humans – selecting the most aggressive dogs to breed forward, and training them to react to strangers with fear and aggression.
However a well-bred and cared for Pitbull is actually very soft at heart!
Pitbulls are loyal, loving, and happy companion. They enjoy being with family and being a part of family activities, clowning about and dishing out affection
Training Your Boston Terrier Pitbull Mix
It is important to potty train every dog.
Most dogs take a little time and consistency to get them potty trained properly. When they are potty trained, you will avoid unwanted accidents in the house.
For a lot of owners, successful potty training is goes hand in hand with crate training too.
In addition, all dogs need to be socialized and exercised. For these clever dogs, that means daily opportunities to test their mental agility as well as their physical muscle. Puppy obedience classes are a great way to achieve both at once in the early day
Our training guides will help you find your feet and make a positive start on training.
When he grows up your Pitbull Boston Terrier mix pup will need at least thirty minutes of exercise and games every day to keep them mentally healthy and physically fit
They might need more if they are more Pitbull-sized than Boston Terrier-sized.
In return, this exercise will also keep them from becoming bored and chewing up things inside the house
Boston Terrier Pitbull Mix Health
Mixed breed dogs are vulnerable to all the same health problem which most affect their parents.
The Boston Terrier can suffer from curving of the back, called roaching. Sometime this is linked to knee problems in the back legs, which can cause the dog to lean forward
Due to the Boston Terrier having a shortened muzzle, they may have difficulty breathing and regulating their temperature
Boston Terriers tend to get corneal ulcers due to their large and prominent eyes making them vulnerable to dust, sand, debris, and sharp objects such as thorny plants.
You will need to take extra care when taking care of a dog with a shortened muzzle and prominent eyes. They will also need to be groomed and bathed regularly to maintain healthy skin and prevent fleas
Pitbull's have some health concerns that include
actinic keratosis (solar keratosis)
allergies
bloat
cancer
cataracts
hip dysplasia
hypothyroidism
and von Willebrand's disease.
Good breeders will take their breeding dogs for a full check up with a vet before they mate, and screen them for hereditary disorders which they could pass on to their puppy.
In conclusion, a Boston Terrier Pitbull can potentially suffer from some serious health issues. The most severe of these are the consequences of inheriting a Boston Terrier's brachycephalic muzzle shape.
These problems may not affect their lifespan, but they can compromise a dog's comfort and quality of life all the way from puppyhood to old age, and incur a lot of expensive veterinary care.
Boston Terrier Pitbulls typically live anywhere from ten to fifteen years.
Do Boston Terrier Pitbull Mixes make Good Family Dogs?
This dog has all the ingredients for a winning personality and a loving companion.
But unfortunately we cannot recommend buying one as a puppy, as they propagate the health problems of the brachycephalic Boston Terrier.
We recommend adopting an older Boston Terrier Pitbull instead.
Rescuing a Boston Terrier Pitbull Mix
Sadly, many Boston Terriers and their mixes end up on rescue shelters because their owners could no longer afford the vet bills that come with owning a brachycephalic dogs
Likewise, Pitbulls and their mixes fall victim to their unlucky reputation. Pitbull owners discover that they cannot rehome all of the puppies from a litter because people are worried about aggression, and eventually they abandon them at a shelter instead.
Rescuing one of these dogs or their mix from a shelter gives you the opportunity to find out what their adult health and temperament is really like.
We'll include a list of Boston Terrier and Pitbull rescues at the end of this article – let us know if you have another to add!
Boston Terrier Pitbull Mix Products and Accessories
The Boston Terrier Pitbull mix is prone to being energetic and playful, you will want a toy that they can play with to keep them busy
Since this mix has the potential for a smaller mouth, you may need to look into smaller chew toys.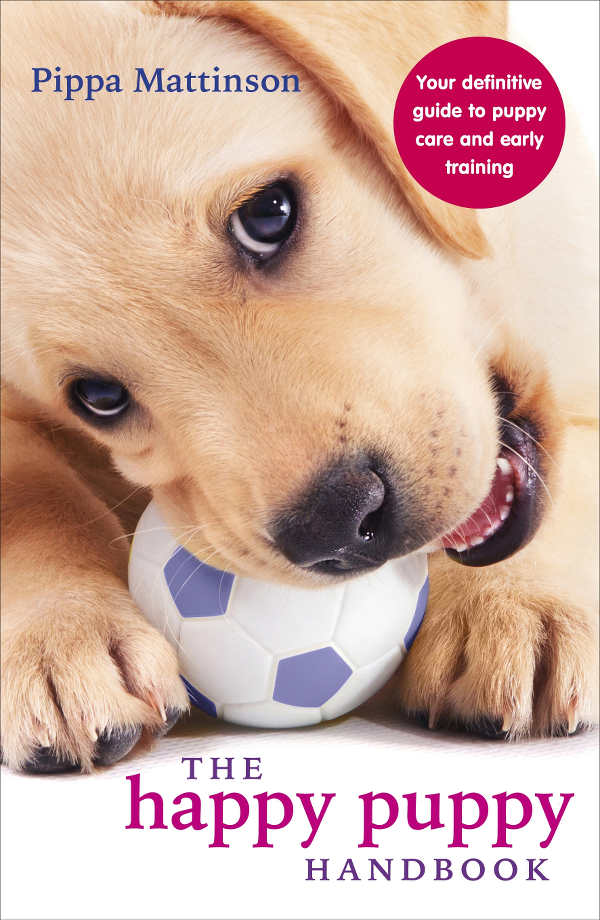 We recommend getting your puppy a harness instead of a leash, to protect their windpipe and back.
Pros and Cons of getting A Boston Terrier Pitbull Mix
As you've probably begun to realise, choosing a Boston Terrier Pitbull mix dog isn't always a straight forward or easy decision.
Let's round up some of the pros and cons:
Cons
The Pitbull has a violent past – this breed and their mixes are still illegal in some regions, so check your local laws.
The Boston Terrier is vulnerable to a lot of health problems from their flattened muzzle, which can affect their quality of life.
Pros
When this mix is reared by responsible breeders, they are likely to have a sweet, affectionate, people-centric temperament.
Their short coat is easy to groom and maintain.
Similar Boston Terrier Pitbull Mixes and Breeds
Since the Boston Terrier Pitbull mix is likely to inherit several health issues, including a short muzzle and prominent eyes, we recommend looking for healthier alternative breeds
You might also be interested in these if Pitbulls and their crosses are outlawed in your area.
Take a look at:
Boston Terrier Pitbull Mix Rescues
Rescue shelters specializing in specific mixed breeds are rare
These rescue shelters specialize in the Boston Terrier Pitbull's parent breeds. They might also be able to help you find a mixed breed dog
Is a Boston Terrier Pitbull Mix Right for Me?
Every dog has the potential to be a great companion, but for some mixed breeds the commitment is not a straight forward one
Due to the conformational health problems of the Boston Terrier, sadly we can't recommend continued breeding from these little dogs.
However if you have a chance to adopt one of these mixes, armed with lots of information about their health and temperament, you might just find a wonderful friend for life.
References and Resources
Deborah L. Duffy "Breed differences in canine aggression" Applied Animal Behavior Science, 2008
C. Barnett "Inherited eye disease in the dog and cat" Journal of Small Animal Practice, 1988
Oliveira "Retrospective Review of Congenital Heart Disease in 976 Dogs" Journal of Veterinary Internal Medicine, 2011
Kristina M. Adams BS "A Canine Socialization and Training Program at the National Institutes of Health" Lab Animal, 2004
Frank W. Nicholas "Hybrid vigour in dogs?" The Veterinary Journal, 2016