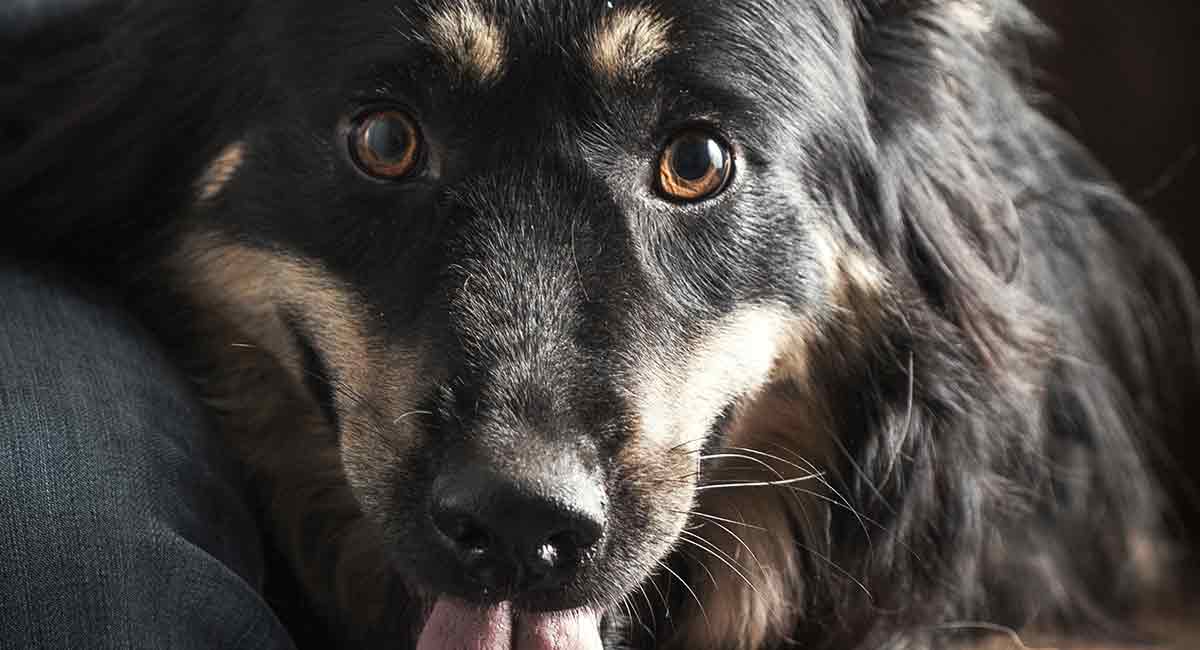 How does a Border Collie Rottweiler mix compare to his much-loved parent breeds?
And does this mix make a good family dog?
If you're considering a Border Collie Rottweiler mix, read on to learn more!
We'll trace the origins of this mix and learn about their appearance, temperament, and health.
So you can decide if a Border Collie Rottweiler mix is right for you!
The Designer Dog Controversy
Pure breed proponents argue that responsible selective breeding can reduce breed-specific genetic problems.
Research suggests purebred dogs are at a greater risk of hereditary conditions than mixes.
Limited gene pools leads to health problems.
Designer dogs have more variety in their genetic material.
Moreover, mixed-breed advocates suggest that this reduces the risk of developing breed-specific inherited disorders.
There is some evidence to support this claim.
Ultimately, unethical breeding is not limited to either side of this debate.
Therefore, it's important to look for reputable breeders, whether you're seeking a designer dog or a purebred.
Where Does the Border Collie Rottweiler Mix Come From?
During the Roman occupation of Britain, large dogs were used to herd livestock.
Subsequent Viking invasions introduced smaller, spitz-type dogs.
The resulting cross created compact, agile herding dogs perfectly equipped for the rocky highlands of Scotland and Wales.
Today, we know these dogs as Border Collies.
Rottweilers also originate from the Roman Empire.
As legions marched across the globe, they required tough, hardy dogs to move and guard accompanying livestock.
These dogs, bred from Asian Mastiff stock, became the foundation for many breeds in Germanic regions.
After the Empire's collapse, the dogs found a home in the town of Rottweil.
They herded cows and protected townspeople from bandits.
Consequently, the breed became known as the Rottweiler Metzgerhund, or butcher dog of Rottweil.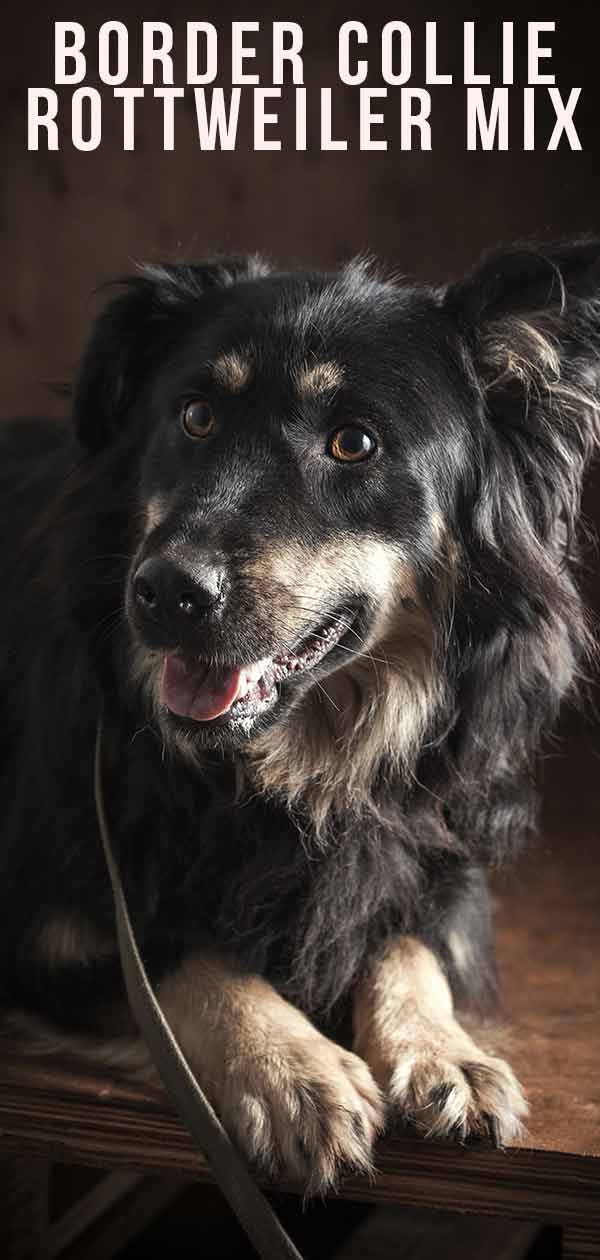 Fun Facts About the Border Collie Rottweiler Mix
Collie is a Scottish dialect word for sheepdog.
Border Collies have been described as the world's greatest herders and were, as such, immortalized in the movie Babe.
Rottweilers were among the first guide dogs for the blind.
They assisted in search and rescue operations at disaster sites, including Oklahoma City and the World Trade Center.
Border Collie Rottweiler Mix Appearance
A Border Collie Rottweiler mix may resemble one parent more closely or have a mix of both parents' features.
Border Collie Appearance
Border Collies have a muscular yet nimble appearance.
They can have a rough coat, which is medium length and feathered.
Or some have a smooth coat, which is shorter and coarser.
Both coat types can be various colors and patterns.
Border Collies stand between 19 and 21 inches tall and weigh around 30–55 pounds.
Rottweiler Appearance
Rottweilers have short black coats with rust, tan, or mahogany markings.
They are robust, strong dogs with thickly muscled hindquarters.
Rottweilers reach between 22 and 27 inches in height.
Male dogs are usually larger than females.
They weigh in at around 80–135 pounds.
Consequently, Border Collie Rottweiler mixes are likely to be medium-large, muscular dogs.
The coat type, color, and pattern will vary, according to which parent's coat is inherited, or it could be a mix.
Border Collie Rottweiler Mix Temperament
Let's consider the typical personality traits of the parent breeds.
Border Collies are known for their intelligence and ability to learn complex commands.
Affectionate with their owners, they can be reserved with strangers.
Border Collies are happiest when they have a job to do and can experience boredom and anxiety without sufficient stimulation.
If not working in a traditional sense, Border Collies love – and excel in – obedience and agility training.
But What About the Rottweiler Reputation?
There have been claims that Rottweilers have an aggressive temperament.
But is this a fair characterization?
The CDC reports that between 1979 and 1998, Rottweilers were responsible for the second-highest number of human deaths, after Pitbulls.
Poland, Portugal, and Ireland have banned Rottweilers and consider them a dangerous breed.
Bred to guard and protect, Rottweilers can be territorial and watchful or cautious with unfamiliar people.
Clearly, these are concerning facts, but is this the whole story?
Many Rottweiler enthusiasts argue Rottweilers are loving towards their owners and gentle with children.
Rottweilers crave companionship and are often extremely physically affectionate.
As a result, Rottweilers can experience separation anxiety if left alone for long periods.
The Evidence
In 2017, the American Temperament Test Society reported a passing rate of 84.7% for the Rottweiler, making him one of the country's more stable breeds.
Furthermore, research suggests that canine aggression is complex and influenced by
breed
age
sex
general health and size
social factors such as previous neglect, mistreatment, and socialization.
A 2017 Dutch study found that responsible breeding can make a significant difference to Rottweiler temperament.
Researchers recorded fewer aggressive behaviors in the offspring of dogs who'd passed the Socially Acceptable Behavior (SAB) test.
This was previously a requirement for pedigree Rottweilers.
Rottweilers bred by responsible parties, who are also adequately socialized and trained, can become fantastic pets.
Ultimately, it's important to find reputable breeders who can offer information about a Rottweiler's parentage and history.
Owners must prioritize training and socialization.
Mix Temperament
Now you know the characteristics of the parent breeds.
So the Border Collie Rottweiler mix will likely be highly energetic, loyal, affectionate, and protective in nature.
They may be reserved with strangers or appear watchful in unfamiliar settings.
They are likely to respond well to training.
Highly intelligent, they may experience boredom or anxiety if left alone for long periods.
Training Your Border Collie Rottweiler Mix
A Border Collie Rottweiler mix will inherit characteristics from both parents.
Collie Side
Border Collies are highly intelligent and learn quickly.
With high intelligence can come a stubborn streak.
But this breed responds well to calm, consistent training given from an early age.
Rottie Side
Rottweiler puppies are relatively easy to train.
They are eager to please, intelligent, and calm-natured, with a good ability to retain what they've learned.
It is crucial that this breed start obedience training early, however.
Because Rottweilers grow into large dogs with a determined attitude!
Consequently, if a Rottweiler has not been adequately trained or socialized, they can exhibit undesirable behaviors.
Rottweilers respond best to positive, rewards-based training.
It is very important not to assume a punitive approach with this breed, or to roughhouse with them during play.
These can actually encourage aggression.
Training the Mix
When training your Border Collie Rottweiler mix, it's important to consider the typical traits of the parent breeds.
As such, training should begin early and be calm, consistent, and positive in nature.
Again, avoid punishment-based training.
Rewards-based training has been shown to be highly effective.
Use part of meals for rewards to avoid weight gain.
In addition, you'll need to provide plenty of socialization, plus sufficient mental stimulation to prevent boredom and anxiety.
Check out our training guides for more information:
Border Collie Rottweiler Mix Health
Health conditions found in the parent breeds may also be present in mixed-breed offspring.
Border Collie Health
Border Collies are generally healthy dogs, although there are conditions the breed can develop.
Neuronal Ceroid Lipofuscinosis
Border Collies can inherit neuronal ceroid lipofuscinosis.
This is a serious neurological disorder which leads to brain dysfunction.
It causes motor, visual, and psychointellectual impairments and premature death.
Unfortunately, due to the severity of this condition, Border Collies diagnosed with it are generally euthanized at around 25 months.
Studies have shown that genetic screening when choosing breeding pairs significantly reduces the prevalence of this disorder.
Trapped Neutrophil Syndrome
Trapped neutrophil syndrome is a genetic disorder unique to Border Collies.
Although the bone marrow produces neutrophils normally, they are not released into the bloodstream to fight disease.
Hence, the immune system is weakened, and the dog is unlikely to live more than a few months.
Around 10% of Border Collies are carriers of the disease.
Genetic testing, therefore, is important before breeding pairs are selected.
Border Collies may also experience deafness and epilepsy.
Rottweiler Health
Rottweilers can experience cardiac issues such as cardiomyopathy and subaortic stenosis, usually identified by heart murmurs.
These conditions can lead to sudden death, so it is important to have regular heart checks.
Rottweilers can also be prone to various cancers.
It is difficult to predict if a dog will develop cancer.
Recent research suggests cancer and longevity in Rottweilers may be linked to a careful vaccination schedule.
Early detection is important.
Hypothyroidism, Addison's, and von Willebrand
Rottweilers may also develop hypothyroidism, a condition in which the thyroid gland can't produce sufficient levels of thyroid hormone.
In addition, they can suffer with Addison's disease, in which the adrenal glands do not produce enough hormones.
The breed can also be at risk of von Willebrand disease, an inherited disorder which causes problems with blood clotting.
Conditions Common to Both Breeds
Both Border Collies and Rottweilers may develop canine hip dysplasia (CHD), a condition resulting in lameness and severe arthritis.
Both breeds are susceptible to eye disorders, including progressive retinal atrophy, which causes gradual loss of vision and eventual blindness.
Border Collies can also develop Collie eye anomaly and Rottweilers cataracts.
Both of which can also lead to impaired vision or blindness.
Research suggests that breeders who consult pedigree health databases reduce the risk of inherited disorders in dogs.
Both parents should have good hip and elbow scores and a clear eye test.
Rottweiler parents will also need a recent cardiac check.
Lifespan
Healthy Border Collies live around 12 to 15 years.
Rottweilers live between 9 and 10 years.
Therefore, a healthy Border Collie Rottweiler mix can expect a lifespan within this range.
Do Border Collie Rottweiler Mixes Make Good Family Dogs?
Border Collie Rottweiler mixes have the potential to be affectionate, loyal, loving family dogs.
Like Border Collies, Rottweilers are intelligent and can be strong-willed.
They can also be territorial.
Thus, Border Collie Rottweiler mixes require thorough training and extensive socialization from an early age.
This mix is generally eager to please and responds well to rewards-based training.
Both parent breeds are highly energetic.
If your family is active and enjoys spending a lot of time outdoors, this mix could be a great addition.
Rescuing a Border Collie Rottweiler Mix
Are you interested in adopting a Border Collie Rottweiler mix?
There are many organizations that specialize in both parent breeds and mixes.
Be aware that rescue organizations may not be able to acquire background information on their dogs.
Rottweilers in particular can be prone to some fairly serious health issues.
Therefore, you may wish to get your mix from a breeder who can provide evidence of health and behavioral history.
If you are unsure, ask your veterinarian for advice.
Finding a Border Collie Rottweiler Mix Puppy
It's essential to do some homework before bringing home a puppy.
Reputable breeders will
provide evidence of the health and behavioral history of parent dogs
provide evidence of puppy health screening
answer your questions
present the parent animals, and puppies with their mother, for inspection.
Raising a Border Collie Rottweiler Mix Puppy
Border Collie Rottweiler mixes are fairly low maintenance, grooming-wise.
Whether your pup has a rough or smooth coat, they'll need brushing with a pin brush once or twice weekly.
Border Collie Rottweiler mixes with a longer, feathered coat may require more frequent brushing.
Make sure to check your dog's eyes and ears regularly, and trim their nails every few weeks.
Border Collie Rottweiler mixes benefit from daily teeth cleaning.
Be sure to choose high-quality dog food that is made for your dog's age and activity level.
Overfeeding or too many treats can cause obesity.
Treats should form part of the daily food allowance.
Read more about raising a Border Collie Rottweiler mix puppy here.
Border Collie Rottweiler Mix Products and Accessories
Ready to start shopping for your new friend?
Maybe get started with these: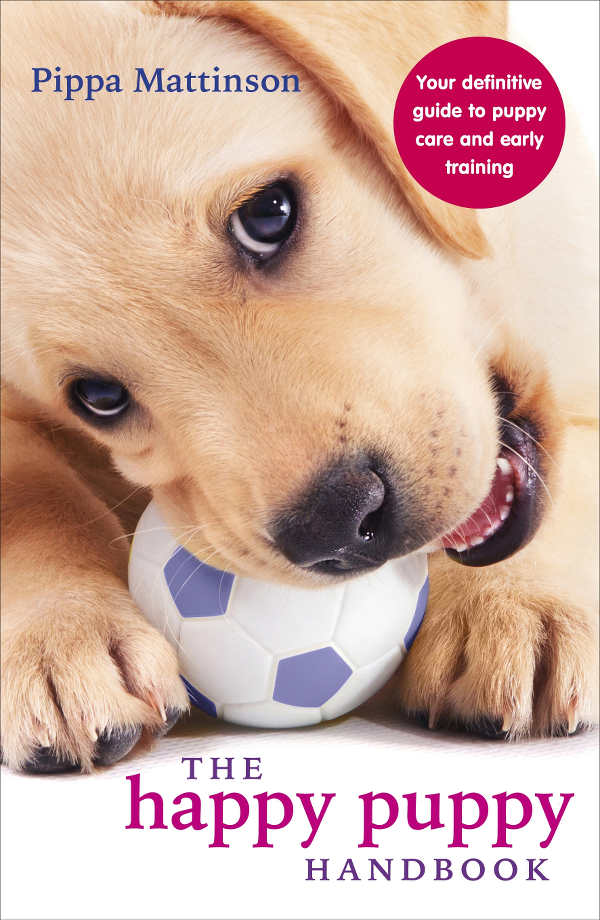 Pros and Cons of Getting a Border Collie Rottweiler Mix
Cons
Border Collie Rottweiler mixes require a significant time commitment for training and exercise.
They need a confident, calm owner who is consistent with rewards-based training.
Nervous or less assertive owners may do better with a different breed.
Border Collie Rottweiler mixes require vigorous exercise and stimulation.
If you are less active or have limited mobility, a different breed might be a better fit.
This mix can experience separation anxiety.
So they would do better with owners who do not spend a lot of time away from home.
Border Collie Rottweiler mixes may inherit significant health conditions from their parent breeds.
Therefore, you may want to invest in pet insurance.
Pros
Border Collie Rottweiler mixes are loving, loyal, intelligent dogs who respond well to training.
Border Collie Rottweiler mixes are very energetic.
For very active or outdoorsy owners, they can make lively companions.
In addition, Border Collie Rottweiler mixes may well enjoy competitive pursuits, such as obedience or agility training, rally, and tracking.
They are usually fairly low maintenance in terms of grooming.
Similar Border Collie Rottweiler Mixes and Breeds
If you're intrigued by the Border Collie Rottweiler mix, you might also want to consider:
Icelandic Sheepdog
Keeshond
Border Collie Rottweiler Mix Rescues
If you are interested in rescue, check out these organizations:
Is a Border Collie Rottweiler Mix Right for Me?
Are you a confident owner who can be consistent with rewards-based training?
Do you have a significant amount of time daily to devote to exercise, training, socialization, and play?
Are you physically active and able to keep up with an athletic pup?
If yes, then a Border Collie Rottweiler mix could be right for you!
Are you the proud owner of a Border Collie Rottweiler mix?
Tell us all about it in the comments below!
References and Resources
American Kennel Club
American Temperament Test Society
Beuchat, C. Health of Purebred dogs vs. Mixed Breed dogs: the actual data, Institute of Canine Biology, 2015
Beuchat, C. The myth of hybrid vigor in dogs…is a myth, Institute of Canine Biology, 2014
Duffy, D. Et.al. Breed Differences in Canine Aggression Journal of Applied Animal Behavior Science, 2008
Houpt, K.A. Genetics of Canine Behavior, Acta Veterinaria, 2007
Misukami, K. Et al. Trapped neutrophil syndrome in a Border Collie dog: Clinical, clinico-pathologic, and molecular findings, Journal of Veterinary Medical Science, 2011
Mizukami, K. Et al. Neuronal Ceroid Lipofuscinosis in Border Collie Dogs in Japan: Clinical and Molecular Epidemiological Study (2000–2011), Scientific World Journal, 2012
Sacks, J.J. et.al. Breeds of dogs involved in fatal human attacks in the United States between 1979 and 1998. Journal of American Veterinary Medical Association, 2000
Sampson, J. How the Kennel Club is tackling inherited disorders in the United Kingdom, The Veterinary Journal, 2011
Van der Borg, J. et. al. Behavioral testing based breeding policy reduces the prevalence of fear and aggression related behavior in Rottweilers, Applied Animal Behavior Science, 2017
Vilboux, T. Et.al. Progressive Retinal Atrophy in the Border Collie: a new XLPRA BMC Veterinary Research, 2008
Waters, D. CANCER Clues from PET DOGS, Scientific American, 2006
Wright, J.C. Canine Aggression: Dog Bites to People, Readings in Companion Animal Behavior, 1996