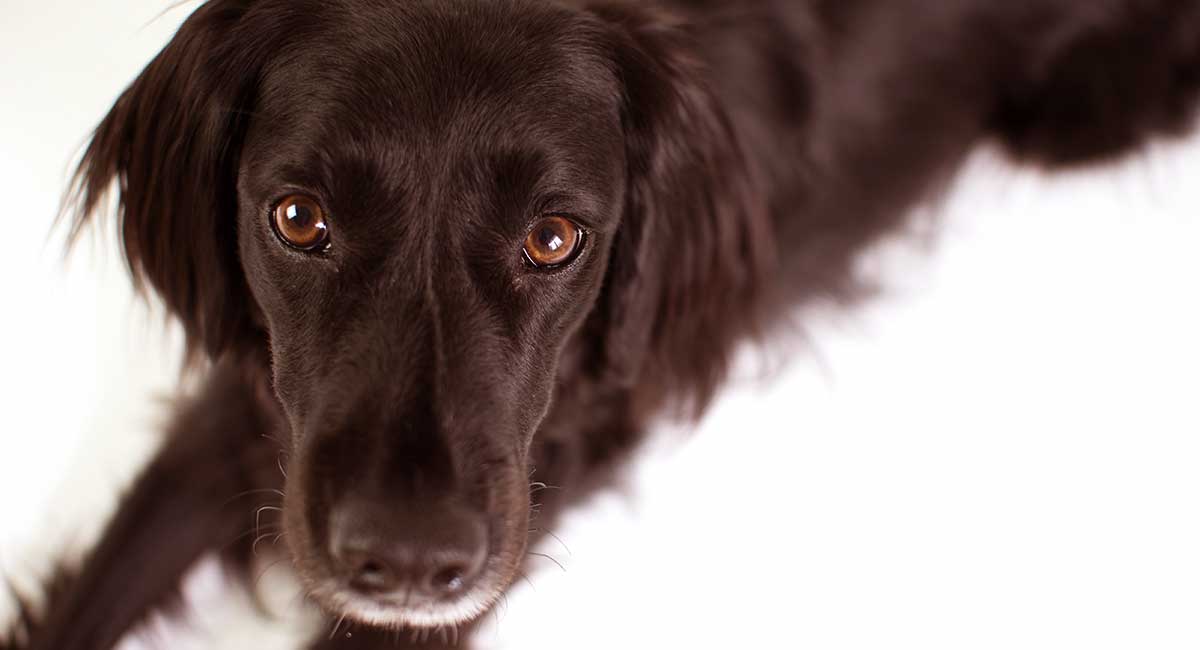 The Border Collie Lab mix, or Borador, is a cross between a purebred Border Collie and a purebred Labrador Retriever. The Border Collie Lab mix stands between 16 and 19 inches tall and weighs approximately 60lbs as a fully grown adult. Both breeds usually enjoy a clean bill of health and are friendly dogs that can be easily socialized.
What's In This Guide
Border Collie FAQs
Our readers' most popular and frequently asked questions about the Border Collie Lab mix.
Border Collie Lab mix: Breed At A Glance
Popularity: Labrador (1st) and Border Collie (35th) on the AKCs breed rankings
Purpose: Originally herding and companion dogs, now a companion mixed breed
Weight: Approx 40-60lbs
Temperament: Friendly, enthusiastic and full of energy
Border Collie Lab mix Breed Review: Contents
History and original purpose of the Border Collie Lab mix
To get a better look at where the Borador dog came from, let's take a look at each parent breed first.
Origins of the Border Collie Labrador Mix
As with most mixed breed mutts, Border Collie Lab Mix dogs can't have their ancestry precisely mapped.
No one can say when the first cross was born. However, we can trace its recent surge in popularity.
The Borador has seen an increase in intentional breeding over the past 20-30 years, with things starting in North America and gradually spreading across the rest of the world.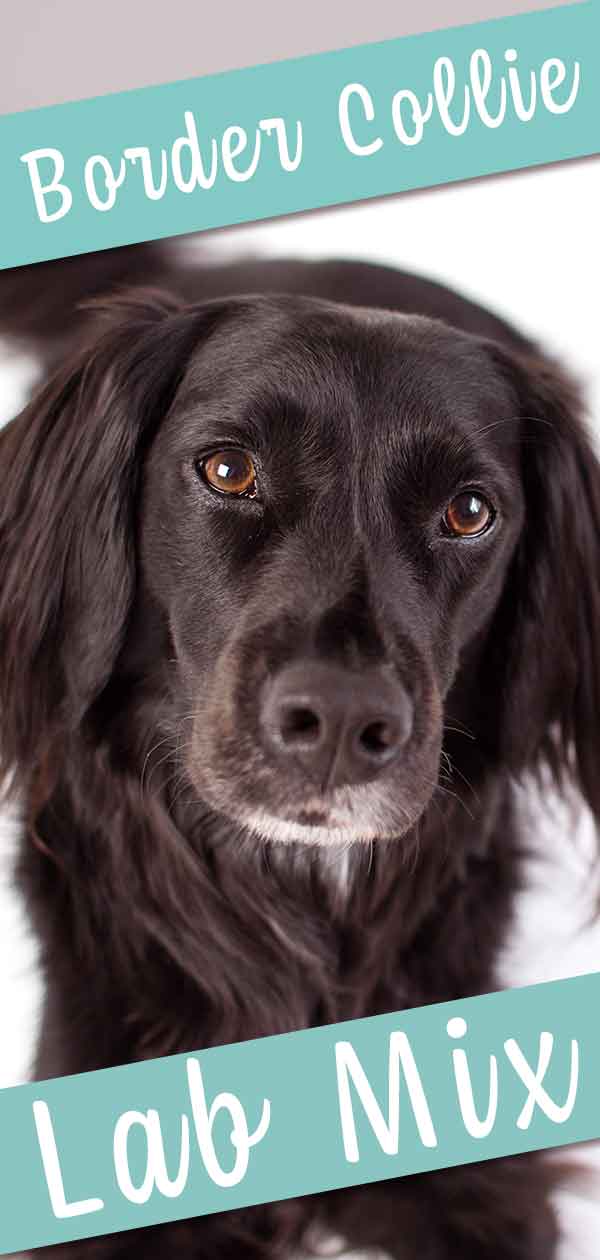 Origins of the Border Collie
Dogs have been used to herd livestock throughout their history and were first bred for the job way back in the Roman times.
Later, when Vikings invaded Britain, they brought with them their own herding dogs, far smaller than the Roman herders.
Border Collies were the result of the breeding between these two separate herding dogs.
Origins of the Labrador
British noblemen visiting Canada, specifically Newfoundland in the early 19th century, were struck by the usefulness and pleasant nature of the Labrador. They decided to take some back to the UK, where their popularity grew rapidly.
The breed dates back to the 17th century and counts St. John's Water Dog, Newfoundland and Mastiffs among its ancestors.
What Are Collie Labradors Crosses Like?
It's vital to note that there can be no definitive answer to a question like this.
Mixed breed dogs will demonstrate traits and characteristics from their parent breeds, but it's almost impossible to predict in what amount.
Be it physically or in terms of behavior and personality, a mixed breed dog may be an exact 50/50 split, or be almost all one breed or another.
There really is no saying, unfortunately! However, your black lab border collie mix is almost guaranteed to be adorable!
Fun facts about Border Collie Lab mix
The Borador, as a mix between the Lab and the Border Collie, is known as a designer breed. Interestingly, there is a huge amount of speculation and debate around designer dogs.
We'll take you through it briefly.
Purebred Dogs and Designer Dogs: The Controversy
There are two camps. Essentially, one advocates pure breeding, the other puts forward the idea that mixing breeds is healthier.
Purebred fans claim that keeping breeds intact and 'pedigree' means that the dog is bred to a tightly regimented set of standards. The puppies are predictable in their genetic make-up and lineage is traceable.
Proponents of mixing breeds say that widening the gene pool is far healthier and results in fewer inherited illnesses, disorders and weaknesses.
For a more detailed examination of the issue, we'd recommend you read this more involved discussion of pedigrees vs. mongrels here.
Designer Dogs: What Does Science Say About It?
The complexity of the debate is furthered by what appears to mixed messages from the scientific community. You can find studies and research which advocate both mixing breeds and not mixing as healthier options.
Definitive answers are difficult to come by, but the weight of scientific opinion on the subject seems to fall on the pro-mixed breeding side.
However, whether it's a mixed or purebred dog, animal welfare and care is the most important thing in the world of dog breeding.
So long as dogs are being bred and raised in safe and sensible ways, the puppy should grow up to lead the best life possible.
If you'd like to find out more about the importance of crossing genetically distinct sub-populations of dogs, this article from the Institute of Canine Biology explains it perfectly and in some depth.
Border Collie Lab mix appearance
How big do Boradors get?
Well, that all depends. Like with all mixed breed, when it comes to Border Collie Lab Mix sizes, it's not an exact science.
A full grown Borador will generally weigh in at just over that of a purebred collie. So you're looking at around the 40lb-60lb mark.
Like we say, though – Borador weights can differ based on family history, metabolism, activity levels and feeding habits.
You can expect them to grow up to around 16-19" in height.
Defining Physical Characteristics of a Labrador Border Collie
Most Boradors are primarily black in color, with the odd splash of white (especially around the face and chest).
Though you can find them with brown or yellow coats.
One of the most strikingly notable things about these dogs are they huge doleful dark eyes.
Be careful, though…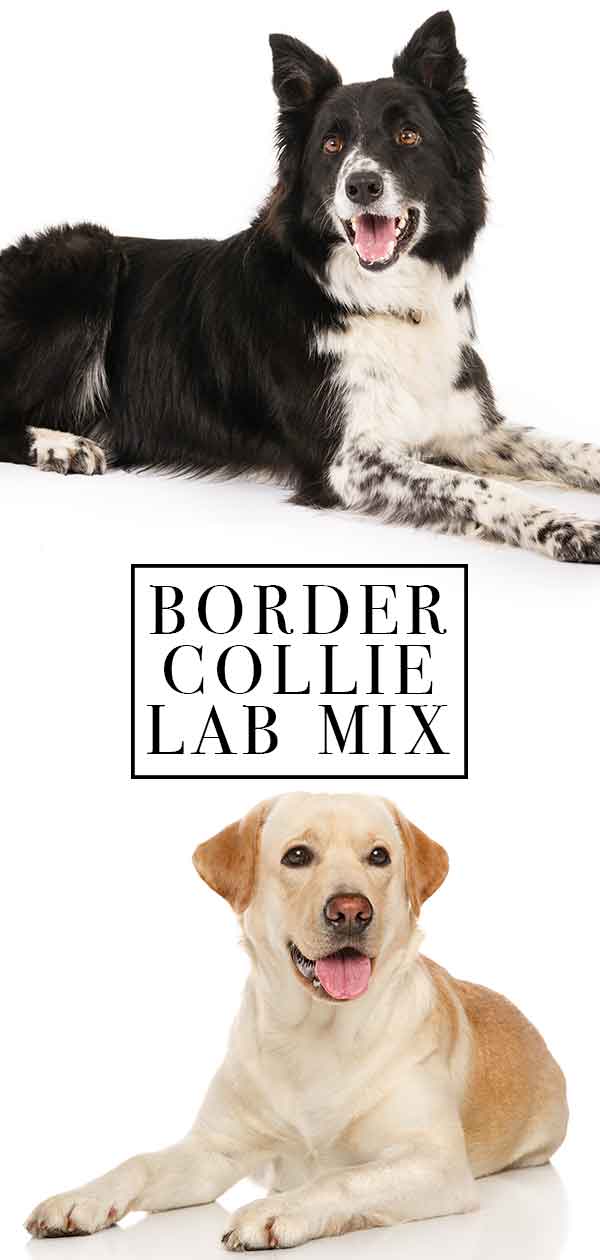 Border Collie Lab mix temperament
This mixed breeds temperament is almost perfect.
Intelligent, loving, loyal, relaxed and positive, they really do make for perfect pets.
It's the smarts that really stand this mixed breed out, though.
Labradors and Collies are both fiercely intelligent. So, it's no surprise to learn that American Psychological Association's research found that they show the same mental aptitude as two and a half year-old children.
Training and exercising your Border Collie Lab mix
Socialization is key with any dog, pedigree or cross.
This mix has everything in its make-up to make the ideal dog. However, without properly planned and executed socialisation, there could be trouble.
It's important to expose your Borador to other dogs as well as humans early. Do that and you're all but guaranteed a sociable pooch with a reliable, predictable and stable temperament.
When it comes to Borador dog training, prepare to get fit! They're pretty high energy and daily exercise is required. Long walks are much loved, but so too are things like obstacle courses.
Anything to tire them out and get them thinking is a winner.
Border Collie Lab mix health and care
We firmly believe that crossing breeds reduces the likelihood of major breed-based health concerns.
Luckily for Borador dogs, both original breeds are known to be very healthy anyway.
So there's little to be overly concerned with on this front.
Some conditions to be aware of
According to the American Border Collie Association, congenital deafness is something to watch out for in Border Collies.
It's usually caused by blood flow issues to the cochlea and vascular malformations in the ear.
Elbow and hip dysplasia is also not hugely uncommon in Border Collies.
As for Labradors, they can be prone to heart defects and cataracts.
Joint Problems
The most common affliction in these dogs is joint related. Again, hip and elbow dysplasia is most commonplace.
Our advice? If you're getting a puppy, do your utmost to find out the parents' history of joint problems.
With dysplasia in both breeds, if both female dog and stud suffer, it's likely the puppy will also have joint issues in later life.
Expected Lifespan
How long do Boradors live for? It's a good question…
Now, of course, as with all dogs, there are no absolute certainties concerning how long your collie/lab cross will live.
That said, generally, a Borador dog lifespan is around 12 – 15 years.
Of course, the healthier and fitter your pet, the longer it's likely to live.
But again, there are no certainties in life, so please just consider these numbers as merely guidance.
Grooming
Black Lab Border Collie Mix shedding isn't a massive concern for owners and grooming isn't a daily chore.
Twice weekly brushing with a bristle brush should suffice.
If the dog takes after its lab parent, you may need to pay a little more attention to their grooming needs.
Do Border Collie Lab mixes make good family pets
This is a really friendly dog that should be easy to train and socialize. For that reason we think a Borador would make a great family pet.
However, it's important to remember that this is a highly energetic mixed breed. This might be worth taking into consideration if you have a particularly young family. Maybe a smaller, or less energetic breed would suit you in that case.
Rescuing a Border Collie Lab mix
Borador puppies are, of course, almost unbelievably cute. Rescuing a dog can be really rewarding! We would recommend that you definitely don't need to be overly charitable.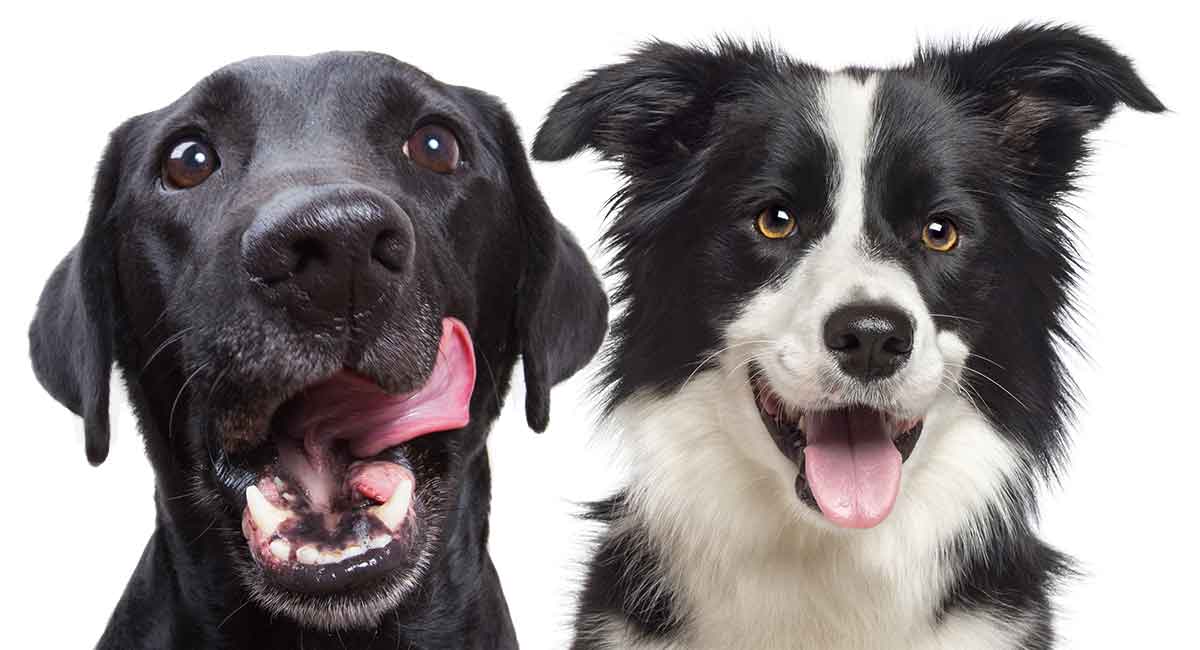 Feeling sorry for the runt of the litter is natural, but only select the runt if you're sure it's the best course of action. While it's extremely tempting to opt for the 'poor little one', you may well come to regret it later on.
Runts (smaller, weaker members of the litter) can often develop health problems in later life.
They may well be smaller and cost more in vet bills. This isn't always the case, but it could be. Proceed with caution is all we really say on the matter.
Of course rescuing a dog, young or old, is a remarkable thing to do. You can give a new lease on life to an old dog or make a lifelong companion with a young dog. You can find a list of rescues for each parent breed by clicking here.
Finding a Border Collie Lab mix puppy
Information on finding a puppy goes here: How to go about finding a puppy. The importance of avoiding pet stores and puppy mills. Include a link to our puppy search guide.
Talk about the growing popularity of mixes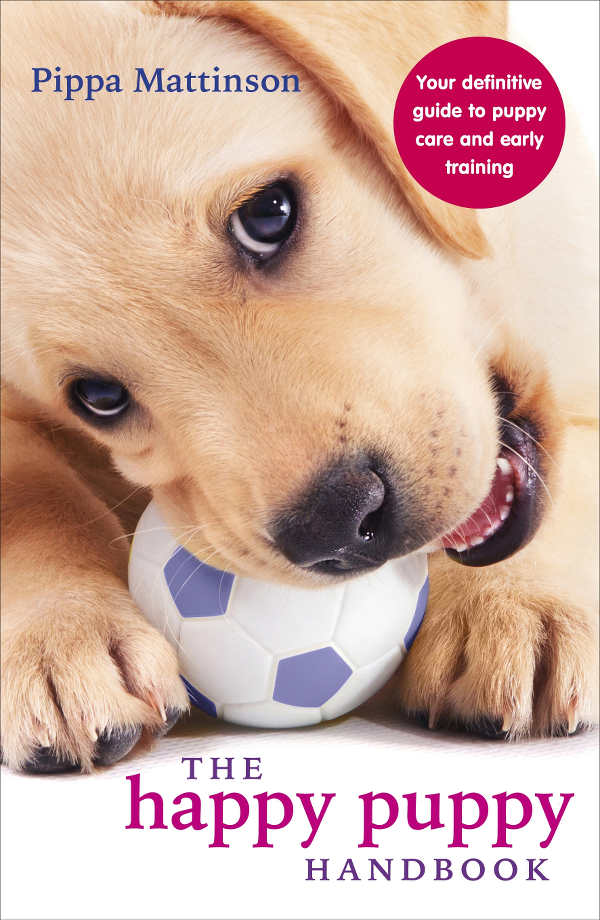 So, where do you even start looking? Mixes are becoming increasingly popular so you might have some luck finder a breeder. Border collie lab mix puppies are probably best found online, especially if you don't know any breeders yourself.
Ensure that you visit the breeder in their home and see the mother in her home environment, relaxed, healthy and with her puppies.
We strongly advise against sourcing your pup from a pet store or puppy mill. These places have a bad reputation for animal welfare. The less business you give them, the better.
If you need some more help finding a puppy, have a look at our Puppy Search Guide.
Raising Border Collie Lab mix puppies
Caring for a vulnerable Borador puppy is a big responsibility. There are some great guides to help you with all aspects of puppy care and training.
You'll find them listed on our puppy care page.
Border Collie Lab mix products and accessories
Pros And Cons of Getting A Border Collie Lab mix
Cons:
These dogs have bundles of energy and may not be suitable for households with a young family.
Their high energy also means they require a lot of exercise.
Pros:
This mix breed will be intelligent and relatively easy to socialize and train.
Their friendly demeanor means you won't have too much to worry about with other people or even other animals. (However, it's important to stress that you should always exercise around animals and their interactions with others)
This mix doesn't require much grooming.
Similar Breeds
Here are some other dog breeds you might want to consider:
Border Collie Lab mix Breed Rescues
We couldn't find any rescues that specifically cater for this mix breed. You might have some luck with breed rescues for each parent breed. We've listed some below.
USA
UK
Canada
Australia
Do you know of any other great rescues for either these parent breeds or for the Borador? Let us know in the comments!
References And Resources
Gough A, Thomas A, O'Neill D. 2018 Breed Predispositions to Disease In Dogs and Cats. Wiley Blackwell
O'Neill et al. 2013. Longevity and Mortality of Owned Dogs In England. The Veterinary Journal
Adams VJ, et al. 2010. Results of a Survey of UK Purebred Dogs. Journal of Small Animal Practice.
Schalamon et al. 2006. Analysis of Dog Bites In Children Who Are Younger Than 17 Years. Pediatrics
Duffy D et al. Breed differences in canine aggression. Applied Animal Behavior Science 2008
Strain G. Deafness prevalence and pigmentation and gender associations in dog breeds at risk. The Veterinary Journal 2004
Packer et al. 2015. Impact of Facial Conformation On Canine Health. PlosOne
The American Kennel Club.
The Kennel Club UK.
The Institute of Canine Biology.
The Border Collie Society of America.
The Border Collie Club of GB.
The Institute of Canine Biology.
Smith GK, et al, 2001, Evaluation of risk factors for degenerative joint disease associated with hip dysplasia in German Shepherd Dogs, Golden Retrievers, Labrador Retrievers, and Rottweilers, Journal of the American Veterinary Medical Association.
Dollevoet K, et al, 2018, Labrador Origins and Timeline, Lorken Farms Kennels.
Fields-Babineau, Miriam, 2005, Training Your Mixed Breed, Kennel Club Books.
Bellumori TP, et al, 2013, Prevalence of inherited disorders among mixed-breed and purebred dogs: 27,254 cases (1995–2010), Journal of the American Veterinary Medical Association.