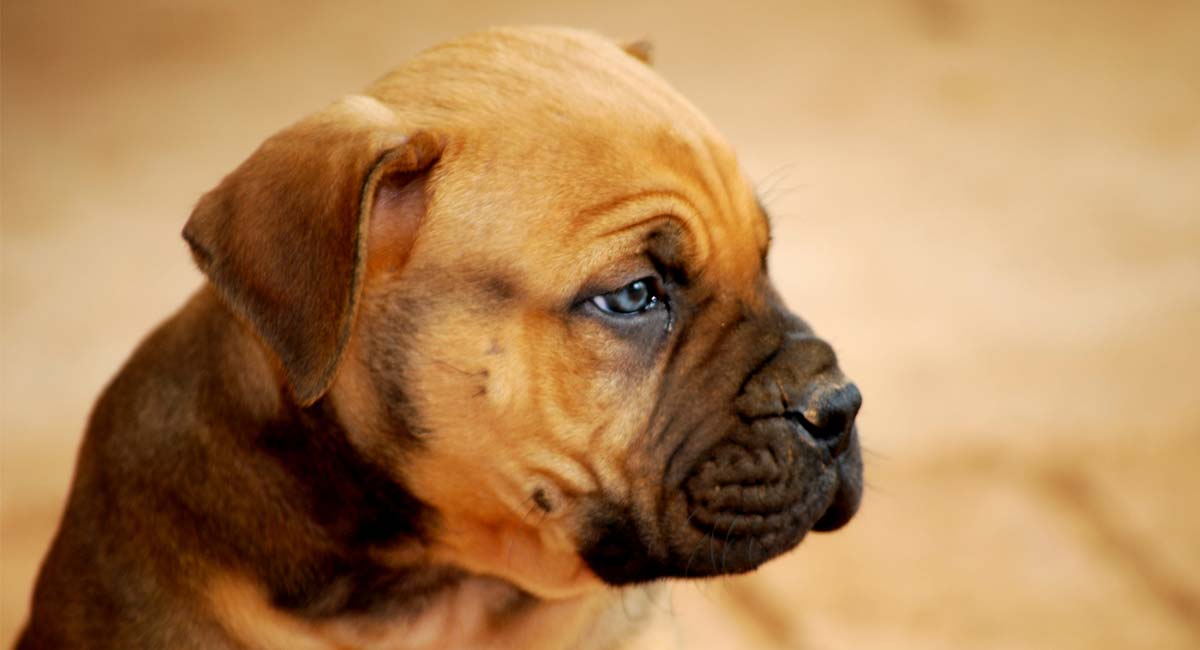 The Boerboel dog cuts an impressive figure, winning it many fans in the USA and other far flung countries.
Thinking of bringing home a South African Boerboel puppy? Read on to find out whether you can give this great breed what it needs to stay happy and healthy.
What's In This Guide
Boerboel FAQs
Here are our readers' most popular and frequently asked questions about the Boerboel.
Here's a brief glance at some of the most important information you'll need to know about this breed.
Breed At A Glance
Popularity: Uncommon, declining as a result of banned breeds
Purpose: Protection, guard dog
Weight: 150-200 lbs.
Temperament: Territorial, loyal, dominant
So what makes this dog so special? Follow the links below to find out more about the Boerboel.
Boerboel Breed Review: Contents
The South African Boerboel is a big breed with a big personality to match.
Big dog breeds have always been popular. They look noble and powerful, and can make us feel safe in their presence.
Recently, exotic dog breeds from different parts of the world have become more popular. One such exotic large dog breed is the South African Boerboel.
So let's take a closer look at possibly the most famous African dog breed — the Boerboel.
History and Original Purpose of the Boerboel
The Boerboel dog is a large breed of dog hailing from South Africa.
Also known as a Boerboel Mastiff or South African Mastiff, it very closely resembles other Mastiff breeds.
Interestingly, nobody's sure of the exact origin of this breed.
The Boerboel is thought to have originated as a mix of dogs native to Africa, and those brought to the country by invading Dutch farmers sometime after 1652. But this isn't a certainty.
In fact, it's nearly impossible to trace the origins of this breed. The word Boerboel simply means 'farmer's dog' in Afrikaans — the language of the Dutch colonists.
It seems likely that Mastiffs were principally involved, based on the stature and features of the Boerboel.
This is just speculation, though, and any number of breeds may have had an impact on this dog's development.
Whatever the route source of its features, the Boerboel dog is loved by many.
Many owners have been enticed by its gentle yet fiercely protective attitude and it's stoic, dignified poise.
Fun Facts about Boerboel
This dog breed can grow to be a whopping 200 pounds! That's three times as heavy as a Dalmation and ten times as heavy as a Dachshund!
Unsurprisingly, there are legends that recount Boerboels hunting and killing lions in South Africa. Although it's unlikely to be true, the impressive size of this dog would make you wonder!
Here's some other noteworthy characteristics of the Boerboel's appearance.
Boerboel Appearance
These are very big dogs.
Broad as well as tall, with males reaching up to 27 inches at the shoulder.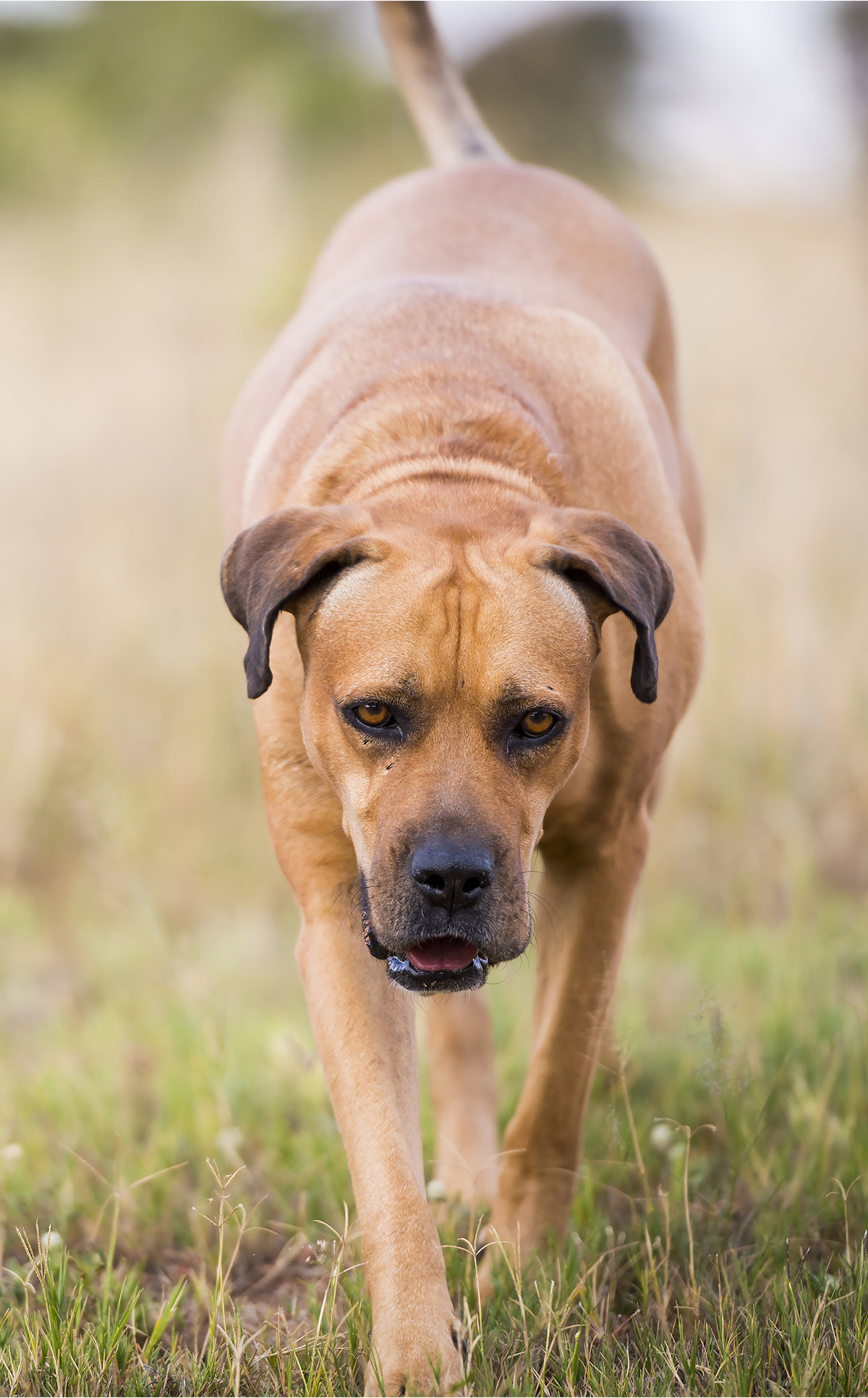 The female Boerboel is pretty large too, measuring up to 25 inches.
The main appeal of this dog, though, is how well built and stocky it is.
As mentioned, a full grown Boerboel can weigh up to an impressive 200 pounds.
To put that into perspective, a typical adult male grey wolf will weigh about half of that. Most Boerboels reach somewhere between 150 pounds and this upper limit. Check out this guide to learn about puppy development stages!
This dog's big size does raise some health concerns, which we'll cover further on.
This dog can sport a huge range of coat colors, although the black Boerboel isn't recognized by the American Kennel Club.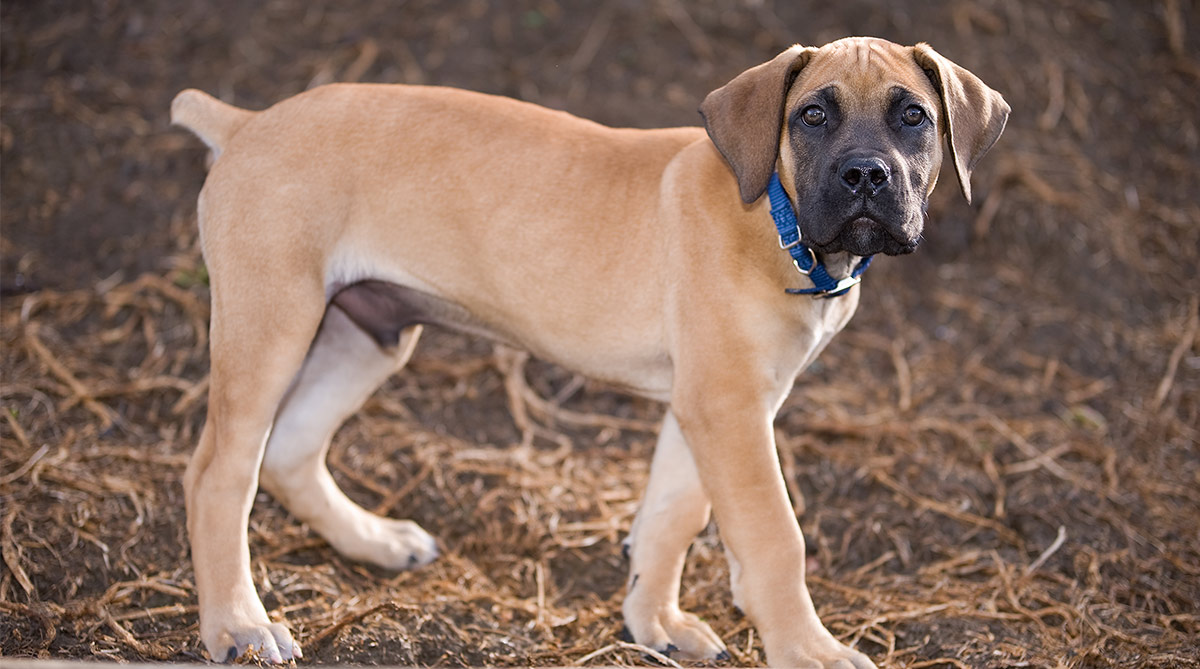 Boerboel colors that match up to the American breed standard can be various shades of brown, red or brindle.
So, this is a big and beautiful breed, but does it have a big heart to match?
Boerboel Temperament
As a breed, Boerboel Mastiffs have been used on farms for many years.
Unlike herding dogs such as Collies, the Boerboel's main job was to warn and protect the inhabitants of the farm.
As such, they have been bred to carry certain character traits that, if mishandled, could be problematic.
Boerboels are considered to be good guard dogs. They're said to have a strong protective instinct and a general mistrust of strangers.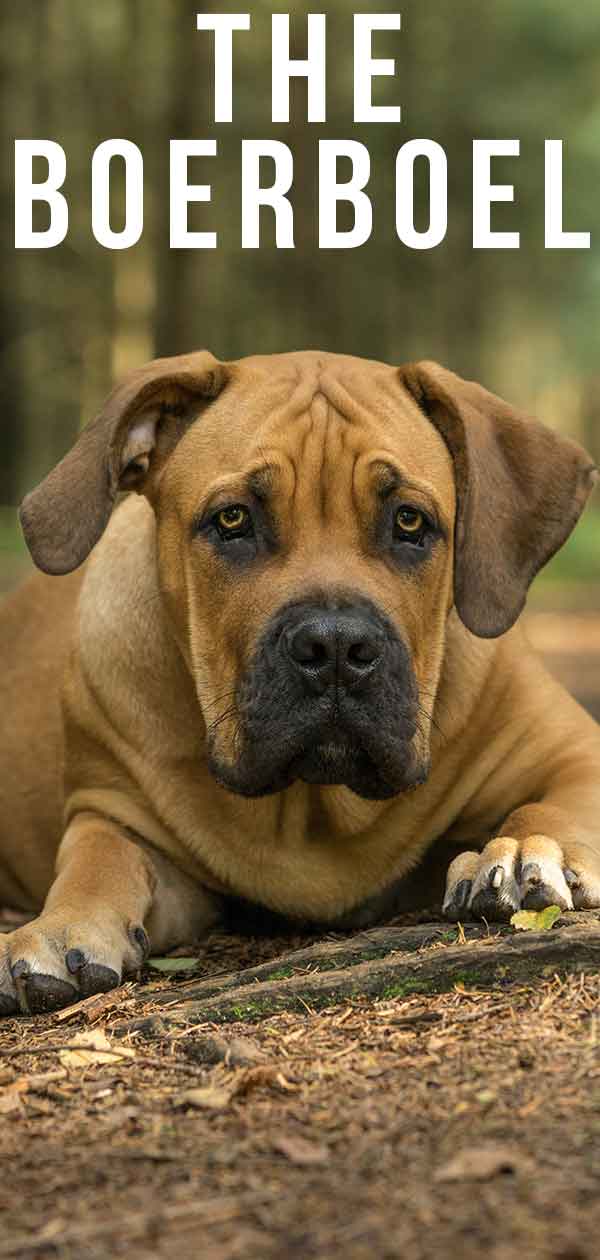 This is great for a dog whose sole job is to guard something, but not so great if you want to have people over.
The American Kennel Club does say that this dog has the ability to perceive threats effectively and switch on its protective capabilities.
But expecting a dog to be able to accurately judge a threat is a little unfair.
For instance, context is important, and a misunderstanding could lead to a dog wrongly attacking.
Fear of strangers is the root cause of these sorts of attitudes.
By training and socializing your dog properly, you should be able to increase your chances of having a friendly pet — one that doesn't freak out every time you bring someone new into the house.
But this isn't a given.
If you are thinking of buying a Boerboel puppy, meeting the parents is essential. If they are happy to meet you, then your puppy is more likely to be kindly disposed to strangers.
Socialization is an important part of raising a Boerboel that is a safe canine citizen.
Training and Exercising your Boerboel
When you bring home your new puppy, you have a window of opportunity to get him used to all sorts of experiences.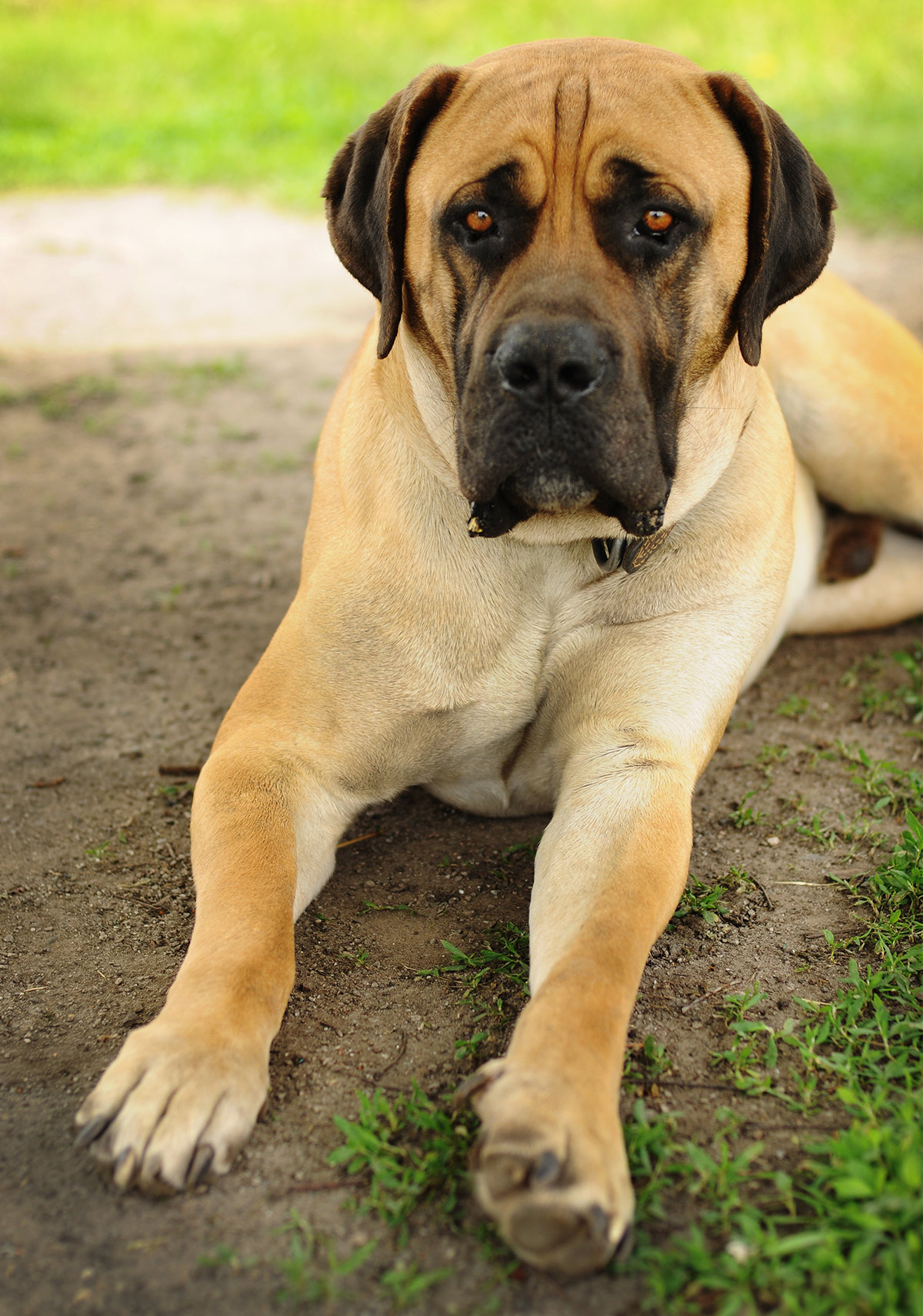 This is often known as a socialization window, and it lasts until your pup is around three months old.
During this time, puppies learn which experiences are normal, and are happy to accept them.
With a guarding breed, this is a good way to help moderate the guarding instinct.
So, if you pick him up at 8 weeks old, you will have just a few short weeks to get him used to lots of visitors arriving at the house and interacting with the family.
To start, make sure that someone new pops over every day, and that they are a range of builds and ages.
The more normal this is to your puppy, the less likely he is to react badly when your friends turn up at the house when he is older.
We can always do our best to make our dogs happy. But sometimes health is dictated by forces beyond our control.
So, taking into account this dog's unique physique and personality, how should we go about training him?
Training
Training any animal with the potential to be stronger than you can be daunting. This is especially true for those hoping to use traditional training methods that incorporate punishment.
Fortunately, positive, reward-based training can help. It is truly the best way to promote good behavior and tolerance in any dog; especially one that could easily out match you in a strength test!
We need to pay special attention to this when training large powerful dogs.
Importantly, numerous studies have been carried out into the way that we train dogs, with a lot of the findings in stark contrast to the commonly held beliefs.
For instance, punishment based training has been shown to increase aggressive tendencies towards people and other dogs.
Fortunately, nowadays, most trainers and writers on the subject have taken on board this new evidence.
Dogs tend to attack because they're scared, not because they're trying to be in charge or displaying 'dominant' behaviors.
You can do a huge amount to remove this fear by socializing your dog extensively right from the very start as we've said.
Exercise
The chief concern with a dog that is exceptionally heavy is the stress this puts on their joints.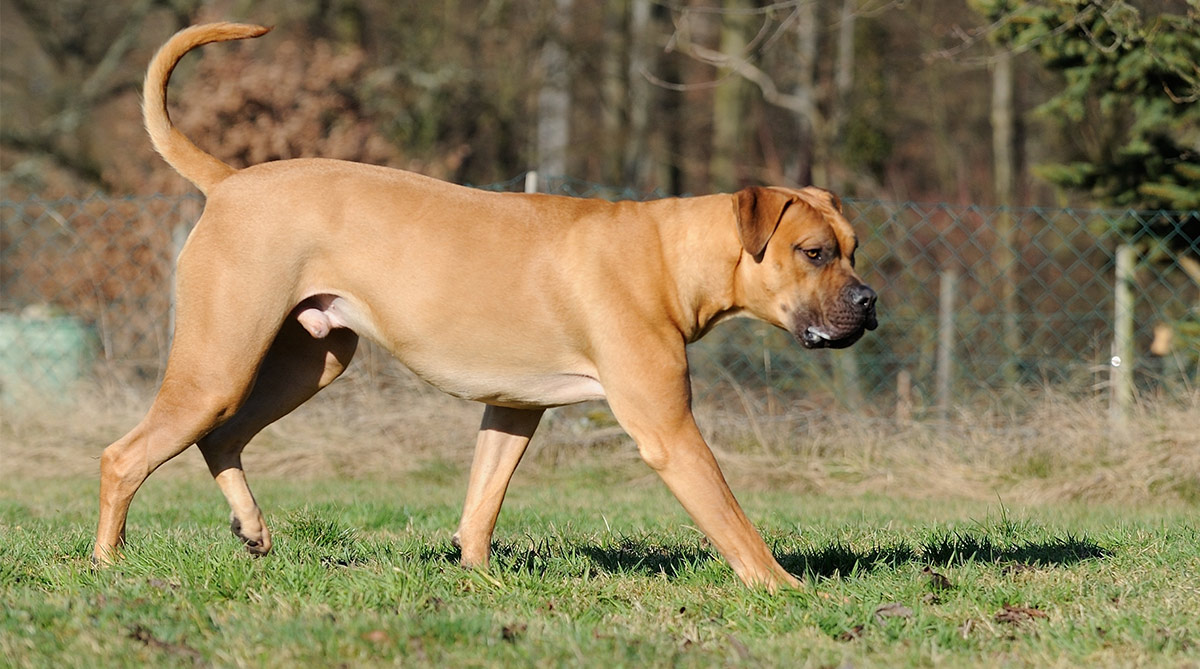 Allowing the giant Boerboel to become overweight will put even more pressure on its joints, leading potentially to a loss of mobility down the line.
This makes it more important than ever not to overfeed this dog. It's also equally important to make sure your Boerboel gets enough quality exercise.
Get off to the best start by consulting our puppy exercise guide.
Luckily, while you will need to put quite a lot of effort into training your Boerboel, he is not a difficult dog to care for.
Boerboel Health and Care
With any breed of dog, genetic health needs to be taken into account. So many pedigree breeds suffer from inherited diseases.
Sadly, Boerboels are not without their own health issues. The emphasis on physical performance in the breed standard does help a little, though. Breeders can't completely sacrifice health to make a 'perfect' looking Boerboel.
With this being said, the line-breeding used in most purebred dogs shrinks the gene pool and leads to inherited diseases becoming more and more prevalent. This is an issue that will gradually get worse as more and more Boerboels are closely bred in the USA to satisfy pedigree standards.
However, if your Boerboel is purebred, you might be able to find out his Coefficient of Inbreeding by checking his pedigree.
Wobbler Syndrome
Boerboels, along with a number of other large breeds, are prone to a disorder called 'wobbler syndrome'.
This syndrome occurs when the cervical vertebrae is badly formed and causes damage to the nervous system.
As the name 'wobbler syndrome' suggests, dogs that suffer from this disorder will become unsteady on their feet, with limbs often moving involuntarily.
Eventually this can cause limbs to become incredibly weak, and can even result in paralysis.
The Boerboel's weight can worsen the effects of this affliction because of the extra pressure on the vertebrae.
In a study carried out on Boerboels with this condition, around half were euthanized within the following 4 months.
You should never buy a puppy with any family history of wobbler syndrome.
Hyperuricosuria
Boerboels are also much more likely than most other breeds to have the canine hyperuricosuria mutation.
This genetic abnormality causes the production of more uric acid than is usual, leading to stones. Stones in the urinary tract can be extremely painful, and if left untreated, potentially deadly.
The principal sign that your dog may be having an issue with a stone will be if they are having visible difficulty in urinating.
If you notice this in your dog it is important to get to a vet immediately.
This is because if the stone is too large to pass, it may cause significant damage and distress to your dog.
For this reason, you should never buy a puppy whose parents or grandparents have an history of canine hyperuricosuria.
Hip and Elbow Dysplasia
Another common health concern in Boerboels is dysplasia of their hips or elbows.
Elbow dysplasia represents a particular concern, with a 2006 study finding that over 38% of Boerboels suffered from this particular issue.
This happens when the elbow joint of a dog isn't formed properly. Unfortunately, this can cause pain in the long term, and generally results in a dog unable to be active for long periods.
Joint problems, when accompanied with a heavily built dog, can cause additional issues.
Dysplasia shouldn't directly impact how long a dog lives, but it can impact the quality of that life.
For this reason, exercise is very important for this dog.
You can reduce the chances of your pup suffering by only picking a dog with parents that have excellent hip and elbow scores.
It may also help to keep his weight down as a puppy, as well as limiting jumping, steps and slippery floors until he is grown.
Given these health issues, what's the average lifespan for a Boerboel?
Lifespan
Boerboels on average live until they're about 9-11 years old.
This is significantly longer than some other breeds, but still below the average 10-13 years that dogs live in general.
A lot of this can probably be attributed to their size.
Specifically, larger breeds of dogs live shorter lives than their smaller counterparts.
Care
With their thick, short coats you might wonder how much South African Boerboels shed.
The AKC lists them as a moderate shedder. So, weekly brushing should be enough to keep your Boerboel's coat looking great.
Remember that big breeds like the Boerboel dog get through quite a lot food so you'll need to make sure your budget can cover that. Also, you should consider if you have the time and commitment to raise one of these magnificent dogs responsibly.
So, this begs the question – is the Boerboel dog family material?
Do Boerboels Make Good Family Pets?
The Boerboel can be a great dog for the right home, and the right family.
As a large guarding breed, they aren't generally suited for homes with small children or those who are thinking about starting a family soon.
Even with the best training and socialization, heavy young dogs are boisterous and can accidentally knock over or hurt little kids through sheer clumsiness.
Therefore, this is really a specialist breed best suited for those experienced at handling and training dogs with strong guarding instincts.
So, do Boerboels ever end up in shelters? And if so, how can would-be owners go about adopting one?
Rescuing a Boerboel
Like many large, intimidating looking breeds, Boerboels sometimes end up in shelters.
Owners might struggle to control such a powerful dog, or they might not be up to the challenge of training and exercising such a large breed.
So even though rescuing a dog is a great thing to do, you will need to be prepared.
For instance, depending on the cause of their abandonment, a rescue dog might be fearful and untrusting.
You need knowledge and experience to get the best out of a rescue dog, and it can be really hard work.
If you are up to the challenge though, it can also be immensely rewarding.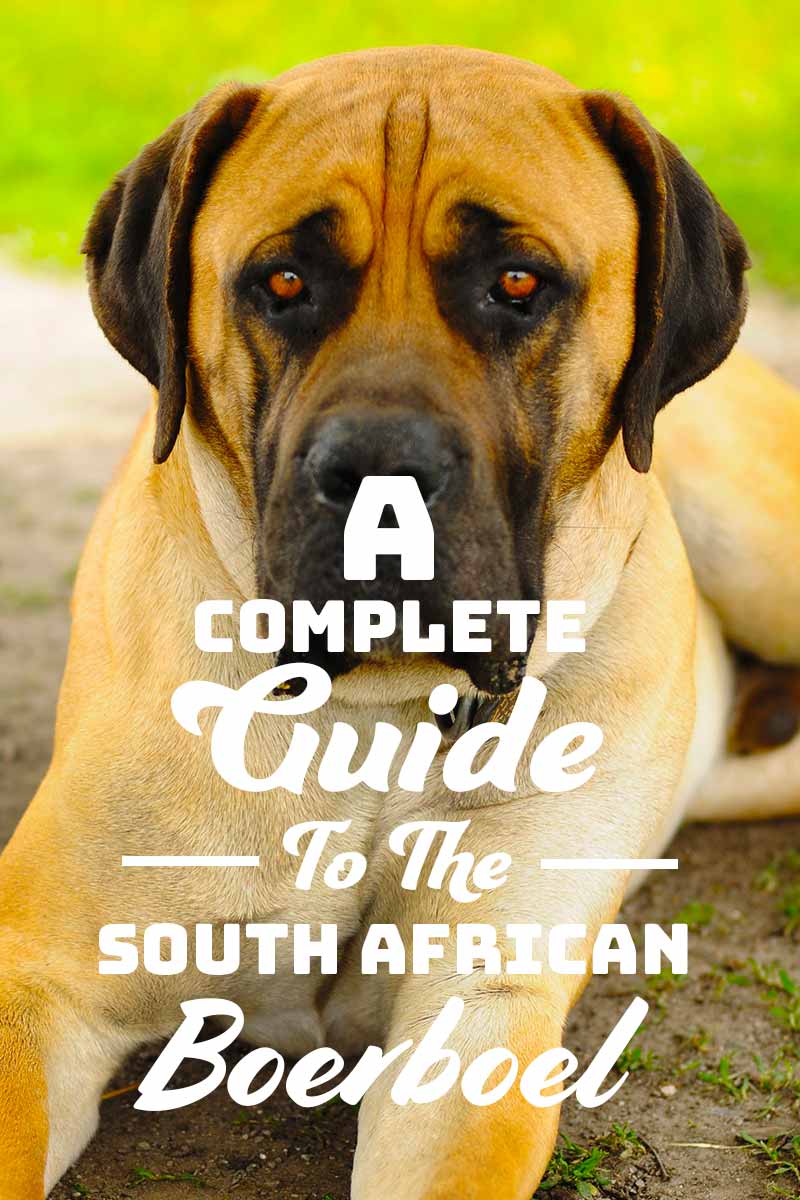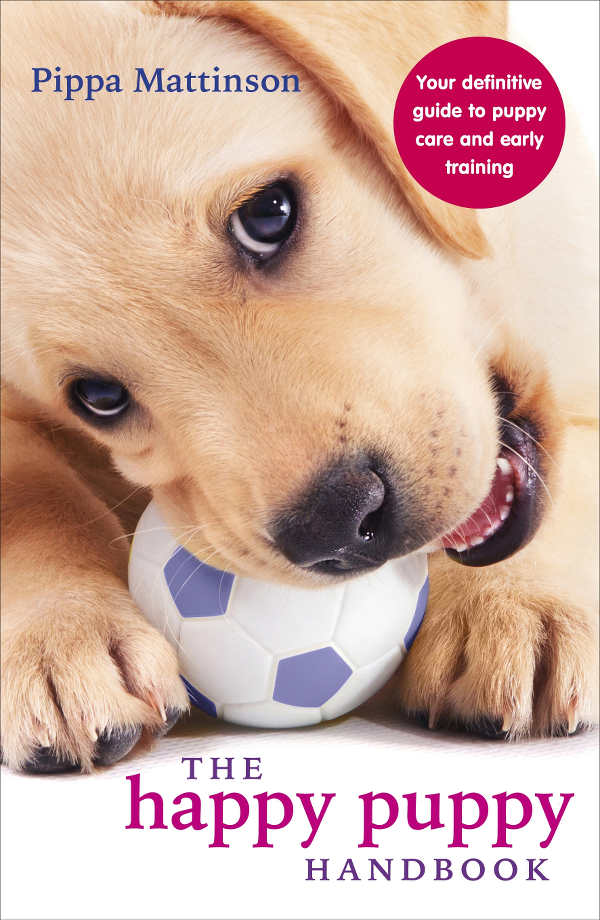 You can find a list of rescue societies and shelters here.
So, where do you go to when you want to bring a South African Boerboel puppy into your life?
Finding a Boerboel Puppy
Boerboel breeders were once confined to South Africa. However, since the AKC registration around twenty years ago, there are now South African Boerboel breeders all over the world.
In fact, you can find them all over the USA.
As you would with any new dog, ask to see the parents.
Firstly, you should get a sense of their temperament and general health. It's quite possible that the father will be from another home, but the mother should be readily viewable.
Given the guarding instincts, ask for contact details for the stud dog owner so that you can pay him a visit.
They probably won't be pushy in their friendliness, but should be comfortable with a stranger visiting their home and have a strong bond with the owner.
It's also very important to also ask for certificates of good hip and elbow scores. In addition, check that the lines don't have any history of wobbler syndrome or hyperuricosuria.
All in all, a good breeder won't mind you asking for contact details of the vet to check the dog's general health.
Caring for a vulnerable Boerboel puppy is a big responsibility. But don't fret — we have you covered!
Raising a Boerboel Puppy
Boerboel puppies, as with all puppies, are incredibly cute!
But as we've mentioned before, socialization is absolutely key.
This is because this breed has a reputation for distrusting strangers, so the earlier you show it there's nothing to be afraid of, the better!
Diet is also exceptionally important for a growing pup.
Puppies in general are much less hardy than adult dogs, and an immense amount of time has gone into putting together functional puppy diets.
A Boerboel dog, full grown, will be much better at handling different foods, but it still pays to exercise caution when feeding dogs in general.
You can check out some great puppy foods for large breeds here.
Comparing the Boerboel with other breeds and mixes can help you decide if this is the right dog for your family.
Popular Boerboel Breed Mixes
One of the most interesting Boerboel cross breeds is the Boerboel Rhodesian Ridgeback mix. This lovely breed combines a South African Mastiff with a South African hound.
You can read more about the Rhodesian Ridgeback here.
Of course, there are plenty of other breeds that you might enjoy if you are interested in bringing home a Boerboel dog.
Comparing the Boerboel with Other Breeds
Consider taking a look at our ultimate guide to the world's largest dog breeds for a comparison of Boerboels with other big dog breeds.
If you like the look of the Boerboel Mastiff but unsure if their temperament or traits are for you, take a look at these similar breeds.
Similar Breeds
As always, there are pros and cons to every dog breed.
Pros And Cons of Getting A Boerboel
The pros and cons of getting a South African Boerboel are largely dependent on your own situation and experience. Here are a few of the most common pros and cons:
Cons
Needs lots of time and socialization from an early age
Expensive to feed
Can require a lot of medical care
Pros
Great guard dog and will protect your home and family
Loyal and devoted
Easy to groom
Furthermore, a lot of the cons to owning such a big dog can be alleviated by owning the right products and accessories.
Boerboel Products and Accessories
Best Large Breed Dog Food
Don't forget to consult our list of rescue centers to see if there's one in your area.
Boerboel Breed Rescues
USA
UK
Australia
Canada
Do you have experience with a Boerboel or another large dog breed? Drop a line below to let us know about your experience.
References And Resources
American Kennel Club. "Boerboel." AKC Website. 2019.
Blackwell EJ, et al. "The relationship between training methods and the occurrence of behavior problems, as reported by owners, in a population of domestic dogs." Journal of Veterinary Behavior. 2008.
Gough A, et al. "Breed Predispositions to Disease In Dogs and Cats." Wiley Blackwell. 2018.
Beuchat C. "COI FAQS: Understanding the Coefficient of Inbreeding." Institute of Canine Biology. 2015.
Gray MJ, et al. "Cervical spondylomyelopathy (wobbler syndrome) in the Boerboel." Journal of the South African Veterinary Association. 2003.
Kirberger RM, et al. "Incidence of canine elbow dysplasia in South Africa." Journal of South African Veterinary Association. 2007.
Karmi M, et al. "Estimated Frequency of the Canine Hyperuricosuria Mutation in Different Dog Breeda." Journal of Veterinary Internal Medicine. 2010.
Greer KA, et al. "Statistical analysis regarding the effects of height and weight on life span of the domestic dog." Research in Veterinary Science. 2007.
O'Neill, et al. "Longevity and Mortality of Dogs Owned In England." The Veterinary Journal. 2013.