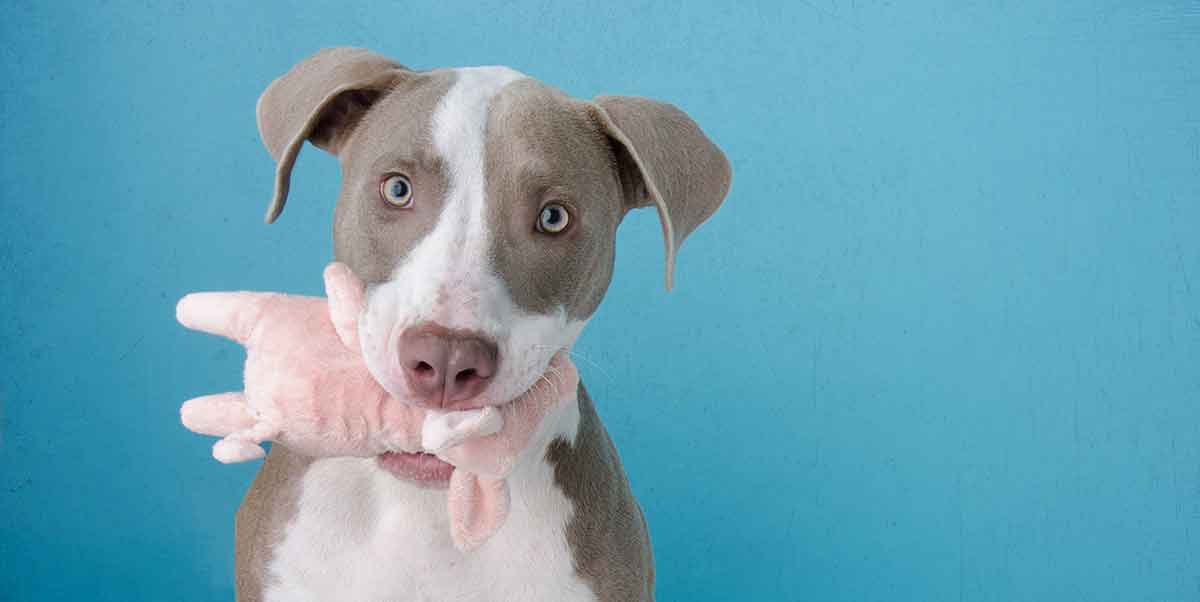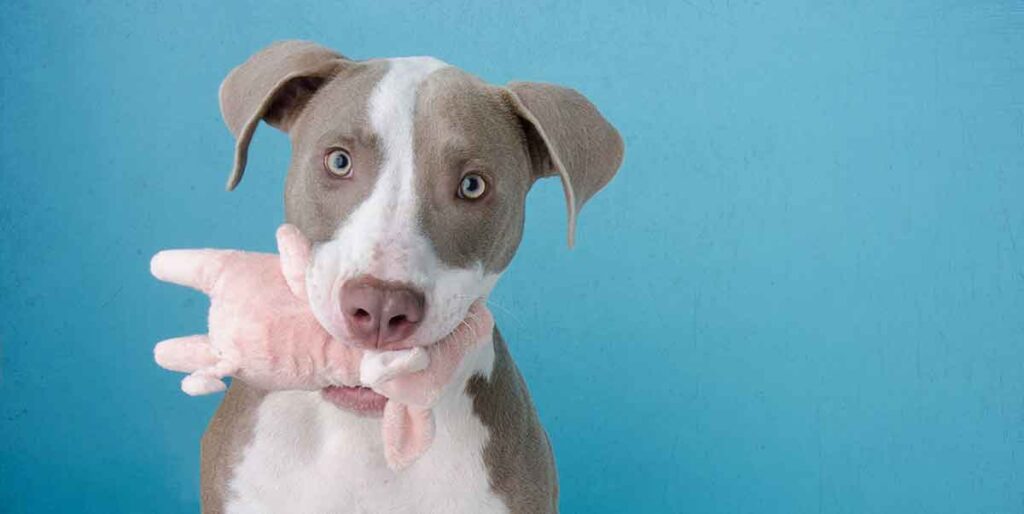 Blue nose Pitbull dogs are a rare Pitbull breed. Medium sized, stocky with a blue colored nose, they are clever, active, affectionate pets. Breed traits include guarding and watchdog behavior, as well as strong sense of loyalty to their families.
Today we'll look at the pros and cons of adopting a Blue Nose Pitbull. We'll see how well your lifestyle fits with this tough yet loving dog, and where to find a healthy, happy blue nose Pitbull puppy that will have a long lifespan.
Contents
The blue nose Pitbull has a history tied together with the Bulldog, American Pitbull Terrier and Old English Terrier. Although they look a lot like the American Bulldog and Staffordshire Bull Terrier they are not related.
Blue nose Pitbulls with blue eyes are especially stunning, and the blue nose brindle Pitbull coloring adds an exotic flair. We'll be looking at the different color variations in the blue nose bully, and at how you can expect blue pit puppies to look and behave once they are fully grown.
What is a Blue Nose Pitbull?
Dogs with unique coloring have great appeal. And Pitbull dog breeds are very popular. So it is no wonder that many dog lovers are interested in blue nose Pitbulls. These dogs have striking looks that help them stand out in a crowd.
Blue nose Pitbulls are not a separate breed. They are American Pitbull Terriers. Some are mistakenly identified American Staffordshire Terriers, although the term Pitbull is often given to other Bull breeds.
They can have the same personality traits that make American Pitbull Terriers beloved among enthusiasts. Officially, there is no such thing as a 'purebred Blue Nose Pitbull,' but you could find a purebred American Staffordshire Terrier with a blue nose.
Where do Blue Nose Pitbulls Come From?
Any walk in a dog park reveals the staggering number of possible coat color combinations. So it may surprise you to know that there are only two basic coat color pigments! These are eumelanin (black) and phaeomelanin (red).
These pigments express themselves differently depending on other genes, creating the kaleidoscope of colors we associate with dogs. The blue color associated with the Pitbull's blue nose is actually a diluted black pigmentation.
Blue Genes!
The blue nose Pitbull is rare for a reason. The blue color is recessive, which means it takes two Pitbulls with the gene to make another.
Some blue nose Pitbull breeders have started specifically breeding blue nose Pitbulls together to create blue nose Pitbull puppies. While beautiful, this can lead to health problems, and we'll talk about those below.
Blue Nose Pitbull Lifespan
A good life expectancy in any dog breed depends on three key factors: genetic diversity, the shape and structure of the dog's body, the quality of nutrition and health care provided for the dog.
While some Blue Nose Pitbulls may suffer from increased health problems, the average Pitbull lifespan is 10 to 15 years. Most Pit bulls inherit a good body shape and structure. This means that their legs are not too short, which helps avoid back problems, and their muzzles are not too short, which helps avoid breathing and overheating problems.
You can help ensure your baby blue nose Pitbull lives a long and healthy life by also choosing a puppy that is not inbred (has good genetic diversity) and by feeding and exercising your puppy appropriately and arranging regular health checks with a qualified veterinarian
Blue Nose Pitbull Size
There is quite a variation in size between Pitbulls from different lines. Looking at the parents of your puppy will give you a good idea of final size but it isn't unusual to be surprised!
How much does a blue nose Pitbull weigh?
A full grown blue nose Pitbull weighs from 40-80lbs. Males are heavier than their sisters, and a blue nose Pitbull female is likely to weigh nearer the lower end of that range.
How tall is a blue nose Pitbull?
An adult blue nose Pitbull will reach up to 21 inches at the shoulder. Females are smaller and may reach 19 to 20 inches in height once fully grown.
How Much Is A Blue Nose Pitbull?
As interest in the blue nose Pitbull has increased, the price has gone up. You can now expect to pay between $1,000 and $3,500 for a blue nose pit puppy.
Paying more does not necessarily guarantee you a more healthy puppy. That's because "blue lust" has also led to some bad breeding practices. Some breeders charge thousands of dollars for Blue Nose Pitbull puppies that are inbred, and don't have the genetic diversity necessary for good health.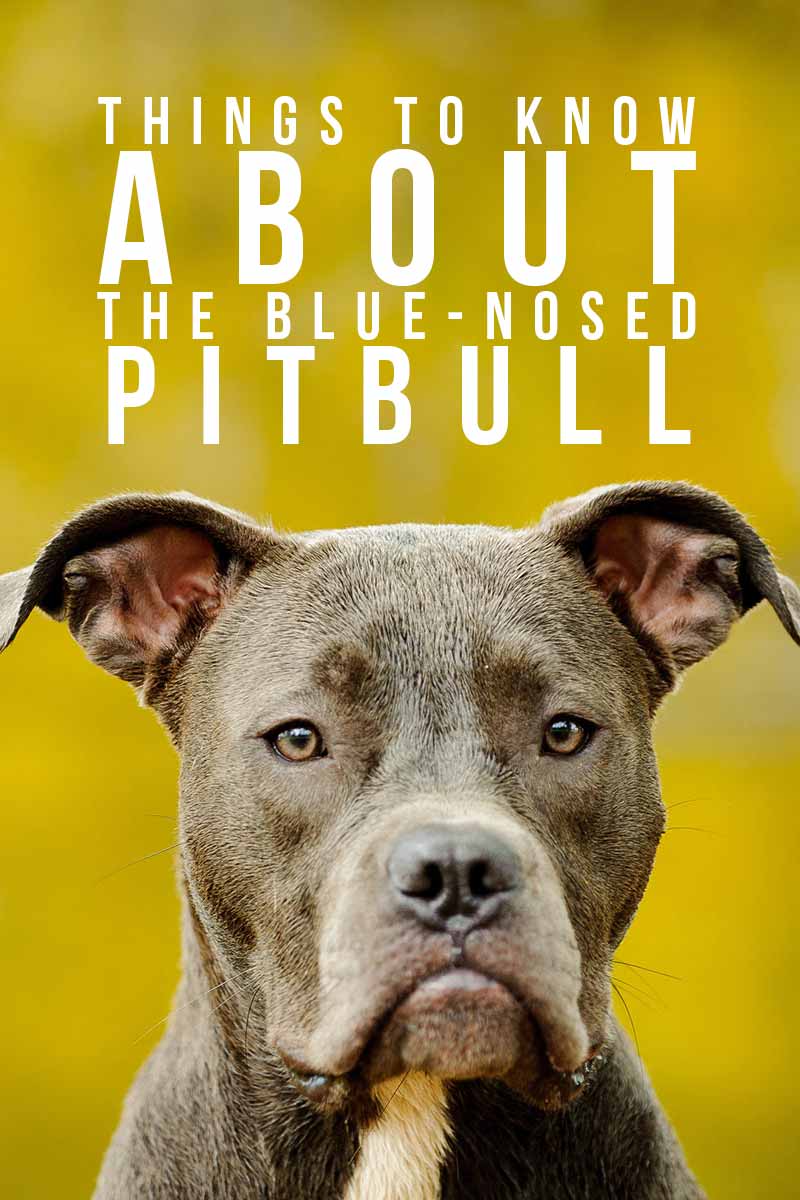 Blue Nose Pitbull Breeders
Since the blue color is recessive, some breeders choose to breed selectively for the color. Breeding for a specific color, instead of health or temperament, can lead to problems. Especially when blue Pitbull breeders rely on inbreeding.
It's easy to make a blue puppy if you combine two parents that are related to each other. But inbreeding increases the risk of health problems.
Look for a breeder who uses responsible breeding practices and performs health checks on their breeding male and female Blue Nose Pitbulls.
There are Health Problems that come with a Blue Nose
Blue Nose Pitbulls have higher rates of allergies and skin conditions compared to other Pitbulls. They are also prone to other common Pitbull health problems.
Pitbulls are already prone to skin diseases, and American Blue Nose Pitbulls are at an increased risk. These diseases include allergies, mange, skin infections, ichthyosis, and skin conditions caused by thyroid problems.
If you don't think you will be able to afford medical treatment for skin issues or other health problems, carefully weigh if a Pitbull is the right pet for you. Taking out medical insurance before problems arise is a good idea.
Always ask a breeder about the health of the parents. And about any health testing they've done to keep their breeding lines stable.
Are Blue Nose Pitbulls Good Pets?
Like all Pitbulls, with the right training, your Blue Nose Pitbull can be an amazing companion. The best way to train any dog, especially one with a more dangerous bite style, is with positive reinforcement.
This allows you to work with your dog, not against her. Making training fun, and a really bonding experience too.
These family-oriented dogs are a joy to be around, and you may find that your Pitbull thinks she is a lap dog, even when she is full grown.
Blue Nose Pitbull Temperament
Pitbulls have a bad reputation, but the truth is that these dogs were not bred to be guard dogs. Most would rather play with an intruder than defend their turf. Despite their intimidating appearance. Their reputation came from the way that they grab and hold, not from a nasty nature.
Pitbulls Prefer People over other Pets
Pitbulls are terriers, and like most terriers, they tend to prefer humans over other animals. They do not always get along well with other dogs.
For this reason it is a good idea to avoid dog parks and play areas with your Pitbull. If you are not very sure of your dog's reaction, they must be leashed in public.
That's because prey drive may override training. The Pitbull has powerful jaws and a gripping bite which can cause severe injuries in a fight.
Blue Nose Pitbull Training
Most of the dogs that end up in animal shelters have never had any obedience training at all. All dogs need to be trained in order for them to live safely and happily in our human world. It's especially important to train a powerful dog like a Pitbull.
Are Blue Nose Pitbulls Smart?
Don't be fooled by all that muscle. These dogs are as brainy as they are brawny and need mental stimulation to keep them happy. That means a thorough program of training
Bored Pitbulls can be destructive. So, make sure to train your dog regularly and allow time in your schedule for play. Don't leave your blue nose dog alone for long periods of time. And make sure they have lots of fun, but durable, toys.
Blue Nose Pitbull Socialization
Like all dogs, Blue Nose Pitbulls need training and socialization from a young age to help them be well-adjusted canine companions.
Dogs without socialization can find new situations scary, and visitors to their homes unnerving.
They often develop behavioral issues, making them a challenge to live with.
Luckily, baby Blue Nose Pitbulls love training time, and are eager to learn.
Exercising a Blue Nose Pitbull
Blue Nose Pit Bulls are canine athletes. These dogs need regular, intense exercise to keep them healthy.
Overweight dogs are prone to health problems.
Bored Pitbulls may express pent up energy through destructive behavior and aggression.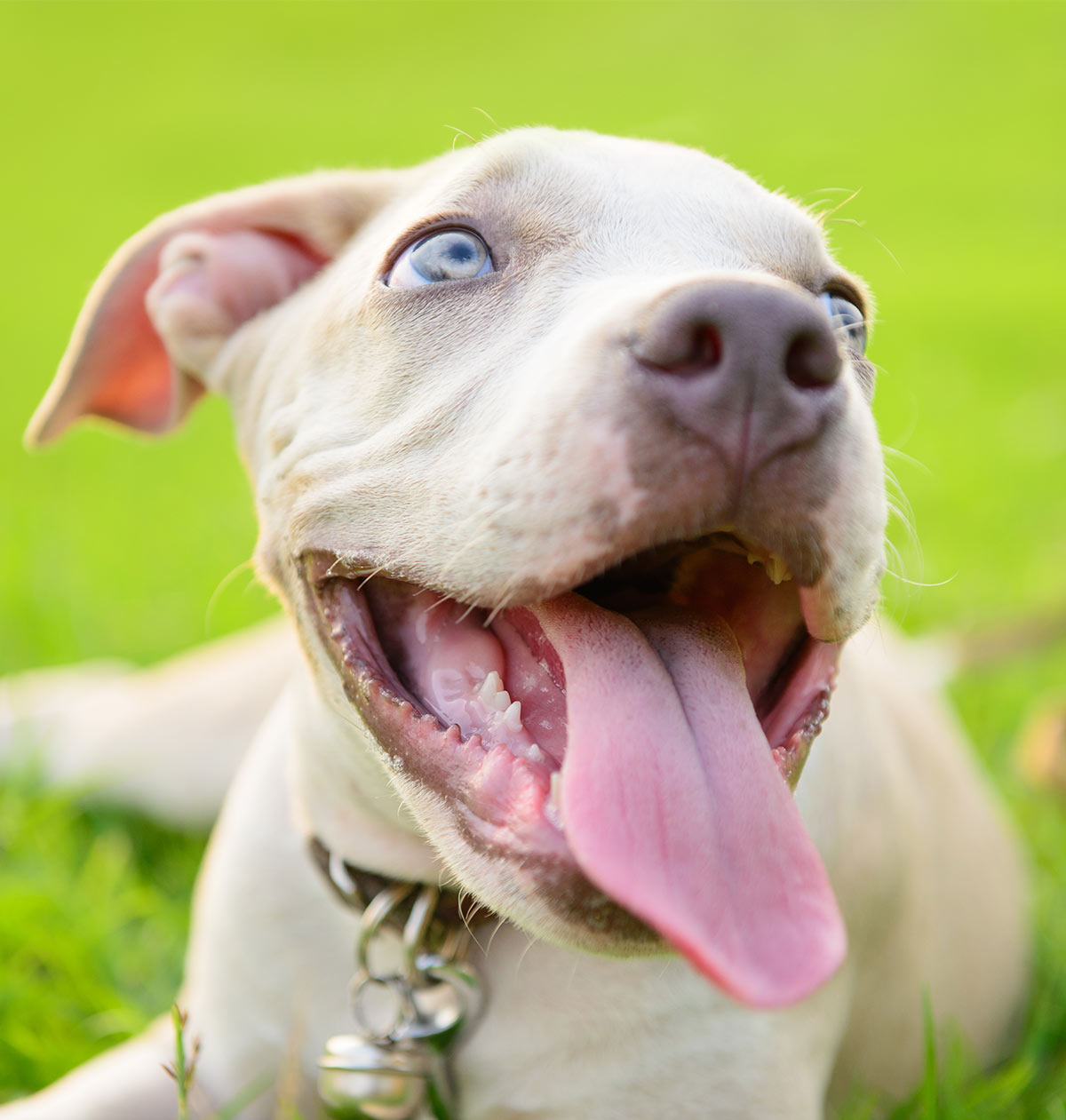 Blue Nose Pitbulls are Restricted in Some Places
The same breed restrictions faced by American Pitbull Terriers or Pitbull mixes apply to Blue Nose Pitbulls. Make sure your apartment, homeowner's insurance, and county or city allow Pitbulls before buying or adopting. In some countries the breed is banned completely.
Blue Nose Pitbulls are Strong
A Blue Nose Pitbull's average weight can be anywhere from 30 to over 50 pounds. Even small Pitbulls are bulky, and these dogs are physically strong.
They are also stubborn, and do not back down from a challenge easily. Training your Pitbull will make her easier to manage, and don't be afraid to reach out to an animal behaviorist or trainer for help.
Pitbulls used to be Farm Dogs
You probably know that pitbulls were used as fighting dogs. You may not know that they were also popular on farms, where they hunted rats and helped hunt dangerous game like wild pigs and bears.
That's why their prey drive is so high!
Blue Nose Pitbulls are Easy to Groom
One of the best things about that blue coat is that it is easy to groom.
Their fur does not tangle or mat, and they do not require trimming.
Brush your Pitbull a few times a week with a simple brush or a mitt to help reduce shedding and improve coat health.
Why are there so many Blue Nose Pitbulls for Adoption?
Blue nose Pitbull puppies can be a lot of work.
If you have experience with Pitbulls, adoption might be a good choice.
Adopting lets you get a feel for a dog's personality, and you know you are providing a home to a dog in need.
But make sure you work with a reputable rescue, who understand whether your needs and the dog's match up.
Pitbulls have Strong Prey Drive
Some Pitbulls love everyone and everything. Others can be aggressive towards other dogs and pets.
Training and socialization can help prevent this, but adopting a Pitbull from an unknown background can mean some unexpected behavioral problems down the line.
Knowing that the breed has a prey drive and understanding how to manage it will help keep your pup and other animals safe.
The Stigma Around Pitbulls can be Hard for Owners
Owning a Pitbull is rewarding in many ways, but owning a breed with a stigma can be hard for some owners.
You know your dog is a sweetheart. But others may be afraid of Pitbull type breeds. Even cute blue nose Pitbull puppies aren't always immune.
Watching a mother drag her child away from your dog in fear is not easy to deal with. If you want to bring a Pitbull into your home, you will need to prepare yourself. There are things you can do to move away from the fear.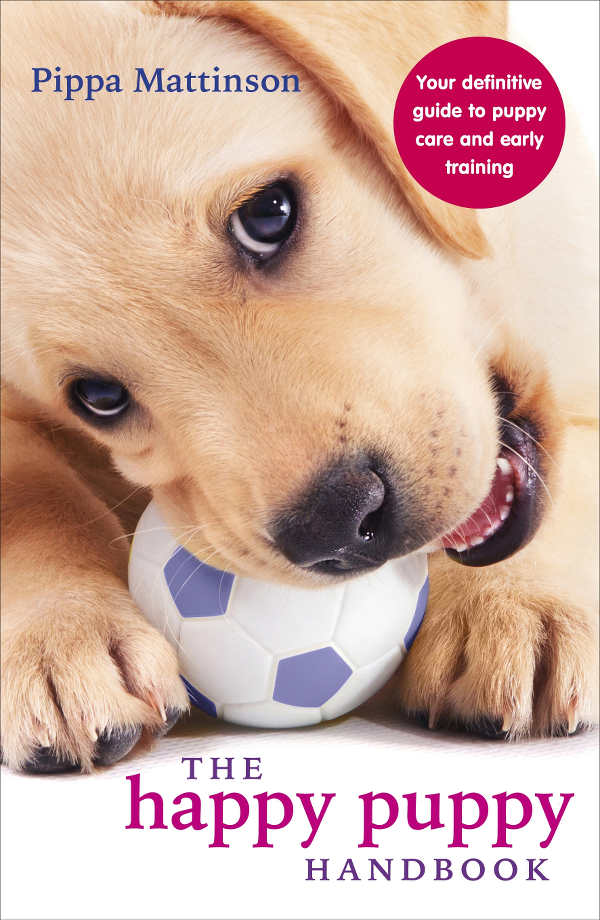 Like make sure you choose a puppy without cropped ears, or putting her in a bright 'I'm friendly' jacket.
Pitbull Owners need a Plan
Some people will assume your dog is dangerous, and may react badly to your pet. So, it's a good idea to have a plan in place for how you will calmly handle any conflicts like this.
Carry treats with you. Reassure people that you won't release your dog.
Then if and when they are calm, you can allow them to offer your pet a treat. And discover for themselves how nice and friendly your dog is.
Blue Nose Pitbulls are Expressive
Pitbulls are known for their playful, comical behavior. And for their expressive faces
This helps them communicate their wants and needs to their owners.
And helps to ensure that their owners fall madly in love with them!
Pitbulls like to Dig
Pitbulls are terriers, and terriers like to dig.
This is useful when chasing rats, but bad news for your yard.
If you do not want your dog to dig, supervise him when he is outside.
Or give him a designated "dog zone" where he can dig to his heart's content.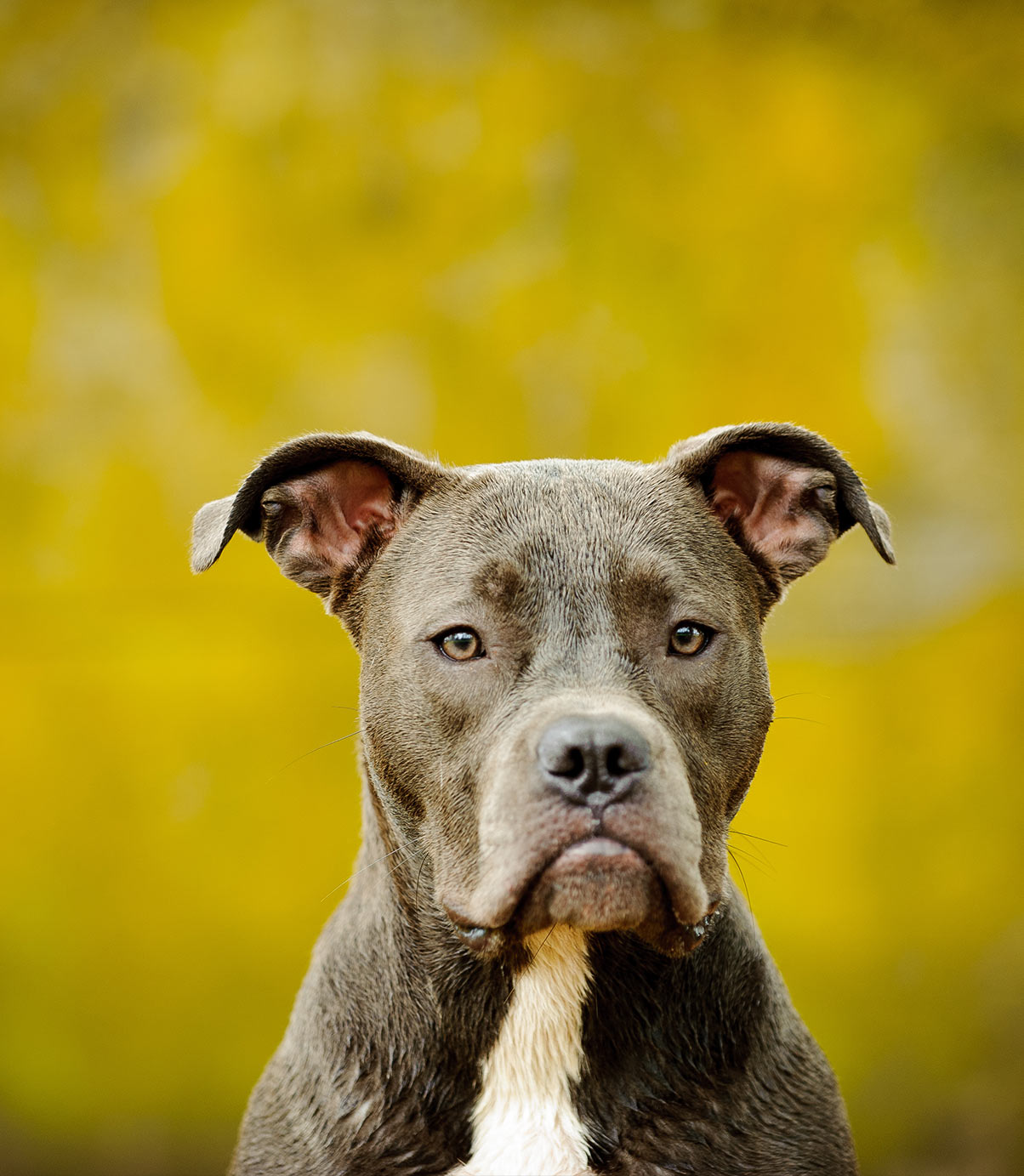 Blue Nose Pitbulls make Great Workout Companions
Pitties love spending time with their owners, and healthy dogs make great jogging companions.
You may also find your Pitbull likes hikes, water sports, or licking your face while you try to do push-ups.
Owning a Blue Nose Pitbull might turn you into a breed ambassador
Once you've fallen in love with Pitbulls, you may find yourself trying to convince others about how wonderful they really are.
Nothing will make you happier than hearing someone say, "I had no idea Pitbulls were this sweet" after they meet your dog.
References and Further Reading
Bini et al. 2011. Mortality, Mauling, and Maiming by Vicious Dogs. Annals of Surgery.
Pinto et al. 2008. Craniocerebral injuries from dog bites. Arquivos de Neuro-Psiquiatria