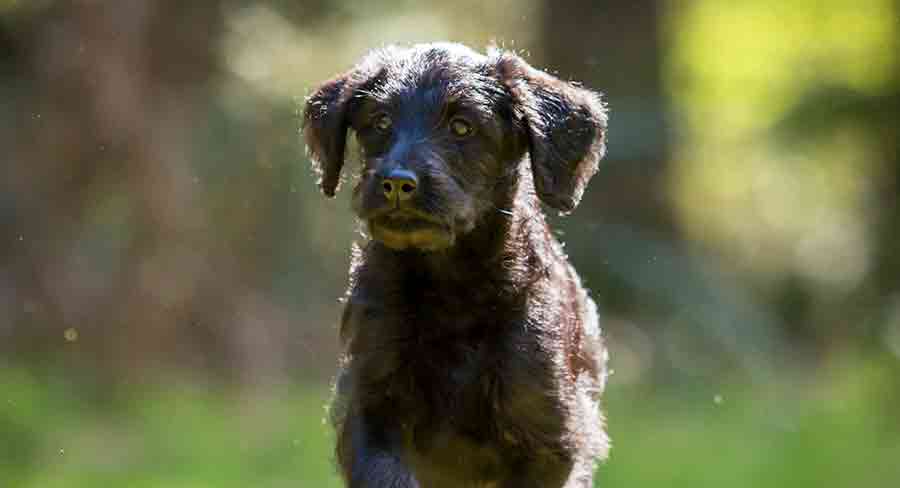 Black Goldendoodle dogs are a Golden Retriever and Standard Poodle cross with a completely black coat. Some may have small white patches, but most will be entirely black in color. A medium sized dog, as adults they will be affectionate, playful, and intelligent. They can make great family pets, working companions and wonderful first dogs for new pet owners. Today we'll help you decide whether a black Goldendoodle dog is the right fit for your lifestyle, and let you know where to find a happy, healthy black Goldendoodle puppy.
Contents
Black Goldendoodles get their coloring from the Poodle parent. They may have the tight curls or corded Poodle coat, or looser waves. People looking for low-shedding black Doodles should look for a second generation, or f1b Goldendoodle. Today we'll share the pros and cons of the cute black Goldendoodle.
Can Goldendoodles Be Black?
The name 'black Goldendoodle' is pretty confusing, right? Most owners expect Goldendoodle mixes to have a golden or apricot coat. But, some breeders will mix black Poodles with their Golden Retrievers to create black Goldendoodle puppies.
Goldendoodle Coat Genetics
All dog coat colors come from two pigments. These are:
Phaeomelanin (red)
Eumelanin (black)
Black is the default color of the eumelanin pigment. So, if no other genes act on it, your dog's coat will be black. Goldendoodles can inherit the dominant black genes from their Poodle parent. So, yes, it's very possible for Goldendoodle puppies to be black!
Are Black Goldendoodles Rare?
Black is a dominant color in dog coat color genetics. So, really, it isn't rare or uncommon to get black Goldendoodle puppies if you breed a Golden Retriever with a black Poodle. But, most people looking to buy a Goldendoodle want a golden puppy. So, a lot of breeders will actively try to avoid breeding black Goldendoodle puppies.
This means that the color can be quite uncommon. If puppies in a Goldendoodle litter are black, they may be seen as less desirable by some breeders. But, you will have people with the opposite belief, that black Goldendoodles are awesome! You may even find breeders that hope to get whole litters of black Golden Doodle puppies.
These days, researchers and responsible breeders know a lot more about color genetics and inheritance. So, it's worth chatting to a breeder if you're desperate for a black Goldendoodle puppy. Remember to choose a reputable breeder for a healthy pup.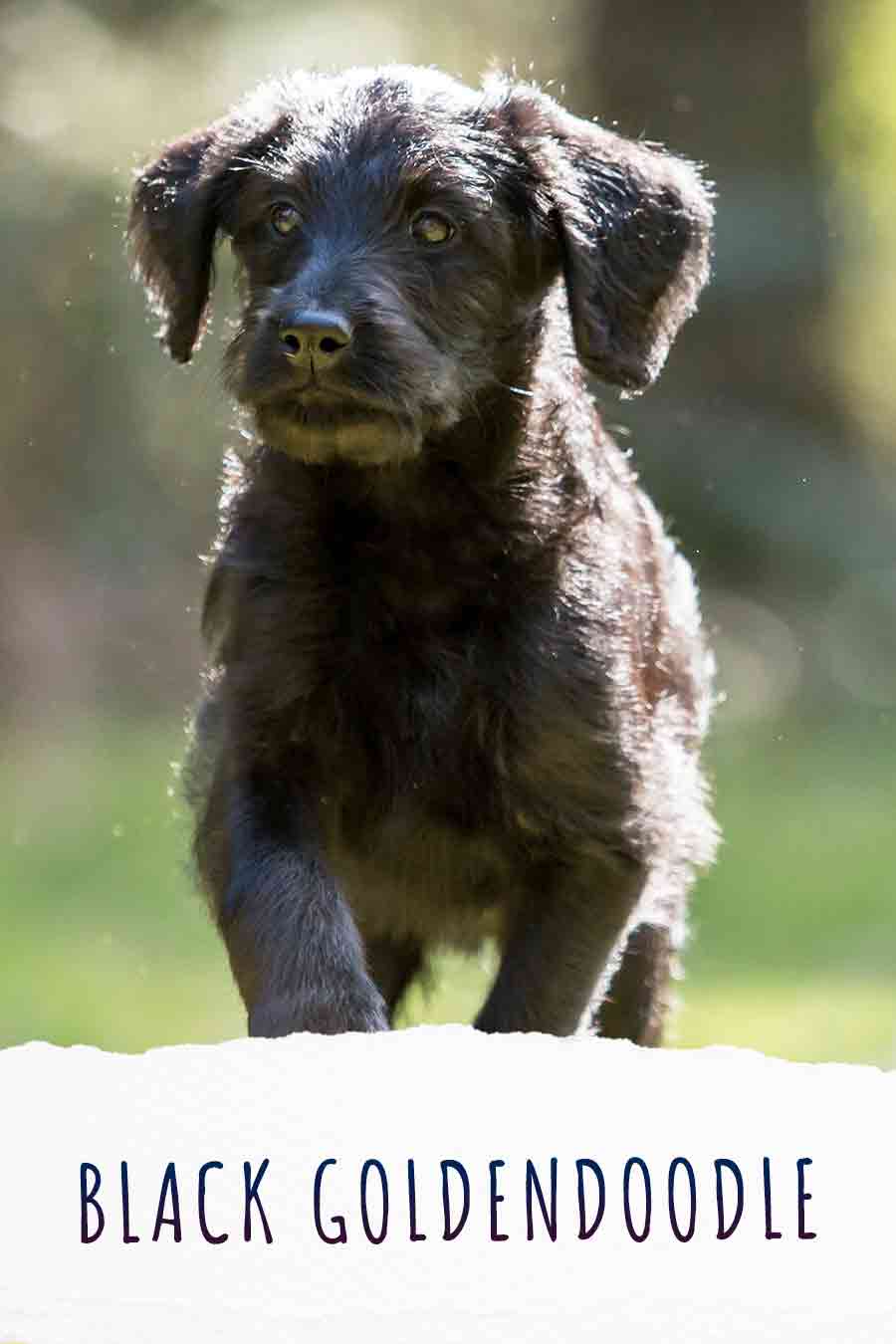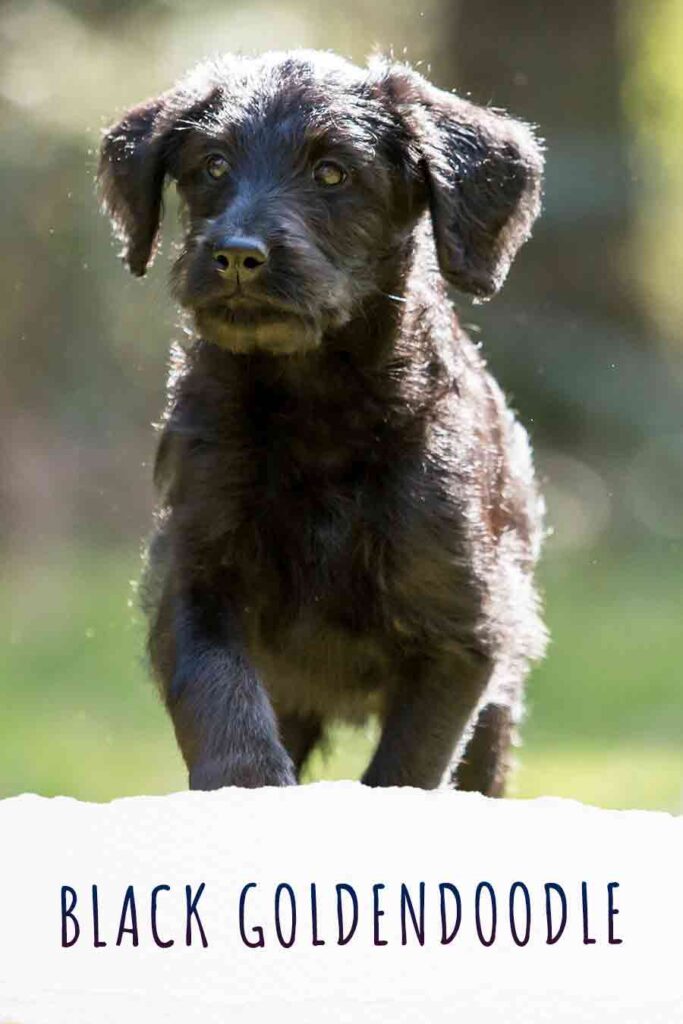 Black Goldendoodle Appearance
From the name, we know that black Goldendoodles will have a black coat. Some may have other markings, like small white patches. But others will be fully black.
The size of your Goldendoodle will depend on the Poodle parent used. Miniature or Toy Poodles will make smaller Goldendoodle varieties.
But, a standard Poodle Golden Retriever mix will produce a medium-large sized Goldedoodle.
They are often between 17 and 24 inches tall at the shoulder, weighing from 40 to 90 pounds. Males are usually larger than females.
Goldendoodle Coat Types
Your black Goldendoodle's coat type will depend on the traits it inherits from either parent. A first generation Goldendoodle mix is 50% Poodle and 50% Golden Retriever. So, it could take after either parent.
If it takes after the Poodle, it can have the tightly curled, or corded, low shedding Poodle coat. But, one that takes after the Golden Retriever could have a straight, hair-type coat that sheds moderately all year and heavily during shedding season. Many will fall somewhere in between the two. Expect a slightly wavy or loose-curled coat.
Finding a Black Goldendoodle with a Poodle Coat
Owners looking for a Goldendoodle with a Poodle coat may have more success with a second generation f1b black Goldendoodle. This type will have 75% Poodle DNA.
Of course, there's still a chance that puppies will take after the Golden Retriever coat. But, there's a much higher chance that your black Goldendoodle puppy will take after their Poodle parent.
It isn't too hard to find breeders that focus on second generation or later black Goldendoodle puppies.
Black Goldendoodle Coats Can Fade
Another quick note to make is the greying gene. Poodles can carry a gene called the progressive greying gene.
Dogs with this will experience color fading through their lives. Poodles with black coats will usually fade progressively to a premature grey coat. If a Poodle with this gene is used in a Goldendoodle mix, there's a chance that your black Goldendoodle will actually fade to a grey color in his first few years.
Are Black Goldendoodles Hypoallergenic?
Sadly, no dog breed is hypoallergenic. Many people believe that Poodles are. But the truth is that they are only low shedding. Dog allergens can be found in canine dander, saliva, and urine.
Since Poodles have such tightly curled fur, shedding dander will get caught in their curls, rather than falling on your floor. This is why it's so important to groom them often, as it can cause painful tangles.
Goldendoodles that inherit the Poodle's tight curls may be less likely to cause allergy symptoms. But, your grooming and cleaning regimes will also have a large impact on the presence of shedding dander.
Black Goldendoodle Temperament
Black Goldendoodles can have the same temperament as any other color. But, like all mixed breeds, it will vary depending on what traits they inherit from either parent. Luckily, Poodles and Goldendoodles share some popular traits.
A black Goldendoodle will usually be friendly, affectionate, playful, and energetic. They will be intelligent and eager to please. So, training will usually be a delight. Especially if you use positive reward methods to build a strong bond with your dog.
As long as you socialize your black Goldendoodle well, they are likely to love everyone, with little risk of aggression. But, you must socialize them well with kids, other animals, other dogs, and unfamiliar people from a young age.
Black Goldendoodle Health
Luckily, there are no specific health problems linked to the black coat color in Goldendoodles. Mixed breeds are potentially healthier than purebred dogs, thanks to a wider genetic pool. But, they will still be prone to the same health problems as the parent breeds. Particularly if unhealthy parents are used.
Goldendoodle owners should be aware of the following common issues:
Hip dysplasia
Cancer
von Willebrand's Disease
Canine bloat
Eye issues
Heart problems
Black Goldendoodle Puppies
Good Goldendoodle breeders prioritise health and temperament over color, however because black is a dominant gene you might get lucky and find a black Goldendoodle quicker than you'd think.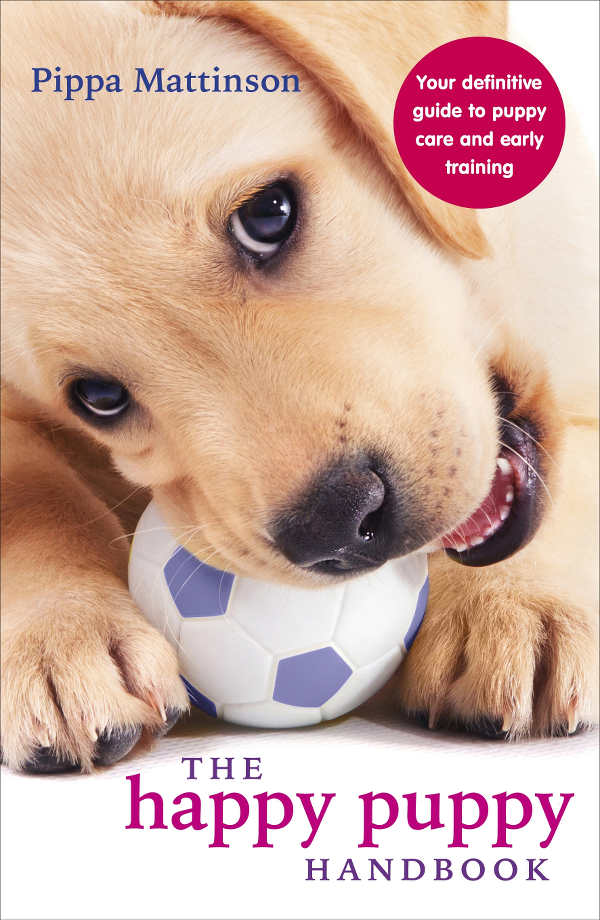 Make sure the breeder has a good relationship with the parent dog or dogs. They should have a bond, the dogs should know their names and have a purpose in life beyond producing puppies.
Ask the breeder lots of questions and make sure they are keen to answer them. Be open and honest about your home situation and lifestyle, to help them ensure you are a good match for one of their puppies.
Are Black Goldendoodles Cheaper Than Other Colors?
Goldendoodles can cost anywhere from $1500 to well over $3000. This mix is incredibly popular. So demand is usually quite high. This will drive up the price of puppies.
Generally, golden shades are more popular in Goldendoodle puppies. So, some breeders may charge less for black Goldendoodle puppies. But, it will depend on demand in your area. Puppy mills will often charge less for their puppies to make a quick profit. Especially on trends like Goldendoodles.
Avoid puppy mills and pet stores. Their dogs will often grow up to have more health and behavioral issues. If the cost of a puppy from a reputable breeder is too high for you, you can always consider a rescue dog.
The Black Goldendoodle
Do you have a black Goldendoodle puppy at home? Or are you just thinking about bringing one of these pretty dogs home?
You may need to look a little bit harder for puppies, particularly those from healthy lines. But, these dogs can make a great addition to an active family.
Find Out More
Readers Also Liked
References and Resources
Kerns, J. (et al), 'Linkage and Segregation Analysis of Black and Brindle Coat Color in Domestic Dogs', Genetics (2007)
Sponenberg, D. & Rothschild, M. 'Genetics of Coat Color and Hair Texture', The Genetics of the Dog (2001)
Kaelin, C. & Barsch, G. 'Genetics of Pigmentation in Dogs and Cats', Annual Review of Animal Biosciences (2013)
Saif, R. (et al), 'Dog Coat Color Genetics: A Review', Advancements in Life Sciences (2020)
Buzhardt, L. 'Genetics Basics – Coat Color Genetics in Dogs', VCA Animal Hospitals
'Pigment', Dog Coat Color Genetics
Vredegoor, D. (et al), 'Can f 1 Levels in Hair and Homes of Different Dog Breeds: Lack of Evidence to Describe Any Dog Breed as Hypoallergenic', Journal of Allergy and Clinical Immunology (2012)
Nicholas, C. (et al), 'Dog Allergen Levels in Homes with Hypoallergenic Compared with Nonhypoallergenic Dogs', American Journal of Rhinology and Allergy (2011)
Beuchat, C. 'The Myth of Hybrid Vigor in Dogs…is a Myth', The Institute of Canine Biology (2014)
The Canine Health Information Center
Farrell, L. (et al), 'The Challenges of Pedigree Dog Health: Approaches to Combating Inherited Disease', Canine Medicine and Genetics (2015)