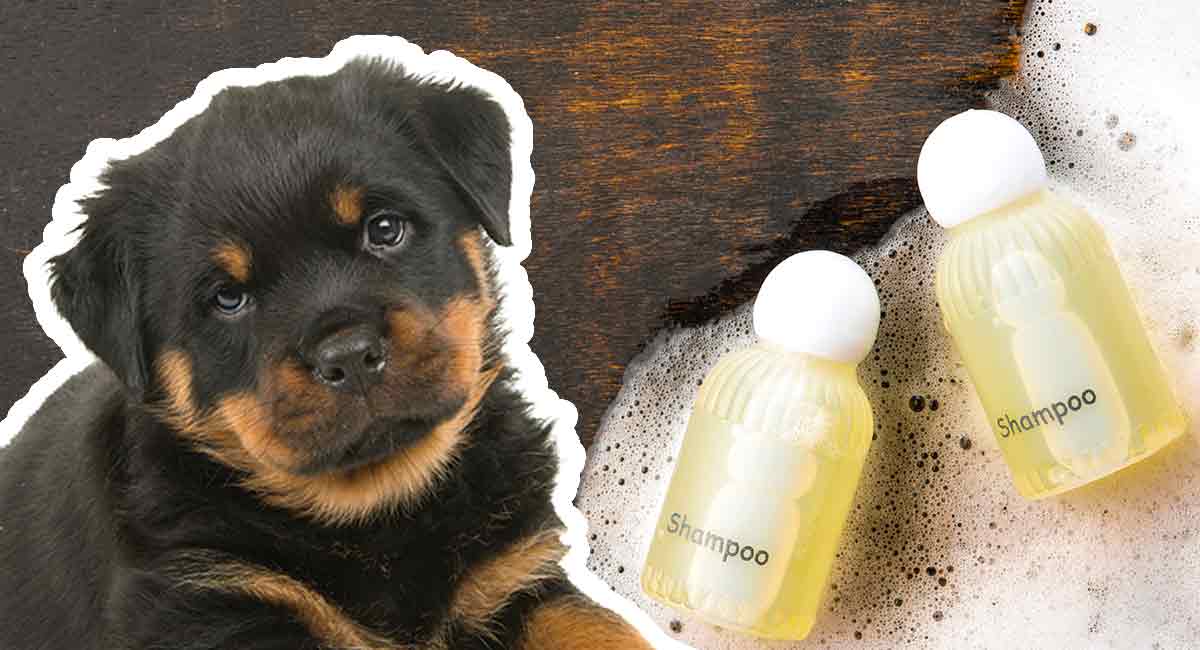 The best shampoo for Rottweilers gives them a good clean coat, while being gentle to their delicate skin.
When it comes to doggie shampoos, not just any shampoo will do. Different breeds of dogs have different types of coats which require unique care to stay healthy and shiny.
Rottweilers are no different.
They have a medium-length and coarse coat which needs regular bathing, but not so much that the natural oils get stripped from their sensitive skin.
So, what IS the best shampoo for Rottweilers?
What formulas should be used for skin irritations, and which are gentle enough for regular use?
We'll answer these questions as well as give you some highly rated examples of Rottweiler shampoo throughout this article.
All of these products were carefully and independently selected by the Happy Puppy Site team. If you decide to make a purchase from one of the links marked by an asterisk, we may earn a small commission on that sale. This is at no extra cost to you.
Rottweiler skin and coat
Rottweilers have a double coat.
They have a shorter undercoat and a slightly longer top coat.
Unlike some other double-coated dogs, like Labradors, Rotties only have the undercoat on their neck and upper legs.
Thankfully, their fur isn't super thick, and it's relatively easy to keep clean.
However, the reason that you may need to bathe a Rottweiler a little more often might involve their skin.
Skin issues
You see, some Rottweilers tend to have sensitive skin. The breed as a whole is prone to a number of skin issues.
According to a survey conducted by the Kennel Club skin conditions like cysts, hypersensitivity skin disorder, otitis externa, and acute moist dermatitis were among the most commonly reported diseases.
Hot spots
Furthermore, Rottweilers tend to form very close bonds with one or more of their family members.
If they do not get the amount of attention that they yearn for, they may develop separation anxiety, which may manifest in the form of excessive licking or itching.
Excessive licking or itching can create open sores on the skin, which get even more irritated with more licking and itching when the dog feels stressed, thereby creating a vicious cycle of irritation.
This cycle is what creates the dreaded pyotraumatic dermatitis, most commonly referred to as "hot spots," and hot spots have definitely been observed in Rotties.
According to a 2004 study of 44 dogs who presented with hot spots, the most represented breeds included Rottweilers.
How often should you bathe a Rottweiler?
Rottweilers aren't the hardest to keep clean, which is good because they shouldn't be over bathed in order to keep their skin and coat oils intact.
Most medium-coated dog breeds, like Rottweilers, can be bathed anywhere from weekly to once every four to six weeks.
Some owners choose to bathe their dogs only when they get a little bit smelly, and keep their dog mostly clean in between baths with wipes or sponge-downs.
However, if a dog has skin allergies or irritations, then your vet may instruct you to bathe them with medicated shampoo more frequently than the schedules listed above.
We recommend speaking to your vet to establish how much bathing is too much for your particular Rottie's needs.
What is the best shampoo for Rottweilers?
Now that we've established the Rottie's common skin and coat needs as well as a general idea of how often to bathe this breed, it's time to talk about the best shampoo for Rottweilers.
Due to their propensity toward sensitive skin and the presence of a double coat, the best shampoo for Rottweiler dogs is gentle, yet strong enough to make it through coarse fur.
There are some stronger medicated shampoos available, but for regular bathing, you might look for an all-natural or sensitive-skin formula that won't leave your dog's skin dried out.
And let's not forget puppies, who should only be washed with puppy-specific shampoos and only when they're old enough to have a bath.
Best shampoo for Rottweiler dogs – medicated formulas
If your Rottweiler suffers from a pesky skin condition which makes his skin itchy or irritated, any 'ole shampoo won't be enough to keep his skin hydrated and healing.
He'll need a shampoo that is specifically tailored to his particular skin problem, but which isn't super drying.
We recommend the following medicated, yet gentle shampoos for Rottweilers:
Pawstruck Anti-Itch Shampoo
This veterinarian-recommended, anti-itch shampoo* contains Chlorhexidine 2% to treat existing bacterial-caused skin problems.
And Ketoconazole 1% to treat existing fungal issues, while aloe vera and vitamin E soothe irritated skin.
And as a bonus, the cucumber melon scent will leave your pooch smelling super fresh!
Pawstruck is also cruelty-free in production and packaging.
Strawfield Chlorhexidine Medicated Shampoo
For Rotties with hot spots, this veterinarian-recommended shampoo* contains a slightly higher concentration of Chlorhexidine gluconate (4%) to get the job done.
You can use this itch-relieving formula for both spot treatments and all-over baths, and it is even gentle enough for use in cleaning your pup's ears!
Nootie Dermatology Solutions Medicated Anti-Itch Shampoo
If you're looking for a medicated shampoo* that's appropriate for even the most sensitive of skin, but with maximum-strength anti-itch properties, then look no further!
This soap-free formula contains colloidal oatmeal (oats which have been ground super finely, then boiled), which helps to soothe and hydrate the skin naturally. Lidocaine and Pramoxine HCL provide additional itch relief.
Best shampoo for Rottweiler dogs – all-natural medicated formulas
If the typical medicated shampoos are too hard for your Rottweiler's itchy or otherwise irritated skin, or if you want to use a medicated shampoo but without the chemicals, then we have good news for you!
Here are some medicated shampoos which have nothing but natural ingredients:
Bio-Care Natural Medicated Dog Shampoo
This moisturizing,chemical-free shampoo* is chock full of nourishing ingredients, including Dead Sea minerals and a blend of plant-based oils, that help to soothe hot spots, dermatitis, or just dry skin.
If you're worried about the essential oil components, the manufacturer states that the shampoo is completely non-toxic and was developed under FDA-certified guidelines.
Additionally, it has over 200 4+ star reviews from happy customers who swear by it for their itchy canines.
Pets Are Kids Too Premium Pet Oatmeal Shampoo
Here is a shampoo and conditioner* in one bottle!
Another oatmeal-based formula, this one also includes baking soda (which will make your dog really smell clean), aloe vera.
And coconut for a chemical-free method to stop your pooch's itching!
The manufacturer states that this shampoo is a favorite among vets and pet groomers, so why not give it a try?
Plus, if you send in a picture of your pet, they will donate a portion of the profit to a cat or dog with cancer – part of their "pets helping pets" initiative.
Best shampoo for Rottweiler dogs – gentle formulas
Maybe your Rottie doesn't have hot spots or skin allergies, but her skin is easily irritated from harsher shampoos, or perhaps she naturally has dry and scaly skin.
If this is your pooch, then you may consider only using shampoos with non-irritating ingredients, such as oatmeal.
Here are a couple of options which may be beneficial for a sensitive-skinned Rottweiler:
Healthy Breeds Oatmeal and Aloe Dog Shampoo
With its primary ingredients being oatmeal and aloe vera, this shampoo* is tailored specifically to the needs of Rottweilers whose skin cannot tolerate harsh chemicals.
Some product reviewers suggested that the shampoo smells lovely and that a little bit goes a long way, so they do not mind spending a bit more on a non-medicated shampoo.
This formula is mild enough to be used in combination with other skin and fur products, such as flea treatment.
Best shampoo for Rottweiler puppies
As we mentioned earlier in this article, you must take extra care when bathing puppies, especially little Rottie puppies!
Similar to human babies, puppies need "no tear" shampoos that are gentle enough to be used on their little faces, without the possibility of stinging their eyes.
Here are some puppy shampoos which should be easy on a Rottweiler pup's fragile skin:
Wahl Dog/Puppy Shampoo Gentle Formula
This puppy shampoo* is made of plant-derived ingredients, like cornflower and aloe vera, all of which are approved for human use.
Many satisfied customers have commented that this product not only stopped their itchy pups from scratching, but it also made their fur very soft, even on dogs with naturally coarse hair!
Burt's Bees Soothing Hot Spot Shampoo
If you have a puppy who also has hot spots, thenBurt's Bees* has you covered!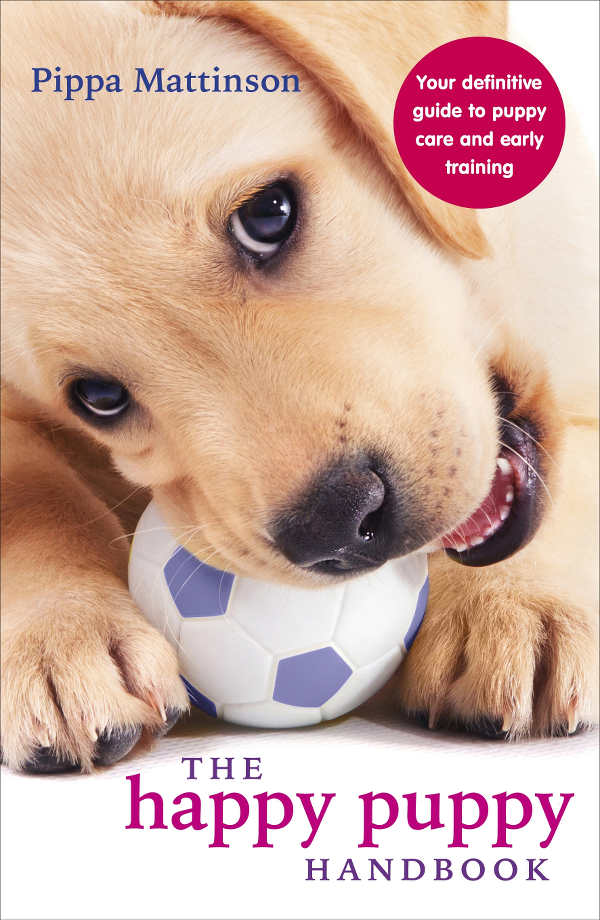 This no-chemical shampoo has both apple cider vinegar and aloe vera, which assist with moisturizing the skin and slashing the itching and stinging associated with hot spots.
While this shampoo is not specifically geared toward puppies, it is gentle enough for use on little tykes and big tykes alike.
Oster Oatmeal Essentials Shampoo
This is another oatmeal shampoo,* but it's made specially for puppies!
Oatmeal extract, rosemary leaf extract, and wheat protein combine to make a soft and gentle shampoo which will get your puppy nice and clean!
The baby powder fragrance ensures that your stinky pup will also be fresh-smelling after their bath.
The manufacturer recommends only using this product on puppies who are at least eight weeks of age and older.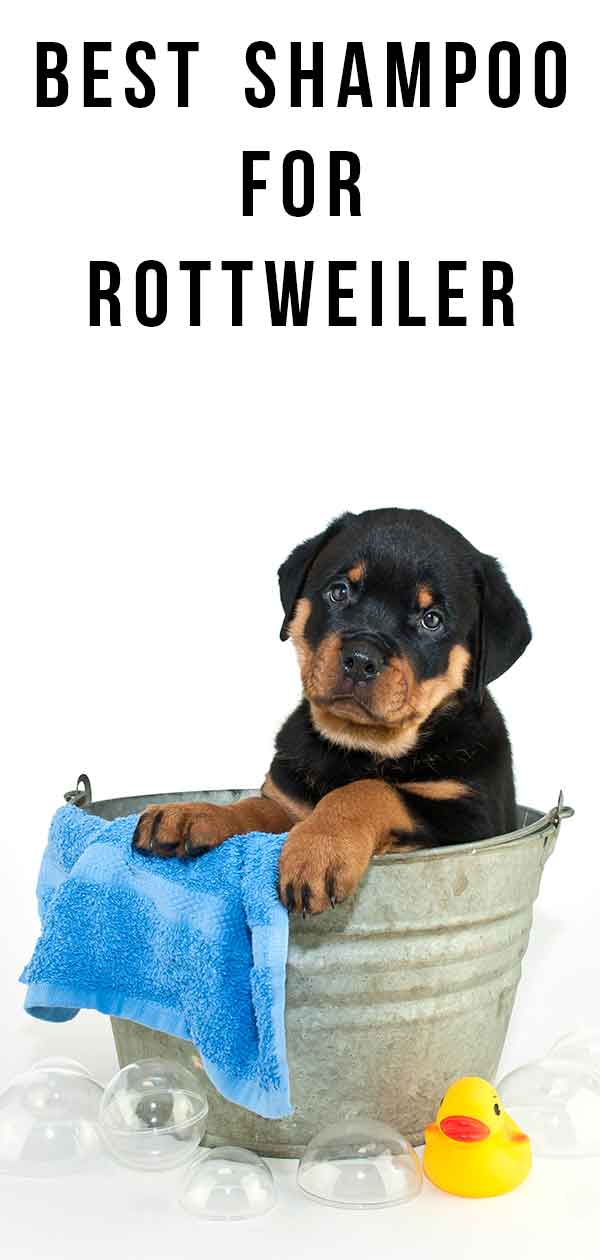 Best Shampoo for Rottweilers
When it comes to keeping a Rottie's skin and fur clean and healthy, you'll need to use the right shampoo.
Some Rottweilers have sensitive skin, skin allergies, or a tendency toward compulsively scratching or licking due to separation anxiety.
Any of these conditions may mean that their skin cannot handle the harsher chemicals in some shampoos.
But, what if your pooch has a skin condition that requires medicated shampoo?
What if your Rottie spends lots of time outside and needs a frequent bath to keep from smelling up your home?
Fortunately, there are plenty of medicated, all natural, and sensitive-skin shampoos which should be able to meet a Rottweiler's needs.
Simply put, the best shampoo for Rottweilers is that which both soothes any skin irritations that they have while being gentle enough for regular use, if needed.
Affiliate link disclosure: Links in this article marked with an * are affiliate links, and we may receive a small commission if you purchase these products. However, we selected them for inclusion independently, and all of the views expressed in this article are our own.