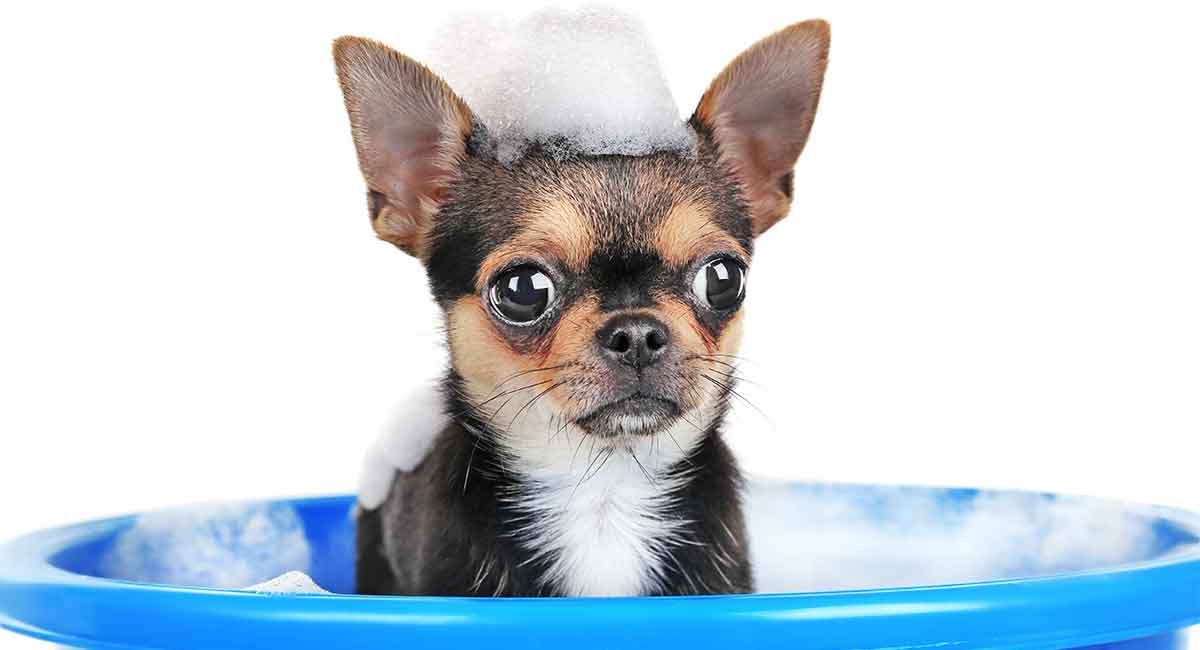 The best shampoo for Chihuahua dogs is kind to their skin, and leaves them with a glossy coat.
All pooches need a bath sometimes to keep their coat and skin in top condition and smelling sweet.
In this article, we'll answer the following important questions:
What should you look for in the best shampoo for Chihuahua?
What Chihuahua health conditions can influence your choice of Chihuahua shampoo?
First of all, let's look at how you should go about bathing your cute pet pooch.
All of these products were carefully and independently selected by The Happy Puppy Site team. If you decide to make a purchase from one of the links marked by an asterisk, we may earn a small commission on that sale. This is at no extra cost to you.
How Often Should You Bathe Your Chihuahua?
Whether you own a smooth or long-coated variety of this adorable breed of dog, bathing your Chihuahua every few weeks is very important.
Bathing helps to remove the accumulated natural body oils that your pet's skin secretes.
These oils can accumulate to block skin pores and cause an unpleasant "doggy" odor.
Unless your pup has a skin condition and your vet advises you to bathe him more frequently, a bath every two to three weeks is often enough.
Bathing your Chihuahua too often can cause their sensitive skin to become dehydrated, so don't overdo it.
What Equipment Do You Need to Bathe Your Chihuahua?
You don't need any fancy equipment to give your Chihuahua a bath.
The following is all you need:
Bathtub
Chihuahua shampoo
Plastic bowl or jug
Wash cloth (especially for your dog, not one of your own)
Large, fluffy towel
You may decide to use a good coat conditioner, too, but the best shampoo for a Chihuahua will often contain conditioning products already.
You can buy a proper dog bath like one of those we've reviewed for you in our guide, or you could just use your own bathtub for this job.
It's best not to use a kitchen or bathroom sink to bathe your pup, even though a tiny Chihuahua would easily fit into one; your slippery pup could jump out and hurt himself.
Preparation for Bathing Your Chihuahua
Before you give your Chihuahua a bath, give him a good brush to get rid of any loose hair and debris.
Now, gather together everything you need.
Fill your pup's bathtub with a few inches of warm water.
Don't let the bathwater be too deep; your tiny pup must be able to stand safely in the tub and not be forced to swim or struggle to keep his head above water.
Never leave your dog unattended in the tub. If he slips and can't get up again, he could drown.
Bathing Your Chihuahua
Sit your Chihuahua into the tub. Fill up a jug with warm water and slowly pour it over your pet, taking care to shield his head with your free hand.
Take a very small amount of Chihuahua shampoo and gently massage it into your pet's fur, being careful not to get any lather near your dog's eyes, mouth or nose.
Leave the shampoo to rest in the coat for a few minutes, and then use the jug and more warm water to rinse away the shampoo. If necessary, put some fresh water into the tub and repeat the rinsing process.
Gently lift your pet from the bathtub and wrap him in a warm, dry towel. Rub him with the towel to speed up the drying process.
Chihuahuas have very thin coats and can become chilled easily, especially during the winter or if you have air conditioning in your home.
If your dog is shivering, wrap him in a soft, dry towel until he's warmed up.
Alternatively, you could use a hair dryer to finish off the drying process.
Be careful not to have the heat setting too high, and hold the dryer at arm's length from your dog.
Best Shampoo for Chihuahua Adults
Chihuahuas can be prone to dry skin and other skin problems, including dermatitis. Such problems can cause skin rashes, itching, thinning fur, hot spots and poor coat condition.
Choosing the best shampoo for your Chihuahua and bathing him regularly can help to control and prevent these issues.
When choosing Chihuahua shampoo, avoid cheap, inferior-quality shampoos.
These can be very harsh and often have the wrong pH that can be very drying on the skin.
Some shampoos contain harsh and irritating chemicals that are designed to produce a lather when the shampoo comes into contact with water.
Always look for a shampoo that's free from DEA, phosphates, parabens, perfumes or synthetic dyes that might irritate your pup's delicate skin.
Best Shampoo for Chihuahuas Without Skin Issues
Chihuahuas with normal skin should be bathed every two to three weeks to boost their skin and coat health.
We've chosen the following products as the best shampoo for a Chihuahua.
Earthbath Basic Oatmeal
This Shampoo* is ideally formulated for breeds that are sensitive to skin irritants.
It's an effective, cleansing shampoo and gentle on the skin too.
Soothing oatmeal and aloe form the base of this shampoo, giving relief to itchy, dry skin.
The shampoo is fragrance-free, pH balanced and made from totally natural ingredients. It's also one of Amazon's best sellers.
Earthbath's Light Coat Brightener
This is a great shampoo* for Chihuahuas with light-colored or stained coats.
As with all Earthbath's products, the ingredients are natural and made in the U.S. from human-grade ingredients. This is another top-selling Chihuahua shampoo.
Earthbath's Tea Tree Oil and Aloe Shampoo
If your Chihuahua suffers from itchy skin or hot spots, Earthbath's Tea Tree and Aloe Shampoo* provides wonderful, cooling relief.
And despite having no synthetic additives or perfumes, it smells great too.
Best Shampoo for Chihuahua With Skin Problems
If you have a Chihuahua with skin allergy problems, you must use a shampoo that's kind and gentle on the skin and that contains no chemicals.
Unless your vet recommends a prescription-medicated shampoo, choose a product that alleviates itching, heals damaged areas and restores the skin to good condition.
Best Medicated Shampoos for Chihuahua Skin Conditions
If your Chihuahua suffers from itchy, irritated skin, your vet may recommend that you use a shampoo that contains lidocaine and hydrocortisone.
Lidocaine is a topical numbing agent that acts to relieve pain.
Hydrocortisone is an anti-inflammatory and anti-itching drug.
Both of these additions can bring tremendous relief for Chihuahuas who suffer from severe skin conditions.
SynergyLabs Clinical Care
* Hot Spot Itch Relief Medicated Shampoo contains colloidal oatmeal, aloe and wheat germ oil.
Wheat germ oil contains lots of vitamin E that works to heal dry and cracked skin, while aloe and oatmeal is soothing and moisturizing.
Of course, if you have any concerns about your Chihuahua's skin health, always seek veterinary advice before self-medicating.
Spot Treatments for In-Between Baths
If your Chihuahua suffers from ongoing skin conditions, bathing him too often could exacerbate the problem. For times between bathing when your pet's skin is itchy or develops hot spots, a spray product can be helpful.
An anti-itch, anti-hot spot spray can be used to target particular problem areas several times a day, helping to ease your Chihuahua's discomfort around the clock.
Bodhi Dog's Anti-Itch Oatmeal Spray
We like Bodhi Dog's Anti-Itch Oatmeal Spray* This product is a top seller on Amazon, with almost 2,000 verified customer reviews and counting.
Many Chihuahua owners like this spot spray's organic formula and nontoxic ingredients, which mean there's no problem if your pup decides to lick the product off.
The spray contains a combo of colloidal oatmeal, vitamins and baking soda.
Best Anti-Parasitic Dog Shampoo for Chihuahuas
Some Chihuahuas are affected by parasites from time to time.
A good quality, anti-parasitic and anti-seborrheic shampoo can work wonders to tackle problems such as fungal and bacterial skin infections, mange and seborrhea.
SynergyLabs Veterinary Formula
One very effective anti-parasitic dog shampoo that's suitable for Chihuahuas is Anti-Seborrheic Medicated Shampoo for Dogs.*
This medicated shampoo contains salicylic acid, coal tar and micronized sulfer.
The shampoo is highly effective at treating the scaly skin that's caused by seborrhea.
It also helps to relive the irritation caused by parasitic infections and mange, and is great for treating bacterial and fungal skin infections.
Also, this product is proven to relieve inflamed, waxy or greasy skin, red skin rashes, and dandruff.
Best Shampoo for Chihuahua Puppies
Even Chihuahua puppies benefit from regular baths.
It's a good idea to start bathing your tiny pup when he's young. That way he will learn that bath time is a fun, enjoyable experience.
Rather than putting your Chihuahua puppy in the bathtub to bathe him, he may find it less frightening if you use a plastic wash bowl for the job until he gets bigger.
PET CARE Sciences Puppy Shampoo
Our favorite puppy shampoo is PET CARE Sciences Puppy Shampoo.* The shampoo is effective and safe for use on Chihuahua puppies.
The product is made from natural palm and coconut oils.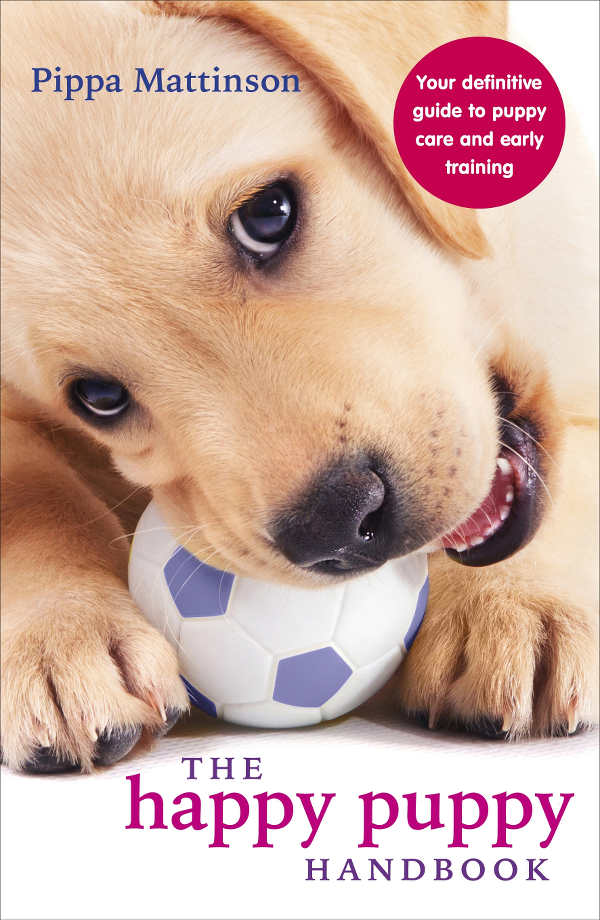 The shampoo has a special no-tears formula and contains no parabens, sulfates, phosphate, MEA or DEA, and is designed to be used for puppies of 12 weeks of age and older.
What About Human Shampoo for Dogs?
When choosing the best shampoo for a Chihuahua, always use a dog shampoo like those we've recommended in this guide.
Human shampoo is not suitable for use on dogs.
The pH of your dog's skin is very much different to that of human skin.
Our skin has a pH of between 5.5 and 5.6, whereas your Chihuahua's skin is much closer to neutral between 6.2 and 7.4.
That makes human shampoo a lot more acid than dog shampoos. Using human shampoo can seriously upset the delicate pH balance of your dog's skin.
Also, dogs have between three and five layers of skin, whereas people have 10 to 15 layers.
That means that our skin is much more robust than that of your dog and can tolerate exposure to harsh chemicals.
A dog's skin is easily irritated, and can quickly start suffering from dehydration and surface damage if it comes into regular contact with the chemicals that are often used in human hair products.
Best Shampoo for Chihuahua Puppies and Dogs
It's important for the health and condition of your Chihuahua's skin and coat that you bathe him every two to three weeks.
Be sure to use a good-quality dog shampoo when bathing your Chihuahua. Never use human shampoo on your dog.
Do you have a Chihuahua?
If you do, we'd love to hear your bath-time tales.
Why not tell us what Chihuahua shampoo you find is best for your pet. Is your favorite product one that we recommended in this guide?
Share your story in the comments section below.
Affiliate link disclosure: Links in this article marked with an * are affiliate links, and we may receive a small commission if you purchase these products. However, we selected them for inclusion independently, and all of the views expressed in this article are our own.
More Chihuahua Guides