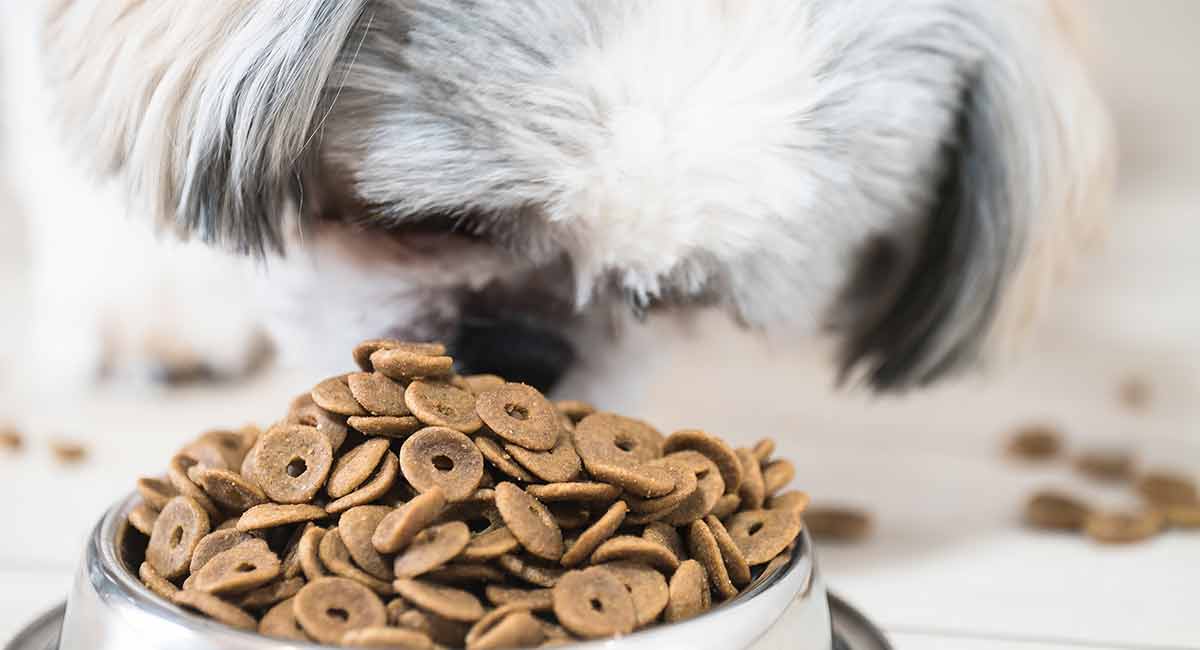 The best puppy food for Shih Tzus is small in size, easy to pick up and rich in fat and protein.
All dog breeds are unique with specific dietary needs, and the Shih Tzu is no different.
Since they are a smaller breed of dog with a flattened snout and small jaws, the type of puppy food that is best for them is very specific.
But there are a few great options out there.
All of these products were carefully and independently selected by The Happy Puppy Site team. If you decide to make a purchase from one of the links marked by an asterisk, we may earn a small commission on that sale. This is at no extra cost to you.
Best Puppy Food for Shih Tzu
The best dog foods for your Shih Tzu puppy will have a nutritional ratio similar to that discovered in the above study.
Your Shih Tzu's puppy food should contain a high amount of protein and fats with only minimal amounts of carbs.
A good Shih Tzu puppy food will also take into account a puppy's particular dietary requirements.
Food Allergies
Shih Tzus are infamous for having sensitive stomachs and food allergies.
So, it might be essential to choose a food with fewer ingredients if your pooch falls into this category.
One study found that the most common food allergen among dogs was soybean, while the least common was catfish.
Avoiding high allergenic ingredients can help keep your dog's stomach at ease should they have problems.
If your dog has any restrictive diet requirements due to a disorder or condition, you should stick to those requirements completely.
Medically prescribed diets must be adhered to to be entirely effective.
When your puppy is approximately 10 to 12 months old, it is time to switch to an adult dog food, preferably one formulated for Shih Tzus and smaller dogs.
With those points in mind, let's look at some specific puppy foods that are great for Shih Tzus.
Best Dry Puppy Food for Shih Tzu
The best dry food for Shih Tzu puppies comes in small pieces that are easy to pick up. And simple for them to chew too.
Royal Canin Puppy Dry Dog Food
The Royal Canin dry dog food* easily stood out as one of the best puppy foods.
Royal Canin understands that every dog breed is different, and therefore has different dietary needs.
This puppy food is made explicitly for Shih Tzu with many features that make it stand above the competition.
For example, Shih Tzu have a large tongue when compared to the rest of their mouth, which can sometimes lead to difficulty grasping food.
I know that my Shih Tzu have a tendency to accidentally drop their food after they pick it up!
This dog food keeps that from happening with a unique shape that makes it easier to grasp.
Taste of the Wild Puppy Dry Dog Food
The Taste of the Wild* dry dog food for puppies is an excellent choice for any pup.
It contains zero grains, which means that it has less of a chance to upset a Shih Tzu's sensitive digestion.
Plus, the first (and second) ingredient is meat.
Veggies and fruits are thrown in to provide antioxidants and complete nutrition.
Purina ONE Healthy Puppy Formula
This Healthy Puppy Formula* from Purina checks all the boxes when it comes to your puppy's nutrition.
With the first ingredient being meat, this puppy food provides a balanced diet for your growing puppy.
A number of vitamins and minerals fortify your puppy's growing bones, and antioxidants support their developing immune system.
Nutrish Bright Puppy
With DHA to support brain development and healthy vision, Nutrish Bright Puppy* goes the extra mile to support your growing canine's nutritional needs.
Chicken is the first ingredient, and there are absolutely no poultry by-product meal or artificial colors, flavors, or preservatives.
Grains, veggies, and fruits are also added to this dog food to achieve maximum nutrition.
However, it might not be the best choice if your puppy has a sensitive stomach.
Plus, this natural dog food provides added vitamins and minerals to ensure that your puppy has a complete diet.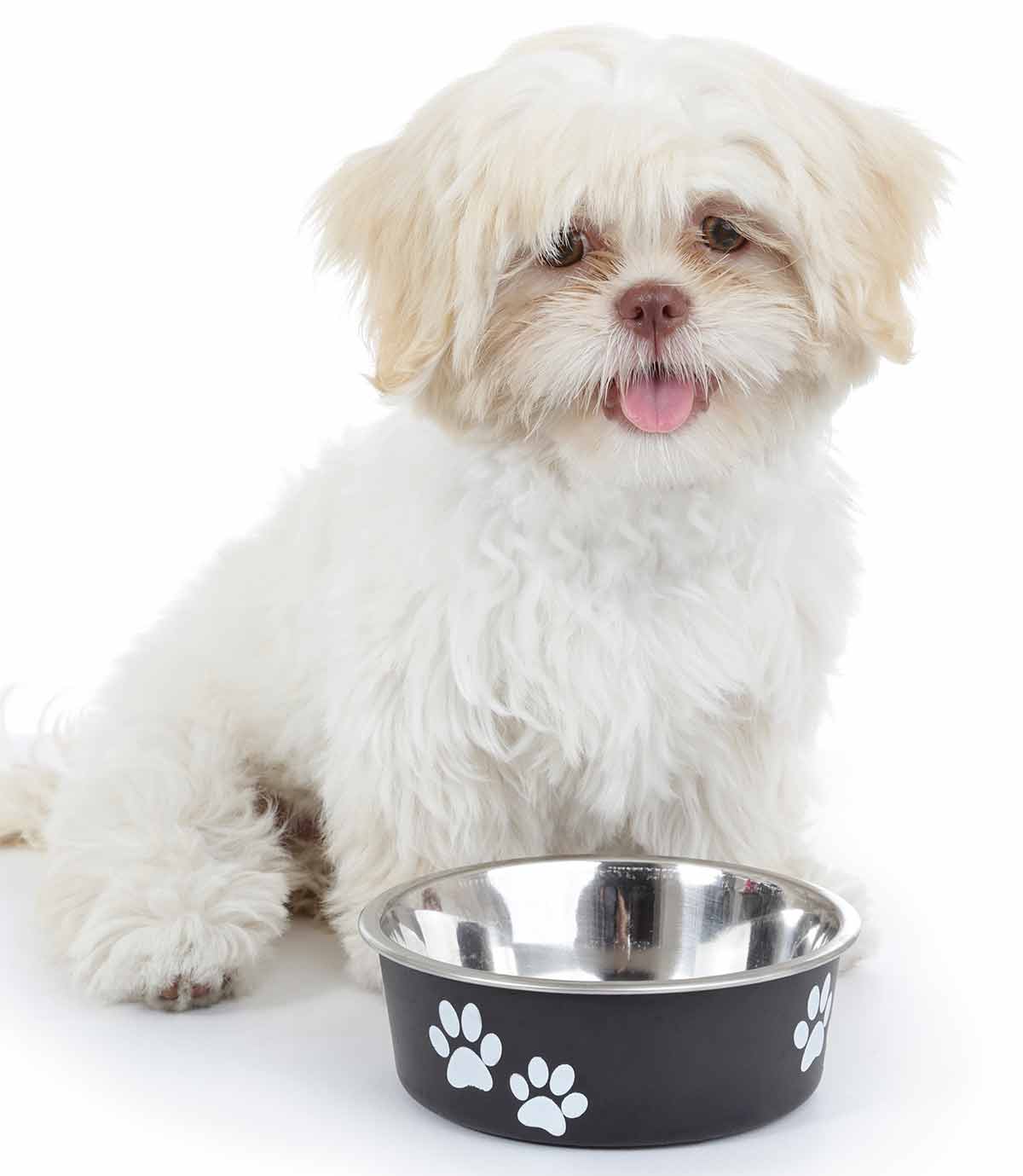 Best Wet Puppy Food for Shih Tzu
The best wet food for Shih Tzu puppies should also be easy to pick up and chew.
As well as kind on their digestive systems.
Cesar Puppy Wet Dog Food
Are you looking for wet dog food* for your Shih Tzu puppy?
Cesar Puppy Wet Dog Food is one of the best puppy foods for Shih Tzus.
This variety is prepared with chicken and formulated just for puppies, with added vitamins and minerals especially for small dogs.
Customers loved that this dog food appealed to even the pickiest of eaters while also providing complete nutrition.
BLUE Homestyle Recipe Puppy
Featuring deboned chicken as the first ingredient, BLUE Homestyle Recipe for puppies* easily made it onto our best puppy food for Shih Tzu guide.
It contains a good portion of meat as well as carrots, sweet potatoes, cranberries, and blueberries.
At the same time, it also does not contain soy, corn, or wheat, which have been linked to dog allergies.
This feature might make this dog food an excellent choice for Shih Tzu puppies with sensitive stomachs or food allergies.
Hill's Science Diet Puppy Food
Hill's Science Diet Puppy Food * contains optimal nutrition while also having a taste that most dogs approve of.
This puppy food contains a high level of quality lean protein to provide the necessary nutrients your puppy needs to grow.
Shih Tzu Puppy Food Serving Size
Giving your Shih Tzu puppy the correct amount of food is just as important as giving them the right kind of food.
Even the best puppy food for Shih Tzu puppies can be over or under fed.
And either is a bad thing.
Overfeeding
Overfeeding your new companion can result in obesity, which brings with it a whole host of health problems.
According to the American Animal Hospital Association (AAHA), 25% of all dogs are obese, and 50% are overweight.
That's a considerable amount!
Underfeeding
Underfeeding your pet can have consequences just as grave.
In extreme cases, underfeeding can result in starvation and death, but even in moderate cases malnutrition and poor growth can occur.
Because of the complications that occur, it is imperative to follow the directions on your bag of dog food, especially when it comes to portion sizes.
It is not uncommon for different brands to have different feeding guidelines, so always check when switching brands or from puppy to adult dog food!
Taking your pet to the vet regularly can also prevent feeding your puppy the incorrect amount.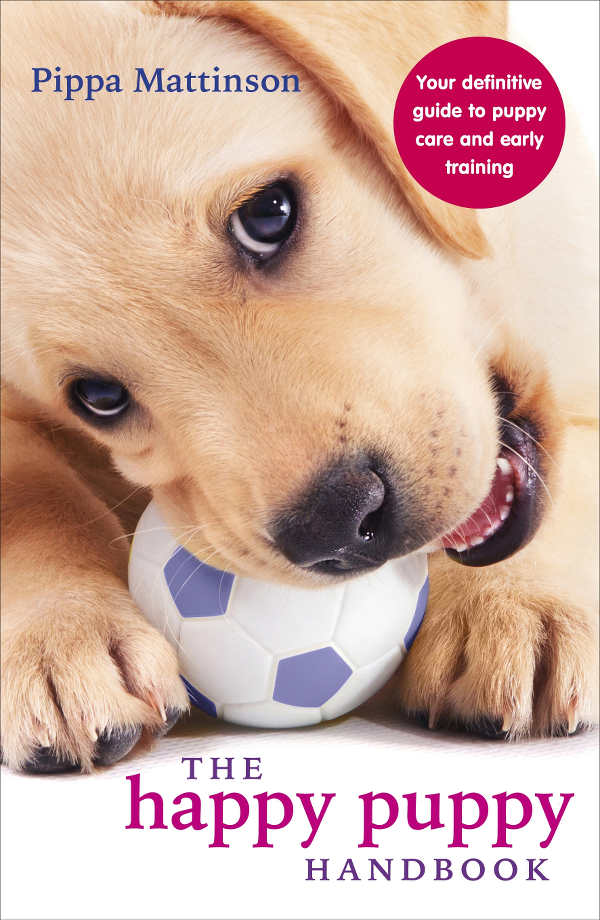 Your vet will be able to ensure that your puppy is the correct weight and can help you tweak the serving sizes if necessary.
Now that we know how much puppy food to give a Shih Tzu, let's move on to the best puppy food for Shih Tzu.
Shih Tzu Puppy Food Requirements
What should the best puppy food for Shih Tzu puppies to thrive have in it?
Domestic dogs have similar dietary needs to wolves.
One study found that wolves have a nutrient preference for a diet with a Protein/Fat/Carb ratio of around 54:45:1.
In other words, wolves preferred to eat a diet of almost equal parts protein and fat with only trace amounts of carbohydrates.
Another study found that dogs preferred a somewhat similar ratio of 30:63:7.
A similar study found that over time, dogs changed their dietary preference to contain more protein and fewer fats.
This change was explained as resulting from a "feast or famine" mentality.
In other words, when given access to significant amounts of fats, dogs will gorge themselves in preparation for famine.
When this time of food sparsity does not come, they switch their diet to eat more protein instead.
Best Puppy Food for Shih Tzu
There are a number of options available on the market that meet the nutrition requirements of a growing Shih Tzu puppy.
Choosing food for your puppy is a matter of your canine's personal preference and specific dietary needs.
You might have to try a number of different foods before you find the perfect one for your puppy.
What kind of puppy food does your Shih Tzu eat? Is there a favorite brand that we missed? Let us know in the comments below!
References and Further Reading
Nichol, Jeff. "Shih Tzu needs to stick to diet to avoid stones." Albuquerque Journal. 2016.
Suto. "Food allergens inducing a lymphocyte-mediated immunological reaction in canine atopic-like dermatitis." The Journal of Veterinary Medical Science. 2015.
Hewson-Hughes, Adrian. "Geometric analysis of macronutrient selection in breeds of the domestic dog, Canis lupus familiaris." Behavioral Ecology. 2013.
"Obesity (dog)." AAHA.
Roberts, M. "Macronutrient intake of dogs, self‐selecting diets varying in composition offered ad libitum." Journal of Animal Physiology and Animal Nutrition. 2017.
Bosch, Guido. "Dietary nutrient profiles of wild wolves: insights for optimal dog nutrition?" British Journal of Nutrition. 2015.
Affiliate link disclosure: Links in this article marked with an * are affiliate links, and we may receive a small commission if you purchase these products. However, we selected them for inclusion independently, and all of the views expressed in this article are our own.