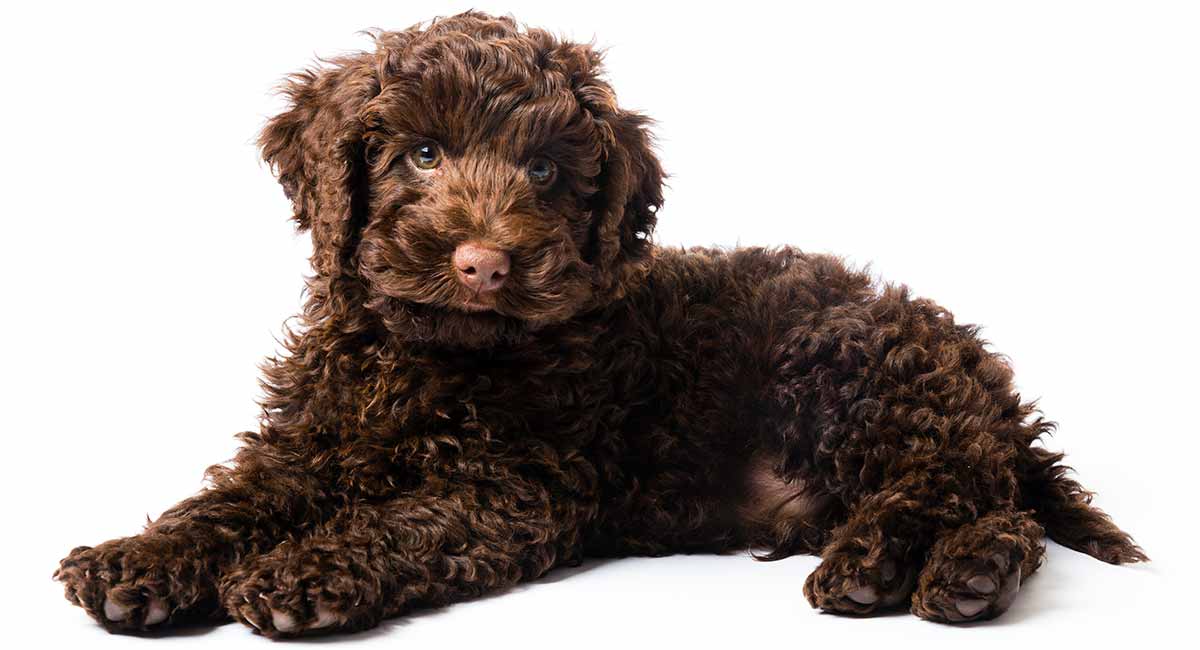 If you are on a hunt for the very best puppy food for Labradoodles, we are glad you are here.
We have prepared a comprehensive and focused article to help you choose the best puppy food for Labradoodles to feed your new canine companion.
Read on to learn how much to feed; when to feed; and the best wet food, dry food and transitional food for Labradoodle puppies.
How Much Food Should I Feed My Labradoodle Puppy?
The Labradoodle is a hybrid dog cross with a Labrador retriever and a poodle.
But since poodles are bred in three sizes and can weigh anywhere from 4 to 70 pounds, you may not be sure yet how big your little Labradoodle puppy will eventually grow.
You can use your pup's parents' sizes to get a rough guesstimate of your puppy's adult size, and then work with your veterinarian to determine appropriate feeding portions as your puppy grows.
Labradoodle Puppy Feeding Timeline
For young puppies under 6 months old, breeders generally recommend three daily feedings spaced at equal intervals throughout the day, after which you can move to two feedings with your veterinarian's approval.
Sample Feeding Schedule
Three feedings: 7 a.m., 12 p.m., 5 p.m.
Two feedings: 7 a.m., 5 p.m.
Make sure fresh water is available at all times to keep your puppy hydrated.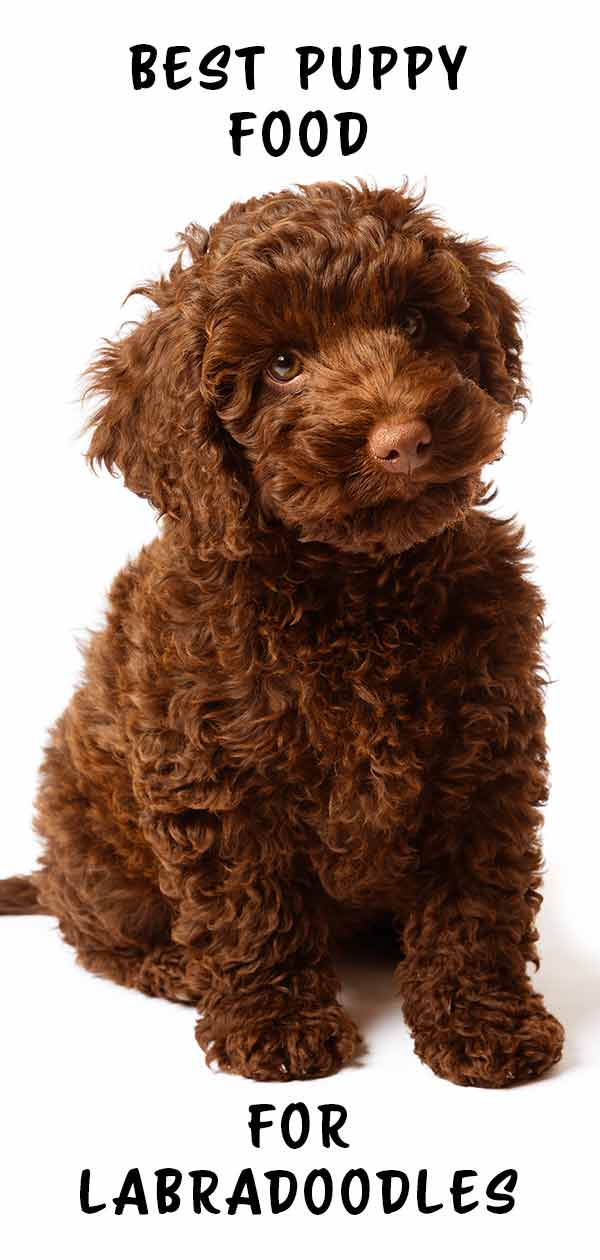 Labradoodle Puppy Food Choices
The days of heading to the pet store to pick up a bag of "dog food" are gone.
Today, you could spend hours or days browsing through all the different brands and types of puppy food.
To make matters even more complicated, in addition to commercially prepared dry puppy kibble and wet (canned) puppy food, you could also opt to feed your dog a raw (BARF) diet or a homemade cooked food diet.
In this article, we are going to focus on recommending some of the best commercially prepared dry and wet puppy foods.
If you are interested in learning more about raw or homemade puppy food diets, this is a great topic to talk about with your puppy's vet.
Best Dry Puppy Food for Labradoodle
When picking out a dry kibble for your pup, the number one priority is to select a food advertised to be "complete and balanced."
The second priority is to choose a food formulated for the growth needs of puppies (which may be small, medium or large breed formula based on your puppy's expected adult size).
Protein sources should occupy the first few ingredients.
Organic ingredients are a plus.
Avoid fillers, by-products, artificial ingredients or sweeteners.
You may also want to talk with your veterinarian about starting your puppy on a grain-free diet with one of these high-quality and popular puppy foods.
Taste of the Wild
Taste of the Wild Grain Free High Protein Natural Dry Dog Food Puppy Recipe: This amazingly popular and highly rated puppy food recipe is made with whole protein sources and no grain.
Added antioxidants, DHA, superfoods and probiotics nourish your growing puppy. Choose from salmon or bison/venison.
Nature's Recipe
Nature's Recipe Grain Free Dry Dog Food: This popular and highly rated fortified puppy food features chicken, sweet potato and pumpkin for digestive ease and comfort.
This food is free from known allergens such as grain and corn.
Wellness Core
Wellness Core® Natural Grain Free Dry Dog Food: This highly rated and very popular grain-free puppy food includes whole protein as the first ingredients and plenty of nutrients, vitamins and minerals, including DHA for overall healthy development.
This food is free from artificial ingredients, fillers and preservatives.
Best Wet Puppy Food for Labradoodles
The best puppy food for Labradoodles will often be a dry kibble, but it is always a good idea to keep a high-quality wet puppy food on hand as well.
Wet puppy food is a great choice for treats, for adding extra hydration to your pup's daily diet, as a kibble topper or during times when your puppy isn't feeling well.
BLUE
BLUE Homestyle Recipe Wet Dog Food Puppy Recipe: This puppy wet food comes packed with hydration and nutrition, including essential amino acids plus added minerals and vitamins.
It is a chunk stew that is completely wheat-free.
Merrick Classic
Merrick Classic Grain Free Canned Dog Food Puppy Plate: If you want to continue with a completely grain-free diet, you can't go wrong with this popular wet puppy food.
It features whole protein, sweet potato, peas, carrots, apples and added minerals, and vitamins.
Wellness Complete
Wellness Complete Health Natural Wet Canned Dog Food Just for Puppy: This high-quality wet puppy food is designed as a complete and balanced puppy food.
It can also be used as as a kibble topper or treat supplement with extra DHA, vitamins and minerals.
Best Dog Food for Labradoodle Puppy
If you are concerned about transitioning your Labradoodle puppy to adult dog food, you may find that the best puppy food for Labradoodles is one where the manufacturer also makes an adult food. This can make transitions much easier.
Purina Pro Plan
Purina Pro Plan SAVOR Shredded Blend Chicken & Rice Formula Dry Puppy Food: This popular puppy food is part of the Pro Plan life stages foods.
When it is time to transition, you can start feeding the Purina Pro Plan SAVOR Shredded Blend Formula Adult Dry Dog Food.
Hill's Science Diet
Hill's Science Diet Puppy Food: Hill's Science Diet has long been a vet-trusted brand.
When transition time arrives, you can switch over to feeding Hill's Science Diet Adult Dog Food.
Nature's Variety
Nature's Variety Instinct Raw Boost Grain Free Recipe Natural Dry Dog Food Puppy Formula: is a popular puppy food, great for labradoodles.
This raw-inspired puppy food can easily be transitioned to Instinct Raw Boost Adult Dog Food.
Best Puppy Food for Labradoodles
We hope you have found this article about the best puppy food for Labradoodles helpful as you select the perfect puppy food for your new canine love.
Does your new Labradoodle pup have a favorite food or treat? Please post a comment to share your sweet puppy's food favs.
Resources and Further Reading:
"ALAA Labradoodle Care," Australian Labradoodle Association of America
"Canine Hip Dysplasia," American College of Veterinary Surgeons
"Care and Training," Shedless in Seattle Labradoodles Kennel
"Labradoodle Origin," UK Doodle Club
Trivedi, B.P., 2004, "What's a Labradoodle? Designer Dog or Just Another Mutt?" National Geographic News