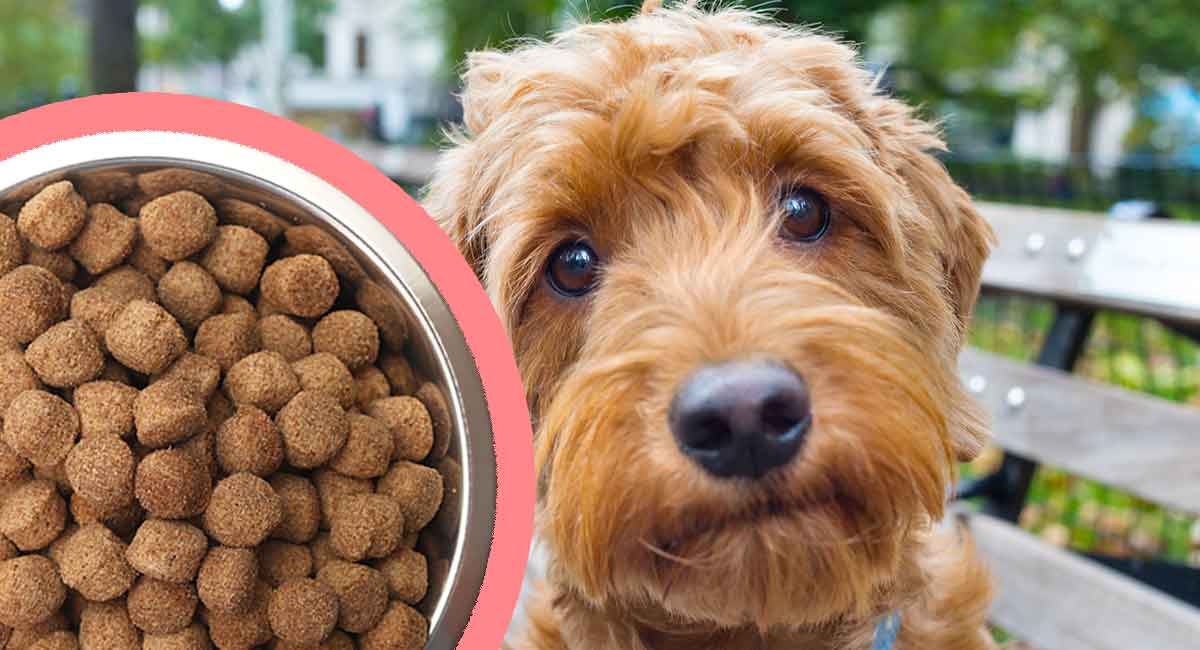 The best puppy food for Goldendoodles has plenty of protein and fat, derived from good-quality sources. The first protein source in the ingredients list should be fish or meat meal. Good dog food is not bulked out with fillers and cereals. Many dog food brands add peas, lentils, and vegetables to their foods as protein sources. Although that's okay, you really want a Goldendoodle puppy food that contains more meat than plant protein.
Contents
The Goldendoodle is a Golden Retriever Standard Poodle mix. They're intelligent, lively, and full of energy, especially when young! The diets for them taste great, fit within your budget and provide all the nutritional aspects a growing body needs.
Best Puppy Food For Goldendoodle Health
There are quite a few health issues that are commonly suffered by adult Goldendoodles, including:
Eye problems, including cataracts
Ear infections
Hypothyroidism
Goldendoodles tend to have sensitive stomachs, and often a grain-free dog food diet can be helpful in preventing tummy troubles. In particular, avoid feeding your puppy dog food that contains artificial colors, preservatives, or flavorings.
How Much To Feed A Goldendoodle Puppy
You'll find a feeding guide on the packaging of the Goldendoodle puppy food you choose. The guide will give you information on how much to feed your puppy every day, based on the weight of your pup and his age. Use this as a basis for calculating their meals, but over the coming days and weeks you'll need to adjust it a little up or down depending on how they are growing.
Puppies tend to be gluttons, gobbling up their food too quickly! Until your Goldendoodle puppy is six months old, feed him four small meals every day. Once he reaches the age of six months, you can feed your puppy larger meals, three times daily.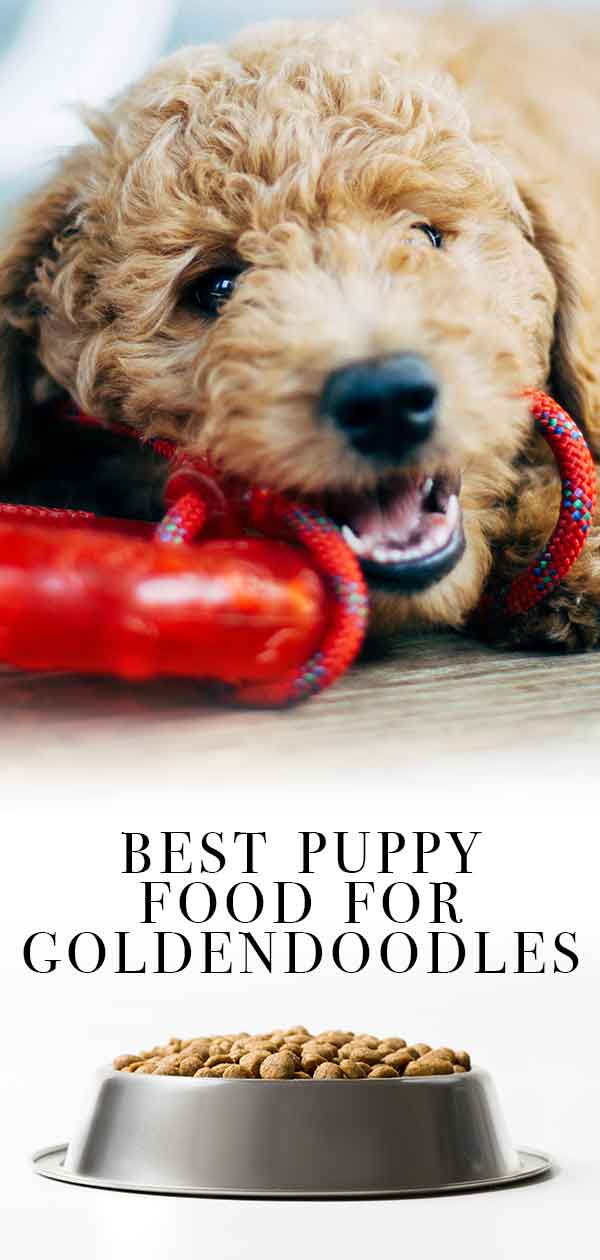 Canned Options
The best puppy food for Goldendoodles can be wet or dry. However,wWhen you first begin feeding your Goldendoodle puppy, it can be helpful to give him canned food if that's what their breeder did. Wet food will be easier for your pup to eat while he's teething and provides a good stepping stone from a diet based solely on his mother's milk.
Nutro Puppy
This food by Nutro puppy* is made primarily with high quality turkey and chicken. This food has all the nutrition your puppy needs, and the soft, juicy texture is perfect for puppies that are teething.
Blue Wilderness
BLUE Wilderness High Protein Grain Free Puppy Wet Food.* The Blue Wilderness Wet food contains only natural ingredients. It is grain-free, and has added DHA for healthy eye and brain development. Omega-3 and omega-6 fatty acids ensure that your pup's skin and coat are healthy and shiny.
Pedigree Puppy
This wet food by Pedigree* is made with ground lamb and rice. The food contains all the minerals, vitamins, carbs, and protein that your Goldendoodle puppy needs for healthy growth and extra vitality.
Goldendoodle Puppy Kibble
Crunching on the hard kibble acts like a toothbrush, removing any bacteria that are coating the teeth. That can help to prevent tartar from forming that could ultimately lead to oral health problems, including gingivitis (gum disease) and canine periodontal disease (tooth decay).
Nutro Kibble
This puppy food by nutro* is perfect for growing Goldendoodles. The primary ingredient in this puppy food is lean lamb, providing a great source of protein for the development of strong muscles. The food also has omega-3 fatty acids for healthy eye and brain development. There's also added calcium for healthy bones and joints.
Purina One
Specially formulated to fulfill the needs of large breed puppies, this food by Purina One* is therefore ideal for a Goldendoodle pup that will grow into a medium or large adult. Purina is one of the world's premier pet food makers. Their puppy formula food contains chicken as its primary ingredient. There's also rice for fiber and easy digestion, and added glucosamine for good joint health.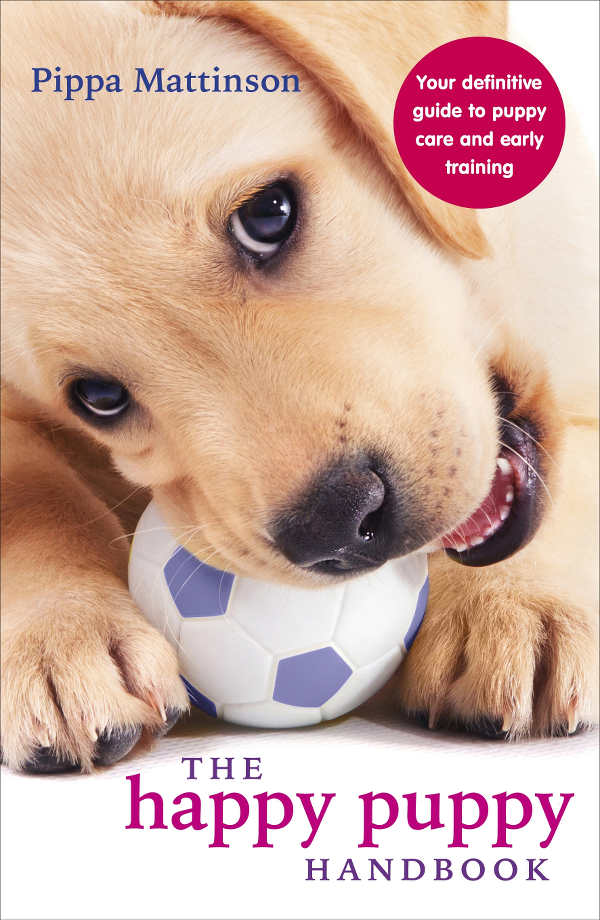 Eukanuba
Eukanuba's dry puppy food* contains fish oil to boost brain function, helping to make your Goldendoodle puppy more intelligent and trainable. The food is formulated with fiber that's derived from natural beet pulp and probiotics. Promoting a healthy digestion and easier absorption of nutrients.
Diamond Natural
This puppy food by diamond naturals* is one of the few foods made in the USA. This recipe includes antioxidants and superfoods, together with fatty acids, for a shiny coat and healthy skin. Chondroitin and glucosamine are also added to ensure healthy joint development.
Affiliate link disclosure: Links in this article marked with an * are affiliate links, and we may receive a small commission if you purchase these products. However, we selected them for inclusion independently, and all of the views expressed in this article are our own.