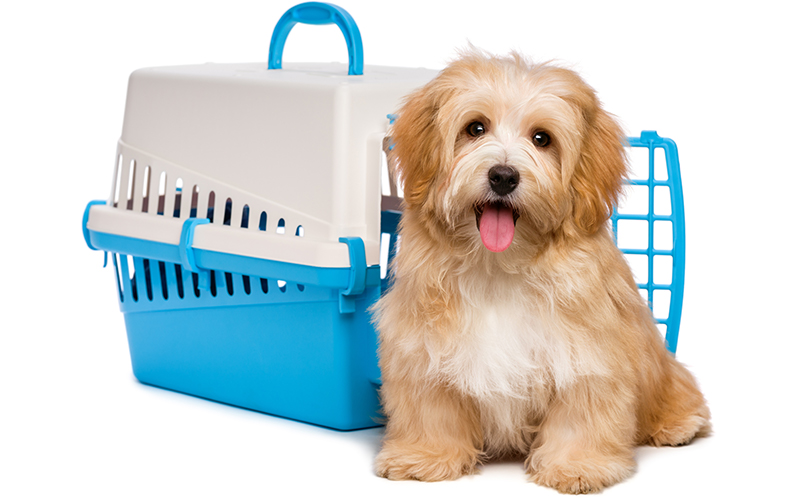 Welcome to our guide to the best puppy crates! Giving you top tips on how to pick the right puppy crate, along with reviews of some of the best puppy crates available online.
So let's get started, and find the right crate for your new dog.
Is there anything more exciting than bringing home a puppy?
If you love dogs, then the answer is probably no.
Puppies are playful, affectionate, mischievous, and, let's face it, worth every moment spent waiting for them to finally remember why we took them outside to potty in the first place.
Of course, owning a puppy does raise a lot of questions, among them whether or not you should invest in a puppy crate. And what the best puppy crates might be.
What is a puppy crate?
Puppy crates are enclosures that keep dogs and puppies confined.
They can be made of metal, plastic, or fabric, depending on why you need them. Puppy crates are a great way to offer your dog a safe space in your home. Or a place to relax while you travel where she feels comfortable.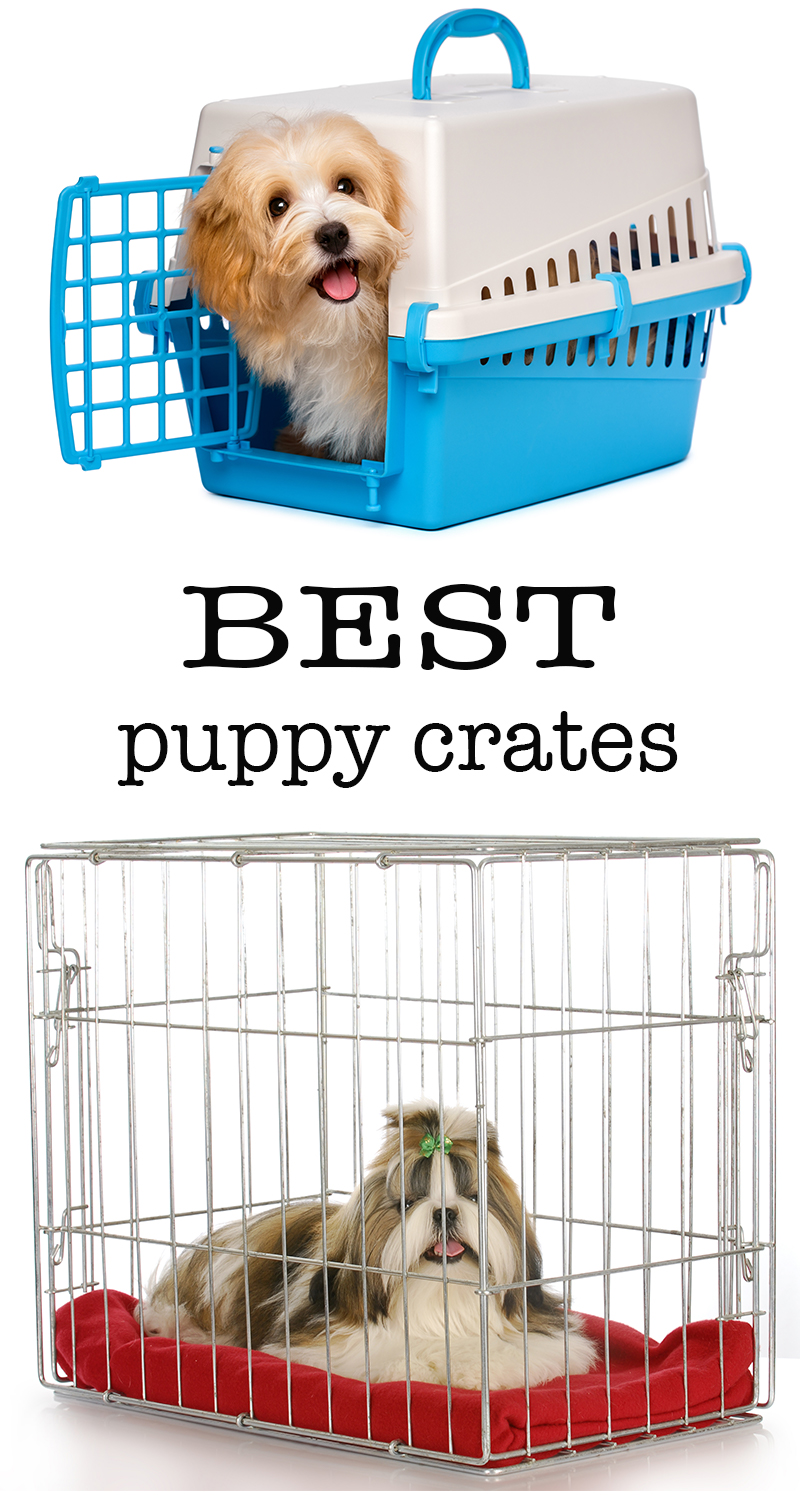 An appropriately sized crate will give your puppy room to stand up and lie down in comfortably.
Of course, puppies don't stay puppies forever.
Some dog crates come with dividing panels. These panels allow you to purchase a crate that will fit your dog when she reaches maturity, but give you the option of closing off a small part of that crate during puppyhood.
This is important during potty training.
Expert dog trainer Jo Laurens explains that puppies will use one end of their crate to potty if they have enough room, but they will avoid soiling the space that they consider their bed.
So it's important to ensure that you get that space right.
Should I use a puppy crate?
When done properly, crate training is one of the best things you can do for your puppy.
Dogs are den animals. Wolves, coyotes, foxes, and other wild dog relatives live in dens for all or parts of their lives.
These small spaces make your dog feel safe. Your puppy will come to think of his crate as his safe space.
Some people worry that crating a dog is cruel. And it's true that crates can be misused.
Leaving a dog alone in a crate for many hours at a time, day after day, is not fair to your dog. Putting your puppy in a crate far away from the rest of the family is also unfair to your puppy, and can lead to negative associations with the crate.
But your puppy crate does not need to be a puppy cage.
When properly trained to a crate, your puppy's crate will be a safe, secure bed. Where she can take a nap and relax, or even chew on a safe toy. Leaving you free to accomplish tasks that puppies cannot help with.
Find out more about how to crate train your puppy here.
Benefits of puppy crates
Not only will your puppy feel safe in his crate, but crates allow you to keep him out of trouble when you are not around. For example, your puppy cannot find any power cords to chew on if he is safely tucked inside his crate away from them!
One of the misconceptions about crates is that they are only used to lock your dog up while you are out of the house.
While this is certainly one use for crates, there are several other benefits of having a crate trained puppy.
Crates provide a safe space for your dog when you travel. Many dogs find travelling stressful. But if you bring their crates along with them, they will have a home away from home. Plus you don't have to worry about them damaging a relative's home or escaping.
Crates also make it easier to have multiple dogs in the home when you have company. As it gives dogs a break from each other.
Speaking of travel, your dog may need to go into a crate if you ever have to fly with her on a plane. Crate trained dogs will feel secure in their crate throughout this process. But dogs who are not used to crates may find this added stress just too much to handle.
Sometimes, dogs need to be crated after an injury to restrict exercise. Since you can't predict if this will happen, the best thing you can do for your dog is get them used to their crate just in case.
You may find that you rarely use your dog's crate after puppyhood. But taking the time to crate train your puppy gives you a valuable tool to use throughout your puppy's life.
How to choose the right puppy crate
There are several factors to consider when looking for a crate.
If you are looking for a crate that will hopefully last your dog's whole life, a folding metal crate with a divider is the best option for you.
This will allow you to gradually make your dog's crate space bigger as he grows. And most metal crates fold down, making them easy to transport when you travel.
Buying a folding metal crate is one of the first things you should do if you plan on crate training your puppy.
Sometimes, though, you need a crate for puppy for a different purpose.
If you travel with your puppy and your puppy will need to be crated for the trip, a large metal crate may not be the best option.
In addition to the metal crate that will become your dog's den, you may also need to consider investing in a travel crate.
Travel Puppy Crates
There are two types of travel crates: hard, plastic airline crates and fabric crates.
Dogs that ride in cargo in planes need to fly in airline approved plastic crates. If your dog is going beneath the plane, you will need to buy one of these crates.
Small dogs, however, can ride beneath your seat in fabric or small plastic airline crates. If you have a small breed dog or little puppy, a fabric travel crate could be the right choice.
Fabric travel crates are not ideal for leaving puppies unattended in the home. They might chew the fabric, which could lead to intestinal blockages. And result in your puppy roaming your home looking for trouble.
Hard, plastic airline crates, on the other hand, can be used as regular, every day crates. And are a good choice if you know you will be doing a lot of flying with your dog.
Puppy crate size
The hardest part about choosing a crate is choosing the right puppy craze size.
In general, you should look for a crate that gives your puppy enough room to stand up and turn around comfortably. Of course, since puppies grow so quickly, this size can change on an almost weekly basis.
Crates with dividers make this easy. All you have to do is purchase the size crate your dog will need when he grows up, and adjust the divider.
If you are not sure how large your dog will be as an adult, talk to your veterinarian for an estimate.
The same rules apply for travel crates. Your puppy should have enough room to stand up and turn around comfortably in her crate, which may require you to take a few measurements of your dog as you shop.
Most crates list their height and width, and some include weight ranges. These measurements allow you to find the best crate size for your puppy.
Best puppy crates
But how do you know which puppy crate is right for your puppy?
One of the easiest ways to find a good crate these days is online.
Here are some of the top-rated crates out there to help you begin your search.
MidWest iCrate Folding Metal Dog Crate
MidWest Homes for Pets carries an affordable crate in a wide range of sizes, from 18 inches tall to 48. And comes in a fun range of colors too.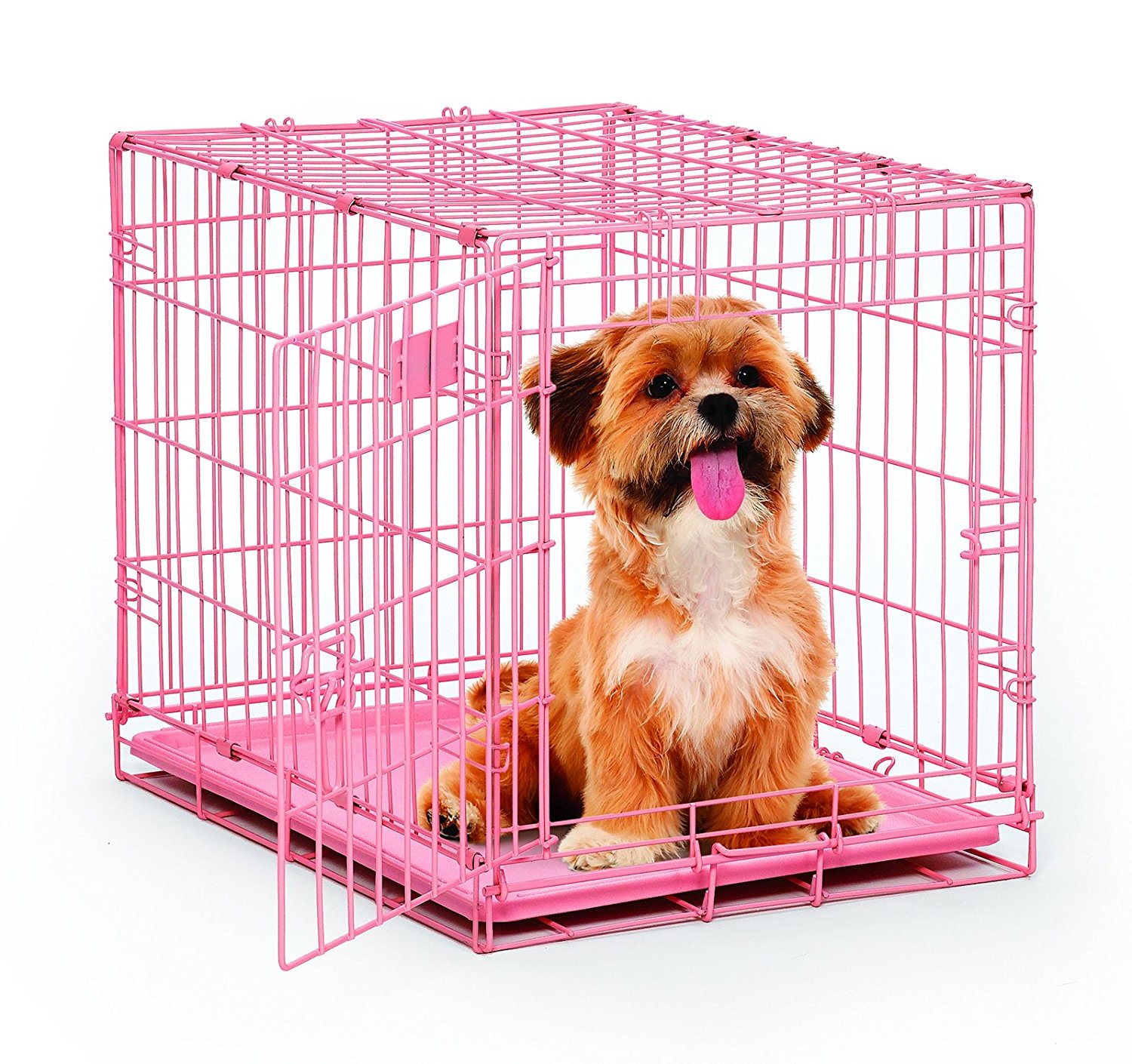 These crates come with a divider to help crate train your puppy, and you can also choose to add an additional door to your crate for easier access.
This crate folds down, making it easy to transport, and comes with a plastic tray and rubber feet to protect your floors from scratches.
AmazonBasics Folding Metal Dog Crate
AmazonBasics carries a folding metal crate similar to MidWest Homes for Pets. Amazon's folding crate comes with a dividing panel and a tray.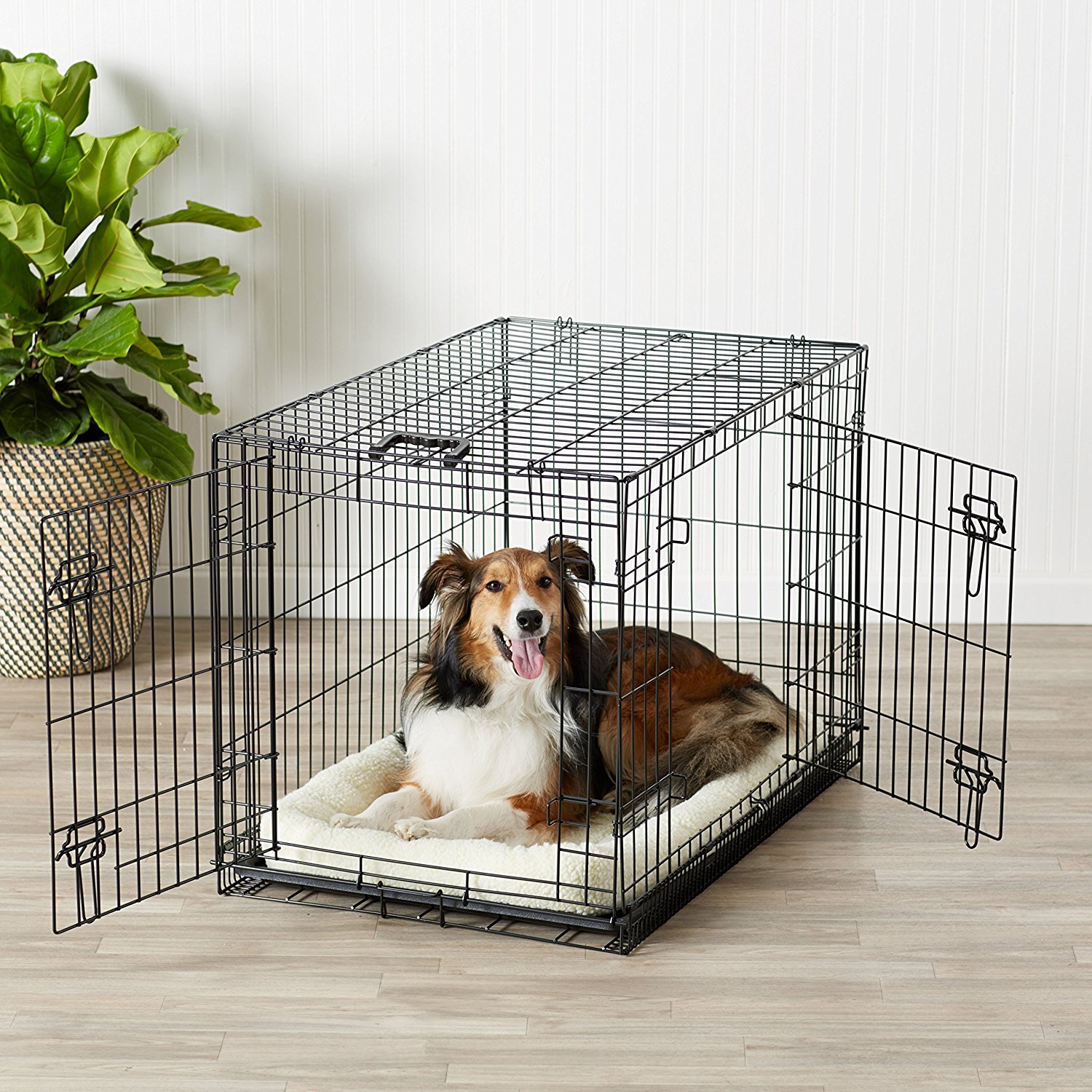 Ihas a single and double door option. This crate comes in sizes 22, 24, 30, 36, 42, and 48 inches tall, accommodating both small and large breed dogs.
Cheap puppy crates
Sometimes we need a crate on a budget.
However, be wary of crates that appear to be flimsy or made of easily broken or chewed materials, as you could be putting your puppy at risk.
If you need an affordable dog crate, MidWest Homes for Pets metal dog crates are one of the best options available online.
The smallest size, 18-inches, starts at around $20 USD, and their largest, 48-inch crate is around $60 USD.
Puppy travel crates
If you travel on a regular basis with your dog, or know you will need to transport your puppy, then you will need a puppy travel crate.
The first thing you should do before purchasing a travel crate is look into any transportation requirements. Airlines have strict regulations regarding crates, so you want to make sure your crate complies with these requirements.
Here are a few travel crates to get you started.
Sherpa Deluxe Pet Carriers
Sherpa makes a high-quality, affordable, sturdy pet carrier perfect for smaller dogs.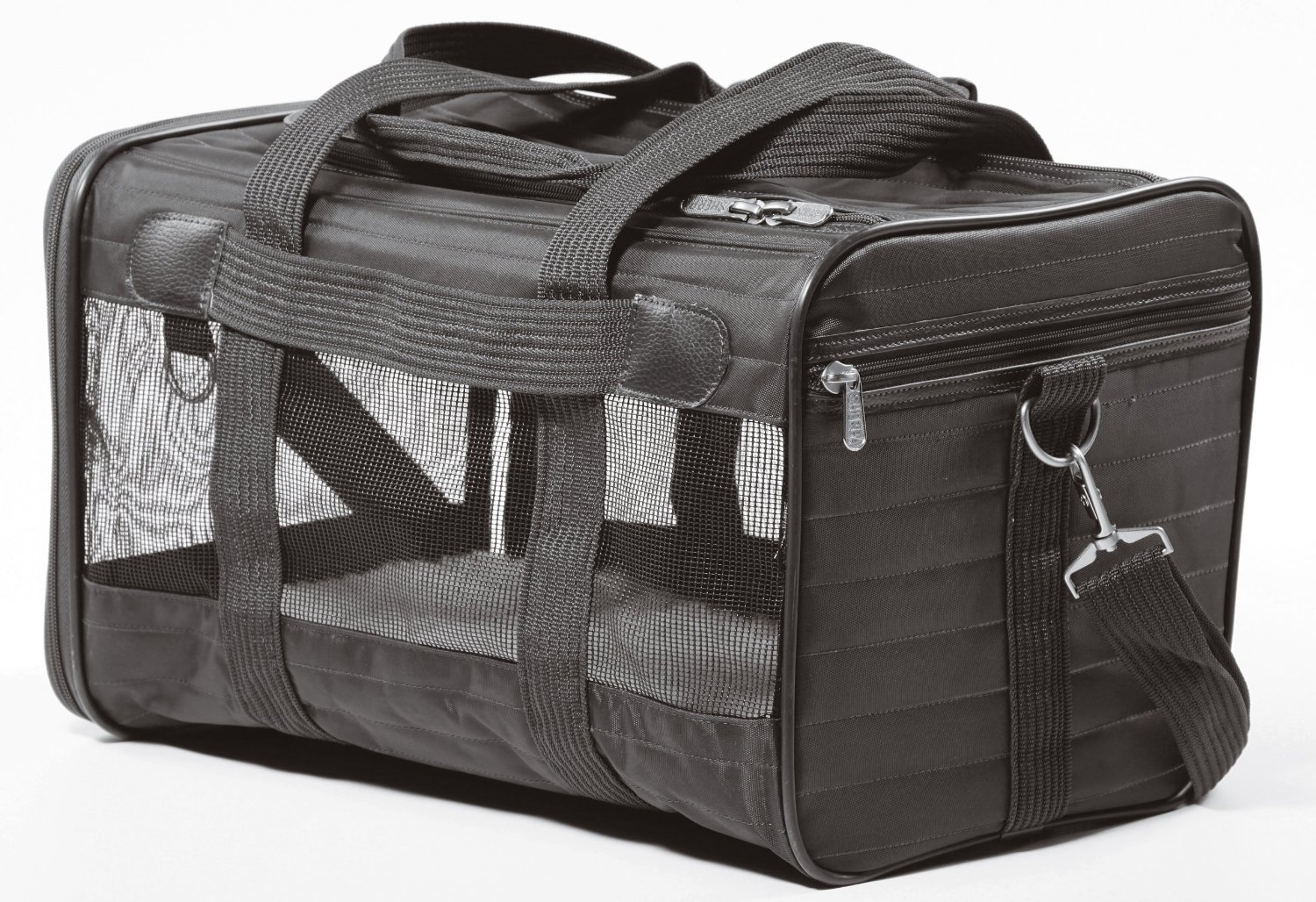 Some sizes fit neatly under airline seats, and the breathable mesh construction will help keep your dog comfortable as you travel.
Plus, the frame has a patented design that makes it easier to store beneath airline seats, and the handle and shoulder strap make carrying your dog in this small puppy crate easy.
Petmate Sky Kennel
Hard, plastic crates offer your dog more security during travel than a fabric crate, especially if your dog will be unsupervised.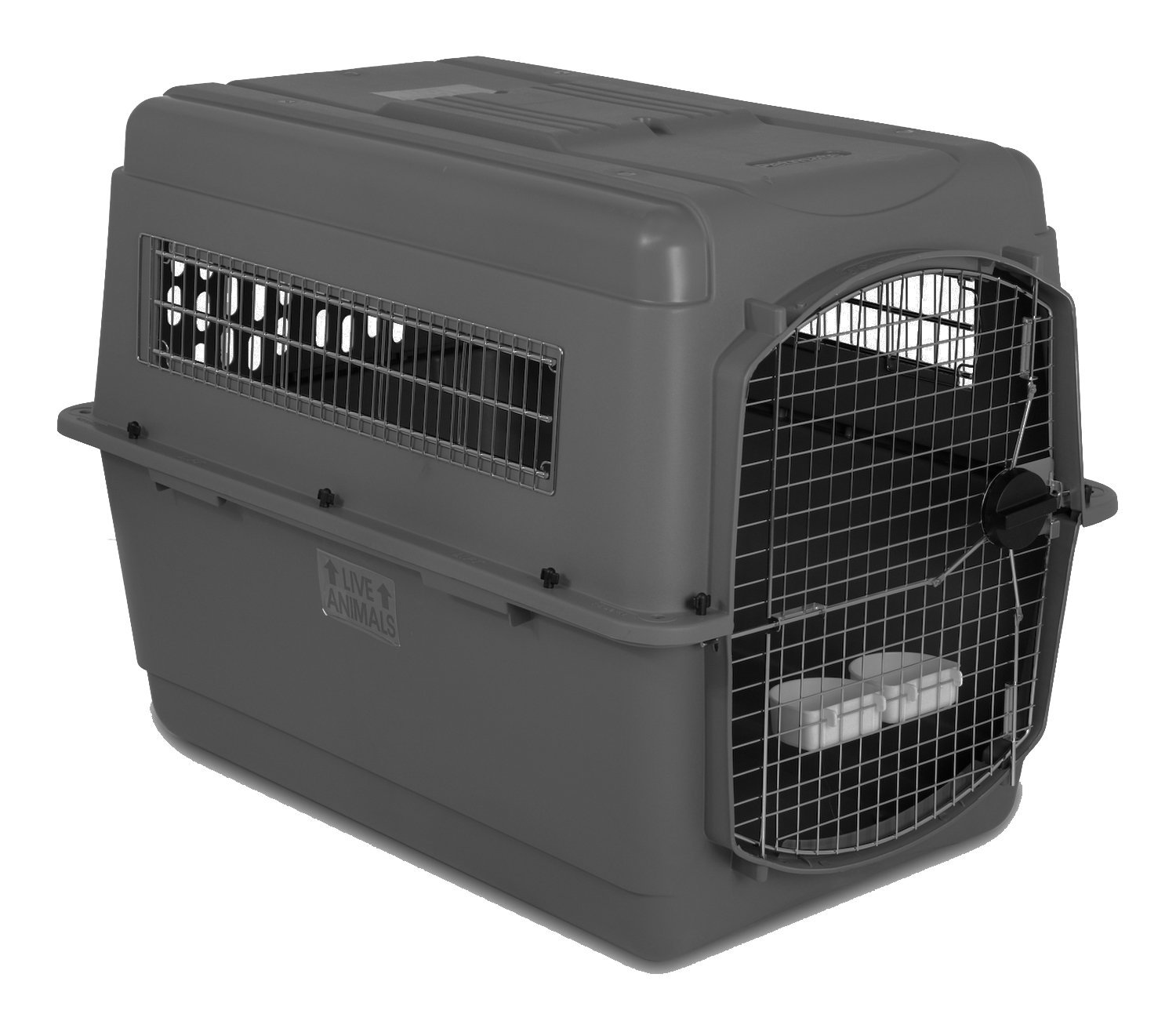 Petmate carries a line of travel crates that conform to most airline requirements, and come in a range of sizes that can accommodate small and large breed dogs.
"Live Animal" stickers are included with the purchase price.
You can also use these crates as a permanent crate for your puppy, but they do not come with a divider for training.
Petnation Port-A-Crate E2 Indoor/Outdoor Pet Home
Foldable metal crates are convenient, but they do take up more space in your car or luggage than the collapsible fabric crates made by Petnation.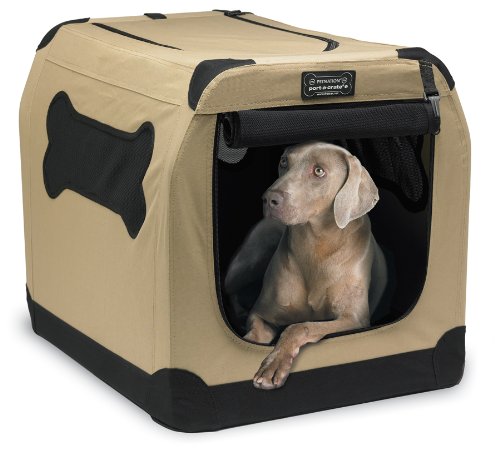 These crates are not a good choice for crate training, as puppies can easily chew their way out, but they offer a convenient, lightweight crate for your dog at your destination.
They come in sizes 16, 20, 24, 28, 32, and 36 inches tall, perfect for small to medium dogs, and the smaller sizes have handles for easy transportation.
Check them out on Amazon here.
Which puppy crate should I buy for my dog?
So how do you choose the puppy crate perfect for your puppy?
First, ask yourself what you are going to do with the crate.
If you plan on crate training your puppy, then a sturdy, metal crate with a divider is probably the way to go, as this will give your puppy a home for life.
If you need a travel crate, on the other hand, you might want to invest in a portable pet carrier.
Second, assess your budget, and remember that a larger dog will require a larger crate, which will cost you a little more money but is well worth it, as larger dogs can also cause large-dog sized damage to your home and themselves.
Third, and most importantly, choose the right crate size for your puppy. Measure your puppy and weigh him, and keep in mind that puppies grow quickly. You may need to invest in a large puppy crate with a divider even if your puppy is currently quite small, unless it is a small puppy crate for travelling.
Regardless of the crate you choose, make sure you research how to properly crate train your dog to prevent crate misuse and make the experience as pleasant for your puppy as possible.
Your veterinarian or a reputable dog trainer are excellent resources, and you can also check out our expert guide to crate training a puppy.