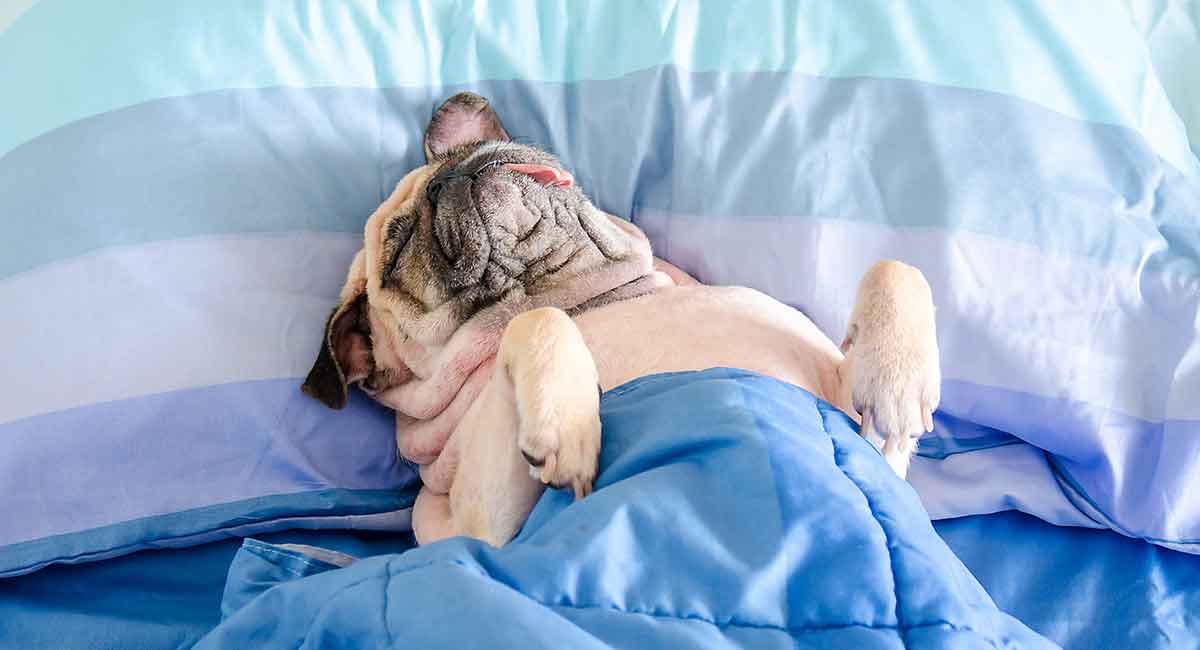 If you own a Pug, you may be wondering, what's the best Pug bed for your pampered pet?
In this article, we'll look at whether your Pug really needs his own bed.
After all, many Pugs like to cozy up next to their owners on the sofa.
And at bedtime, lots of owners allow their pet to join them in bed too!
Let's look at some of the ways in which having his own bed can benefit your Pug.
Then we'll move on to look at what kind of Pug beds there are to choose from, and give you our recommendations for the very best Pug bed you could buy for your pet.
Products included in this article were carefully and independently selected by the Happy Puppy Site team. If you decide to make a purchase from one of the links marked by an asterisk, we may earn a small commission on that sale. This is at no extra cost to you.
Pug Beds And Separation Anxiety
Many owners have to leave their Pug home alone sometimes, especially if they work.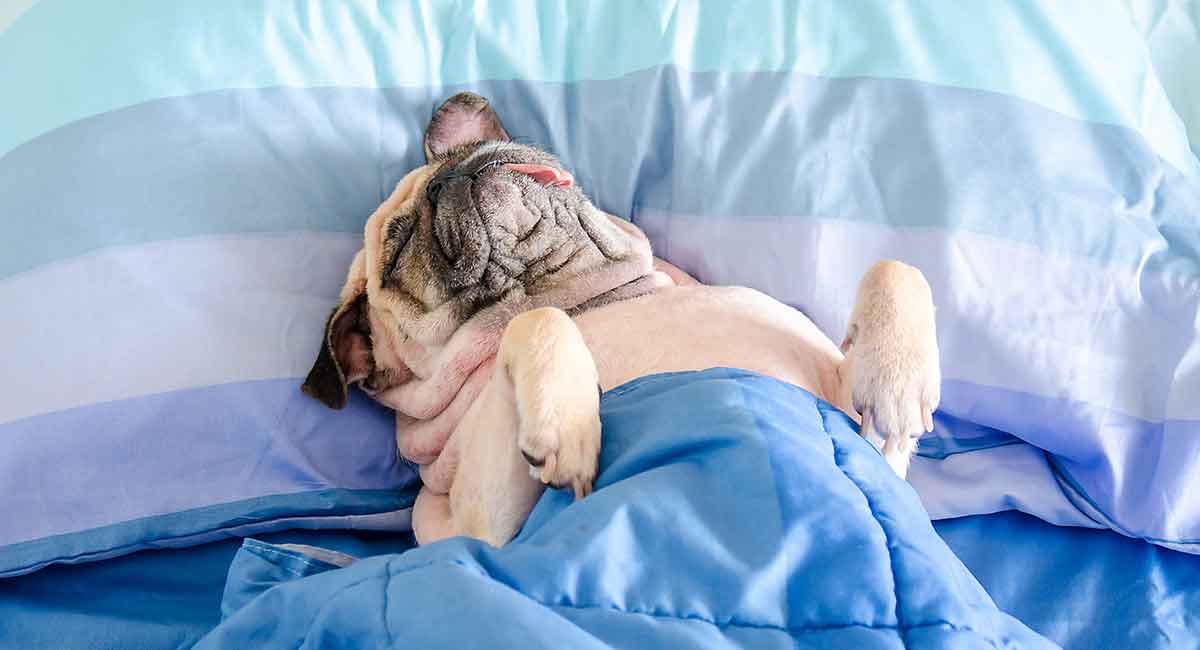 But you should know that separation anxiety can be a real problem for Pugs.
Pugs were specifically intended to be companion dogs.
As such, your dog's requirement to seek out human company is very strong, leaving him prone to anxiety when he's left alone.
You can help to relieve the problem of separation anxiety in your Pug by providing him with a comfy bed.
A bed will quickly become your Pug's den and his own special place where he feels safe and secure, especially when you're not around.
Pug Beds Can Help Ease Painful Joints
Pugs, like many other pedigree breeds, can suffer from hip dysplasia and arthritis.
This condition can be very painful, but you can help to relieve your pet's discomfort by providing him with a well-cushioned dog bed for a Pug.
A good-quality Pug bed will help to distribute the dog's weight evenly, relieving pressure points.
An orthopedic mattress will conform to the dog's body shape for optimal comfort and support.
That's really important if you have a senior Pug who may be at risk of developing arthritis.
Pug Beds For Brachycephalic Dogs
Pugs are classed as brachycephalic dogs.
That means that they've been bred to have shorter and shorter facial bones.
Now although this might look very cute and appealing, having a short, flat face causes very specific health problems.
Although Pugs' facial bones became shorter, the soft tissues of their face didn't reduce in proportion to their shorter muzzle.
Wrinkles and Snoring
That left Pugs with deep skin folds inside and outside of their mouth.
Outside, this spare tissue forms deep folds in the skin.
Inside the mouth, the dog's soft palate is pushed into his airway.
This physical quirk causes breathing problems.
You might notice that your Pug snores when he's asleep.
Rather than being a cute habit, snoring is the direct result of his compressed respiratory passages.
Providing your Pug with the right bed will allow him to position his body in such a way that he can stretch out his neck, opening his airways to the max and helping to improve his breathing.
Beds with a bolster design are the best bet here.
Best Pug Beds For Senior Dogs
As dogs enter their twilight years, they commonly begin to develop urinary incontinence.
The problem can manifest itself as a small leakage of pee during the night, or a full-blown bladder emptying episode.
Also, Pug puppies can be inclined to wet the bed during the early stages of house-training.
To protect your floors, it's a good idea to choose a Pug bed with a waterproof bottom and a removable, washable cover.
Pug Beds To Reduce Shedding Mess
Like most breeds, Pugs shed their coats twice yearly, in line with the changing seasons.
By providing your Pug with his own bed, you can confine most of his loose hair to his own bed, rather than having it end up all over your home!
Most dog beds can be vacuumed for easy cleaning.
Also, sleeping in a bed full of shed pet hair and dander can present a health risk to you.
Pet dander is responsible for triggering allergies in people.
So if you sneeze a lot, have itchy eyes, or find that you always have a runny nose, sleeping with your Pug could be to blame!
So now let's have a look at the different types of Pug beds you can choose from, together with our recommendations.
Bolster Beds
Bolster beds can make the best dog bed for Pugs.
They have a flat, supportive bottom and three side bolsters or bumpers.
The bolsters allow your Pug to rest his head and stretch out his neck for easier breathing.
A bolster bed makes a good Pug puppy bed too.
These beds come in a wide range of sizes, they're usually washable, and many have a waterproof underside.
We especially like the following selection of bolster beds for Pugs.
PetFusion Ultimate Pet Bed.* This bed is at the top price point, but it represents excellent value for money and is one of Amazon's best sellers.

The bed has a solid memory foam base to help relieve the discomfort of arthritic joints.
The bolsters are firm and generously filled, ensuring that your pet always has good neck support without the risk of the bolsters collapsing.
The bed has a tear-resistant, water-resistant cover, and a non-skid bottom to keep it from sliding around under a fidgeting Pug!
You can buy a separate spare cover for this bed – a handy option for times when you want to wash your dog's bedding.
The covers are machine washable and can be tumble-dried too.
There's a confidence-giving 24-month money-back warranty on the bed.
If you think your Pug might feel the cold during fall and winter evenings, why not buy a luxuriously cozy blanket* to match?
K&H Pet Products Ortho Bolster Sleeper Orthopedic Dog Bed.* We love this bed!
This stylish and supremely comfy plush Pug bed is made from medical grade orthopedic foam for excellent support.
The bed features overfilled bolsters that hug your Pug, creating a lovely, secure den while providing lots of support for his neck and promoting easy breathing.
The cover can be removed for easy cleaning.
The bed comes in a neutral gray shade that will blend easily with any interior décor scheme.
K&H Pet Products Deluxe Ortho Bolster Sleeper Orthopedic Pet Bed.* This bed offers all the features of the standard version (reviewed above) plus it has a removable liner and cover.
This bed comes in a very attractive forest green outer color with a contrasting beige interior.
Furhaven Pet Dog Bed.* This bed is slightly raised from the ground, creating your Pug's very own sofa!
The mattress is made from orthopedic egg-crate foam for superior joint support and comfort, soothing pressure points for a deeper, more restorative night's sleep for your pet.
The plush faux-fur cover is zippered for ease of removal and is machine washable.
Flat Mattress Best Beds For Pugs
Flat mattresses can make the best Pug bed if your pet prefers to stretch out flat and lay on the floor (or on your bed!)
Another problem that Pugs sometimes suffer from is overheating.
Again, this issue is due to the Pug's flat face.
Providing your Pug with a flatter bed during the summer months can help to keep him cool.
Dogbed4less Orthopedic Cooling Memory Foam Dog Bed.* This bed has a solid memory foam mattress to provide support to your Pug's joints and ease the discomfort of arthritis.
The supportive mattress won't flatten out over time, and the orthopedic material is also designed to have a cooling effect.
The mattress has a waterproof liner and is supplied with two exterior covers, so you can choose from chocolate brown denim or brown micro-suede.
The covers are machine washable.
Milliard Premium Orthopedic Memory Foam Dog Bed.* A best-seller on Amazon, this one also earned Amazon's Choice distinction.
This very reasonably priced dog bed offers the perfect combination of support and comfort, combining a sturdy foam base and a luxe memory foam layer.
The zippered cover is machine washable for easy cleaning.
The underside of the bed has rubber safety grips to prevent the bed from sliding on polished floors.
Brindle Soft Shredded Memory Foam Dog Bed.* This bed comes in a selection of colors, including red, teal, khaki, and stone to blend nicely with your décor scheme.
The bed features a 3-inch thick orthopedic, shredded memory foam mattress to eliminate pressure points, as well as increasing cooling and breathability.
The bed is lightweight for easy portability.
The micro-suede cover is removable and washable, and it can also be tumble-dried.
Elevated Pug Dog Beds
Elevated dog beds are raised off the ground and can help to keep your Pug cool during the summer months by improving the air flow underneath the dog's body.
Many dogs like to spend time outdoors, and an elevated bed can be ideal for this too.
When choosing an elevated dog bed for your Pug, look for something that's lightweight and portable so you can move it around easily.
You'll also want an elevated dog bed that's washable.
Gale Pacific Coolaroo Elevated Pet Bed.* The best-selling elevated dog bed on Amazon is also Amazon's Choice.
The off-the-ground design of the bed increases air flow on all sides, keeping your Pug nice and cool on the hottest of days.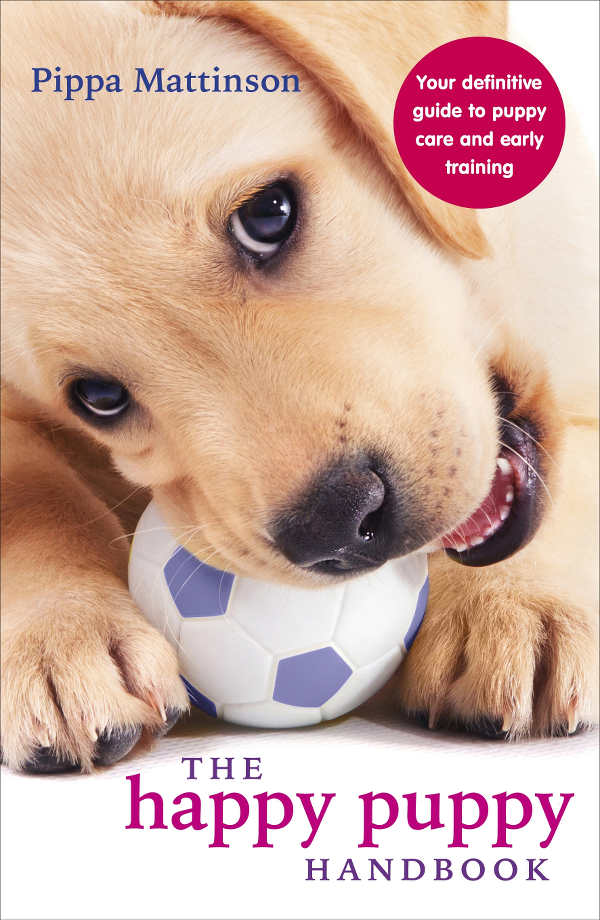 Also, the knitted fabric is supremely breathable.
The bed's specially-designed suspended platform adds comfort by relieving pressure points and easing achy joints.
The bed is washable and the material is mite, mold, flea, and mildew resistant.
The bed's easy-to-assemble frame is light and portable, making the bed ideal for indoor and outdoor use.
K&H Pet Products Original Pet Cot Elevated Pet Bed.* This well-made product is very reasonably priced and certainly represents very good value for money.
The inner part of the bed is made from strong, waterproof mesh fabric to keep your Pug cool in the hottest of weather.
The frame is lightweight and very easy to move around.
The bed also has non-skid rubber feet so it won't slip and slide on a polished floor surface.
This Pug dog bed comes with a year's warranty in case of problems.
Best Pug Bed – Summary
When you're looking for a bed for Pug dogs, you'll need to be aware of your pet's very specific needs.
Joints
Pugs can suffer from hip dysplasia and arthritic joints, especially later in life.
For that reason, you should always choose a Pug bed that has an orthopedic mattress, which will eliminate pressure points and keep your dog comfy.
Breathing
Pugs are flat-faced (brachycephalic) dogs.
That means they can suffer from breathing problems.
By choosing a bolster bed, you'll allow your Pug to stretch out his neck on a supportive pillow, opening his airway and easing his breathing.
If your Pug prefers to stretch out on the floor, choose a flat, orthopedic mattress style bed.
Temperature
Finally, Pugs can be prone to overheating.
An elevated, cot-style Pug bed can help to keep your pet comfy as well as cool.
Most elevated beds can be used outside too, so your Pug can benefit from fresh air while sleeping comfortably.
If you own a Pug, we'd love to know what kind of bed you chose for him, especially if it was one of our recommendations!
Tell us about your best Pug bed in the comments section below!
Affiliate link disclosure: Links in this article marked with an * are affiliate links, and we may receive a small commission if you purchase these products. However, we selected them for inclusion independently, and all of the views expressed in this article are our own.
References
American College of Veterinary Surgeons – Brachycephalic Syndrome