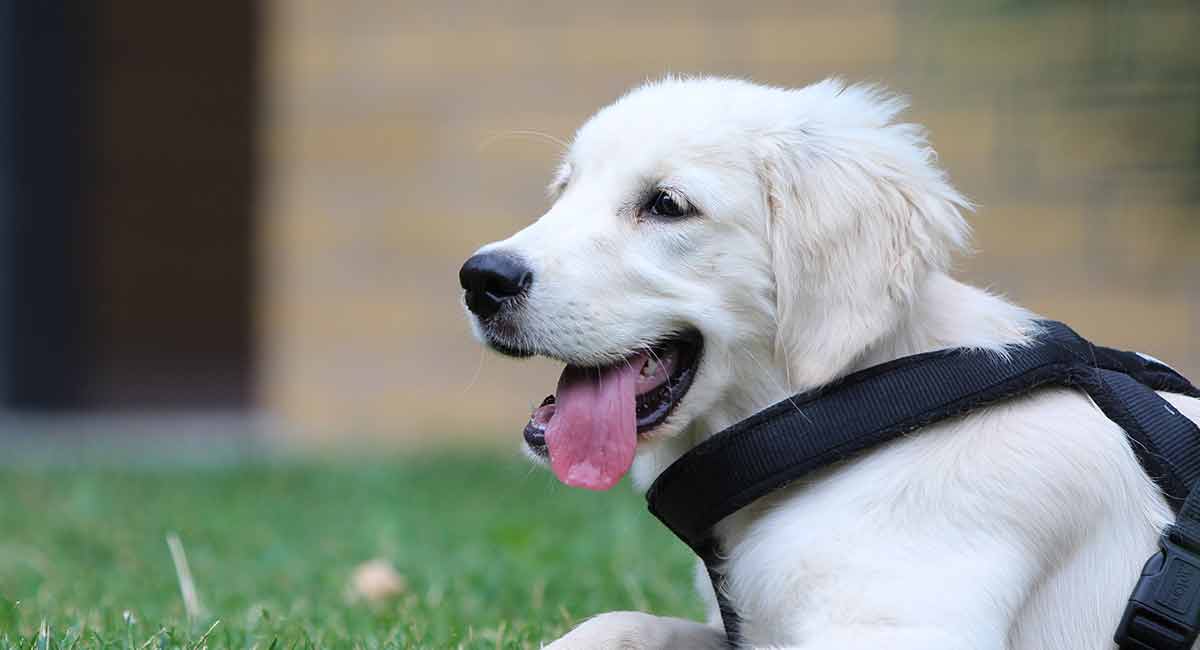 The best harness for Golden Retriever dogs or puppies is one that is secure yet comfortable.
Ideally it will have a back and front attachment point, and be designed to be rub free around the legs.
There is a lot of choice when it comes to harnesses for Golden Retrievers, so we've had a look at the options and narrowed them down for you.
Because harnesses are the future of dog training!
Products included in this article were carefully and independently selected by the Happy Puppy Site team. If you decide to make a purchase from one of the links marked by an asterisk, we may earn a small commission on that sale. This is at no extra cost to you.
A Pulling Problem
If your dog is large and strong or difficult, a harness is a better choice than a collar.
It will offer you better control when you're out with your pup, and prevent them from becoming tangled in the leash and possibly getting injured.
This is a great option for Golden Retriever puppies who haven't yet learned to walk on a leash too.
Choke collars and even regular nylon collars apply pressure to one spot on the dog's throat, causing choking or coughing when pulling.
They can even cause more permanent damage to the neck.
Harnesses take the pressure off that spot, and distribute the force evenly throughout the shoulders and back.
The Best Harness for Golden Retriever Dogs
Harnesses discourage pulling and are great for walking dogs that aren't yet leash trained.
They also make it next to impossible for your Golden Retriever to slip out and possibly get hurt in traffic.
Harnesses are also good for dogs recovering from injury or surgery.
They allow you to support them when they are wobbly from anaesthesia or pain medication.
The harness clip rests between the dog's shoulder blades, so it provides even pressure across the shoulders and helps distribute their weight more evenly.
This is key in recovery and certain spinal disc problems and hind leg issues.
Golden Retrievers have a propensity to develop hip and elbow dysplasia.
A good harness for your Golden will be instrumental in helping to support your ailing and aging dog.
When choosing the best harness for Golden Retriever dogs, your Golden's harness should fit snug without pinching.
It should not reach further back than your dog's rib cage. A Y-front harness is a good choice.
Now let's take a look at some of the best harnesses for Golden Retrievers.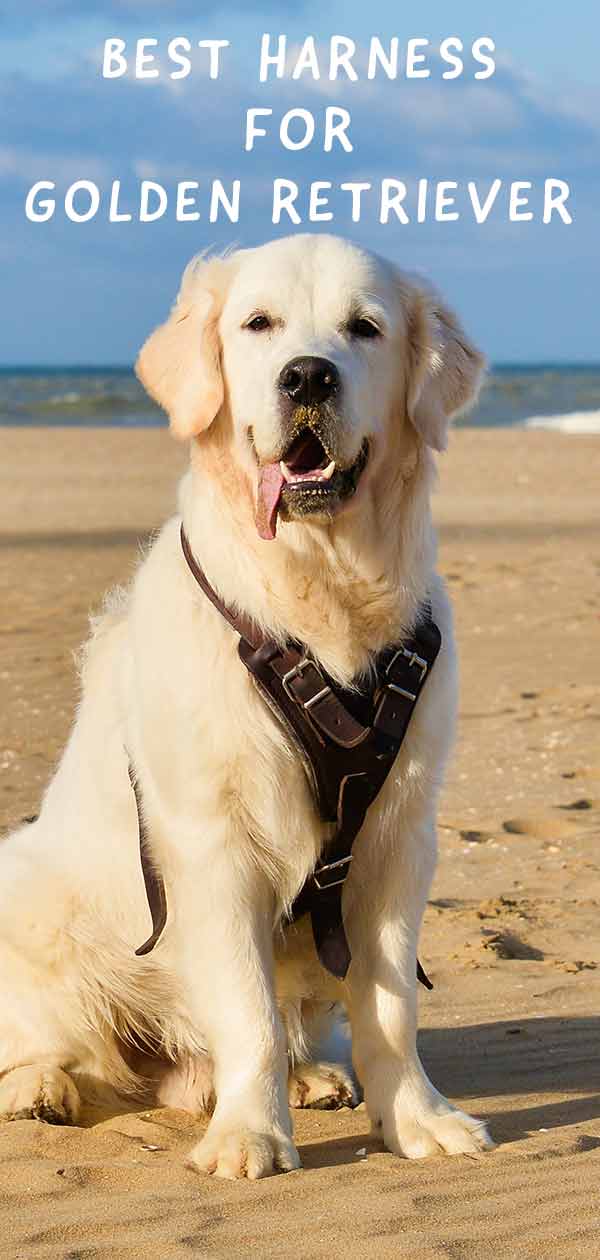 Best Dog Harnesses for Golden Retrievers
The Rabitgoo Large Dog No Pull Harness.* is easy to put on and easy to take off, making it a snap for you to get your dog ready for his walk.
It is designed to distribute the pressure to prevent choking from pulling too hard.
It has two metal leash attachment points, one in front and one on the back. It's breathable, padded material is adjustable to make it the best fit for your Golden Retriever.
Barkbay
Made from lightweight no-rip nylon, the Barkbay Large Step-in No Pull Dog Harness.* is a great choice for your Golden.
Its front-hook option is great for pullers but it also has a back-hook option for more relaxed walkers.
The step-in design is great for dogs who are head shy as nothing is put over their heads when the harness is donned.
It has four points of adjustment for a customized fit, as well as reflective material for nighttime walks. Plus, it's pretty stylish.
Your Golden Retriever will be sartorial perfection.
Expawlorer
Aside from having a cool name, the Expawlorer Big Dog Harness.* is a great choice.
This harness is good for deterring pulling and is made from a heavy-duty material with a reflective strap.
It is padded for your dog's comfort and has an easy-grab handle for extra control. The leash attachment is a heavy metal D ring.
Ruffwear
The Ruffwear Front Range No-Pull Dog Harness* has two leash attachment points, one in the front for pullers or non-leashed trained dogs, and one in back for calm walkers.
This harness will slip over your dog's head and is released with side release clips for easy on and easy off.
The harness is padded for comfort along the chest and belly.
It also has the thoughtful feature of a spot to tuck ID tags if you need to remove the dog's collar. A great choice, overall.
Blueberry
Blueberry 3M Multi-colored Striped Dog Harness.* Talk about stylish!
This harness comes in nine different color combinations. It is made from soft mesh and oxford and polyester materials.
The buckles are made from eco-friendly plastic so if your Golden is very green-minded, he should be satisfied with this purchase.
Make sure to measure your dog for this harness as the front strap is not adjustable. This harness also has matching collar and leash, sold separately.
Blueberry
The Blueberry Step-In Classic Harness*. is nylon with high density webbing for durability.
The chest strap is not adjustable so ensure that you measure your dog for a proper fit. It has two D rings between the shoulder blades for even distribution of weight.
Pupteck
The comfortable, ergonomic design of the Pupteck No-Pull Dog Harness* proves that it is also a good choice of harness.
It is made of mesh and oxford material for durability and has a soft sponge padding for comfort.
It has reflective material for safety during nighttime walks and durable Duraflex buckles for increased tensile strength.
With two leash attachment points it is great harness for pullers or non-pullers alike.
Chai's Choice
Chai's Choice Best Outdoor Adventure Dog Harness* is a great choice for your hiking adventures with your Golden Retriever.
Stylish as well as sturdy with its scratch-resistant oxford material and duraflex buckles.
This harness has two leash attachment points as well as D rings made of zinc-alloy.
The harness is ergonomic and padded for comfort and even features a sturdy handle for seat belt attachment.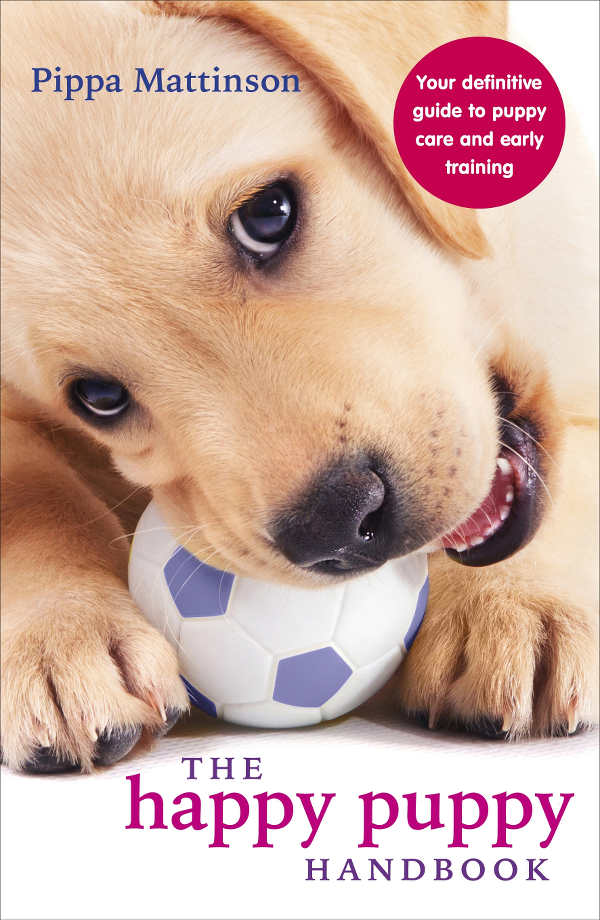 Juxzh
This Harness by Juxzh* is made from durable Oxford material and Duraflex buckles.
There is nylon webbing featuring reflective material for safety in the dark. Comfort padded and ergonomically fit for ease of putting on and taking off.
The harness features two leash attachment points, a V ring in the back and a circular ring in the front. With nine different colors available, you're sure to find one that fits your style, or more importantly, your dog's style!
Best Harness for Golden Retriever Dogs
So, what is the best harness for golden retriever dogs?
As you can see there are many different harnesses available for your Golden Retriever.
For dogs that are not yet leash trained, or too strong and difficult to control, a harness is a good choice for your dog.
Dogs that pull too hard and are in danger of choking or damaging their trachea would do well with one of these padded, durable harnesses.
Measuring Up
One thing to consider the best harness for golden retriever dogs is to measure your dog to ensure a proper fit. Most are adjustable but some are not fully adjustable.
A few of the harnesses have a front piece that is not adjustable though the part around the middle is.
The harness should fit snug without pinching and not extend beyond the dog's ribcage.
Measuring before purchasing online (which is a good practice for any online purchase) should ensure a proper fit.
If you're not sure which is the best harness for Golden Retriever dogs, check out these choices and let us know in the comments below how it worked out.
We're sure you'll find one that is perfect for you and your dog!
Affiliate link disclosure: Links in this article marked with an * are affiliate links, and we may receive a small commission if you purchase these products. However, we selected them for inclusion independently, and all of the views expressed in this article are our own.