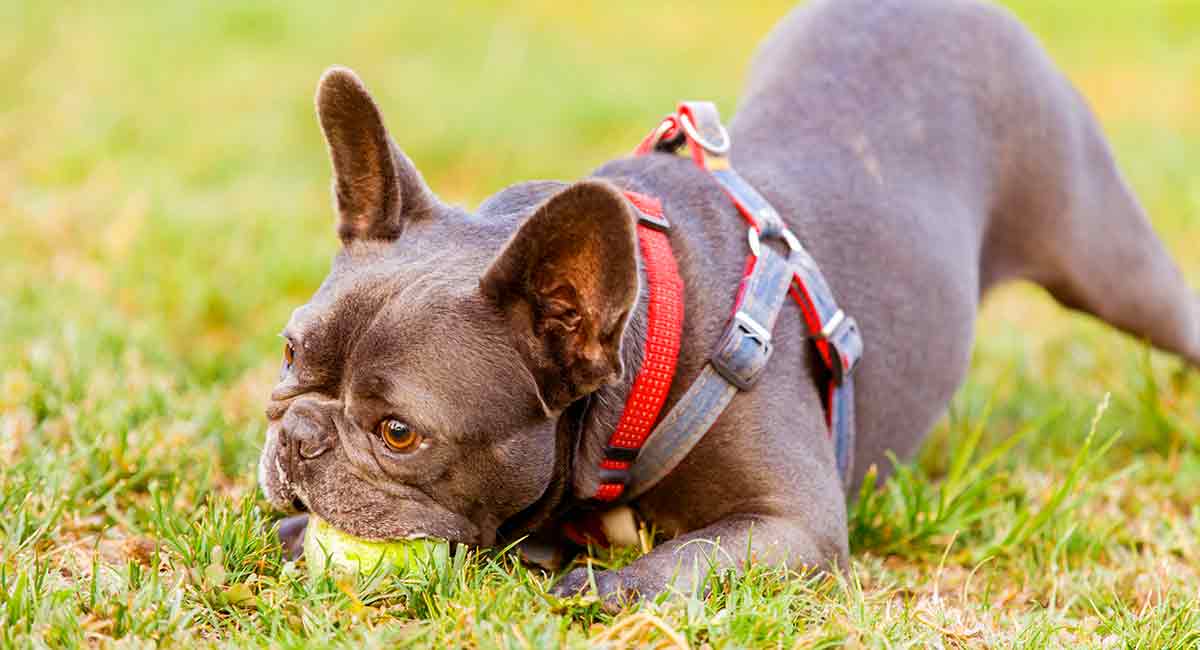 As a new owner of this breed, you'll want to find the best French Bulldog harness. Even as a long-time Frenchie owner, you may have found yourself searching 'best harness for French bulldog'.  French Bulldogs come with a plethora of health issues and believe it or not, a well made, properly fitted harness can really improve your Frenchie's quality of life. While theses harnesses are not specifically Frenchie harnesses, they are perhaps the breed that will benefit the most from their use.
Products included in this article were carefully and independently selected by the Happy Puppy Site team. If you decide to make a purchase from one of the links marked by an asterisk, we may earn a small commission on that sale. This is at no extra cost to you.
Our Favorite 2 French Bulldog Harnesses
There are two main kinds of Frenchie harness, the Wrap Harness and the Strap Harness. These are one of each that we're fond of. Whether you choose a wrap harness or a strap harness is entirely up to you. You'll learn a little later in this article why we recommend harnesses of any kind to collars for Frenchies.
Embark Active Dog Harness
The Embark Active Dog Harness* is a strap harness. It is excellently constructed and should provide durability and comfort.
RABBITGOO No Pull Dog Harness
The RABBITGOO No Pull Dog Harness* is one of Amazon's best sellers.
Jump Straight to What You Need
Why Should I Get A French Bulldog Harness
Although relatively small in stature, French Bulldogs are lively creatures. As a result, your pup may pull and jump when he's out for a walk.
A Frenchie harness and lead makes an excellent training tool, giving you much better control over your dog and allowing you to teach him to walk obediently to heel, without hurting or distressing him.
Dogs that pull while wearing a collar and lead can suffer painful neck injuries and other health problems. This is due to the immense pressure that can be exerted by the collar on their trachea (windpipe).
By contrast, a harness places very little pressure on the dog's neck, so the risk of injury is greatly reduced.
How Can a Collar Injure Your French Bulldog's Neck?
Before you can understand why pulling on his collar can be so dangerous for your French Bulldog, you need to know a little more about how his neck is put together.
The dog's windpipe is found toward the front of his neck. It leads into the dog's lungs so that he can breathe.
The windpipe is supported by rings of cartilage, a soft, flexible substance that keeps the windpipe open and stops it from collapsing.
Just behind the windpipe is the esophagus, the tube that takes food down into the dog's stomach.
French Bulldog Harness or Collar?
So you can see that if your dog pulls very hard against the collar, the pressure exerted on his neck will cause his windpipe to be crushed.
In this situation, the windpipe could collapse, potentially preventing the dog from breathing or at the very least causing a nasty coughing fit.
Tracheal injuries caused by crushing are very painful for your dog, and some can even require surgery.
Benefits of a Harness
In comparison, a Frenchie harness is made to fit snugly around the dog's shoulders, upper back, and chest.
These areas are bony and muscular, easily diverting any tension away from the dog's neck should he pull or jump against his collar while you're out walking.
In addition to the potential for tracheal collapse, French Bulldogs are prone to breathing problems because of their facial conformation.
Breathing Problems in French Bulldogs
French Bulldogs are one of a number of breeds that are classed as brachycephalic.
Brachycephalic breeds often suffer from compromised breathing.
These breeds have characteristically flat faces, which can interfere with the dog's ability to take in oxygen in three main ways:
The dog's nostrils are narrowed and reduced in size.
The soft palate hangs down, partially or completely blocking the airway.
The airway is reduced in size.
So you can see how pulling on a collar could exacerbate a brachycephalic pup's problems! Frenchies have a hard enough time as it is with their breathing. You should monitor any situation where your Frenchie's breathing might be adversely affected.
Spinal Issues in Screw-tailed Dogs
French Bulldogs are one of the few breeds with naturally curly tails. But did you know that a screw-tailed dog can suffer from a condition called hemivertebrae?
Hemivertebrae causes spinal compression, making the dog's back legs weak. He may also develop a condition called scoliosis, or curvature of the spine.
Back pain is common in screw-tailed pups, and the added pressure that tugging on a lead can place on the dog's neck and spine will make these complications worse.
A Frenchie harness does not place direct pressure on the dog's neck and spine, so your pup is less likely to hurt himself if he does pull.
Choosing the Best French Bulldog Harness
There are two main designs of dog harness for French Bulldogs.
These are Strap and Wrap Harnesses. Let's look at each in detail.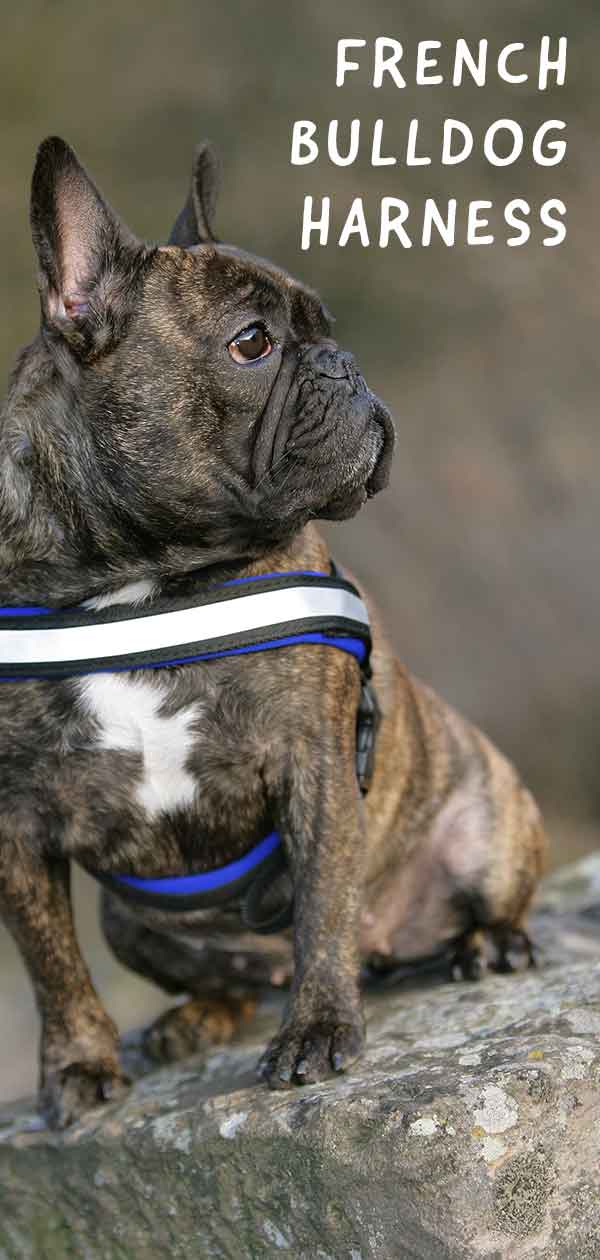 Best French Bulldog Strap harnesses
Padded Strap Harness Strap harnesses are fully adjustable with buckles on the sides and upper back.
Nylon webbing strap harnesses are the most popular as they are easy to clean, durable, weather resistant, and lightweight.
Although you can buy leather French Bulldog harnesses, they are best avoided as they can lose their shape and then don't fit properly.
The dog harness is designed to prevent the force of pulling from transferring to your pet's neck by distributing it evenly across his body.
If your pet becomes over-excited on a walk while wearing this harness, you can be confident that he can still jump and play safely without injuring himself.
Embark Active Dog Harness
The Embark Active Dog Harness* is a brilliant example of a padded strap dog harness that would be perfect for your French Bulldog.
The rugged adventure harness is durable and lightweight. It features washable, no-rip nylon and anti-chafe padding to keep your pup comfortable.
The harness can be adjusted via strong plastic buckles on the dog's upper chest and stomach and can be put on and taken off in a matter of seconds.
There are two leash attachment points. Embark have designed the front attachment point for use as a training aid to teach your French Bulldog to heel. The back attachment point is designed to be used for everyday walking.
URPOWER Dog Leash Harness
The URPOWER Dog Leash Harness* comes as a French Bulldog harness and lead set.
The harness is made from heavy-duty blue denim fabric and red nylon. These materials are durable and long-lasting. They're also, extremely smart to look at.
There are no hard edges or sharp buckles that could rub or irritate your dog's skin.
The harness features strong, stainless steel hardware attachments that will withstand even the most determined puller without weakening or sustaining damage.
The harness is fully adjustable for the perfect fit.
Didog Soft Flannel Padded Dog Vest Harness
The Didog Soft Flannel Padded Dog Vest Harness* is another very popular option on Amazon if you're looking for a padded strap.
This harness provides extra comfort for your Frenchie as the inner strap is made of fleece. This should help to alleviate any chafing they experience.
Best French Bulldog Wrap Harness
Wrap harnesses come in many different colors and designs and are very popular for smaller breeds such as French Bulldogs.
These harnesses allow a dog leash to be attached to the D-ring or fabric connector on the upper back of the harness.
The harness fastens via a quick-release safety buckle on the back.
RABBITGOO No Pull Dog Harness
The RABBITGOO No Pull Dog Harness* is an extremely well-designed wrap style harness that's one of Amazon's best sellers.
The harness has an easy-on/easy-off design, enabling you to have your pup ready to walk in seconds. You can create a perfect custom fit for your pet by using the adjustable slide straps.
The harness has a very clever design. This aids in distributing the dog's weight evenly across his body. As a result, it prevents pressure on the neck and choking.
The leash attachment points are sturdy stainless steel. You fix one attachment point is fixed to your dog's chest. Then, this point be useful for training your dog to heel. You fix the other to the back of the harness for everyday walking.
Soft, breathable material and heavy padding is a feature of this design. This harness keeps your dog comfortable while he's being walked. Also, you can wash the harness if it gets dirty on muddy walks.
Voyager All Weather No Pull Step-in Mesh Dog Harness
Another vest-style harness we really like is an Amazon best seller, the Voyager All Weather No Pull Step-in Mesh Dog Harness.*
The Voyager has a design that allows your pet to simply step into it. Some dogs find the fussy fitting off some harnesses to be off-putting.
Breathable mesh fabric and double Velcro fastening are two key features of this harness. The heavy-duty D-rings help with secure leash attachment.
The only real drawback to the Voyager is that it's not adjustable. Be sure to measure your French Bulldog carefully, using the manufacturer's sizing guidelines before making a purchase.
The Voyager mesh vest harness comes in a wide range of bright colors, perfect for the French Bulldog who wants to be dashing at the dog park or when strolling through town!
PUPPIA Soft Vest Harness B
The PUPPIA Soft Vest Harness B* is a very popular and affordable option.
Made from 100% polyester, this harness comes in many sizes. The manufacturer even provides helpful instructions on which size would best suit your Frenchie.
You'll Still Need a Collar
You should know that you'll still need a collar for your French Bulldog.
The collar should carry an ID tag, showing your pet's name and your contact information.
If your pet strays, the finder will then be able to contact you.
It's also important (and it's the law in the UK) to have your French Bulldog microchipped so that he can be traced back to you if he does get lost.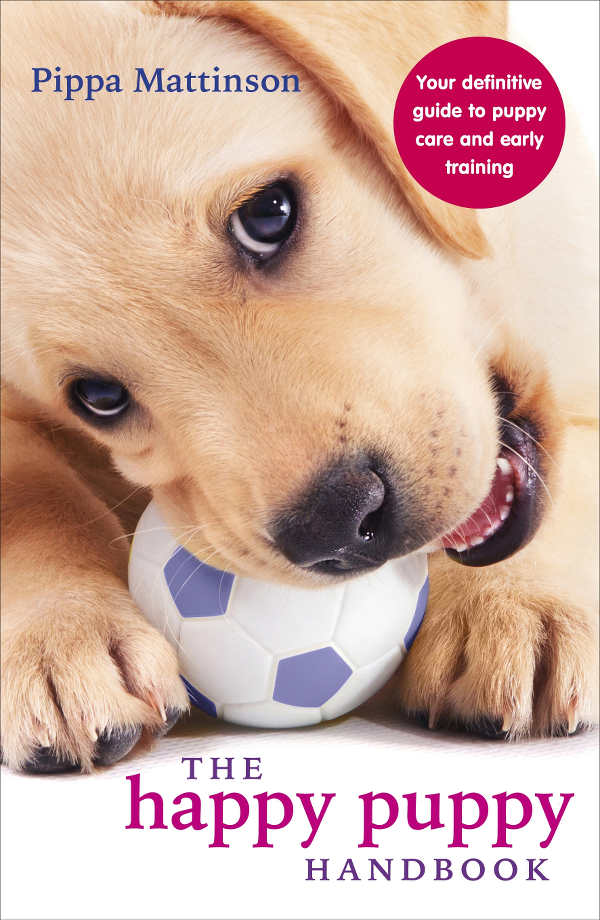 French Bulldog Harness Size
It's important that your French Bulldog's harness fits him correctly and that you choose the right size.
If the harness is too loose, it could rub his skin and make him sore. The best harness for French bulldogs are those that fit best!
Also, a loose harness could become snagged around low branches or undergrowth, potentially injuring your pet.
A harness that's too tight could restrict your French Bulldog, leaving painful pressure sores and pinching his skin.
How to Fit a French Bulldog Harness
Most manufacturers of good-quality dog harnesses provide a fitting guide so that you can choose the right size for your pet.
Measure your dog around his chest using a flexible tape measure:
Start at the base of the rib cage
Take the tape up over your pet's back
Bring it back down to where you began
Then, measure your dog's neck by wrapping the tape measure around the thickest part. This is just where the neck meets the shoulders.
Alternate Measurement
Another way of sizing a French Bulldog harness is by weight.
Just pop your dog onto your bathroom scale to get his weight and choose a harness to fit. If your pup won't keep still, stop by your vet and ask a nurse to weigh your dog for you.
If you're choosing the best harness for French Bulldog puppies, remember that they will grow continually.
Pick a French Bulldog puppy harness that's fully adjustable. Remember to remeasure your puppy every couple of weeks to be sure that the harness still fits him properly.
Best French Bulldog Harness
A harness can prevent your French Bulldog from experiencing discomfort.
It will also save him from potential health problems. These are sometimes a result of wearing a traditional collar and leash.
We described two types of harness here: padded strap and wrap harnesses. Both allow your French Bulldog easy movement, while keeping his neck protected from injury.
When choosing the best dog harness for French Bulldogs, be sure to measure your pet correctly so that the harness fits well. Anything you can do to make improve your Frenchie's quality of life is worthwhile. Harnesses present quite an affordable way to achieve that!
If you have a harness for your French Bulldog, we'd love to hear about it! Why not tell us your story in the comments section below?
Affiliate link disclosure: Links in this article marked with an * are affiliate links, and we may receive a small commission if you purchase these products. However, we selected them for inclusion independently, and all of the views expressed in this article are our own.
References and Resources