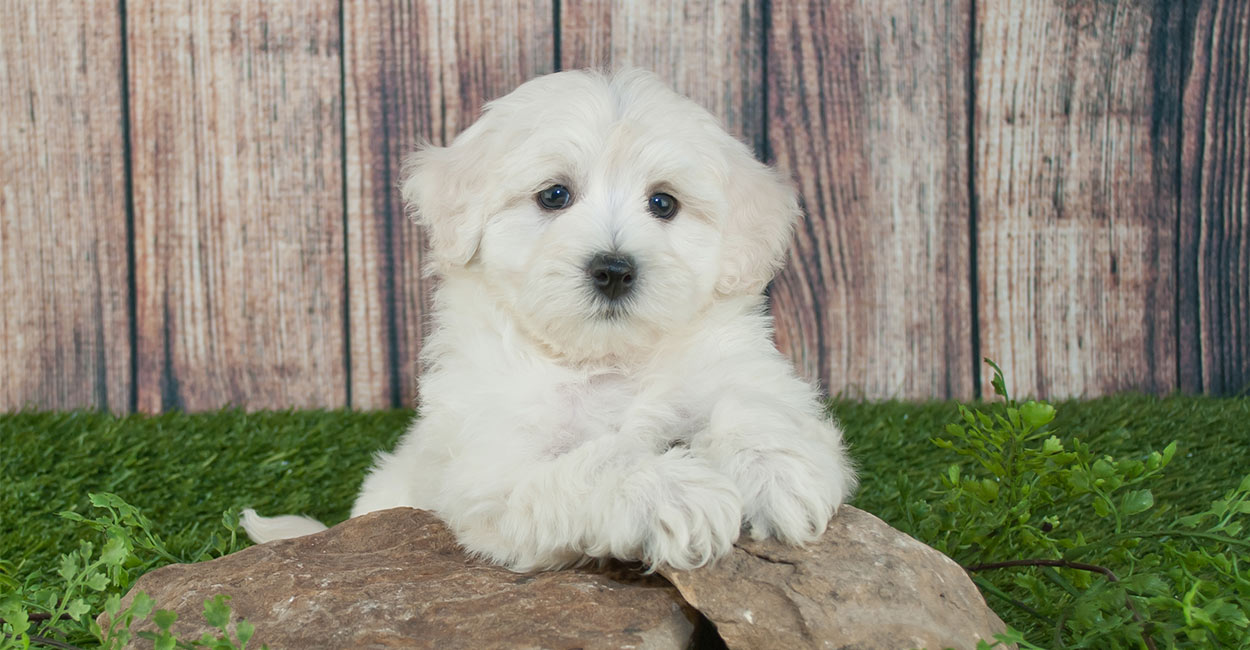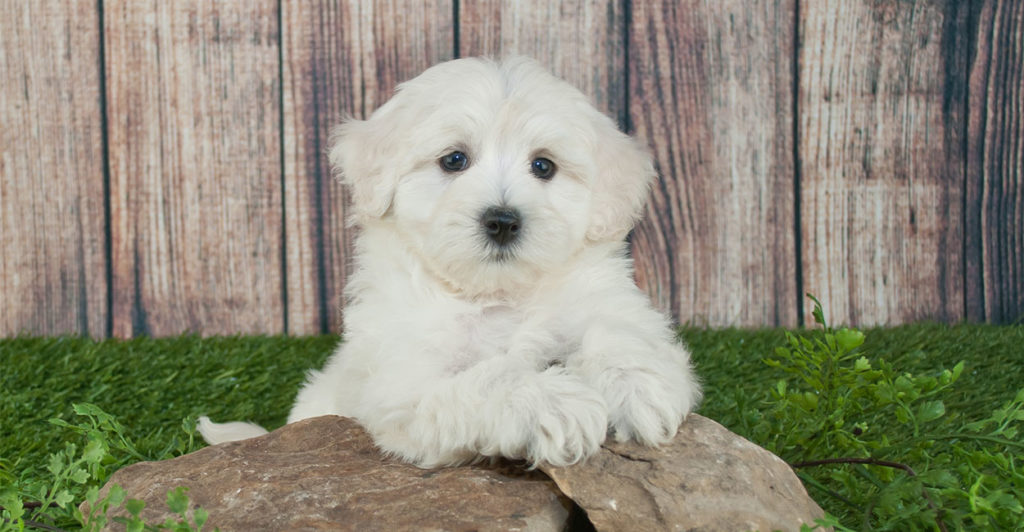 The best food for Maltipoo dogs is nutritionally complete, and nice to eat! It will come in bite sized pieces that are easy to chew and digest.  And will be designed to suit their developmental stage, as well as their small stature! In this article, we will look at the specific nutritional requirements for your pup. We will also review some of the very best food options for Maltipoo dogs. There are handy, one-click links to each product.
What is a Maltipoo?
The ultra-cute Maltipoo is a designer dog.
This pup is a cross between a Maltese Terrier and a toy or miniature Poodle.
The Maltese is a delightful toy breed, known for its bright, black eyes and silky white coat.
The breed originates from the island of Malta.
But quickly became an established favorite in European households as a pampered lap dog.
On the other side of the family, the Poodle is an old, established breed.
One that has recently become the breed of choice for designer dog creators.
Poodles have been crossed with many other breeds, including Labradors, Cocker Spaniels, Boxers, and even Siberian Huskies!
What is the best food for Maltipoo dogs?
The best food for Maltipoo dogs is one that is high in quality.
With limited carbohydrates, and great natural protein sources.
We will take a look at some examples below.
Watch for foods with a high meat content, added vegetables, vitamins, and minerals.
These ingredients help to keep your Maltipoo's sensitive digestive system healthy.
Avoid foodstuffs that contain "excipients."
Excipients are chemical substances, many of which are foreign and toxic to dogs.
Commonly used excipients include:
Fillers
Flavorings
Colors
Preservatives
Sweeteners
Bulking agents
Oxidants
They are frequently used to bulk up cheap pet foods and are of no nutritional benefit to your pet.
Maltipoo health conditions
Just like all cross-breeds, the Maltipoo inherits health issues from both parent breeds. By choosing the best food for your Maltipoo from puppyhood, you can help to avoid some of the health issues that could affect your pet in later life.
Diabetes
Small dogs can struggle to maintain constant sugar levels.
And this can lead to diabetes. Be sure to choose a food that does not contain added sugars!
Obesity
Little dogs can put on weight quickly and easily!
Many toy breeds do not get as much exercise as they should, further exacerbating the problem.
If your Maltipoo has a tendency to become a little rotund, look for a food that is properly balanced.
Also, don't be tempted to feed your dog a little bit extra.
The recommended portion size may look small, but so is your Maltipoo!
Overfeeding can result in obesity and other related health problems.
Dental problems
Maltipoos have tiny mouths, and consequently their teeth can be very crowded.
Dental overcrowding allows plaque to accumulate between the teeth.
Plaque eventually forms a hard substance called tartar, which ultimately leads to periodontal disease.
Periodontal disease can cause your pet pain and lost teeth!
Feeding your dog hard kibble can help to remove plaque from the teeth, preventing dental problems for your Maltipoo.
Choosing the best food for Maltipoo dogs
Even though the Maltipoo is tiny, he has plenty of energy and needs a surprising amount of exercise!
It's therefore essential that you choose a suitable Maltipoo food that meets the nutritional requirements of little dogs.
Fat and protein should form the main components of any good dog food.
Ingredients are listed in order of volume.
Always make sure that fat and protein appear in the first three ingredients listed on the product packaging.
Your Maltipoo's nutritional needs will change as he grows older.
Maltipoo puppies should be given a minimum of four small meals each day.
To help healthy growth and development, your pup's diet should include:
Lots of high-quality protein
Fats
Nutrients
Minerals
Vitamins
Once your Maltipoo reaches one year of age, he can begin to eat two to three portions of adult Maltipoo food each day.
Best dry food for Maltipoos
When choosing the best food for Maltipoo dogs, choose kibble that is extra-small in size.
Your Maltipoo has a tiny mouth!
If the pieces of kibble are too large, your dog could struggle to eat his meals and may even choke.
In addition, kibble that's too big won't be as effective at removing plaque from your pup's little teeth.
Rather than buying a large bag of food for your Maltipoo, purchase a small bag until you find your pup's favorite.
Purina Bella Natural Bites
Purina Bella Natural Bites* contains a combination of crunchy bites and tender shreds that your Maltipoo will find very hard to resist!
Vitamins and minerals are added to real chicken and beef, with spinach and sweet potatoes too.
This specially formulated food supports your dog's health throughout the longer life expectancy of smaller breeds.
A blend of antioxidants is included to provide support to your pup's immune system.
Purina ONE SmartBlend
Purina's Small Bites Beef* is specially formulated to provide essential nutrition for small breeds.
Real beef is the primary ingredient of this tiny-bite kibble.
A blend of other high-quality protein sources are included to support a healthy heart and strong muscles.
While added Omega-6 keeps your pup's coat and skin healthy and radiant.
As a bonus, natural glucosamine is added to support healthy joints and prevent arthritis in later life.
Best wet food for Maltipoos
Not all dogs enjoy dry food.
If your Maltipoo prefers the texture and taste of wet dog food, you might want to try the following options.
Cesar Classics Wet Food
Cesar Classics* offer a tasty, poultry flavored wet food with added vitamins and minerals for balanced and complete nutrition.
The food is served in convenient foil trays with peel-off freshness seals to keep the food fresh and prevent waste.
You can be confident that this wet food for Maltipoos meets your pet's nutritional requirements, as it is AAFCO approved.
Hill's Science Diet
This food from Hill's Science Diet* is formulated with fresh chicken and barley. 
It provides an irresistible, nutritious food for Maltipoos and other small breeds.
This brand is world-renowned as a manufacturer of veterinary-endorsed special diet dog foods.
This recipe contains high-quality protein for muscle development, promotes ideal body weight.
And is very easy for a tiny digestive system to process.
Best food for Maltipoo puppies
So far, we've looked at some great options for adult food.
But what's the best food for Maltipoo puppies?
Maltipoo pups should ideally be fed kibble.
Kibble is perfect for keeping your puppy's teeth clean, and crunching the little bites can also help to ease the pain of teething.
Puppy kibble for small breeds is specially formulated extra-small to prevent the risk of choking.
Diamond Naturals
Diamond Naturals* is made from only high-quality protein sourced from cage-free chicken.
This is a natural food with fruits, veggies, fatty acids for a great skin and coat, and added vitamins and minerals.
The tiny kibble pieces are highly digestible thanks to added probiotics.
Added natural DHA promotes healthy vision and brain power!
This USA-made food contains no fillers, corn or wheat.
And it has no artificial colors, flavors, or preservatives.
Best food for Maltipoo seniors
The nutritional needs of senior dogs are different from adults and puppies.
Choosing a senior-specific diet for your dog ensures that his special needs are catered for.
Hill's Science Diet Seniors
Hill's Science Diet* for seniors is specially formulated for young-at-heart toy and small breeds over 11 years of age.
The precisely balanced nutrition contains chicken, barley, and rice.
It is enhanced with Omega-6 fatty acids, vitamin E, and other valuable nutrients.
Antioxidants are added to help support your senior Maltipoo's immune system.
This food contains only natural ingredients, with no artificial additives or fillers.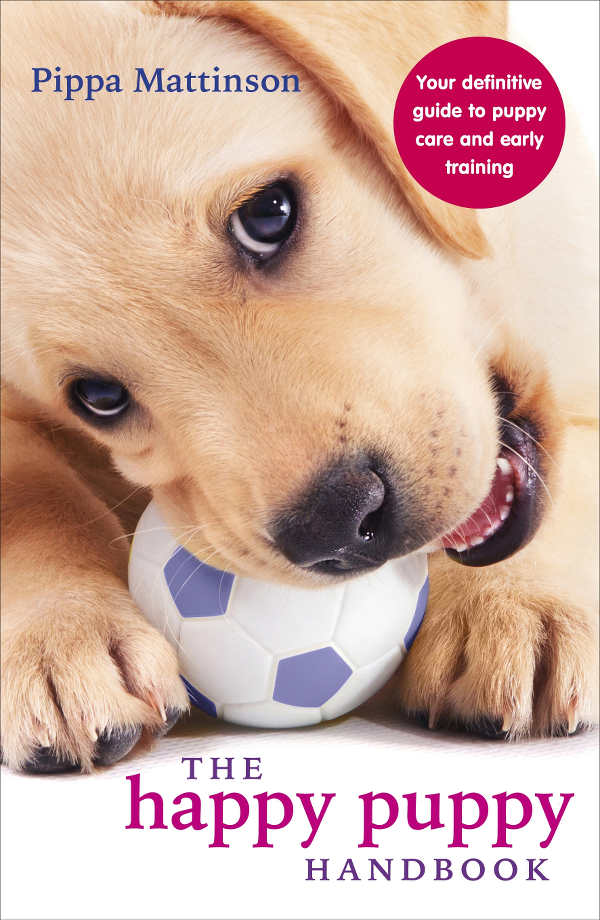 Blue Buffalo BLUE
Blue Buffalo BLUE* has been created especially for the health and well-being of senior small breed dogs.
The food is made using only natural ingredients, including protein-rich deboned chicken, whole grains, veggies, and fruit.
No artificial colors, flavors, preservatives, wheat, soy, corn, or by-product meals are used.
Best choice for Maltipoo food allergies
Some Maltipoos can suffer from sensitive tummies.
If your pup has to watch what he eats, the following food will allow him to enjoy his dinner, without suffering digestive upsets.
Hill's Science Diet
This food by Hill's Science Diet* is specially formulated for small breeds with skin or food sensitivities.
The recipe contains prebiotic fiber derived from natural beet pulp, which contributes to good digestive health.
All the ingredients used are easily digestible and gentle on the most delicate of tummies.
Hill's exclusive blend of Omega-6 fatty acids, nutrients, antioxidants, and vitamins. 
These provide support to your dog's skin, coat, and immune system.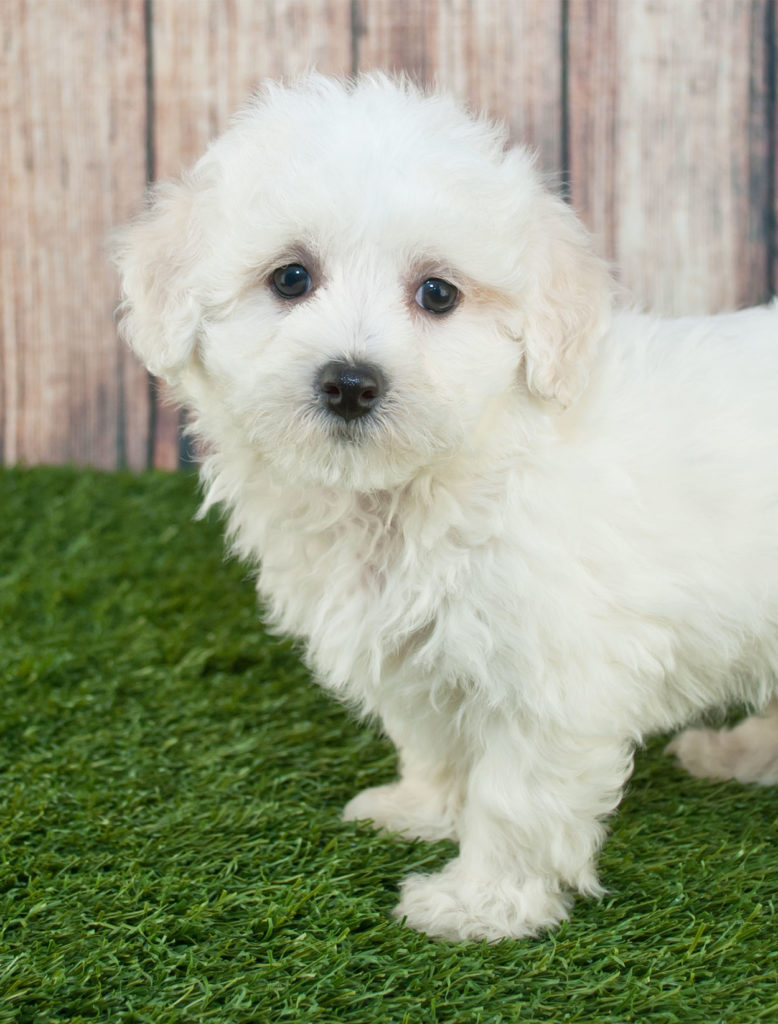 What is the best food for Maltipoo dogs?
The nutritional requirements of toy and small breeds such as Maltipoos vary from those of larger breeds.
Always look for foods that contain all-natural ingredients with added vitamins and minerals. 
They help support your little furry friend as he grows.
Choose a senior-specific food to support him through the later years of his life.
If you have a Maltipoo, why not tell us what his favorite food is by using the comments section below?
We'd love to know, especially if your super-cute pup is thriving on one of the foods we've recommended!
References and further reading:
Poodle Club of America, "Health Issues in Poodles"
Runge Veterinary Clinic, "Miniature Poodle"
Affiliate link disclosure: Links in this article marked with an * are affiliate links, and we may receive a small commission if you purchase these products. However, we selected them for inclusion independently, and all of the views expressed in this article are our own.