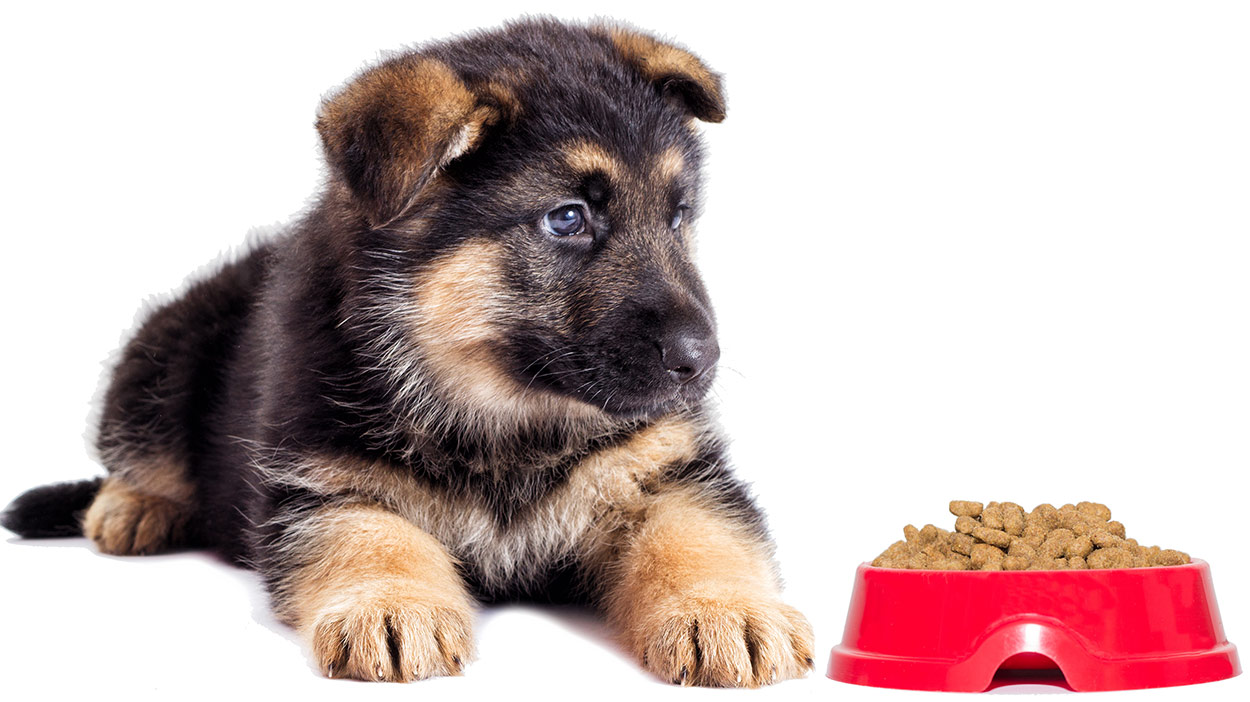 The best food for German Shepherd puppies is one that will support the healthy growth and development of this large, active breed. We look at the dietary needs of your German Shepherd Dog puppy and help you pick the right product from the wide range of options available. All the puppy foods featured in this article are chosen to help your dog to achieve their potential.
Contents
German Shepherds are strong, intelligent dogs. Bred over generations to work hard. As a bigger breed, it's important that as puppies they don't grow too fast and risk exacerbating any potential joint problems. But they also need to have the right nutrients to grow up fit and strong.
German Shepherd Puppy Nutritional Needs
The best food for a young GSD is one that supports healthy development, and tastes great too. Fortunately, there are lots of good options on the market right now that will give your dog a great start in life.
Dogs are carnivores. Although they will eat vegetables and fruits, their natural diet is meat based. This means that their food should contain high protein and fat levels. German Shepherds also have thick fur, and tend to shed continually throughout the year. The fat content in your dog's diet helps to keep his skin and coat in good condition.
Growth and Energy Levels
In general, German Shepherd puppies eat more food than adult dogs. They are curious, extremely busy little creatures who spend much of their day exploring their environment and playing. Such high activity levels coupled with rapid growth demand plenty of fuel to keep them going! As a large breed of dog, your pup's growing body needs a particular blend of nutrients in order to reach their full size properly and remain healthy.
German Shepherds are also prone to certain health problems, including skin conditions, hip dysplasia, and bloat. These conditions are common to a lot of large breeds of dog, and many manufacturers take them into account.
The Best Food for German Shepherd Puppies
We've been trawling the dog food aisles, searching for the right food for our beloved dogs. They needed to be high quality, but not necessarily high in price. And with lower levels of carbohydrates, and a higher proportions of protein and fat.
German Shepherd Puppy Kibble
Today, many puppies are weaned directly onto softened kibble, or transitioned from wet food to dry food at around 12 weeks. So they are likely to be already eating dry food by the time they come home with you. In fact they will probably arrive with a bag of the kibble they were weaned onto. These are our picks of the best dry dog food for German Shepherd puppies.
Royal Canin
Royal Canin is one of the world's largest and most popular dog food manufacturers. This kibble is tailor-made for German Shepherd puppies* and contains everything your dog will need during his growth period. The formula is balanced to avoid digestive sensitivity, and also contains calcium and phosphorus for healthy joints and bones. Vitamins E and C, together with taurine and lutein help to maintain your pup's vulnerable immune system. The diet is designed for pure bred German Shepherd puppies from age 8 weeks to 15 months.
Hills Science Diet
Hills are another major specialist diet dog food manufacturer. Their large breed puppy dry dog food* is a good food for German Shepherd puppies up to 12 months old. The diet contains optimal levels of calcium to ensure that bone growth is controlled in order to prevent the onset of health conditions, including hip dysplasia.
Natural glucosamine and chondroitin is also included to help keep joints and muscles strong and healthy. Your pup's immune system is also supported through a blend of vitamins, minerals, and antioxidants. The food contains no artificial preservatives, colors, or flavorings.
Purina
Purina are world-renowned makers of specialist dog foods and this is their offering for large breed puppies*. The dry kibble contains chicken as the number one ingredient, which is combined with rice for easy digestion. The high-protein recipe also contains added natural glucosamine for healthy, growing joints This food is slightly cheaper than some of the other top brands, and reviewers' pets seem to love it. A win-win!
Eukanuba
Eukanuba uses fish oil in this large breed puppy food* in order to boost brain function, making your pup smarter and more trainable. There's also plenty of fiber derived from prebiotics and natural beet pulp to promote easy absorption of nutrients and a healthy digestion.
The protein sources used to make this food are animal-based, promoting the development of strong muscles. Optimal levels of Omega-3 and Omega-6 fatty acids are included for healthy skin and a radiant coat.
Diamond Naturals
This large breed puppy food is made in the USA* from pasture raised lamb and is formulated with optimal amino acids for lean, strong muscles. The food contains no fillers, no wheat, no artificial colors, flavors or preservatives. This recipe includes superfoods and antioxidants, fatty acids for a glowing coat and healthy skin, and chondroitin and glucosamine for healthy joint development.
Best Wet Food For German Shepherd Puppies
When looking for cans or sachets of German Shepherd puppy food, we focused on the ingredients. But we also looked for a range of types, including grain free, limited ingredients and breed specific products. There should be something for every German Shepherd puppy here.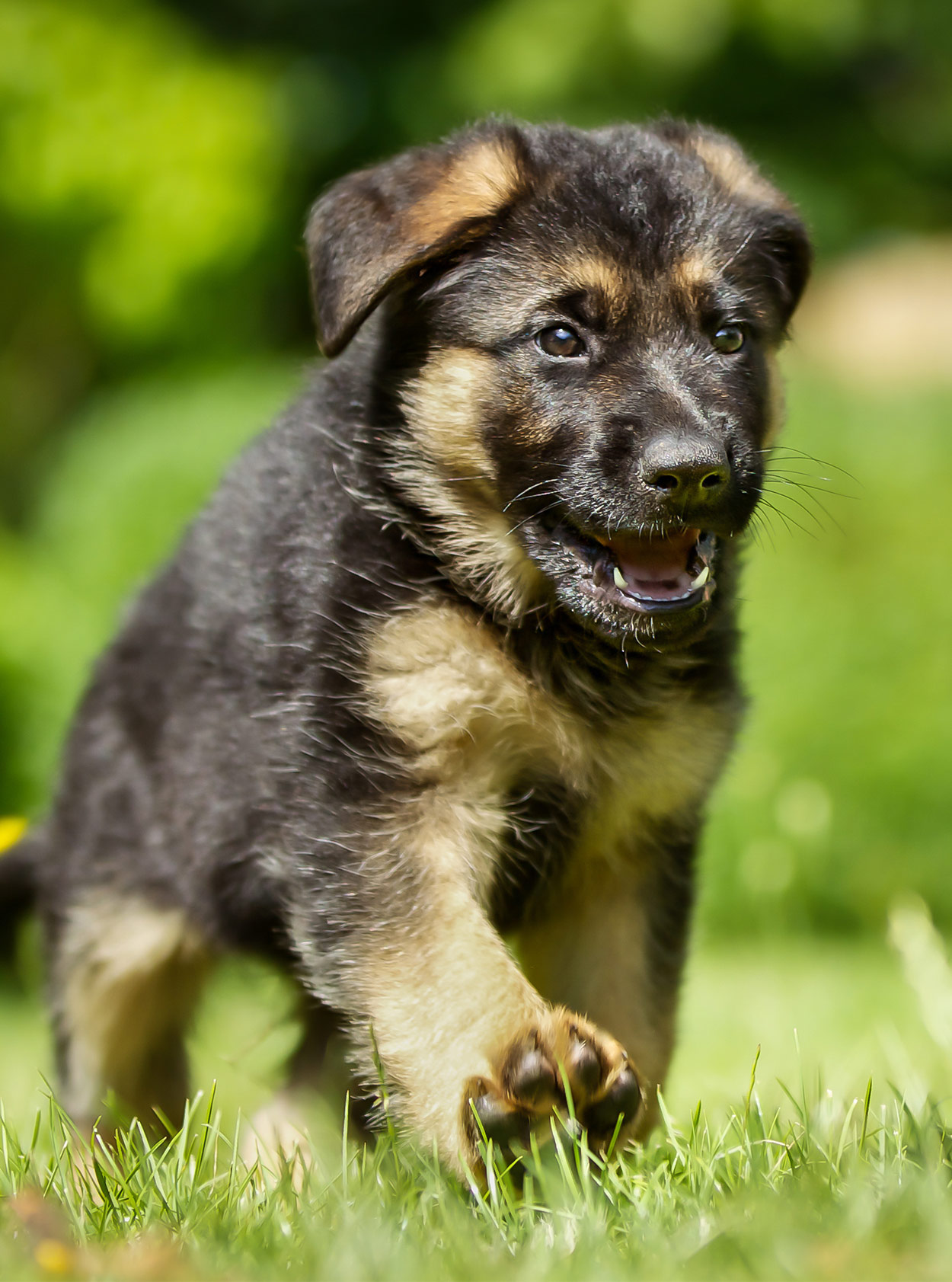 Blue
This wet diet uses only deboned chicken, together with whole grain rice and barley*. It aims to provide your puppy with the high-quality protein, carbohydrates, and fiber he needs for energy and growth. This food includes sweet potatoes, carrots, blueberries, and cranberries. No meat meal, corn, soy, wheat, artificial colors, flavors or preservatives are used in this all-natural diet.
Blue Wildness
Wilderness wet puppy food is a high-protein, grain-free diet containing deboned turkey*. The food also contains an important fatty acid that's found in your pup's mother's milk, which is vital for good brain and eye function in puppies. Optimally balanced Omega-3 and Omega-6 fatty acids are included to promote healthy skin and a glowing coat.
Pedigree
The tasty looking Chopped Puppy Dinner by Pedigree* is another good option. It's made with real lamb, and provides a complete, balanced meal. Designed to be palatable and easy to chew, your pup is likely to love this one.
How Much Should A German Shepherd Puppy Eat?
Until the age of about 6 months, young puppies should have 3 to 4 small meals during the day. Dish these out into bowls at the start of the day, and use these rations as their training treats too. Reward them every time they do something you'd like to see more of. Like laying calmly at your feet, or not jumping up your guests.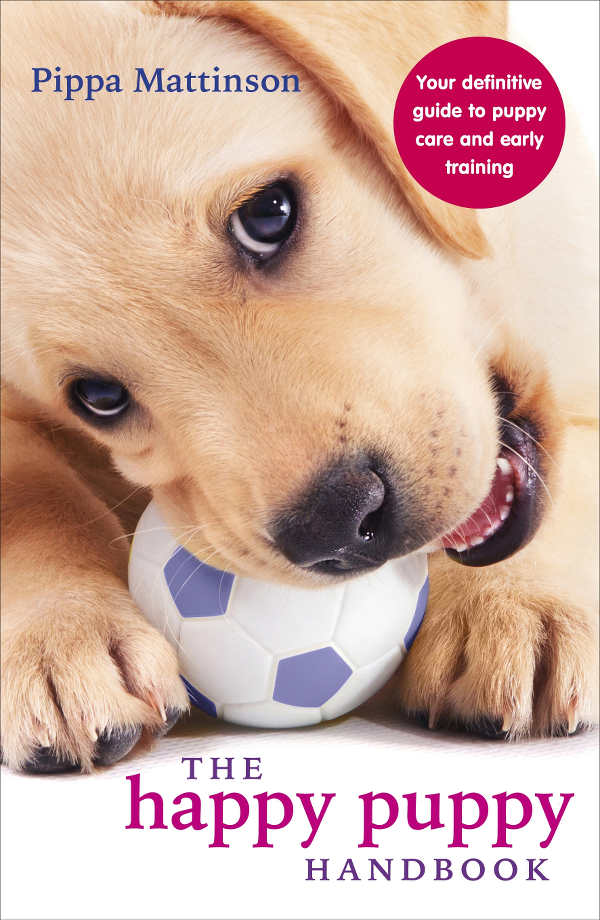 Using their daily kibble as training treats removes the potential for over feeding, and the issues that come along with it. Follow the manufacturer's recommended feeding amount guidelines on the product packaging. But don't be afraid to adjust it if you think they are looking too skinny or are carrying a bit too much weight.
Wet Food vs Dry Food for German Shepherd Puppies
Feeding dry food has the advantage that it is convenient and usually more affordable than canned wet food. Kibble is also very good at removing plaque from your puppy's teeth as he eats. Helping to prevent the formation of tartar and the onset of periodontal disease. It's also much easier to use as training treats.
However, dry food contains negligible water content. To avoid liver and kidney problems in your pup, always ensure that plenty of clean fresh water is available to him. Wet food contains around 80% water, which keeps your puppy hydrated.
Most canned foods are also packed with protein, which is essential for your German Shepherd puppy's development. However, feeding canned food generally works out more expensive than feeding kibble, as you'll need to feed more of it to meet your pup's daily needs.
Affiliate link disclosure: Links in this article marked with an * are affiliate links, and we may receive a small commission if you purchase these products. However, we selected them for inclusion independently, and all of the views expressed in this article are our own.