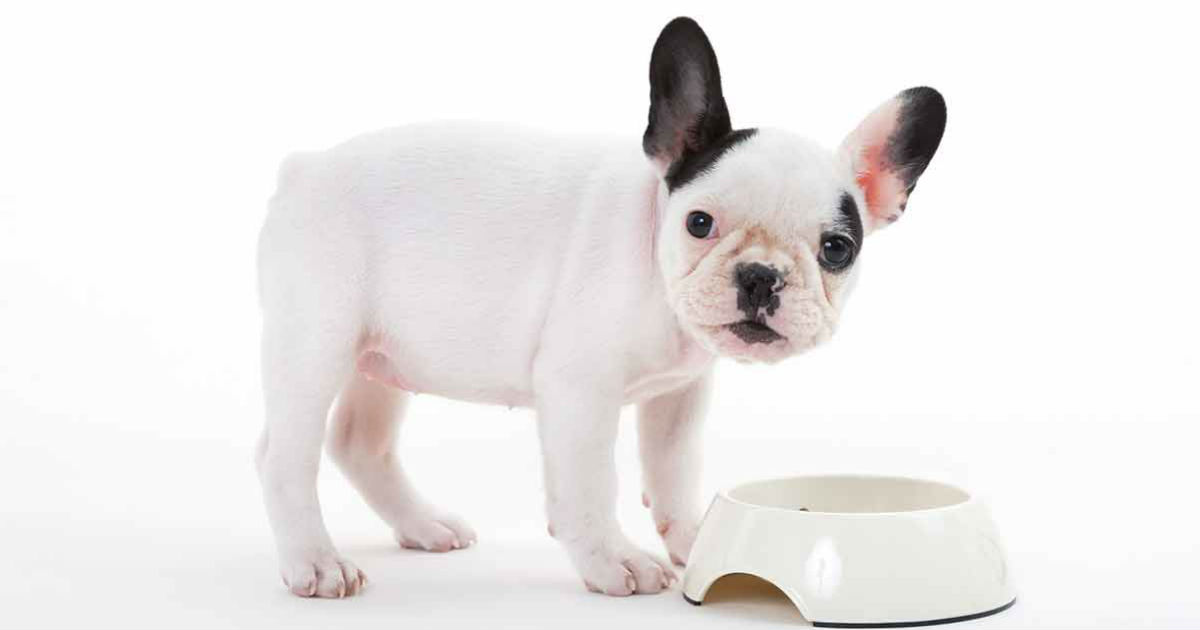 Finding the best food for French bulldog puppy involves understanding the unique needs of this special dog breed.
French bulldogs are incredibly popular pet dogs today, but they also have some serious health issues.
Perhaps the most serious issue is called brachycephaly, which refers to the French bulldog's flat-faced appearance.
These dogs are bred to produce this trademark look, which may be cute but it also means you will need to pick the best food to feed French bulldog puppy dogs with extra care.
So now let's take a close look at the best food for French bulldog puppy dogs.
French Bulldog Puppy Food
As every dog lover is aware, there is an amazing variety of shapes and sizes in the canine community.
This is even more true when it comes to the French bulldog, which has one of the most unusual skull and body structure among all dog breeds.
Here are some important differences to be aware of that can impact your pup's ability to eat and enjoy her meals:
Extra-short legs (caused by a dwarfism gene within the breed itself)
Extra-short upper jaw and normal length lower jaw
Extra facial skin and tissue in and around the nose and mouth
Shortened nose and airways (because of the flat muzzle)
Crowded teeth that place a priority on daily tooth brushing and oral care
Wide, flat jaw
Extra-long soft palate (on the roof of your dog's mouth)
We recommend reading this comprehensive article to help you learn more about each of these important differences and how they can impact your French bulldog puppy during mealtimes.
Special Feeding Bowls for Flat-Faced Puppies
It is so vital to watch your puppy eat, both to make sure she is eating (and breathing) easily and that the feeding station you've chosen works for her special needs.
Breeders and owners often find that enhanced feeding bowls with tilted rims and elevated legs make meal time easier and more enjoyable for flat-faced dogs. Here are three examples to guide you in your bowl selection:
Enhanced Pet Products Stainless Steel Pet Bowl. This bowl is attractive, easy to disinfect and clean, and comes in three sizes.
There is also a ridge built into the back of the bowl that your dog can use as a tool to grab hold of his food more easily.
Super Design Detachable Stainless Steel Food Bowl with 15 Degree Slanted Anti-Skid Melamine Stand. This fun, flexible bowl features a stainless steel interior and colorful exterior. It comes in three sizes and several colors.
The base is nonslip, and the 15-degree tilt helps your bulldog reach and grasp his food more easily.
Love "N" Creatures – Slanted Dog Bowl. This sturdy, lightweight plastic bowl is great for at-home use or for travel.
There is also a convenient lower grip space to make it easy for you to lift it up for cleaning and refilling. The bowl comes in pink or blue.
Puppy Food for Brachycephalic Puppy Breeds
Choosing the best food for French bulldog puppy dogs is not a decision to make lightly. For this reason, it is a great idea to involve your dog's veterinarian in choosing your pup's food.
Breeders highlight these important considerations for selecting the best dog food for French bulldog puppy:
Food allergies. French bulldogs can be prone to allergies. Grain-free whole foods free from artificial ingredients or fillers can lower the risk of feeding allergies.
Wheat. Wheat ingredients (gluten) in particular can cause more gas. Avoiding gluten can make your home and pup smell much better.
Corn and high protein. Corn ingredients or higher protein foods can sometimes cause skin rashes or hives, causing your puppy discomfort and you a high vet bill.
Fat. Because of their breathing issues, French bulldogs are low energy dogs in general, so avoid foods overly high in fat and be sure to control portion size.
Combination of dry and wet food. Frenchies will have an easier time eating soft wet foods but they also need the hard, dry kibble to help keep their crowded teeth clean.
Meal length and food availability. For puppies, it is not uncommon for your Frenchie to eat a bit, go wander around and then come back to finish eating. This may be just to have time to breathe. So be sure to leave the food out for at least 30 minutes before removing it.
Kibble size and shape. Bigger kibble and odd-shaped kibble can be easier for the Frenchie to grasp and chew.
We also recommend that you review this informative article to learn more about a recent review of French bulldog health concerns and what may be up ahead for this popular dog breed.
How Much Food Should I Feed My French Bulldog Puppy
Working out the perfect French bulldog puppy food portions may be a job for you and your dog's veterinarian to tackle together.
If you bring your puppy home directly from the breeder, it is typically ideal to stick with the feeding schedule and food brand the breeder has been using until your puppy has had time to acclimate to being with you.
Puppies typically need to eat more frequently than adult dogs. Three to four times per day is normal for younger puppies. Around six months of age is when many dog owners will start to feed twice per day, but be sure to talk with your veterinarian about the right time to transition.
You can follow the portion guide on the food brand package, which usually offers guidance based on your dog's age and weight. If you feel like your puppy isn't eating enough or is gaining weight too rapidly, talk with your vet about altering the French bulldog puppy food amount or changing the food brand.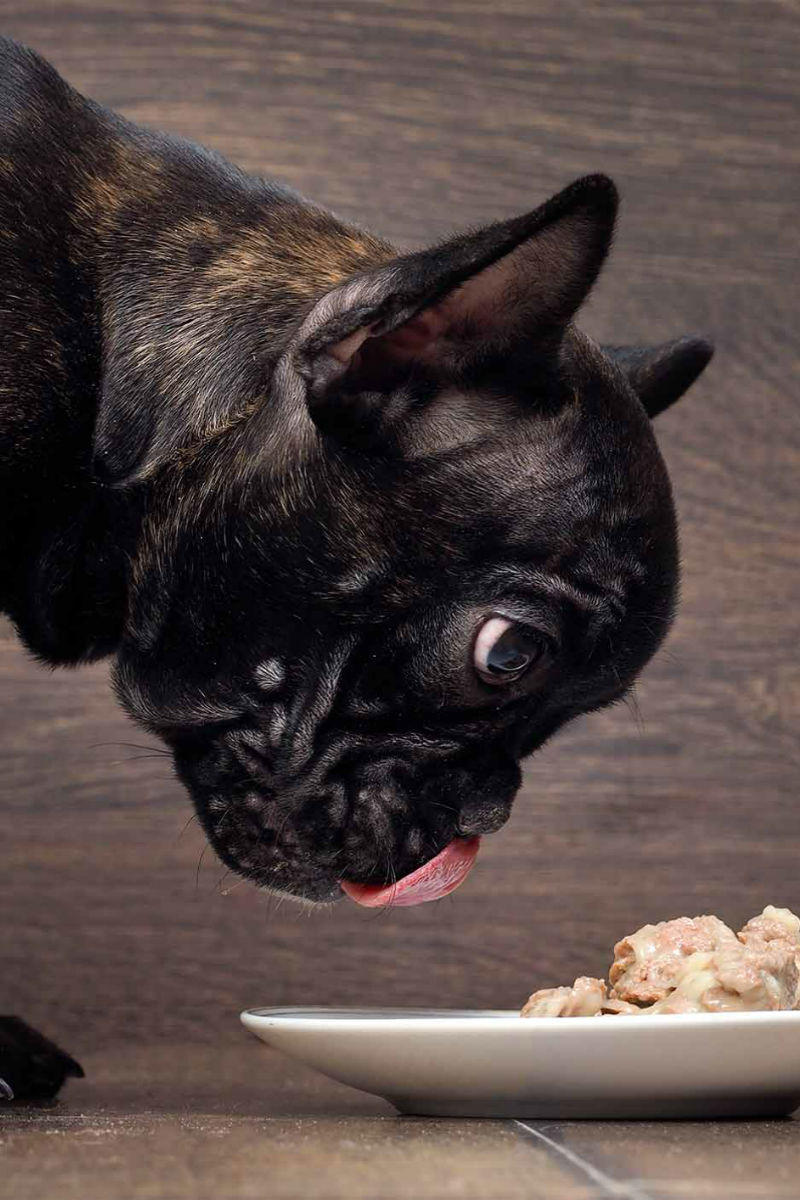 Best Dry Food for French Bulldog Puppies
This is some of the best food for French bulldog puppy dry brands as recommended by breeders, veterinarians and puppy owners.
Royal Canin Breed Health Nutrition Bulldog Puppy dry dog food. This food formulated specifically for the special nutritional and health needs of bulldog puppies.
It is also available in an adult formula to make transitioning your puppy's diet a breeze.
Orijen Puppy Formula. This breeder-recommended, highly rated puppy food focuses on whole foods and nourishing protein that has zero fillers or by-products.
This kibble is grain-free to avoid food allergies and limited ingredients to help your puppy's still-developing G.I. system digest with maximum ease. When it is time to transition, you can just switch to the grain-free adult recipe.
Taste of the Wild Grain Free High Protein Natural Dry Dog Food. This amazingly popular and highly rated dry puppy food offers whole lean protein nutrition with probiotics, superfoods, antioxidants, vitamins and minerals.
It is completely free of grain, gluten and known allergens. There is also an adult dog food to match that you can switch to when it is time to transition.
BLUE Wilderness High Protein Grain Free Puppy Dry Dog Food. This grain-free lean protein puppy food can be a particularly good choice for French bulldog puppies because it is a combination of regular kibble with LifeSource vitamin and mineral bits that are odd-shaped to make picking up the kibble easier overall.
There is also an adult recipe to make transitioning your puppy's food easy.
Best Wet Food for French Bulldog Puppies
These are some of the best food for French bulldog puppy wet brands as recommended by breeders, veterinarians and puppy owners.
Wellness CORE Natural Grain Free Wet Canned Dog Food Puppy Formula. This highly palatable, easily digestible and nourishing natural grain-free wet food is free from any artificial ingredients, by-products or fillers.
It's a good choice for meals and treats.
CANIDAE Grain Free PURE Dog Wet Food Puppy Formula. This simple, limited ingredient wet puppy formula features real whole protein.
It comes in several recipes to get your French bulldog puppy used to different tastes and textures right from the start.
Merrick Classic Grain Free Canned Dog Food Puppy Formula. This highly rated and popular grain-free wet puppy formula features real whole protein as the number one ingredient (chicken or beef-based for puppies).
This wet food is completely gluten- and grain-free, and made in the U.S.
Whole Earth Farms Grain Free Canned Dog Food Puppy Formula. This simple, protein-rich, grain-free puppy formula comes in a soft and highly palatable loaf.
The recipe is ideal for puppies with sensitive stomachs. There is also an adult recipe, which makes it easy to transition your pup when the time comes.
Best Food for French Bulldog Puppy
We hope this article has provided the information you need to guide your choice of best food for French bulldog puppy dogs.
What questions do you have about feeding French bulldog puppies and adult dogs? Please drop us a comment and we will do our best to answer.
Resources and Further Reading:
"Feeding Your Bully," 2018, DFW Bulldog Rescue
"French Bulldog," American Kennel Club
"French Bulldog Frequently Asked Questions," 2018, French Bull Dog Club of America
Hill, R., 2000, "Feeding Dogs for Reproduction and Health," Northern California French Bulldog Club
Vizcardo, C., 2018, "What You Need to be Feeding Your French Bulldog," Blue Diamond Frenchie Kennel