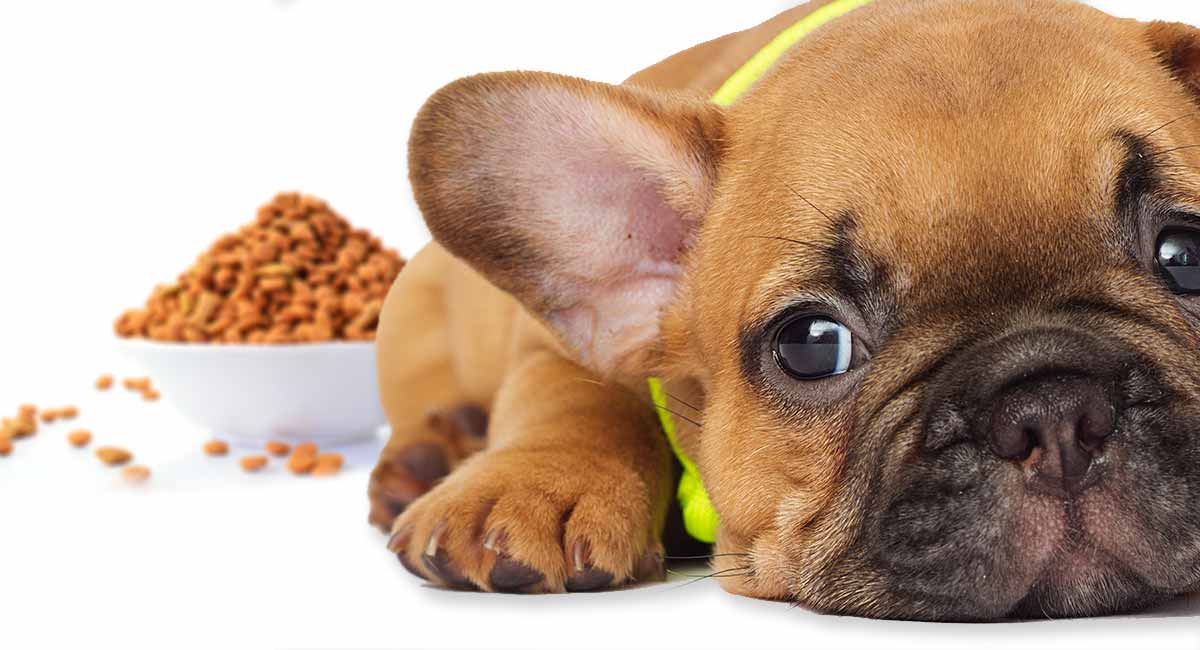 The best dog food for French Bulldog puppy health will be easy for them to chew and swallow, as well as being tasty and nutritionally complete. Today I'll share some great wet, dry, grain free and limited ingredient formulas. They all contain plenty of protein and fat, and are relatively low in fillers.
Contents
Puppies typically need to eat more frequently than adult dogs. Three to four times per day is normal, in addition to which you can dish out their meal portions for the day into bowls each morning. Then dip into these bowls for kibble to use as training treats throughout the day. This means you won't accidentally over feed them, while still rewarding their good behavior.
Special Health Considerations
French bulldogs are incredibly popular pet dogs today, but they also have some serious health issues. Perhaps the most serious issue facing this breed is brachycephaly, which refers to the French Bulldog's flat-faced appearance. This structural feature causes breaking problems and issues with chewing and swallowing.
Here are some important criteria when selecting the best dog food for French bulldog puppies:
Food allergies. French bulldogs can be prone to allergies. Grain-free whole foods free from artificial ingredients or fillers can lower the risk of feeding allergies.
Wheat ingredients (gluten) in particular can cause more gas. Avoiding gluten can make your home and pup smell much better.
Corn and high protein. Corn ingredients or higher protein foods can sometimes cause skin rashes or hives, causing your puppy discomfort and you a high vet bill.
Fat. Because of their breathing issues, French bulldogs are low energy dogs in general, so avoid foods overly high in fat and be sure to control portion size.
Combination of dry and wet food. Frenchies will have an easier time eating soft wet foods but they also need the hard, dry kibble to help keep their crowded teeth clean.
Meal length and food availability. For puppies, it is not uncommon for your Frenchie to eat a bit, go wander around and then come back to finish eating. This may be just to have time to breathe. So be sure to leave the food out for at least 30 minutes before removing it.
Kibble size and shape. Bigger kibble and odd-shaped kibble can be easier for the Frenchie to grasp and chew.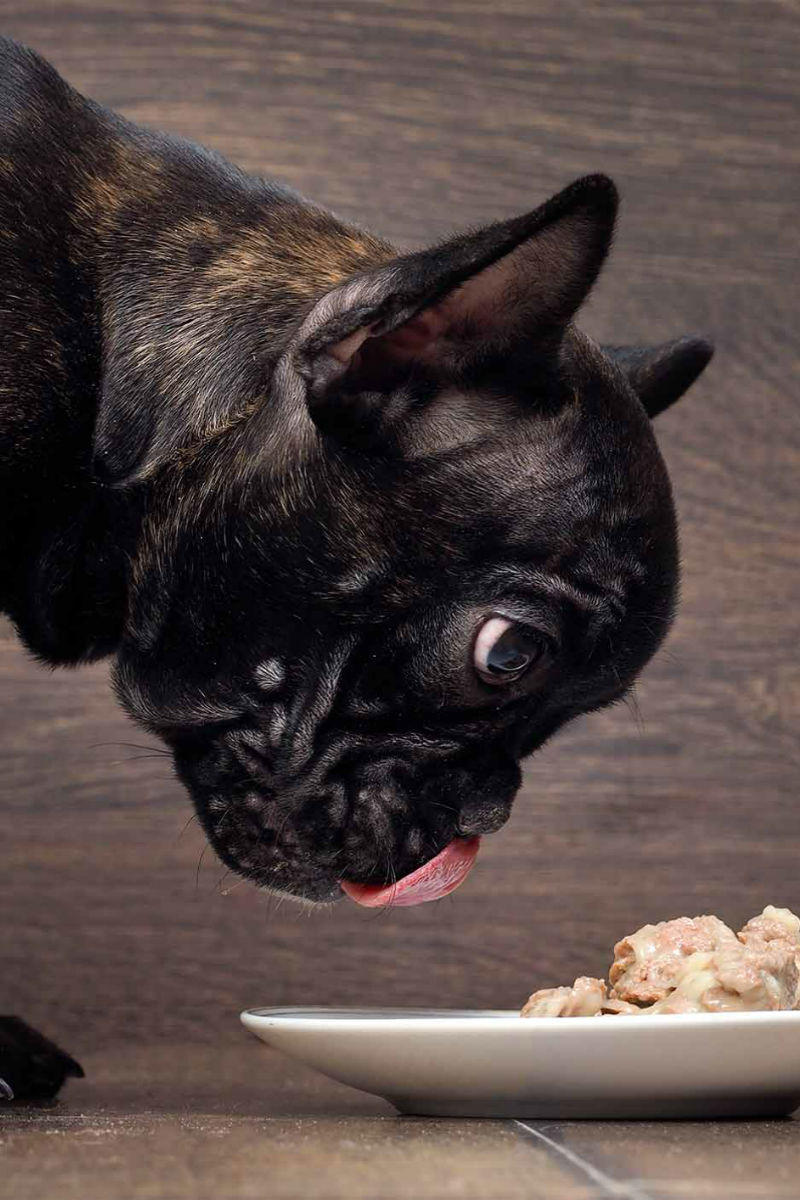 Best Wet Puppy Food For French Bulldogs
Wet puppy food is a top choice for many pet owners. It naturally helps to make sure that your pup staying hydrated. And it's not hard to encourage a puppy to eat it, either. Wet food tends to be very appealing to dogs of all ages.
Wellness Core Grain Free
Wellness CORE's natural grain free wet puppy formula.*(paid link) is a highly palatable, easily digestible, and nourishing natural grain-free wet food. It's a good choice for both meals and treats.
Canidae Grain Free Wet Puppy Food
This simple, limited ingredient wet puppy formula*(paid link) features real whole protein. It comes in several recipes to get your French bulldog puppy used to different tastes and textures right from the start.
Best Dry Food For French Bulldog Puppies
Dry food, or kibble, is another popular option for puppy owners. It is easier to store and often cheaper than wet or canned food. However, it doesn't offer the same level of hydration, so it's important to keep an eye on your pup and make sure he is drinking enough water.
Royal Canin Bulldog Puppy Food
This food is formulated specifically*(paid link) for the special nutritional and health needs of Bulldog puppies.
Taste Of The Wild Natural Dry Dog Food
Taste of the Wild's grain free food*(paid link) offers whole lean protein nutrition with probiotics, superfoods, antioxidants, vitamins and minerals.
Hill's Science Diet Dry Small Breed Puppy Food
This dry puppy food*(paid link) is created specifically for small breeds like the French Bulldog. It includes DHA and other essential nutrients to support healthy growth. It's also in small kibble form to make it easier for dogs with small mouths to eat.
Best Grain Free French Bulldog Puppy Food
There is an increasing trend toward offering grain free foods across the board — to ourselves, to our kids, and to our pets! Grain free foods may be easier for your dog to digest. And for a small dog, this can be a big concern.
Merrick Classic Grain Free Puppy Plate
Merrick offers a*(paid link) highly rated and popular grain-free wet puppy formula. It features real whole protein as the number one ingredient.
Blue Wilderness Puppy Grain Free Kibble
You may also want to consider BLUE Wilderness High Protein puppy food*(paid link) as a dry option. This is a particularly good choice for Frenchie puppies because it is a combination of regular kibble with LifeSource vitamin and mineral bits that are odd-shaped. This makes picking up the kibble easier overall.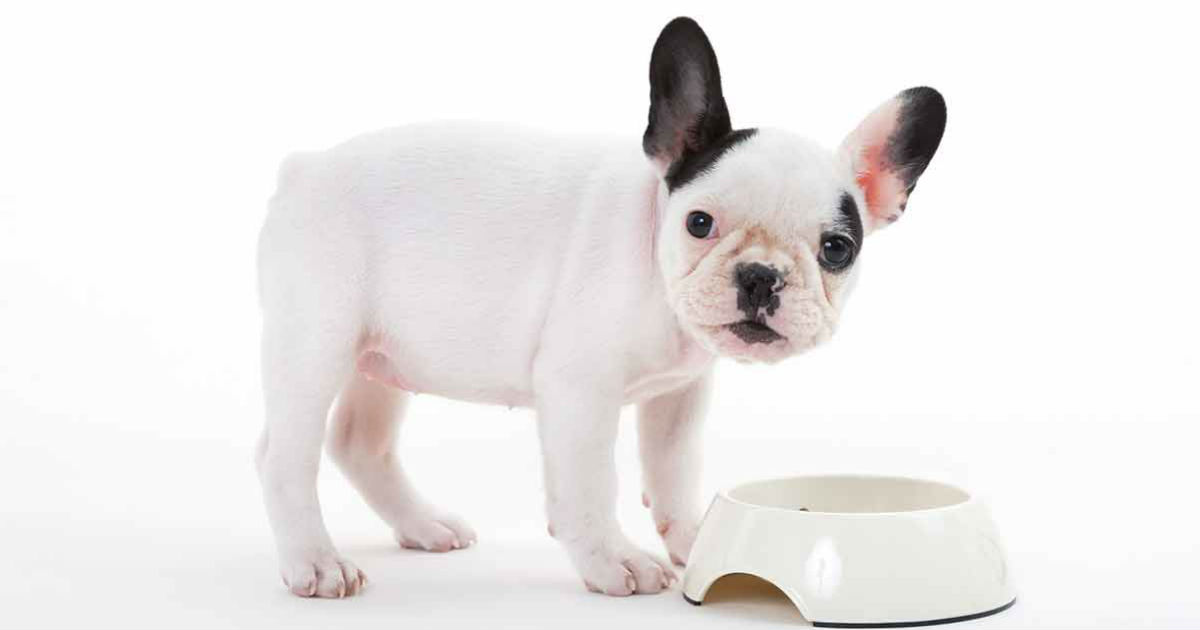 Best Food For French Bulldog Puppies With Sensitive Stomachs
Small dogs do seem to have more sensitive stomachs. And food allergies can be a concern with any breed. If that is the case with your Frenchie pup, you might try them out with some of these options.
Orijen Puppy Formula
This highly rated puppy food*(paid link) focuses on whole foods and nourishing protein that has zero fillers or by-products. This kibble is grain-free to avoid food allergies and limited ingredients to help your puppy's still-developing G.I. system digest with maximum ease.
Whole Earth Farms Grain Free Canned Dog Food Puppy Formula
This simple, protein-rich, grain-free puppy formula*(paid link) comes in a soft and highly palatable loaf. The recipe is ideal for puppies with sensitive stomachs.
Affiliate link disclosure: Links in this article marked with an * are affiliate links, and we may receive a small commission if you purchase these products. However, we selected them for inclusion independently, and all of the views expressed in this article are our own.