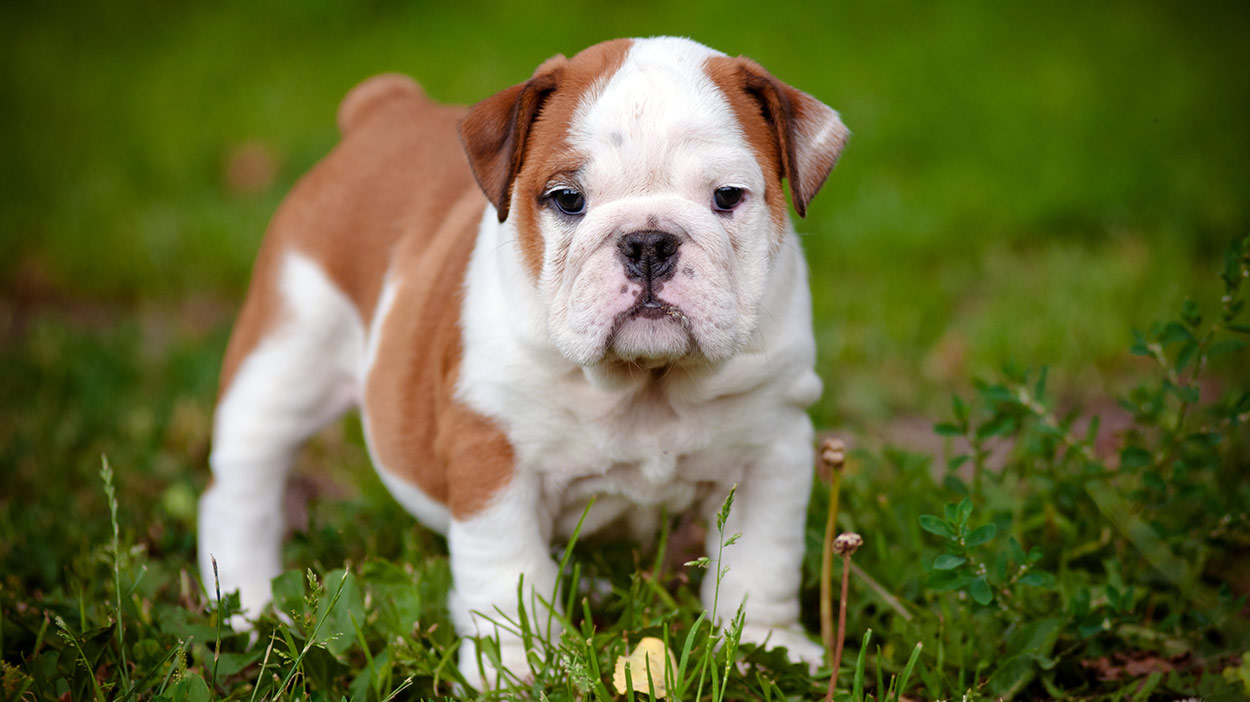 The best food for English Bulldog puppies gives them a complete diet, and is easy to chew and swallow. I always recommend foods that are high in protein and fat, but low in carbohydrates and other unnecessary fillers. They'll have odd shaped pieces that can be picked up and chowed down on by their flattened faces and extended jaws. Today I'll share my top choices for this unusual breed, and help you to choose the perfect one for your baby Bulldog.
Contents
Physical Traits That Will Impact Your Choice
Having a very short muzzle can present some challenges with lifting up and munching on food. English Bulldogs can also struggle sometimes with swallowing their meals, and with taking in sufficient oxygen while they are busy eating.
Bulldog puppies often also have teeth that are overly crowded together in their smaller mouths. Rounded, triangular or other unique-shaped kibble are ideal, avoid the traditional large square bits. And if your English Bulldog puppy is still having a tough time with chewing, mix dry kibble with some wet puppy food.
Portion sizes
Begin by following the amounts listed on the packaging. You'll find that these vary wildly between brands, because of the differing ratios of meat to vegetables or grains.
If your puppy has a nipped in waist and you can't feel his spine, you're on the right track. You can reduce or increase his porition a little if you think he's going in the wrong direction.
How often to feed English Bulldog puppies
Little and often is always the best approach when feeding a puppy. I start my puppies off with four meals a day, spread evenly over the daylight hours. I also take some of their daily ration and put it aside to use as training treats, so they don't accidentally eat too much!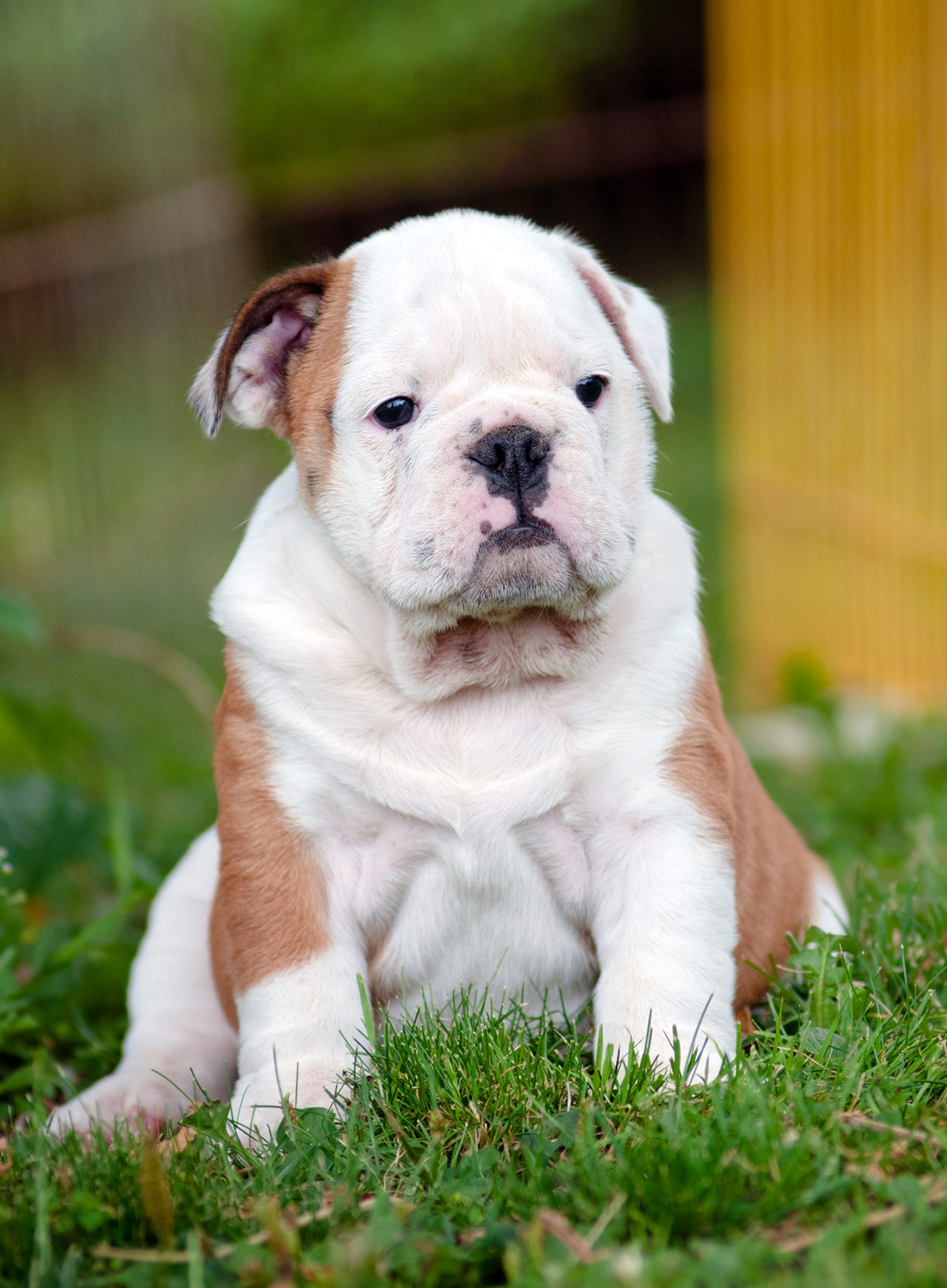 Best dried food for English Bulldog puppies
These three brands make some of the best food for English Bulldog puppies. You will notice each food is enriched with special nutrients, minerals and vitamins. Those that your English Bulldog puppy needs to develop healthily in every way.
Royal Canin Bulldog Puppy dry dog food
Royal Canin creates tailored recipes for the unique needs of different puppy and dog breeds. Also, this interesting S-shaped kibble* is rounded and thus easier for your puppy to pick up.
When it is transition time, you can make the switch to Royal Canin Nutrition Breed Health Nutrition Bulldog Adult dry dog food*. This has the same unique S-shaped kibble.
IAMS Proactive Puppy Dry Dog Food
IAMS has been a vet-recommended staple puppy and dog food for many decades. You can choose from medium or large breed puppy food* depending on your Bulldog puppy's estimated growth.
This recipe features real protein, superfood antioxidants, whole grains, DHA and plenty of vitamins and minerals. DHA is an omega-3 fatty acid which supports brain, eye, and immune development, and protects against heart disease.
When it is time to transition, you can simply switch to IAMS Proactive Health Adult Large Breed Dog Food*.
Purina Pro Plan Puppy Dry Dog Food
This highly rated and popular puppy dry dog food features triangle-shaped kibble interspersed with bits of real chicken*.
When it is transition time, you can just switch to Purina Pro Plan Focus Large Breed Formula Dry Dog Food*.
Best canned food for English Bulldog puppies
The best food for English Bulldog puppy can end up being a combination of dry puppy food mixed with a bit of wet puppy food. This combination gives extra hydration if your puppy isn't drinking enough water. It also makes learning how to grab and chew the dry kibble just a bit easier!
For both puppies and adult dogs, wet food can be more palatable than dry kibble.
Purina Pro Plan Wet Puppy
This highly rated, popular puppy wet food* features real chicken. It is designed in a complete and balanced nutrition puppy formula.
A great choice to mix with the Purina Pro Plan dry kibble, to help your English Bulldog puppy learn how to grasp and chew solid food!
Hill's Science Diet Wet Puppy
This is a very popular and highly rated wet puppy food. It features chicken and barley* in an easy-to-digest, nutritionally balanced formula.
There are no artificial ingredients or by-products in this wet food either. This is a great choice to mix with Hill's Science Diet dry kibble as your English Bulldog puppy gets used to eating like a big dog!
Royal Canin Puppy Dog Food
This 100 percent complete and balanced nutrition for puppies* is designed to stimulate the appetite while building the immune system.
Packed with vitamins, lutein, taurine and fish oils, your English Bulldog puppy will have the nutritional support to make the extra work of eating worth it. This is a great choice to mix with Royal Canin Bulldog puppy dry food for a little extra mealtime incentive!
Best food for English Bulldog puppies with food allergies
Treating food allergies in puppies often requires two phases: allergy testing and a limited ingredient diet. One of the known triggers for food allergies in dogs is grain. So the best puppy food for Bulldogs who have food allergies is often a grain-free diet.
Merrick Grain Free Puppy Food
This grain-free recipe* features real protein as the first ingredient. Plus DHA and plenty of vitamins and minerals to help with digestive support and immune system health.
Merrick's puppy kibble is rounded, so this is also a good choice for your Bulldog puppy as it is easier to pick up and chew.
BLUE Wilderness Grain Free Puppy Food
This grain-free puppy food recipe* is made with real whole chicken in a high protein recipe that also features veggie and fruit superfoods.
It also includes plenty of vitamins and minerals in the Blue Buffalo company's proprietary puppy blend. The kibble is a unique triangle shape which can be easier for your puppy to grab hold of and pick up.
Best food for English Bulldog puppies with sensitive stomachs
Finding the best dog food for English Bulldog puppies can sometimes be a challenge because of their unique anatomy. This can sometimes lead to digestive disruption. A limited ingredient diet may ease tummy upset, gas, diarrhea and other symptoms of a sensitive stomach.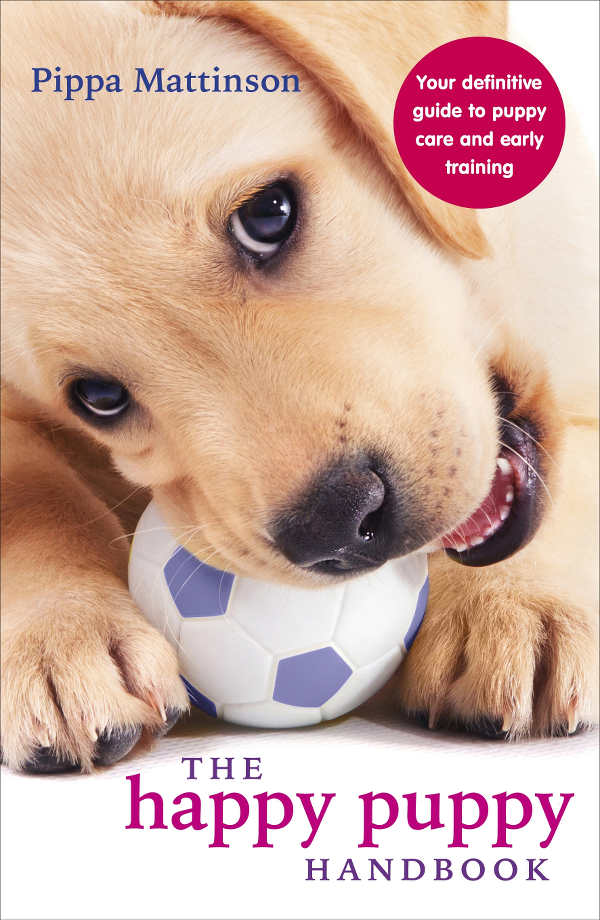 Instinct Raw Boost Grain Free Puppies
This is an extremely pure, protein-rich puppy food* that features freeze-dried raw protein with a handful of produce superfoods.
There is very minimal processing and no artificial additives of any kind. The kibble is both round and rectangular, offering a nice mix of shapes to help your English Bulldog puppy grasp it more easily.
Nature's Recipe Grain Free Puppy Food
This very simple puppy food recipe* features pure protein, digestion-friendly pumpkin, sweet potato and peas and plenty of vitamins and minerals.
There is no corn or beef, both of which can be a source of digestive upset in puppies.
Hill's Science Diet Puppy Food
Hill's Science Diet* has long been a vet-recommended staple in the dog health community.
This limited ingredient puppy food comes in two recipes: chicken and oats or lamb and rice. Both recipes include plenty of glucosamine and chondroitin, calcium and phosphorus. As well as vitamins and minerals to support healthy joints, bones and immune system.

Affiliate link disclosure: Links in this article marked with an * are affiliate links, and we may receive a small commission if you purchase these products. However, we selected them for inclusion independently, and all of the views expressed in this article are our own.