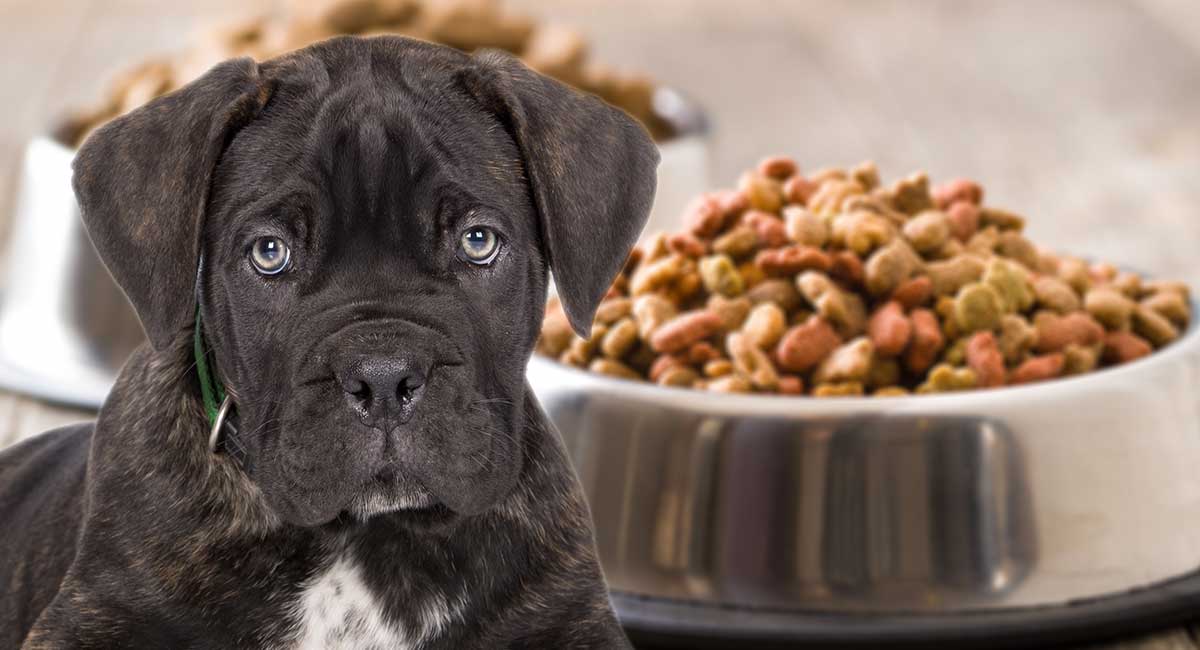 The best food for Cane Corso puppy health will be formulated for large breeds, with busy brains and bodies. The original purpose of the Cane Corso was to protect livestock and property. They needed to be big, brave, and fit too. For healthy growth they need to have a high fat diet, that is relatively protein rich too. But you mustn't go overboard on nutrients or quanities!
Contents
Best Food For Cane Corso Puppies
Feeding your puppy is an incredibly important part of their care. A full-grown Cane Corso can grow up to 27.5 inches in height and weigh up to 110 pounds. Large breed puppies need to have carefully balanced food, giving enough of the right nutrients, but not too much. Big breeds are prone to joint problems, and often heart problems too. Rapid growth and excess weight can make these much worse.
Puppy food for large or giant breeds is therefore the best pick for a developing Cane Corso puppy. These dogs are also prone to bloat and skin conditions, so the best puppy food for Cane Corso dogs will take these into account too.
Bringing Home Your Puppy
When you bring your puppy home, your breeder will give you some of their current food. For the first few days they are home, keep them on this food. It doesn't matter if it's not your ideal choice. It's only temporary and will help your pup to settle in.
If they don't have any stomach upsets and are settling in well, you can swap over in a few days time. Make the transition gradually, swapping a quarter, then half, then three quarters of each portion over the course of a week. Only increase the ratios if your pup's stools stay firm and solid!
Best Food for Cane Corso Puppy Health
Once your puppy happily has his paws under the table in your home, you can swap to the food of your choice. Obviously budget will play a part, but the biggest decision will be which brand will suit your pup best. Try to find one that is designed for larger breeds.
You won't find a Cane Corso specific formula as they aren't a very common breed right now. But you can try those designed for similar breeds, like the Dogue de Bordeaux for example, if you come across one. Must puppies are raised on kibble, so let's start there.

Best Dry Food for Cane Corso Puppies
Most puppies do very well on an appropriate kibble. It's convenient, well priced, easy to store and makes training easy. For the first few weeks of your pup's life, try to use their daily kibble rations as training treats. Don't just hand them over in a bowl. This will help to reduce over feeding, and increase the strengthening bond between you.
Hill's Science Diet
An excellent choice for a large breed is Hill's Science Diet*(paid link). This kibble is specially formulated for bigger dogs. Packed with all the nutrients they need, and designed to support healthy growth and development. It includes glucosamine and chondroitin, which promote strong and healthy joints. Hill's Science Diet also contains no artificial preservatives, colors or flavorings. A formula like this makes the best puppy food for Cane Corso dogs.
Diamond Naturals Large Breed Puppy Food
Diamond Naturals*(paid link) are a US-based company. Their large breed puppy food is rich in lamb, and it contains optimal amino acids for lean, strong muscles. They do not have any padding or fillers, wheat, artificial colors, flavors, or preservatives. This puppy-specific recipe is full of healthy extras for your growing Cane Corso. Including chondroitin and glucosamine for healthy joint development.
Best Food For Cane Corso Puppies with Sensitive Stomachs
Some puppies struggle digesting their food. Many larger dogs like Cane Corsos struggle to moderate, and gulp down their food too quickly. This can lead to a sensitive stomach and illness as a result. Other dogs just have naturally sensitive digestive systems, and struggle with processing standard formulas. Fortunately there are puppy foods designed to help combat these problems.
Purina SmartBlend Large Puppy Food
Purina makes excellent specialist dog foods.*(paid link) This formula is great for large breed puppies. Chicken is the primary ingredient in this kibble. It also contains rice for easy digestion. The high-protein recipe has added glucosamine for healthy joints.
Eukanuba Large Puppy Food
The protein sources used for Eukanuba's dry puppy food*(paid link) are animal-based, especially to promote strong muscle development. Optimal levels of Omega-3 and Omega-6 fatty acids from fish oils are included in the diet for healthy skin and a shiny coat.
The prebiotics and natural beet pulp provide fiber, which your pup can easily absorb. This should help sensitive tummies to digest their dinner more happily.
Best Wet Cane Corso Puppy Food
Not all dogs thrive on dried kibble, and not all owners prefer it. Wet puppy food comes in cans or pouches. Some picky eaters are happier with this more moist option.
Blue Wilderness Puppy Food
Blue Homestyle wet diet*(paid link) uses deboned chicken as its main ingredient. This wet puppy food for Cane Corso puppies also includes selected veggies and fruits for antioxidants and essential vitamins. Blue Wilderness puppy food has no grain, artificial colors, flavors or preservatives.
Purina Pro Plan Focus
This tasty puppy food is high in protein*(paid link). Chicken is the main ingredient, along with other quality ingredients. With small portioned cans, it's easy to store and dish out too.
Best Food for Cane Corso Puppy Dogs
Cane Corso are a strong, protective and active breed. The best food for Cane Corso puppy health promotes a steady rate of growth for large breeds. It will be high in protein and fat, and low in carbohydrates. And they will love the taste too.
Affiliate link disclosure: Links in this article marked with an * are affiliate links, and we may receive a small commission if you purchase these products. However, we selected them for inclusion independently, and all of the views expressed in this article are our own.