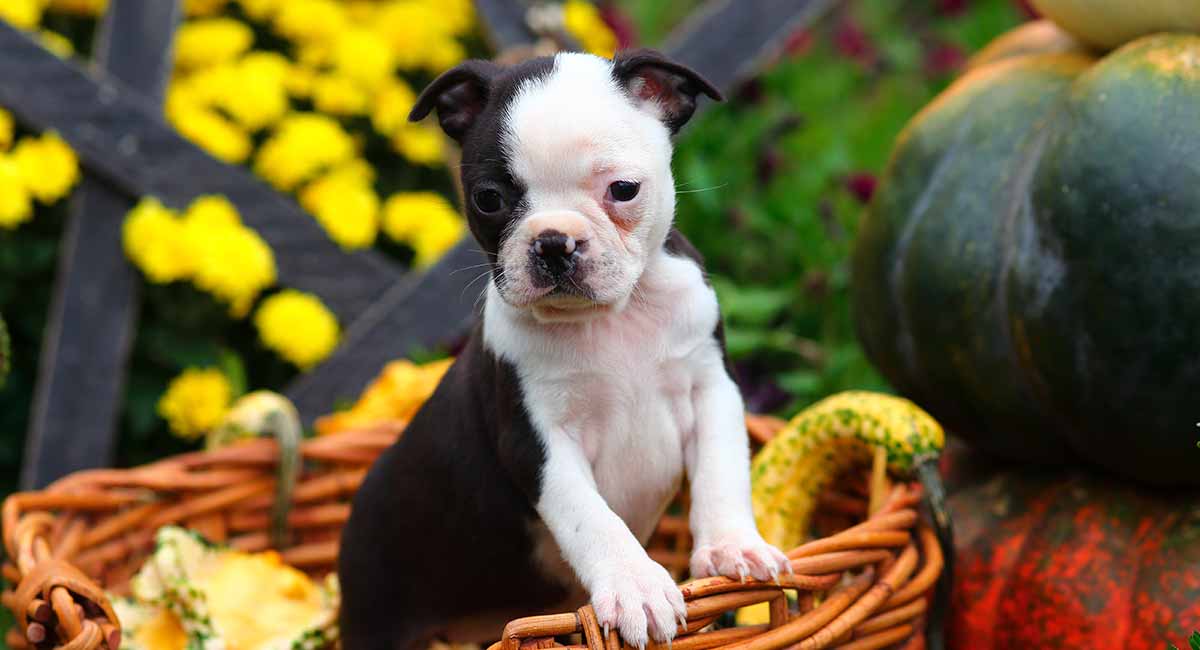 The best food for Boston Terrier puppy health gives them a complete diet. 
It will be high in protein and fat, low in carbohydrates and easy to pick up, chew and swallow. 
The Boston Terrier's unique flat facial structure means that it can be a little trickier to choose the right food. 
But never fear, we have some great options that suit them well. 
We are going to explore Boston Terrier adult and puppy foods, as well as some great choices for Boston Terriers that need special diets.
Finally, you'll learn about the special dental and oral health needs of all Boston Terriers share.
Plus, discover food choices that can make it easier to keep your dog's teeth and gums clean and healthy between visits to the vet.
All of these products were carefully and independently selected by The Happy Puppy Site team. If you decide to make a purchase from one of the links marked by an asterisk, we may earn a small commission on that sale. This is at no extra cost to you.
Choosing the Best Dog Food for Boston Terrier Puppy Dogs
Choosing the best dog food for Boston Terrier puppy dogs isn't always an exact science.
For starters, you're searching for a food that offers your pup "complete and balanced" nutrition.
You'll also want to select a food that is easy for your Boston Terrier puppy to grasp, chew, and swallow.
This can present its own challenges with this dog's unique facial and jaw structure.
Most of all, you'll want to choose a Boston Terrier puppy food that your dog will find tasty and love to eat!
If you don't hit a home run with your very first choice, don't worry—this is quite normal!
Your puppy will have preferences for certain flavors and textures just like you do.
Many dog owners try a few different food brands before finding "the one" their pooch just loves.
To help your budget adjust during your puppy food search, you may also want to buy the smallest food package size at first until you're sure the new food is a winner.
Best food for Boston Terrier Puppy – Dry
The best dry Boston Terrier puppy food is one that offers "complete and balanced" nutrition and is formulated for the nutrition and growth needs of small breeds.
You may also want to look for a food that offers a unique kibble size or shape to help your puppy more easily grasp and chew their food.
Hill's Ideal Balance Puppy Food
Made by the same brand that makes Hill's Science Diet, Hill's Ideal Balance Natural Dog Puppy Food* features all-natural ingredients.
Plus fruit and vegetable superfoods, amino acids, vitamins, minerals, flax seeds and brown rice for healthy digestion, skin and coat., this natural puppy food.
Wellness Complete Natural Food
The Wellness Complete Puppy Recipe* has a turkey, salmon and oatmeal recipe that is tasty, healthy and easy on the digestion.
The recipe includes added DHA, vitamins, and minerals for complete and balanced puppy nutrition.
Royal Canin Puppy Food
Royal Canin is one brand that does an especially good job of creating recipes tailored to the different needs of small, medium and large breed dogs.
The Royal Canin Small Breed Puppy Food* is a small breed puppy formula offering complete and balanced puppy nutrition.
Best Food for Boston Terrier Puppy – Wet
Wet food is not typically served as a standalone diet for puppies, although there are times when it makes sense.
Examples may include if your pup is having a particularly sensitive teething day or if your puppy is under the weather for some reason or during recovery after a vet procedure.
When in doubt about which type of food to feed your puppy (or whether to mix them), your dog's vet is always a great one to ask!
Whole Earth Farms Dog Food
The Whole Earth Farms Puppy Recipe* is a whole and complete wet puppy food offers grain-free nutrition in a highly palatable soft loaf.
You can feed this food to your puppy on its own or use it to top off your pup's kibble.
Blue Wilderness Mountain Recipe
The popular BLUE Wilderness Puppy Wet Dog Food* comes in two recipes—red meat or turkey and chicken grill.
The food is made of pure protein from whole food sources with extra added vitamins and minerals that are essential for growing puppies.
Nutro Tender Wet Dog Food
Or why not try Nutro Puppy Wet Dog Food*, which comes in two recipes, beef or chicken.
This wet puppy recipe is rich protein and comes in a gravy sauce that has extra vitamins and minerals for a complete and balanced formula.
Best Food for Boston Terrier Puppy – Grain-free
Often, dogs don't start to experience food allergies until their puppy years have passed.
But if your pup has a sensitive tummy or allergies that don't seem to have a clear cause, you may want to talk with your dog's vet about grain-free puppy foods.
Taste Of The Wild Puppy Food
Taste of the Wild Puppy* is a tasty and nutritious grain-free complete and balanced puppy food is a slam-dunk hit with puppy owners across the nation.
This food comes in two flavors,  Salmon or Venison/Bison, and the kibble is smaller and easier for a puppy to grasp.
The recipe includes added DHA, vitamins, and minerals that puppies need.
Merrick Grain Free Puppy Recipe
The easy-to-digest Merrick Grain Free Puppy Recipe* is complete with added DHA offering a complete and balanced nutrient-rich formula.
Wellness Core Natural Grain Free
The all-natural Wellness Core Puppy Food* comes in both puppy and small breed puppy formulas.
You may want to ask your vet which version is best for your puppy's needs.
This complete and balanced puppy recipe also features DHA and added vitamins and minerals.
Best Food for Boston Terrier Puppy – Special Diets
Today, many breeders and dog owners are beginning to feed their dogs differently to what was customary in the past.
In particular, grain-free limited ingredient diets (LID) and raw or biologically appropriate raw food (BARF) diets are becoming quite popular.
There are all kinds of reasons why dog owners and breeders are switching to these special diets.
Sometimes it's because a puppy is having tummy troubles or skin allergies.
Other times, it's simply a desire to control every ingredient in your puppy's meals and snacks.
Finally, there is no doubt a raw diet is closer to what a feral dog (or wolf) would consume in the wild!
Natural Balance Dog Food
The Natural Balance Puppy Recipe* is designed to help puppies with sensitive stomachs eat without any unpleasant digestive side effects.
The kibble has a special shape to accommodate your puppy's smaller jaws.
Nature's Variety Dog Food
The raw Nature's Variety Instinct Puppy Formula* features freeze-dried protein bits mixed in with puppy kibble.
This food delivers the essential DHA, amino acids, protein, vitamins and minerals that growing puppies need.
Honest Kitchen Dog Food
The Honest Kitchen Dog Food for Puppies & Adult Dogs* is a dehydrated human-grade dog food designed to be fed as-is—just add water and stir.
If you want to feed this food to your puppy, it is a good idea to talk with your dog's veterinarian just to be sure your pup is getting all essentials versus just feeding them a generic puppy formula food.
With vet approval, this food can offer a great base from which to transition to a raw diet or supplement with protein and superfoods as desired.
Best Food for Boston Terrier Puppy
We hope you've found this carefully crafted list of the best food for Boston Terrier puppy dogs helpful.
And that you've learned about the different puppy foods so you can decide which one is the best fit for your sweet puppy's needs!
We'd love to hear from you so let us know if you've tried any of the food on the list or if your puppy has another favorite food that's not on the list!
Boston Terriers and Brachycephaly
The Boston Terrier is one of a group of purebred dog breeds that are brachycephalic (pronounced "brack-eee-sef-uh-lick").
This is a long, scary-sounding word that can literally be translated to mean "short head" (brachy = short, cephalic = head).
For a brachycephalic dog breed, the lower jaw is a normal size (based on the overall shape and size of the skull) and the upper jaw is compressed.
While this may not sound that extreme, the compressed upper jaw affects the entire jaw and facial structure, including the soft palate, tongue, nose, and eyes.
This, in turn, can impact how well and safely your dog can eat and drink!
In particular, your dog may struggle to pick up, chew, and swallow food and drink water while still breathing normally.
Boston Terrier Feeding Tips
Because your Boston Terrier is a brachycephalic dog breed, you may also want to talk with your veterinarian about special food recommendations.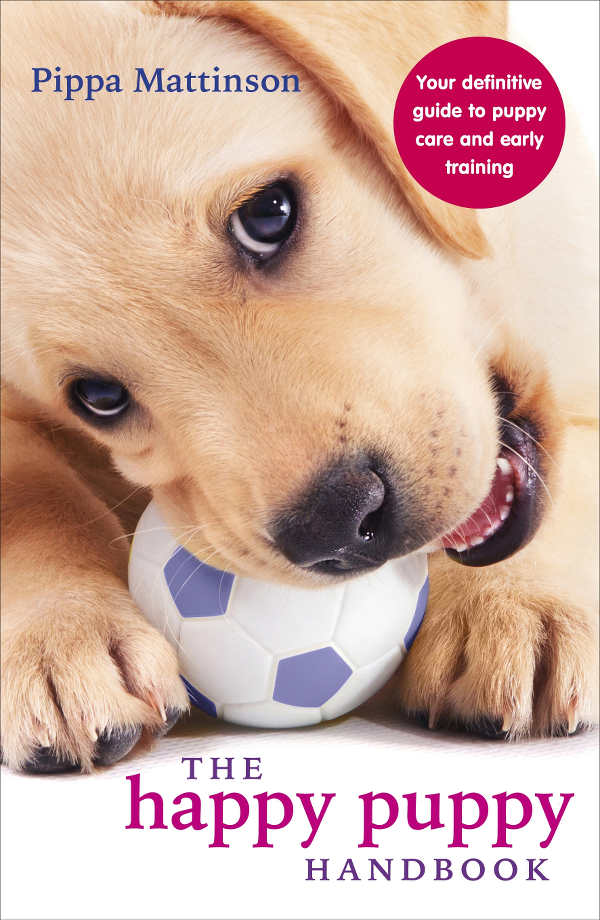 Here are some general tips from veterinarians to help guide your food choices and ensure your flat-faced pooch doesn't struggle at mealtimes:
Choose an odd-shaped dry kibble rather than the standard little round ball-shaped kibble. This can make the kibble easier for your Boston Terrier to pick up.
Mix different kibble shapes and textures together or choose a food that does this for you. gain, this mix can make it easier for your dog to pick up and chew their food.
Use a raised, tilted feeding bowl. This can position the food optimally for your Boston Terrier to grasp it and pull it into their mouth to chew.
Observe your dog eating and drinking and make adjustments to their food and water dish placement as well as food presentation to make mealtimes easier.
Transitioning Your Boston Terrier Puppy onto New Food
If you worked with a breeder to find your Boston Terrier puppy, your pup will likely arrive already eating a specific food brand and be on an established feeding schedule.
To help your puppy adjust to the transition to your home, your dog's breeder and vet may advise keeping them on the same food brand and feeding schedule.
This is useful for at least the first few weeks and can help to avoid temporary digestive upset due to rehoming stress.
After this time, if you want to change your puppy's food brand or your veterinarian recommends switching to a different food brand, you can do so.
Plan the transition over a one week, gradually feeding your pup more of the new food and less of the old food until they're only eating the new puppy food.
How Much Should You Feed Your Boston Terrier Puppy?
Figuring out how much to feed Boston Terrier puppy should always be a collaborative process with the help of your dog's veterinarian.
Try to get into the habit of weighing your puppy at least weekly to chart their growth—with the goal of a healthy puppy this isn't too plump or too skinny.
Young small breed puppies may eat four or five times per day for the first several months of their life.
Breeders recommend offering as much food as your pup can consume in 20 minutes.
After six months, you can move to just two or three feedings per day spaced evenly apart.
It's best to consult with your dog's vet about an appropriate feeding schedule for your pup, including feeding frequency and portion size recommendations.
By the time your Boston Terrier is one year old, you'll probably be feeding them twice a day so they maintain their weight rather than growth.
Your Boston Terrier puppy food amount should correspond to your puppy's age and weight.
In general, puppies consume more food and more calories per day than adult dogs because they are growing so fast and burning up so much energy.
Affiliate link disclosure: Links in this article marked with an * are affiliate links, and we may receive a small commission if you purchase these products. However, we selected them for inclusion independently, and all of the views expressed in this article are our own.