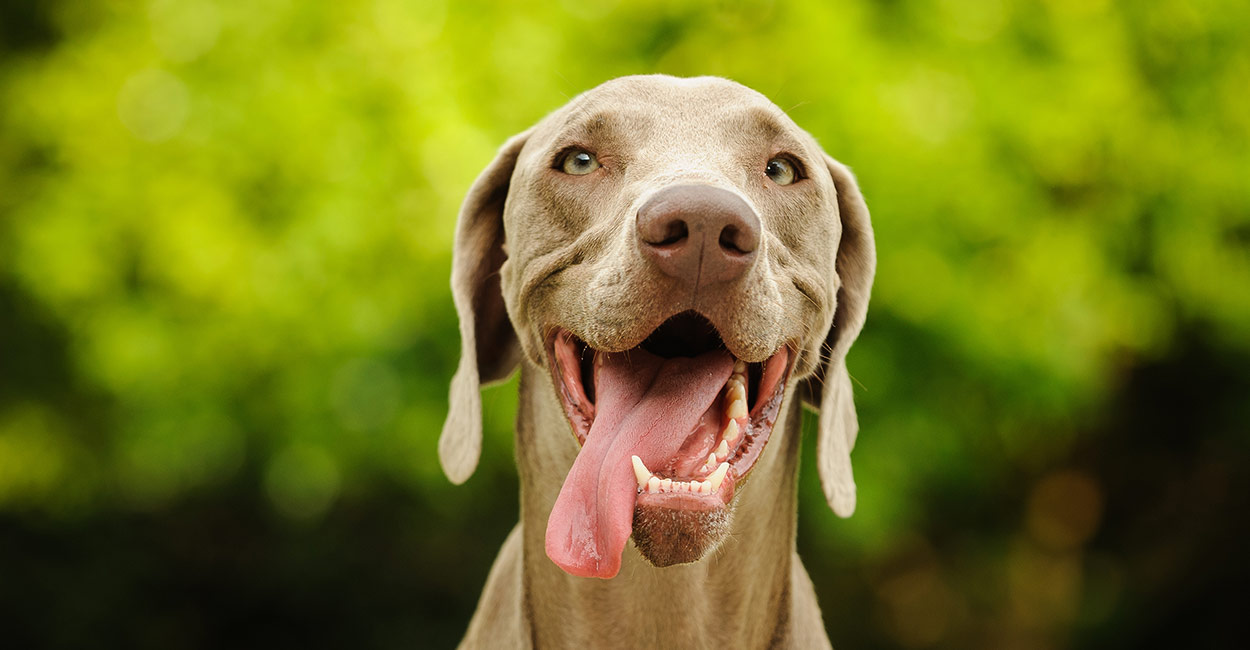 Welcome to our complete guide to the Best Dog Food for Weimaraner dogs, puppies and seniors.
This article looks at the dietary needs of the Weimaraner and the best dog food brands for this energetic breed of hunting dog.
The beautiful silver coated Weimaraner, nicknamed "the gray ghost," is a relatively new breed of dog. It was developed in 19th century Germany to hunt big game animals such as boar and deer.
The Weimaraner dog is an excellent choice for active owners, as they require plenty of exercise and make great running partners!
However, they must have obedience training due to these same high energy levels.
Today, the Weimaraner is still bred for hunting and has a remarkable tracking ability. It is incredibly athletic and intelligent and excels in dog sports, such as agility and flyball.
Weims can weigh up to 80 pounds.
Males stand between 25 to 27 inches in height at the withers. Females are slightly smaller, standing 23 to 25 inches in height.
Let's look at their nutritional requirements and the best dog food for the Weimaraner dog.
Products included in this article were carefully and independently selected by the Happy Puppy Site team. If you decide to make a purchase from one of the links marked by an asterisk, we may earn a small commission on that sale. This is at no extra cost to you.
What is the best dog food for Weimaraner dogs?
Because Weims are high-energy dogs, their dietary requirements will differ from other dog breeds.
The Weimaraner is considered a medium-large dog and should have no trouble eating quality dog foods, either dry or wet, designed for this size, including the different varieties of these foods made for specific life stages.
The Weimaraner breed is not prone to weight issues such as obesity, as long as it has regular exercise.
Many people consider Weims to be a large dog breed.
However, foods designed for large breeds have fewer calories, making these unsuitable Weimaraner foods.
When deciding on the best food for Weimaraner dogs, you need to consider your dog's height and age, level of activity, overall health, and if they are spayed or neutered.
The National Research Council of the National Academies recommends that the average active adult Weimaraner weighing about 70 pounds should have a daily intake of 1688 calories.
However, a Weimaraner who hunts all day or participates in other energetic pursuits may require 3751 calories, depending on how much energy he uses.
A young Weimaraner puppy weighing around 40 pounds needs about 1233 calories per day.
The number of calories should be reduced if the dog is aged, has been spayed or neutered, or is less active.
The amount recommended is just a guideline, so it is vital that you observe your dog for any weight loss or weight gain and adjust their feed accordingly.
The Weimaraner requires the essential nutrients of protein, fats and carbohydrates, but these must come from good sources to keep your dog healthy.
Weimaraner food allergies and other sensitivities
There are various common Weimaraner food allergies to which this breed is prone.
Many are unable to tolerate grains like wheat, corn, soy or barley.
So what is the best dog food for Weimaraner food allergy sufferers?
You may wish to feed your Weimaraner dog food which is grain-free.
Gastric torsion, or bloat, is often associated with the Weimaraner breed because they are deep chested.
Bloat is a condition in which the stomach fills with air or gas, which the dog is unable to release. The blood supply is cut off, making this a life-threatening issue.
Weimaraners that are fearful or anxious are more likely to develop bloat.
There are no special dog foods available to help with bloat, but feeding your Weimaraner food designed for sensitive stomachs may help.
Several small meals should be given throughout the day, and exercise should be reduced before and after feeding.
Weimaraners are more susceptible to separation anxiety than many other breeds, and this can reduce their ability to digest food properly.
Experts believe that a Weimaraner that suffers from separation anxiety does best on a diet based on lots of protein with minimal grain.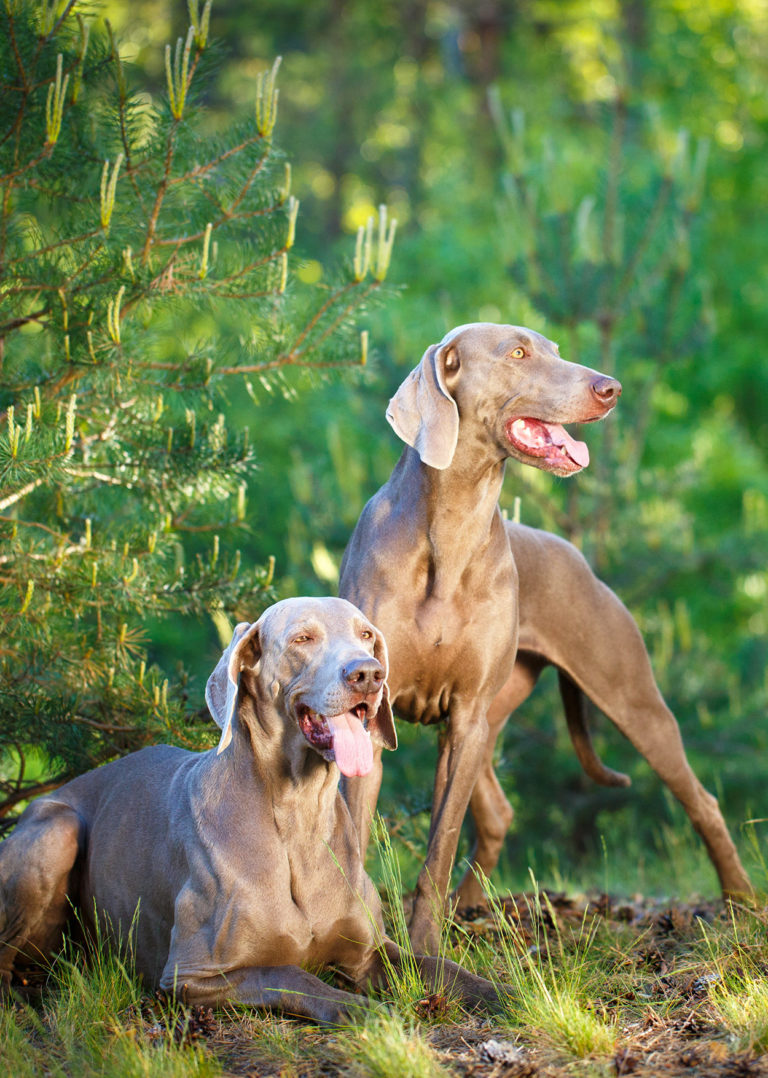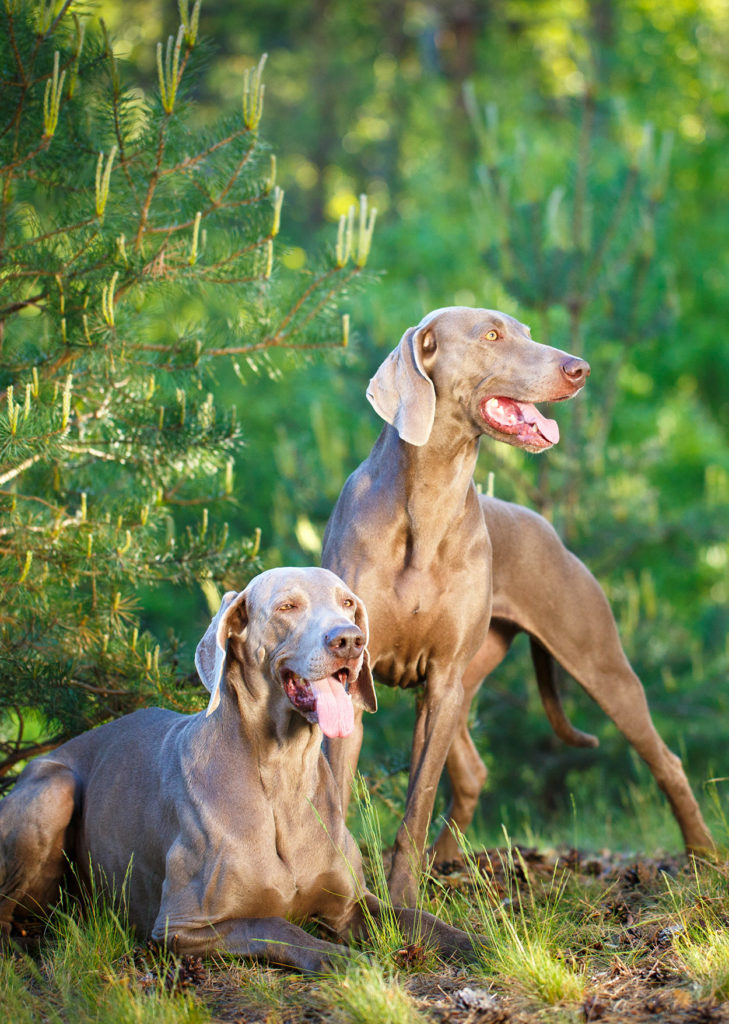 Best dry dog food for Weimaraners
Dry dog food is a good option to feed to your Weimaraner as it is not only better for his teeth and digestive system, but it is also much cheaper than canned dog food.
However, kibble can be boring for a dog, especially compared to feeding them meat.
So, what should you consider when looking for the best dry Weimaraner dog food?
Choose a dog food that contains at least two meat proteins, from either whole meats or meat meals, in the top three of the ingredients list.
Some dog food products use plant proteins, but your Weim will digest meat proteins much more efficiently.
The fat content is best from animal sources, such as chicken fat, rather than plant sources. Other fats, like fish oil, help to keep your dog's skin and coat in excellent condition.
Many dog foods include high amounts of carbohydrates, so when looking for the best Weimaraner dog food for your pet, make sure it contains low to moderate amounts.
Avoid foods that contain any artificial colors, preservatives, flavors and sweeteners to help maintain a healthy immune system for your Weimaraner.
Also, avoid feeding your Weimaraner food that contains low-quality ingredients such as unspecified meat by-products and wheat gluten.
Let's take a look at some of the best dog food for Weimaraner owners who prefer dry food.
Victor Ultra Pro 42
Victor Ultra Pro 42(paid link)* is a grain-free food that provides plenty of protein and calories.
The food is nutrient-dense and consists of 81% protein from poultry, meat and fish as well as containing just 17% carbohydrates.
It also includes several scientifically advanced ingredients for strong, healthy digestive and immune systems.
Victor Ultra 42 is highly digestible and is ideal for the active Weimaraner.
Merrick's dry dog food
Merrick's dry dog food(paid link)* is grain-free and comes in a variety of flavors. It is made in the USA, using locally-sourced ingredients, and consists of 70% meat and fish ingredients and 30% vegetables, minerals and vitamins.
Real, deboned chicken is the top ingredient. This dog food includes sweet potatoes, peas and apples, as well as healthy levels of Omega-3 and six fatty acids for a healthy skin and coat.
Diamond Naturals Dry Beef Meal and Rice
Diamond Naturals Dry Food(paid link) consists of high-quality protein from real pasture-raised beef as well as pea flour, pea protein and eggs, important ingredients for your active Weimaraner.
This natural food also has added vitamins and minerals, fruits and vegetables, along with superfoods which provide essential antioxidants.
Diamonds Naturals dry dog food contains no corn, wheat or soy, giving your Weimaraner a holistic, balanced diet at an affordable price.
Canidae Grain-Free Pure Ridge Adult Dog Food
Canidae Grain-Free Adult Dog Food(paid link)* is made using eight key ingredients suitable for dogs with food allergies or dietary sensitivities.
(paid link)

Fresh chicken is the number one ingredient, along with whole foods such as chickpeas for easy digestion. This food contains no grains, gluten, soy, wheat or corn.
Best wet dog food for Weimaraners
Many veterinarians believe wet food is much more beneficial for dogs than dry, but does it make good food for Weimaraners?
Wet food has a higher meat protein content, is lower in carbohydrates, contains no flavorings or preservatives, and has an elevated water content essential for hydration. Along with all of that, it's more appetizing for dogs.
Also, because wet food is more comfortable to chew, it is ideal for senior dogs and those that are sick or have lost their appetite, as it has more appeal than dry kibble.
However, wet dog food is much more expensive than dry kibble and, once opened, needs to be used more quickly before it spoils. Many owners combine the two. In this way, your Weimaraner can benefit from both types of feed.
Here are some of the best dog food for Weimaraner owners who prefer canned food.
Taste of the Wild Grain-Free High Protein
Taste of the Wild Grain-Free High Protein(paid link)* is made in the USA and comes in a variety of flavors. Only real meat coming from trusted sources is used, and this is the number one ingredient in a tasty stew.
A natural food rich in protein, it has added vitamins, minerals and superfoods to provide antioxidants, is grain-free, and contains no filler, artificial colors, preservatives or flavors.
Wellness Core Natural Grain-Free
This food from Wellness Core(paid link)* is full of protein and contains high levels of meat supported by raw feeding beliefs, along with top quality carbohydrates perfect for the active Weimaraner.
This natural food is nutrient-dense, giving your Weimaraner a balanced and healthy diet that contains no grain or animal by-products.
Best dog food for Weimaraner puppies
When looking for the best food for a Weimaraner puppy, it is recommended to feed your dog a large breed puppy food to encourage slower growth.
Weimaraner puppies should be fed at least three times per day. They should be transitioned to adult food at around 10 to 12 months of age.
Here are a few of the best dog food for Weimaraner puppies:
Fromm's Large Breed Puppy Gold formula
The first three ingredients in the Fromm's Large Breed Puppy Gold formula(paid link)* are duck, chicken meal and chicken. It contains no wheat, corn or soy.
This dry feed contains modest amounts of protein, fat and calories so that puppies grow slowly. It also includes DHA-rich salmon oil, essential for brain and eye development.
As Weimaraners are prone to Hypertrophic Osteodystrophy (HOD) if they grow too quickly, Fromm's Large Breed Puppy Gold is an ideal Weimaraner puppy food.
Canidae All Life Stages
Canidae All Life Stages(paid link)* is recommended and used by many breeders of Weimaraners.
The large breed puppy formula is ideal Weimaraner puppy food, made with duck meal, rice and lentils. As duck meal is rich in omega-3 fatty acid, it can help reduce joint inflammation as the puppy grows.
The food is low in protein and fat and has no corn, soy, wheat, fillers, antibiotics, artificial colors, flavors or preservatives.
All in all, it is an excellent food to start your Weimaraner puppy off with.
Best food for Weimaraner seniors
Weimaraners live to be about 11 years old.
Obviously, the better the diet your dog has, the higher chance it has of living longer.
As your Weimaraner ages and becomes less active, he is likely to put on weight. It may be that you can simply cut down on his regular food portions or increase his exercise if he is able.
Aging dogs may have problems absorbing nutrients, including protein. Look for senior dog food that has high quantities of protein, as long as your Weimaraner doesn't have any issues with his kidneys.
Orijen Senior
Orijen Senior(paid link)* is possibly the best dog food brand for Weimaraners in their twilight years, providing plenty of quality proteins.
The food is made up of turkey, chicken, wild-caught fish and free-range eggs.
80% of the protein is from meat and fish, helping to keep an even muscle tone in your aging pet.
The food also contains glucosamine and chondroitin for healthy joints, and is low-glycaemic and low in carbs to maintain your Weim's blood sugar levels.
Canidae Grain-Free Pure Senio
The Canidae Grain-Free Senior(paid link)* has fresh chicken as its first ingredient.
This simple recipe consists of 9 key ingredients which are ideal for dogs with sensitive issues. It uses whole foods for easy digestion, which is crucial for the senior Weimaraner.
This food is ideal for the older dog as it provides all the nutrition that your Weimaraner needs, with a delicious chicken flavor.

Best Dog Food for Weimaraner Dogs
So how do we choose the best dog food for Weimaraner dogs of any age?
We take a look at what makes them Weimaraners, of course!
These pups are one of the most energetic and versatile breeds of dogs in the world today and make excellent companions, especially for active families.
Due to their high energy levels, Weimaraners have special dietary requirements.
When considering the best dog food for your Weimaraner, remember that each dog is an individual. Always feed according to your dog's needs. What works for your dog may not work for another.
The main nutrients a Weimaraner requires are protein, fats and carbohydrates. These should come from good, natural sources.
Always be careful when switching your Weimaraner's food to another brand or type. Make any such changes gradually.
Speak to your vet if you need guidance on what to feed your Weimaraner.
Do you own a Weimaraner? What do you think is the best dog food for Weimanarer pups? Share your thoughts and preferences in the comments section below.
Extra Reading/References
Brizio et al. Consumer Acceptance of Dry Dog Food Variations. Department of Human Nutrition, Ice Hall, Kansas State University
Canine Gastric Dilatation-Volvulus (Bloat) School of Veterinary Medicine Purdue University, West Lafayette, IN 47907-1243 BLOAT NOTES News from the Canine Gastric Dilatation-Volvulus Research Program
June 1995
Clinical manifestations, response to treatment, and clinical outcome for Weimaraners with hypertrophic osteodystrophy: 53 cases (2009–2011)
N Safra, EG Johnson, L Lit, O Foreman… – Journal of the …, 2013 – Am Vet Med Assoc
Determination of optimal dietary protein requirements of young and old dogs
RW Wannemacher Jr, JR McCoy – The Journal of nutrition, 1966 – academic.oup.com
Dermatosis associated with feeding generic dog food: 13 cases (1981-1982).
CA Sousa, AA Stannard, PJ Ihrke… – Journal of the …, 1988 – europepmc.org
Diet affects nutrient digestibility, hematology, and serum chemistry of senior and weanling dogs 1 2 3
KS Swanson, KN Kuzmuk, LB Schook… – Journal of Animal …, 2004 – dl.sciencesocieties.org
Your Dog's Nutritional Needs – Division on Earth and Life Studies
Affiliate link disclosure: Links in this article marked with an * are affiliate links, and we may receive a small commission if you purchase these products. However, we selected them for inclusion independently, and all of the views expressed in this article are our own.