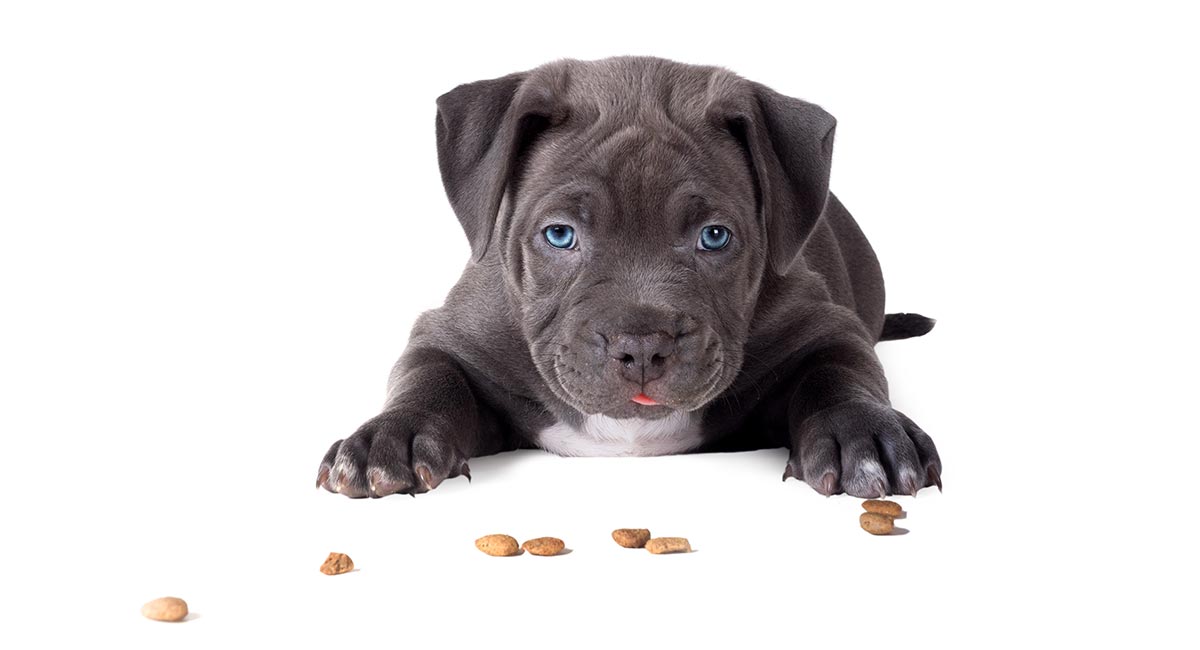 The best dog food for Pitbull puppies will provide all of the nutrition your developing canine friend needs. But it should also be one he enjoys! Pitbull puppies have unique dietary needs. So you need to make sure you feed your puppy a homemade or commercial meal that has all the nutrition he will need at this crucial life stage. As your puppy ages, you will need to change the quantity and type of food you feed. They are prone to some health issues, such as food allergies too.
Contents
New Pitbull Puppy Diet
When you bring your puppy home, make sure you know exactly what the shelter or breeder was feeding him. For the first couple weeks you have your puppy, the best dog food for Pitbull puppies will be whatever they were originally fed. This will allow your puppy plenty of time to get settled into his new home.
Once you are ready to transition into a new Pitbull puppy food, you should do so slowly. You can combine ten percent of the new food with ninety percent of the old on the first day, and then gradually increase the new food over the course of a week. This way, your Pitbull won't experience any digestive upset as a result.
Best Dog Food for Pitbull Puppies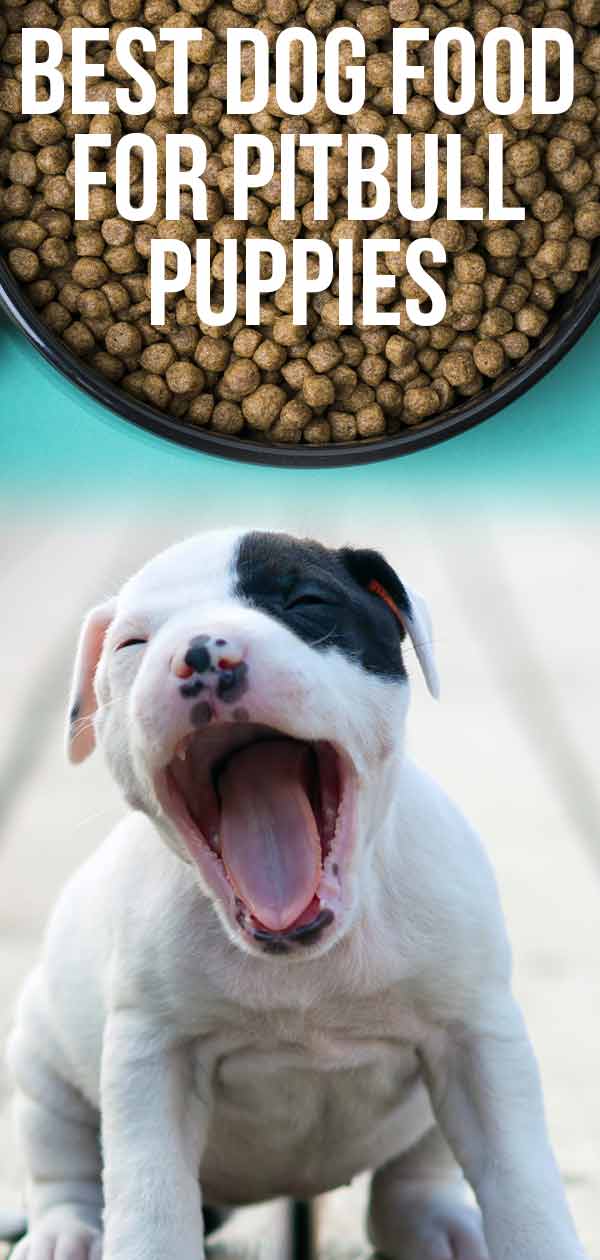 Hill's Science Diet
Hill's Science has several formulas of dry dog food. But the Hill's Science Diet puppy blend(paid link) is perhaps the best dog food for Pitbull puppies if you want a nice, balanced combination of ingredients.
This food comes with ideal levels of calcium and other minerals to help support your pup's bone development. It also has DHA from fish oil to support eye and brain development, along with plenty of lean protein to help your dog build muscle.
Best Dog Food for Pitbull Puppies to Gain Weight
If your puppy started out as a small dog or dealt with a health condition that left him underweight, you may want food for your Pitbull puppy to gain weight. These foods tend to be higher in protein and calories. So you will need less food to provide your Pitbull puppy with additional calories.
Bully Max High Performance
There are a lot of things we like about the Bully Max Dog Food(paid link). It uses real meat as the primary ingredient and has a whopping 535 calories per cup. This is much more calories than you will find in practically any other dog food. This dog food has never been recalled as it is triple-checked before it leaves the facility.
This dog food should not be fed to very young puppies. But is a great option for older puppies and can even be fed to adult dogs. It can even be fed to pregnant or nursing dogs, so it will be a suitable choice for your pup in all stages of his or her life.
Diamond Premium
The Diamond Premium Recipe(paid link) is perfect as a dog food for Pitbull puppies. It has optimal levels of fat and protein to support your puppy, along with DHA from salmon oil to encourage brain and eye development.
This kibble has 31 percent protein with 20 percent fat. Plus, fiber and other essential nutrients.
The ingredients are sourced sustainably from all around the world to help make a difference in this best dog food for Pitbull puppies.
Dry Food
Kibble, or dry food, is one of the most popular and most convenient types of dog food. Generally it is easy to store and can be fed on the go. Kibble comes in all kinds of flavors and is easily digestible. Try to avoid fillers like corn, wheat, and fructose whenever possible.
Blue Buffalo Wilderness
The Blue Buffalo Wilderness dry dog food(paid link) is a great choice for Pitbulls. Not only is it loaded with real chicken to satisfy your Pitbull puppy's cravings for meat, it also contains lots of protein to encourage early muscle growth and development.
This food also contains the fatty acids that are in a mother's milk, such as DHA and ARA, to help support the retinal health and cognitive development of your Pitbull puppy. It does not contain fillers like corn, soy, wheat, or preservatives.
Keep in mind that this is a dog food you will want to store in a cool, dry setting. Although it is not a wet food that spoils easily, it can go bad outside or in a hot garage.
Eukanuba Puppy
Eukanuba makes many different flavors of dry dog food for young puppies, but the Eukanuba Lamb and Rice formula(paid link) is one of the most popular. Lamb is the first ingredient in this food, which can be fed to puppies until they reach 54 lbs.
This food provides your puppies with all the energy they need from carbohydrates, fat, and of course, protein. It has very small kibbles that are easy for your Pitbull puppy to digest.
Pouches and Cans
Wet dog food is another popular choice for feeding Pitbull puppies. Wet food contains about 75 percent water, and it makes it aromatic and flavorful for your Pitbull puppy to enjoy. Unfortunately, it spoils more easily, and it does not offer the same teeth-cleaning effect as dry kibble.
If you are feeding wet food, make sure you only feed wet food exclusively if the product says it may be fed this way. Otherwise, a Pitbull puppy that is fed only wet food may develop diarrhea.
Cesar Gourmet
If you have a picky eater on your hands, the Cesar Gourmet Wet Dog Food Variety Packs(paid link) might be a good option. There are plenty of flavors to choose from in these wet trays, including filet mignon and rotisserie chicken.
These wet foods are made without grains. They can be fed to adult and puppies alike but you will not want to give your puppy a full tray. Only about half or a quarter of a tray mixed with some dry puppy food to help clean his teeth and prevent diarrhea.
Nutro Puppy
Another good dog food for Pitbull puppies is the Nutro Puppy Wet Dog Food(paid link). This food comes in multiple different flavors, such as lamb and potatoes. Meat is always the first ingredient in these wet foods, and they are always grain-free to help encourage rapid growth.
These wet dog foods are made with non-GMO ingredients and have the perfect amount of protein to help your puppy develop healthy muscles, bones, and joints. You can get it as a chunk formula or pate formula depending on which style your puppy prefers.
How Much Food Do They Need?
As a general rule you need to give your puppy the amount of food specified on the packaging. If your pup seems to be losing or gaining weight, you simply adjust their portions by around 25% a day until things balance out for them.
We feed our puppies on kibble predominantly, because it makes it easier to divide up use their food for more than just meals. At the start of each day I weigh out their daily ration, and spread it into five bowls. Four of them will be spaced out throughout the day as traditional meals. The last bowl is used as training treats, both for formal positive reinforcement training and just to reward and encourage behaviors I want to see.