The best chew toys for German Shorthaired Pointer dogs are engaging and built to last.
If you find a toy that can encourage activity and exercise as well, all the better, since German Shorthaired Pointers need regular exercise in order to stay healthy and happy.
German Shorthaired Pointers are a larger breed.
As such, you don't want to get any chew toys small enough that they could swallow or even choke on.
The Five Best Chew Toys for German Shorthaired Pointers
There's a reason that there are so many of this classic toy lying around shelters and doggy homes.
Since they are super durable, they never end up thrown away or otherwise discarded.
On top of that, the company offers lifetime replacement.
So even if your German Shorthaired Pointer finds a way to destroy this chew toy, you can get a new one at no additional cost.
It doesn't have any fancy features like texture or flavor, but we've got plenty of other products coming up to satisfy those needs.
This product is built simply and to last.
It is ideal for obsessive and aggressive chewers.
This chew toy has several features that are well suited to smart, active breeds like the German Shorthaired Pointer.
First, it's extremely durable, which is always welcome with potentially aggressive chewers.
It's also textured, easy to clean, and flavored.
Each of the four knobs are textured differently to give your dog some variety.
The smooth trunk and branches offer another type of sensory stimulation while also making this chew toy easy to wipe clean.
It is also bacon flavored to engage your dog's olfactory senses while keeping food-driven dogs interested.
The axis bone power chew from Nylabone is built from the manufacturer's toughest material, making it ideal for long chewing sessions.
It is also textured to keep your German Shorthaired Pointer interested, while also helping to clean their teeth.
The shape helps keep your dog engaged while providing angles to hold with their paws.
The winged shape of this chew toy is multipurpose.
The unfamiliar shape, texture, and flexibility of this toy engages your GSP on a sensory level while the wings get between teeth for cleaning.
This toy is also super durable, so aggressive, powerful chewers won't be a problem.
If you're looking for a chew toy that might also be good for fetch, this product is made from high-bounce rubber.
This is our favorite toothbrush chew toy for its smart structure and design.
The firm bristles do wonders for dogs' teeth and the multistem brush allows the dogs teeth to move between two teeth cleaning arms.
This cleans the entire tooth as the dog enjoys thorough chewing sessions.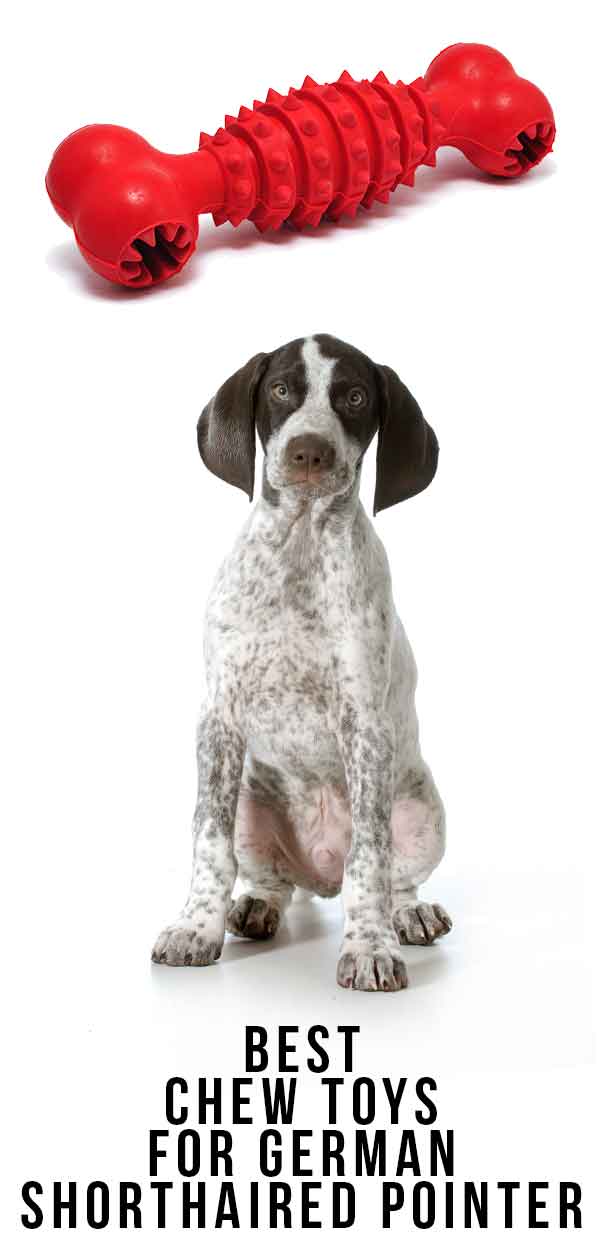 The Importance of Chew Toys for German Shorthaired Pointers
From a human perspective, chewing can be one of our dogs' most annoying habits.
But for our dogs, chewing is an important activity that supports their health and well-being.
As puppies and young dogs, German Shorthaired Pointers chew things to ease the discomfort of teething.
But more than that, chewing is a huge part of how they explore their environment and learn about the differing properties of things in it.
As adult dogs, German Shorthaired Pointers chew to strengthen their jaws, clean their teeth, and, yes, test the strength of new objects and materials they meet.
GSPs are intelligent dogs with an enormous capacity for learning.
As their owners, it's our job to provide interesting and stimulating experiences: training, brain games, exercise, and toys they can safely chew on.
Using the best chew toys for German Shorthair Pointers is just one way of providing the stimulation their mind and muscles need.
Important Features for German Shorthaired Pointer Chew Toys
With these needs in mind, let's see what to look out for if you're trying to find more chew toys for German Shorthaired Pointers.
Knowing that your German Shorthaired Pointer is a smart and active breed, you'll probably want a mix of toys.
Simple toys that can satisfy the brute force of a good chomp-athon and more complex toys that give your GSP something to think about too. It also distracts them from potentially unpleasant habits like chewing their own paws. 
Anything that gets your German Shorthaired Pointer moving will also help expend a bit of energy that you might have noticed building up over the day.
Exercise, Food, and Endurance
If a product encourages exercise, that's a good indicator of a great German Shorthaired Pointer chew toy.
Treat or food toys are great options for German Shorthaired Pointers, as well.
These slow down a German Shorthaired Pointer when eating, which can help prevent bloat.
Other chew toy options act as puzzles that must be solved in order to get food or treats, which allow your German Shorthaired Pointer to engage their problem-solving side.
Finally, these chew toys should be durable.
German Shorthaired Pointers don't have the strongest bite force, but they do have energy and enthusiasm in spades, which can spell a quick end for a popular toy.
Best Durable Chew Toys for German Shorthaired Pointers
If your German Shorthaired Pointer is an aggressive chewer who falls hard for their favorite toys and chews them until they break, then choosing one of these extra durable toys will prolong their enjoyment.
Zogoflex Skamp https://www.amazon.com/West-Paw-Skamp-Stick-Zogoflex/dp/B07NSG3DQP
The Zogoflex has several options, including different sizes, shapes, and functionality.
The super durable Zogoflex is built to be the last chew toy that you'll need to buy, as it is so durable.
The Zogoflex comes in four colors and a wide variety of shapes.
SHINCO EETOYS Dog Chew Toy https://www.amazon.com/SHINCO-Indestructible-Aggressive-Resistant-Toothbrush/dp/B07P4MPVD6
This chew toy has several awesome features, but we love their durability most of all.
It also has a bacon scent to build positive associations with toys and promote engagement.
It's also grooved for mouth sensory stimulation and teeth cleaning.
EETOYS Dog Chew Toys for Aggressive Chewers https://www.amazon.com/EETOYS-Aggressive-Chewers-Indestructible-Non-Toxic/dp/B07KSY1WBH
This chew toy is, you guessed it, extremely durable, but it also includes a lifetime replacement guarantee in case you have a super chewer.
This toy also has grooves for tooth health, which have the secondary purpose of holding peanut butter as an occasional treat.
Best Large Chew Toys for German Shorthaired Pointers
You'll want to ensure that a chew toy is not too small for a particular breed since they might be swallowed or choke your dog.
Larger toys can also help with aggressive chewing, as there is more toy to work through before it becomes unusable.
Zogoflex Zwig Squeezy Dog Stick Toy for Large Dogs https://www.amazon.com/West-Paw-Squeezy-Stick-Zogoflex/dp/B07D1FCY97
The Zogoflex has tons of options available, but one that might be particularly attractive to German Shorthaired Pointer owners is the large Zogoflex for bigger breeds.
Don't forget, this is also an extremely durable chew toy.
LECHONG Durable Dog Chew Toys 13 Inch Bone https://www.amazon.com/BLUEISLAND-Durable-Aggressive-Chewers-Cleaning/dp/B07D1XNGGL
Similarly, this chew toy is made for larger breeds.
It also has several other features, such as two handlebars in case you want to get in on the fun with your German Shorthaired Pointer.
It also has texture for stimulation and tooth cleaning during chewing sessions.
Best Interactive Chew Toys for German Shorthaired Pointers
German Shorthaired Pointers are smart dogs.
Any chew toy that is able to engage their natural curiosity and intellect with be a sure-fire hit.
These two chew toys attract your dog's attention with some special features, which promotes activity with the chew toy.
Let's take a look at exactly how each model accomplishes this.
Pet Qwerks X-Tire Interactive Ball https://www.amazon.com/dp/B000TM8QK0/ref=emc_b_5_i
This fun toy isn't designed to withstand really aggressive chewing, but the rugged exterior means that it can tolerate a lot more biting than most interactive toys.
This model makes 20 different animal noises to catch your dog's attention and keep them engaged.
But be warned: it only has one volume level, and some purchasers report that it is a little loud!
Wisedom Interactive Food Dispensing Puzzle Toy https://www.amazon.com/dp/B07VVKHDJT/ref=sspa_dk_detail_0?psc=1&spLa=ZW5jcnlwdGVkUXVhbGlmaWVyPUExRkRGN0xKUE1DOTJOJmVuY3J5cHRlZElkPUEwMTU5MzIzMVFHUFpZRUNZOTFMViZlbmNyeXB0ZWRBZElkPUEwODUyMzQzRjhVODY1U0RKUVM1JndpZGdldE5hbWU9c3BfZGV0YWlsMiZhY3Rpb249Y2xpY2tSZWRpcmVjdCZkb05vdExvZ0NsaWNrPXRydWU=
This funky chew toy looks like a spaceship, but that central chamber isn't just for show.
It can be stuffed with treats so your GSP can go beyond just chewing this toy and puzzle out how to release the treats as well.
Previous buyers say it stands up well to heavy chewing and provides hours of enjoyment.
Some have even managed to use it as a slow feeder!
Best Chew Toys for German Shorthaired Pointers with Treats or Flavors
German Shorthaired Pointers are natural hunting dogs.
This means they are often quite food or smell motivated.
Any toy that tastes or smells like food, or that actually dispenses food, will build positive associations with that toy and promote long, anxiety-reducing chewing sessions.
This is known to help with separation anxiety, as well.
CHLEBEM Interactive Dog Chew Toy Ball https://www.amazon.com/Interactive-Medium-Boredom-Dispensing-Durable/dp/B07QS2QNT4
One great way to promote activity during chewing sessions is to use treat dispensing puzzle chew toys.
These require the dog to use both physical activity and intelligence to get at the desired treat.
And once they are done, they can relax with the ball for a nice chew session.
This product also has ropes, which makes it multifunctional as a tug-of-war chew toy.
Zogoflex Treat Dispensing Chew Toy https://www.amazon.com/West-Paw-Interactive-Dispensing-Aggressive/dp/B072YZ3QVV
Zogoflex has one last great toy for German Shorthaired Pointers.
This super durable toy dispenses treats when bitten down hard enough in the correct spot.
This is great for engagement and also increases activity use to help your dog work off some extra energy.
Best Textured Toothbrush Chew Toys for German Shorthaired Pointers
Dental health is essential for all dogs, and keeping their teeth free from plaque, tartar, and decay is one of the original purposes of chewing for dogs.
Almost all breeds need at least one chew toy that acts as a toothbrush in order to keep their mouths healthy.
Dental disease is devastating for dogs, so make sure you're encouraging tooth health with the right toys.
Anything textured will help clean your German Shorthaired Pointer's teeth, and some toys are designed specifically to act as toothbrushes during chew sessions.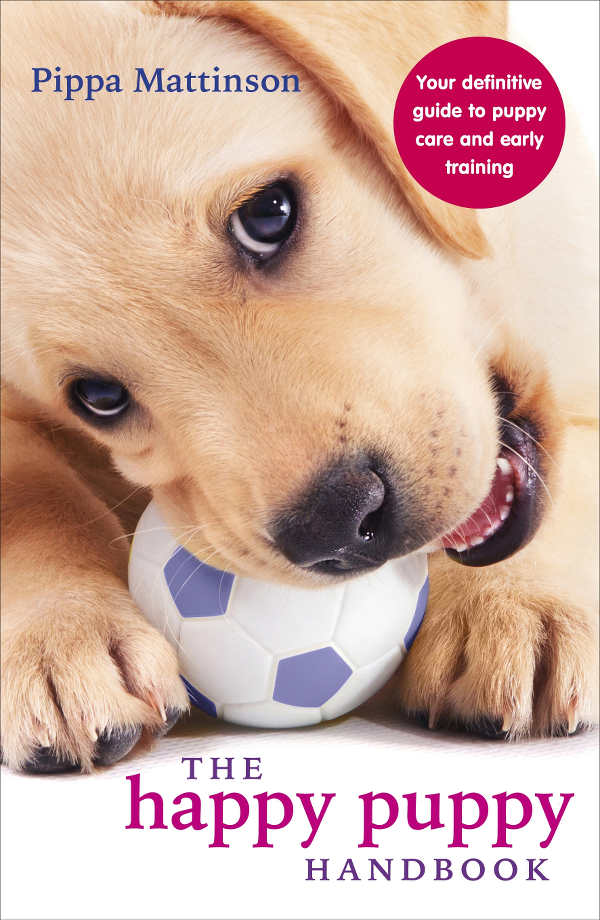 PTWOD Dog Chew Toothbrush Dog Teeth Cleaning Toys https://www.amazon.com/PTWOD-Toothbrush-Cleaning-Natural-Brushing/dp/B07TMKZGFB/
From our favorites list, this chew toy for German Shorthair Pointers is designed to clean and shine your dog's teeth as he goes.
Gucho Durable Dog Chew Toys for Aggressive Chewers https://www.amazon.com/GUCHO-Durable-Chew-Aggressive-Chewers/dp/B07V543G22
If you own or like the very first product in this article, this model serves as a sort of update.
Rather than the classic smooth ring, this model adds texture to promote tooth health while maintaining the same level of unbeatable durability.
It also includes a lifetime replacement guarantee, in case your dog somehow finds a way to chew through it.
PTREWOD Silicone Toothbrush Stick https://www.amazon.com/PTREWOD-Toothbrush-Silicone-Resistant-Effective/dp/B07WYCD435/ref=sr_1_18?crid=NM8DLDAAKT51&keywords=dog+toothbrush+chew+toy&qid=1569929396&s=gateway&sprefix=dog+toothbrush+%2Caps%2C290&sr=8-18
Slightly smaller, this tooth cleaning chew toy is excellent for young German Shorthair Pointers and GSP puppies.
Best Natural Chew Toys For German Shorthaired Pointers
Purchasing natural, ethically sourced products is always a worthy endeavor, and when it comes to animal products, that goes double.
In addition to helping you sleep at night, natural products are great for hunting dogs like German Shorthaired Pointers, which respond particularly well to natural flavors and scents that mimic the flavors they are wired to search for and enjoy.
Pet Parents Gnawtlers – Premium Elk Antlers https://www.amazon.com/Gnawtlers-Naturally-Specially-Selected-Heartland/dp/B01M8O0T4K
While most bones are not suitable chew toys, elk antlers can actually be excellent chews for aggressive chewers, as they don't splinter.
They are also great for teeth and contain large amounts of protein.
We prefer this product, as these antlers are ethically sourced from natural elk shedding.
Yak Snak Dog Chews – All Natural Hard Cheese Himalayan https://www.amazon.com/Himalayan-Yak-Snak-Chew-Preservatives/dp/B00P5D1Z88
These all-natural hard cheese chew toys are great, as they are ever-so-slightly malleable, so they never splinter or break into dangerous pieces.
They take forever to work through, even with aggressive chewers.
And when they do eventually become too small to allow your dog to chew, you can put them in the microwave, and they puff up to become a yummy edible treat!
It's like having a chew toy, healthy rawhide alternative, and treat all in one long-lasting product.
Best Chew Toys For German Shorthaired Pointers
There are huge numbers of chew toys available that would be ideal for German Shorthaired Pointers.
At the end of the day, if a chew toy stimulates your dog intellectually or physically, it's probably a good option, but you'll just need to do some research to make sure that it is a safe and durable chew toy.
Do you already have a great German Shorthaired Pointer toy, or are you wondering about a potential purchase?
Comment below with a recommendation or questions on the best chew toys for German Shorthaired Pointer dogs!
References
Hall, N. J., and C. D. L. Wynne. "The Canid Genome: Behavioral Geneticists' Best Friend?" Genes, Brain and Behavior, 2012.
Svartberg, Kenth, and Björn Forkman. "Personality Traits in the Domestic Dog (Canis Familiaris)." Applied Animal Behavior Science, vol. 79, no. 2, 2002.
Ramsey, Dt, et al. "Ophthalmic Manifestations and Complications of Dental Disease in Dogs and Cats." Journal of the American Animal Hospital Association, vol. 32, no. 3, 1996.
Schwartz, Stefanie. "Separation Anxiety Syndrome in Dogs and Cats." Journal of the American Veterinary Medical Association, vol. 222, no. 11, 2003.