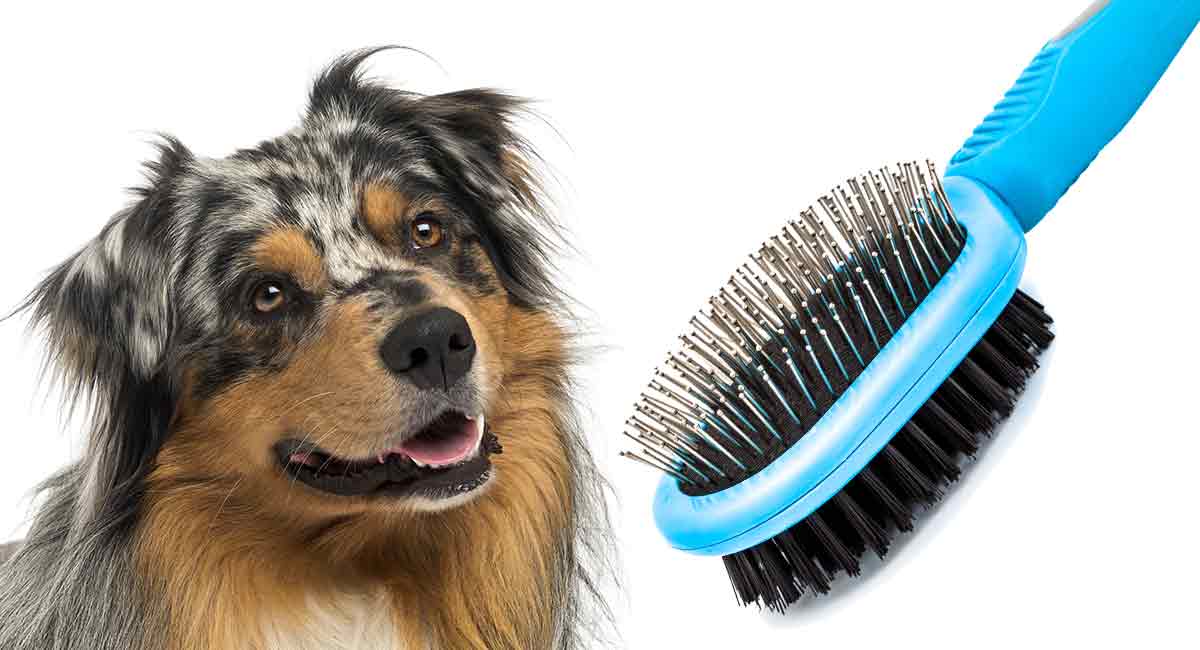 The Australian Shepherd is smart, outgoing and energetic. They also have a gorgeous but fairly high maintenance coats. The best brush for Australian Shepherd dogs can handle their long, sleek fur, while still being gentle on their skin. We have shortlisted the top choices for this beautiful breed, helping you to find the right brush for your dog's unique needs. Including undercoat rakes, brushes and combs to add that finishing body and shine.
Contents
About The Coat
The Australian Shepherd's gorgeous coat is just one of many features owners and breeders love about this dog breed. As with so many working dog breeds, the Aussie's coat has two layers. The top layer is naturally water and weather-resistant, with coarse, longer fur. The lower layer that sits next to the skin is much softer and finer for insulation. This specialized coat protects the skin from abrasion and infection, and helps your pup with temperature control year-round. But to do its job properly, the Aussie's coat also must shed frequently.
These dogs will shed continuously all year long. As well, when the seasons change twice a year, you can expect a memorable event owners call the "coat blow," when both layers of the coat shed out copiously. This is when you really want to be sure you have chosen the best brush for Australian Shepherd dogs because you will be using it a lot.
How Often Should You Groom Them?
During the twice annual "coat blow" event, you can plan on reaching for your dog's brush at least daily. In some cases, it's possible to need this brush two times a day. But what about other times of the year when your dog isn't shedding so much?
Outside of the big coat sheds, it is possible to get away with just weekly or twice-weekly brushing and grooming. However, if you have a true working Aussie, you will probably need to plan on brushing your dog down after each work shift ends. After all, that lovely, thick coat can pick up quite a bit of dust and debris.
The Best Brush for Australian Shepherd Dogs
You will want to make sure your grooming toolkit includes:
undercoat shedding rake
slicker brush
steel comb
bristle brush
detangling spray
Detangling Spray and Coat Conditioner
It is not generally advisable to brush your Aussie when the coat is completely dry. This can cause hair breakage and unnecessary discomfort if you encounter mats or tangles. Spritzing on some diluted conditioner or a dog detangling spray will make the whole process easier and comfier for you both.
Sofee & Co. Natural Dog Conditioner
This lovely dog-safe conditioning formula*(paid link) can be diluted in water in a spray bottle to help deodorize, detangle and ease dry, itchy skin. The formula is safe for puppies.
The Stuff Conditioner & Detangler
This silicone-based conditioner and detangling spray*(paid link) is designed to create a barrier against dust and debris. Helping to prevent future tangles from forming. It is pH-balanced for a dog's skin and is non-toxic and hypoallergenic.
Undercoat Rake
An undercoat rake is generally used as "step one" when brushing and grooming an Aussie. The undercoat rake is typically the tool of choice to reach all the way down through that thick double-layer coat. Working to lift out dead, shed hair, stimulate the skin circulation and distribute nourishing oils through the coat.
Coastal Pet
This economical and highly rated long-tooth undercoat rake*(paid link) has a comfortable, non-slip, ergonomic handle. It also has wide, long pins to help extract shed hair out of the deepest layers of your Aussie's coat.
Nomad Co. Dog Rake
This de-shedding and detangling undercoat rake*(paid link) states it can reduce grooming time by up to 90 percent. Owners say it is worth its reputation and does a great job with thick, double-coated breeds. The handle features a safe and comfy, non-slip silicone grip.
FURminator Dog Rake
FURminator fans swear by this company's dog grooming product line. This long-tooth, undercoat rake features rotating rounded stainless steel pins*(paid link) for skin and coat comfort. And a curved shape that follows the contours of your dog's body.
Steel Combs
A steel comb is a perfect partner to the undercoat rake. The steel comb's job is to remove dirt, debris, leaf litter and other trapped matter that may later cause tangles and mats to form in the coat.
Poodle Pet Detangling Tool
This comb has both long and short stainless steel round-tip teeth*(paid link) to act as both an undercoat rake and a debris extractor. The manufacturer states it can cut grooming time by 50 percent. Owners say this is accurate. The handle features an anti-slip grip.
Andis Premium 7.5-Inch
This steel grooming comb*(paid link) features rounded stainless steel tips and a half-and-half design. The teeth are closer together at one end and wider apart at the other. This design makes it easier to groom larger and smaller areas with one tool.
Hertzko 2 Pack Pet
This special two-pack comb set*(paid link) features stainless steel round-tip teeth with comfy, no-slip ergonomic handles. The smaller comb is perfect to tuck into your dog's day bag for travel.
Slicker Brushes
A slicker brush can be viewed as "step two" when brushing and grooming an Aussie. The slicker brush comes along behind the rake and comb to brush and groom the outer coat. It can also be used for gently working out any tangles or mats you may encounter while aerating the coat.
Safari Self-Cleaning Slicker
This slicker brush*(paid link) comes in small, medium or large sizes. It features a convex shape that follows the natural curves of your dog's body as you brush.
GoPets Professional
This slicker brush features the curved slender pins*(paid link) so popular with many Aussie owners and groomers. The tool also has a single-push button for easy cleaning and a soft, silicone-filled grip.
Chris Christensen
This high-end, professional-quality, long pin slicker brush*(paid link) boasts 40 percent more pins than the leading competitor.
Pin and Bristle Brushes
The pin and bristle brush is "step three" in an Aussie's full brushing and grooming routine. This brush feels great to your dog's skin. It also helps to continue to aerate the coat, and add body and shine to the outer coat.
HaloVa Professional
This high-quality, two-in-one brush*(paid link) features a natural bamboo wood handle, air vents for safe use during blow drying and round-tip pins for your dog's comfort.
Wahl Pin and Bristle
This highly rated pin and bristle brush*(paid link) comes in small, medium and large sizes with a soft-grip, ergonomic handle and comfy round-tip teeth for your dog's safety.
BV Pet 2 In 1
This popular, affordable pin and bristle brush*(paid link) features round-tip teeth and soft nylon bristles for effective, comfortable grooming and brushing.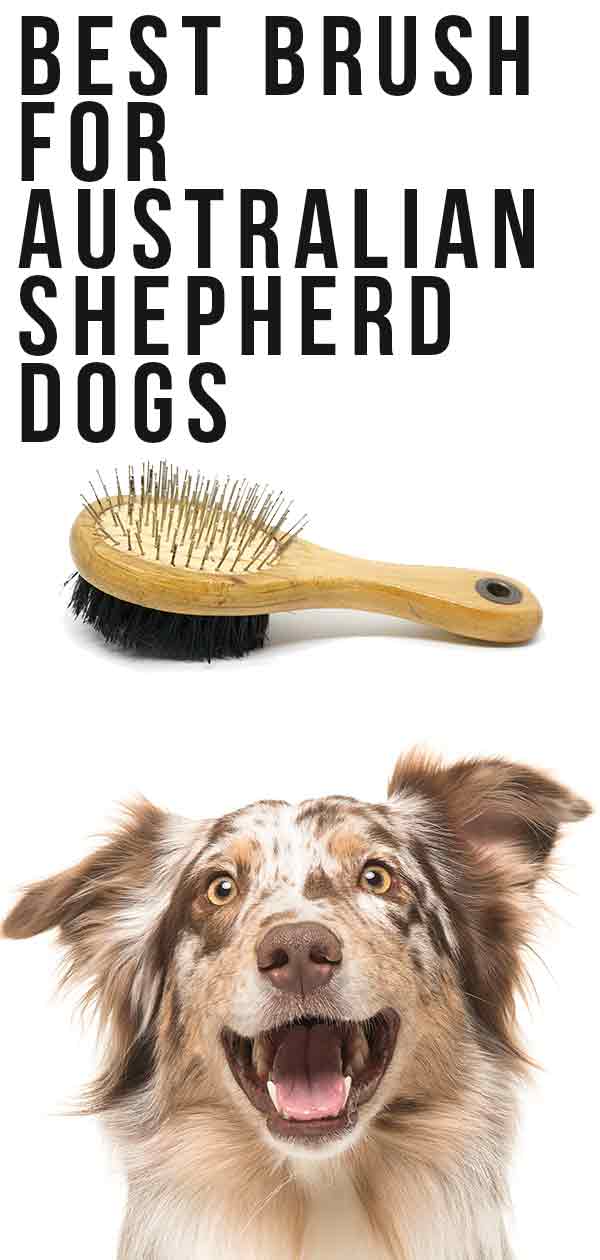 Affiliate link disclosure: Links in this article marked with an * are affiliate links, and we may receive a small commission if you purchase these products. However, we selected them for inclusion independently, and all of the views expressed in this article are our own.