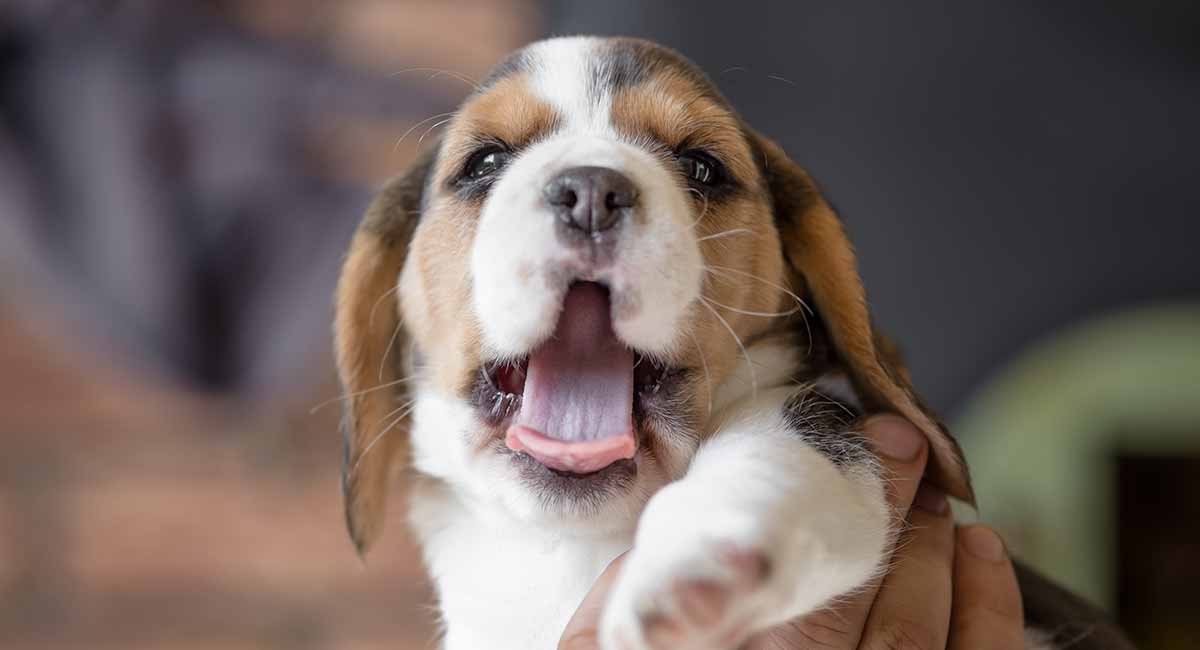 A baby Beagle is born completely helpless. They have a lot of growing and developing to do before they are ready to leave mom and join a new family! Between birth and 8 weeks old they will open their eyes, learn to walk, and discover how to bond with people and other dogs. Today we'll share how your baby Beagle will develop, and how you can best support them to grow up into a happy, healthy old Beagle in the future.
The Inimitable Beagle
Originally bred to be hunting dogs, Beagles are well known for their compact build and a good sense of smell.
They are the sixth most popular dog breed in the US largely due to their friendly and loving temperaments.
Their large heads and floppy ears look adorable when they are small, attracting many potential owners to get a baby Beagle.
Thinking about getting a baby Beagle?
In this article, we will be looking at the Beagle from birth to the day they arrive home with you.
Read on to learn about the baby Beagle's diet, appearance, and milestones in their developments.
A Baby Beagle Is Born!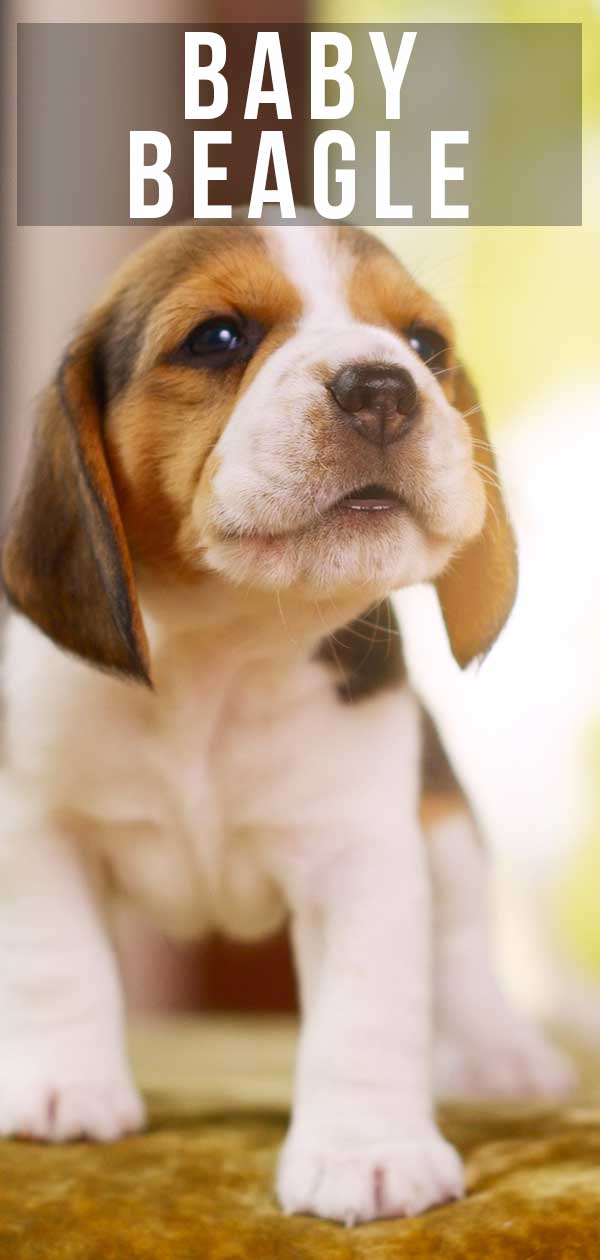 After being born, your baby Beagle will stay close to their mother to keep warm as they are unable to maintain their own body heat.
They will also nurse from their mother soon after being born. Their mother's milk will provide them with essential nourishment to boost their immune systems, protecting them for later in life.
The average litter size of a Beagle is six puppies, so your baby Beagle will have around five siblings.
Newborn Beagles
Beagles are born with closed eyes, no teeth, and are unable to hear or walk.
They will have short, white fur with spots of black or tan and will weigh 5 – 10 ounces
At this stage, they will not do much apart from rest and nurse from their mother.
One-week-old Baby Beagle
A one-week-old baby Beagle should be slightly larger with stronger front feet, allowing it to pull itself towards its mother.
Their eyes and ears will still be closed, and they will spend the majority of its time nursing.
If uncomfortable or wanting to be nursed, they may cry to attract their mother's attention.
They still won't be able to maintain their own body heat so will snuggle up to their mother and siblings for warmth.
Two-week-old Beagle
During their second week of life, a baby Beagle's eyes will begin to open. They won't be able to see much at this stage.
They will have stronger legs and should continue to gain weight and grow.
They will rely on their mother to encourage bowel and bladder movements by licking their behinds.
Three-week-old Baby Beagle
Your baby Beagle will experience a lot of changes during its third week.
Their eyes and ears will have opened so it will be keen to explore, but they should still spend the majority of its time with their mother and siblings.
A baby Beagle's muscles and sense of balance will undergo a lot of development during this time as they start trying to stand and walk.
They will begin interacting with their siblings as they play with one another.
Growth and weight gain should continue to happen rapidly at this stage, with your baby Beagle now weighing 1 – 1.5 pounds.
Four-week-old Beagle
A four-week-old baby Beagle will start becoming very active and energetic. They will be strong enough to stand, walk and play.
They will not need their mother as much and will be able to empty their bladder and bowels without her aid.
Your baby Beagle will begin learning bite inhibition at this time through playing with their siblings and mother. If your puppy bites too hard, they will make a noise to show that it hurt.
Their teeth will start developing and its personality will really begin to shine through.
Five-week-old Baby Beagle
At this age, your baby Beagle will start barking and playing with toys.
They will be more receptive to interactions with humans so can be handled more frequently.
Weaning will begin during this stage, so your baby Beagle will require less attention from their mother.
They will become very curious throughout this time and should continue to explore and experience new things. The more new things they experience during this stage, the less fearful they are likely to be later in life.
Six-week-old Beagle
By the end of their sixth week, your baby Beagle should be fully weaned and able to eat solid foods.
They may occasionally nurse from its mother but does not need to do so.
During this stage, they will become very independent and will want to use their great sense of smell to explore.
They should weigh around 2.5 lbs and have a full set of teeth.
Seven-week-old Baby Beagle
It is your baby Beagle's final week with their breeder before they come home with you.
By this point, they should be on a solid food diet and be fully independent.
Potty training may begin during this stage, but their bladder and bowel muscles won't be fully developed so accidents may still occur.
This stage is often a fear imprinting period meaning your baby Beagle may start showing signs of fearfulness towards unusual sounds or sights.
Eight-week-old Beagle
It is time for your baby Beagle to come home!
At this age, they should weigh around 3 pounds and have a rounded shape. They will no longer need their mother and will be completely adjusted to a solid food diet.
Your baby Beagle will still be undergoing serious changes and developments during this stage of life. So, you should ensure they're receiving a suitable diet to support this.
What Should Your Beagle Puppy Eat?
That means their food should contain high-quality protein sources such as poultry or fish to support muscle growth.
In addition, it should also be rich in calcium and phosphorus to aid bone formation, and essential fatty acids to aid vision development.
Beagles are prone to developing obesity which can cause joint problems and heart disease. Therefore, it's worth keeping an eye on their calorie intake.
How many meals you feed your Beagle depends on its activity levels, but in general, it should receive around four meals daily at this age.
To read more about what you should feed your Beagle, you can read our guides on the best puppy food for Beagles and feeding Beagle puppies.
How Much Should Your Beagle Puppy Sleep?
Around 18 hours of your baby Beagle's day will be spent sleeping.
But they will be very hyper and explorative when awake.
Exercising Your Beagle Puppy
They will require a lot of exercising to meet their high energy needs, so make sure you are able to give your baby Beagle lots of play time.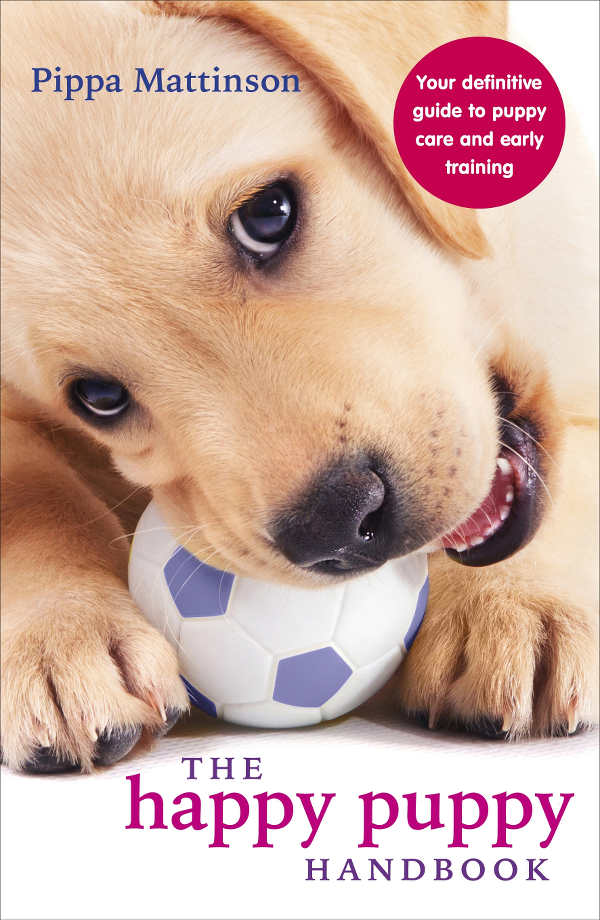 At this age, they can't go on walks because they won't have had their last vaccination boosters yet. Exposure to the outdoors could put them at risk of contracting a serious disease.
Potty Training
Now their bowel and bladder muscles are almost finished developing, potty training can begin if it hasn't already.
Baby Beagles will need to 'go' very frequently. So we recommend protecting any carpeted areas when you first your Beagle home.
To train your Beagle, you can use our puppy potty training schedule to help keep you on track.
Biting Issues
As with other breeds, Beagle puppies are inclined to bite. They usually do this as a form of play or because they're teething, but it can be very painful.
Purchasing chew toys or carrying out training is recommended to avoid potential injuries. You can read more tips on our guide to stopping a puppy from biting.
Final Thoughts
If you provide your baby Beagle with the best quality of care, it should thrive in its new home throughout puppyhood and adulthood.
Remember that the transition period into its new family may be distressing for your young Beagle.
If they do not seem to be settling in after a few days or you are concerned about their behavior, contact your breeder for advice.
Enjoy your new family member!
Readers Also Liked
References and Further Reading
Xy J et al. 2015. Secreted phospholipase A2 inhibitor modulates fatty acid composition and reduces obesity-induced inflammation in Beagle dogs. The Veterinary Journal.
Phillips A. 2011. The Beagle Best of Breed. The Pet Book Publishing.
Hawthrone AJ et al. 2004. Body-weight changes during growth in puppies of different breeds. The Journal of Nutrition.