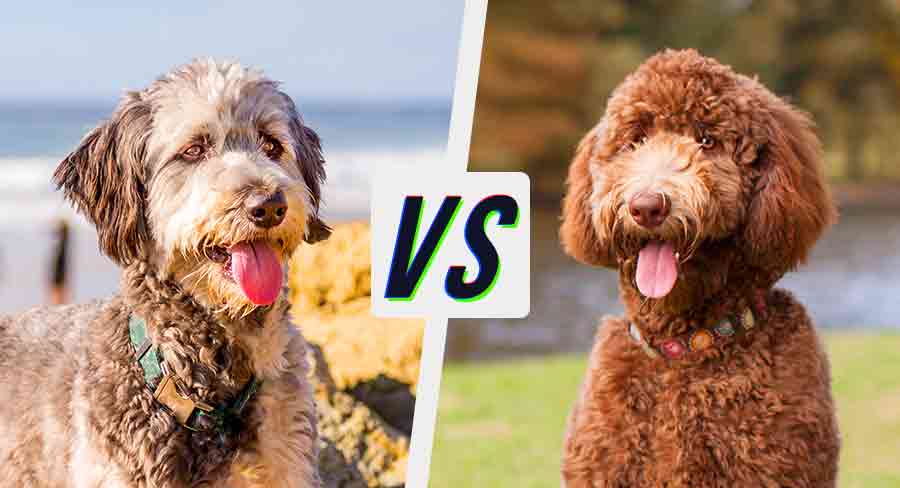 Aussiedoodle vs Labradoodle – which Doodle cross is right for your family? The Aussiedoodle and Labradoodle mixes both have one purebred Poodle parent, but they can still be quite different from one another. Generally, the Labradoodle is larger with slightly lower energy, but both mixes tend to be intelligent, active and affectionate pets.
Mixed breed dogs like these can inherit any mix of traits from their parents, so even puppies from the same litter can be quite different. Because of this, you must be prepared for any potential outcome with either cross. So, let's take a closer look at the Aussiedoodle vs Labradoodle debate to see which dog is right for your home and family.
Aussiedoodle vs Labradoodle at a Glance
| | | |
| --- | --- | --- |
| | Aussiedoodle | Labradoodle |
| Parent Breeds: | Australian Shepherd and Poodle | Labrador Retriever and Poodle |
| Height: | 15 – 23 inches | 15 – 24.5 inches |
| Weight: | 40 – 70 lbs | 40 – 80 lbs |
| Temperament: | Energetic, intelligent, hard-working | Clever, friendly, affectionate |
| Coat Type: | Anywhere between the two parents | Wool, fleece, or hair |
| Coat Colors: | Wide variety | Wide variety |
| Activity Level: | High | High |
| Puppy Price: | $800 – $2500 | $900 – $3500 |
Aussiedoodle vs Labradoodle History
Compared to many purebred dogs, the Aussiedoodle and Labradoodle are both quite modern mixes. The Labradoodle as a deliberate mix has an older history than the Aussiedoodle. The Labradoodle mix originated in the 1980s, when creator Wally Conron attempted to breed a low shedding guide dog. Since then, the breed has only grown in popularity, becoming a common choice for a family pet in recent years.
In the wake of the Labradoodle's popularity, other breeders have sought to make their own Doodle mixes. The Aussiedoodle is just one of many emerging hybrid dogs. These subsequent Poodle mix dogs are usually bred as family pets, rather than for any specific working purpose.
The Labradoodle mix has two commonly recognized strains – the Australian Labradoodle and the American Labradoodle. Whilst the American strain contains only the Poodle and Labrador pure breeds, the Australian variety can contain up to 6 different purebred dogs. Advocates of the Australian Labradoodle are working hard to establish the breed and gain recognition. In contrast, the Aussiedoodle has only one commonly recognized strain – the Australian Shepherd and Poodle mix. Neither mixes are currently recognized by the AKC or the Kennel Club.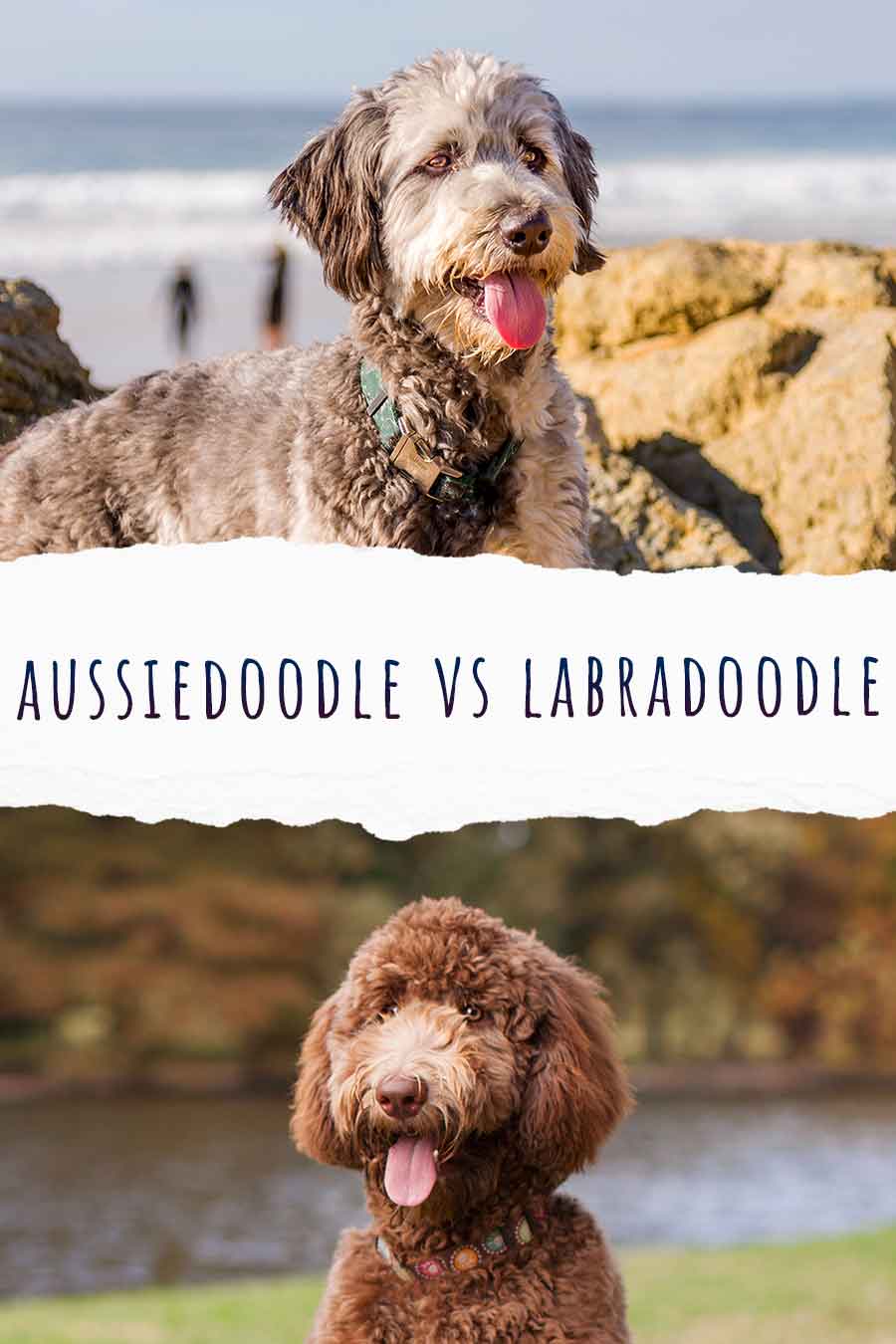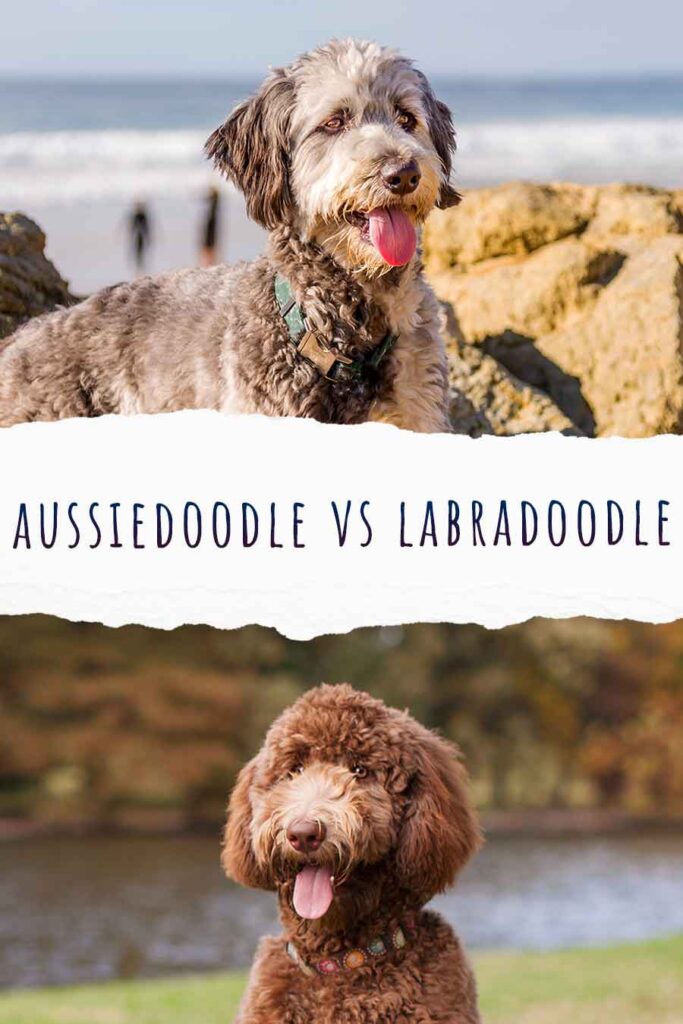 Aussiedoodle vs Labradoodle Appearance
One thing that makes Doodle mixes such popular family pets is their 'teddy bear' appearance. So, is this something you can expect from the Aussiedoodle and Labradoodle breeds?
As we've already mentioned, mixed breed puppies can inherit any blend of traits from their parents. And with first generation mixes (those that have two purebred parents), the results can be quite varied. Because of this, you must be prepared for any outcome. Let's break the appearance of these two popular hybrids down into a few categories to get a closer look.
Coat Type
One of the major reasons for a Poodle parent in both of these mixes is the low-shedding, curly coat. It's a popular choice for owners with dog allergies. Breeders often hope to achieve this low-shedding coat, to combine this trait with the best features of the other purebred dogs they include in their hybrids.
However, both Australian Shepherds and Labrador Retrievers have thick, double layered coats that shed moderately all year round, and heavily during high shedding periods. So, there's a chance that Aussiedoodle and Labradoodle puppies will inherit this type of coat, rather than the Poodle coat. They may also inherit something in between – a wavy coat that might be low or high shedding.
Generally, there's no way of knowing which coat type a first generation mix will inherit until it is born and has shed its puppy coat. But, breeders can increase the chances of getting a low-shedding coat in subsequent generations of puppies. By mixing Aussiedoodles and Labradoodles that have the most Poodle-like coats, or by backcrossing the mix with a purebred Poodle. So, if you need a dog with a low shedding coat, it may be best to choose this type of Aussiedoodle or Labradoodle.
Coat Color
Coat color is yet another trait that will vary. It's possible for puppies to express any of the potential coat colors from their purebred parent breeds. Labradors come in three standard colors – yellow, chocolate, and black. And Poodles come in a huge range of colors, including apricot, parti, black, grey, brown, cream, and so on. So, Labradoodles could come in any of these shades. The most popular Labradoodle colors are often apricot and red.
Aussiedoodles can also come in any of the Poodle's coat colors. But, on top of that are the colors and patterns passed on by the Australian Shepherd. The four officially recognized colors for an Australian Shepherd are: black, red, blue merle, and red merle. Merle coloring is very popular, and many potential Aussiedoodle owners will seek out merle puppies. However, it's important to be aware of the potential health issues linked to this coloring, which we will cover in more detail further on in this guide.
Size
Like all other physical features, adult size will vary in both Labradoodles and Aussiedoodles. Females are generally smaller than males in both mixes. And although puppies will usually grow to be somewhere between the adult sizes of their two parents, two pups from the same litter can be quite different. This isn't something you can easily predict in those early weeks.
As a general rule, Aussiedoodles are usually smaller than Labradoodles. Their adult height can fall somewhere between 15 and 23 inches tall. In terms of weight, they will usually be between 40 and 70 lbs. Labradoodles, in contrast, can grow to be between 15 and 24.5 inches tall. They will weigh somewhere between 40 and 80 lbs as adult dogs. So, both mixes can be very similar in size, particularly if their parents are similar sizes.
Shedding
One of the most common reasons people choose Doodle dogs is to get a low shedding pet. But, as we know, mixed breed dogs can inherit any traits from either parent. And, both Australian Shepherds and Labrador Retrievers are high shedding dogs. So, there's a chance that Aussiedoodles and Labradoodles can both be high shedding too.
In order to get a dog with a lower-shedding coat, you should look for Aussiedoodles or Labradoodles with those tight Poodle curls or cords. This is more common in second or third generation mixes, or those that have been backcrossed to a purebred Poodle. But, bear in mind that the traditional Poodle coat requires a lot more grooming, and no dog is hypoallergenic. So, there's no guarantee that an Aussiedoodle or a Labradoodle will suit you if you have allergies. It's a good idea to spend time with one and see if it triggers your symptoms before committing.
Aussiedoodle vs Labradoodle Temperament
The Poodle, Labrador, and Australian Shepherd breeds are all working dogs. Although their original roles are slightly different. The Poodle and Labrador Retriever both originate as water retriever breeds, whereas the Australian Shepherd excels at herding. Because of this, the Labradoodle may have stronger retrieving instincts, but an Aussiedoodle may herd family members, or other animals. This is something to be aware of if you have young kids or other pets at home, as herding can be stressful for them.
Both the Labradoodle and Aussiedoodle mixes are intelligent, highly active, and affectionate – particularly toward their closest family. It's important to socialize both of these crosses well to encourage the best personality possible. This will also help to minimise any problematic behaviors and any potential aggression.
Breeders may also be able to help you find a mix with certain traits, depending on the dogs they used for breeding. It's more common to see Labradoodles as family pets at the moment. But, both Aussiedoodles and Labradoodles have high social, exercise and mental stimulation needs. Neither will suit small homes where they get little to no exercise or training. This lifestyle can lead to destructive behaviors, boredom, and stress.
Aussiedoodle vs Labradoodle Trainability
Since Poodles, Labradors, and Aussies are all working dogs, they all have histories of working alongside humans and learning commands. The intelligence required for this is still seen in Labradoodles and Aussiedoodles. Both tend to be quick to pick up new tasks, which is great when learning obedience training.
But, the flip side of all this intelligence is the tendency for boredom. Both Aussiedoodles and Labradoodles need plenty of mental stimulation to keep them from becoming bored, depressed, and destructive. They won't suit homes where they are left alone to entertain themselves too often. Ideally, they need owners with time to train them every single day, or at least to engage them in mentally stimulating activities.
Aussiedoodle vs Labradoodle Exercise Requirements
Like their trainability, the activity levels and exercise needs of Aussiedoodles and Labradoodles are quite similar. Both mixes come from two energetic working dogs. So, both Doodle mixes will need plenty of exercise. Neither will suit a home where they don't get over an hour's exercise every day.
An ideal home for either breed would be somewhere with plenty of space for them to run and play – such as a safely enclosed yard. But, they also need owners that can engage them in active play sessions or exercise like hikes, swimming, or even dog sports, like agility and herding. Training can provide some exercise, but both Aussiedoodles and Labradoodles will need more than this alone every day.
Aussiedoodle vs Labradoodle Health
Although mixed breed dogs have a wider genetic pool, they can still be prone to the same health issues as their parent breeds. Particularly if parents were not health tested before breeding. So, it's a good idea to learn the most common health problems for the purebred parents before choosing an Aussiedoodle or Labradoodle. This way, you'll know what issues to look out for.
On top of this, make sure you're choosing a reputable breeder if you get a puppy rather than a rescue dog. Reputable breeders will only breed from the healthiest parent dogs, and will be able to provide evidence of health testing when you see the puppies in person.
Here are some of the most common health problems in each of the parent breeds for these mixes.
Common Poodle Health Problems
Since the Standard Poodle is used in both the Aussiedoodle and Labradoodle mix, let's take a look at this breed first. Here are some common issues that Poodles can experience.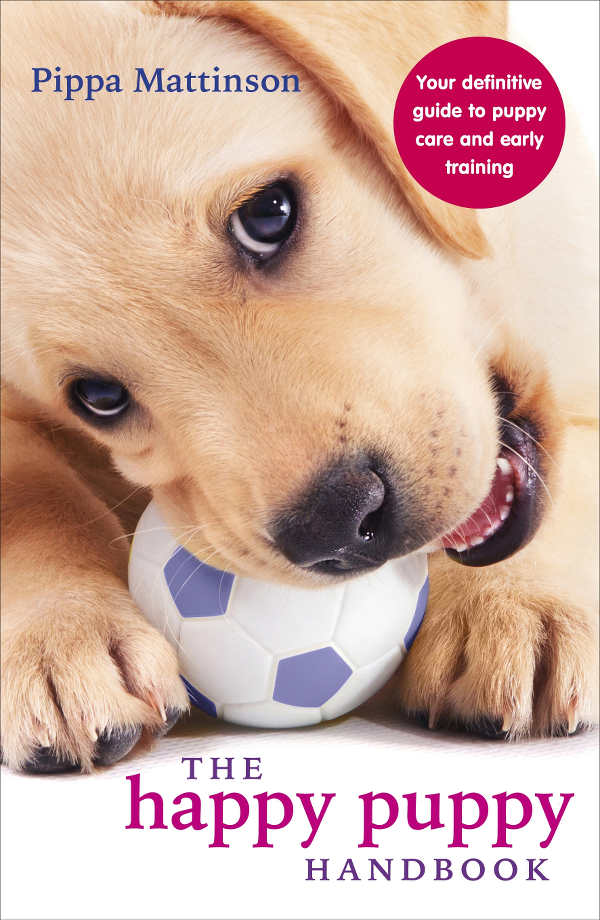 Hip and elbow dysplasia
Sebaceous adenitis
Addison's disease
Progressive Retinal Atrophy
Gastric Dilatation Volvulus
Hypothyroidism
Legg-Calves-Perthes disease
von Willebrand's disease
Common Labrador Retriever Problems
Here are some problems that can arise in the Labrador Retriever breed.
Hip and elbow dysplasia
Arthritis
Gastric Dilatation Volvulus
Exercise Induced Collapse
Centronuclear Myopathy
Progressive Retinal Atrophy
Cataracts
Common Australian Shepherd Problems
And finally, here are some common health issues found in the Australian Shepherd breed.
Hip and elbow dysplasia
Autoimmune thyroiditis
Collie eye anomaly
Multiple drug sensitivity
Eye and hearing related issues in Aussies with double merle genes
To minimise health issues in Aussiedoodles and Labradoodles, make sure you're choosing a reputable breeder that health tests their parent dogs before breeding from them. The best breeders will only breed from the healthiest dogs. Avoid puppy mills, pet stores, and backyard breeders at all costs.
Aussiedoodle vs Labradoodle – Which is Right for Me?
Both the Aussiedoodle and Labradoodle mixes are high energy dogs that can be quick to train, but have high social, exercise, and mental stimulation requirements. So, their ideal homes must be able to provide this.
Not all Aussiedoodles and Labradoodles are good for people with allergies. Particularly if you choose a first generation mix. So, if you have dog allergies, it's a good idea to choose a later generation mix. Studies have found that Australian Labradoodles tend to have an excess of the Poodle genome, so this mix might be a better choice for you if you suffer from allergies.
Both breeds can be great family dogs, but only you can choose which is best suited to your home. And, remember to choose a reputable breeder when you've made your decision. This will help to minimise the risk of any health issues your pup may experience.
Which is Your Favorite?
Can you choose a favorite between the Labradoodle and Aussiedoodle breeds? Have you owned one or both of these mixes before? We would love to hear your experiences with both of these modern crosses in the comments!
Readers Also Liked
References and Resources