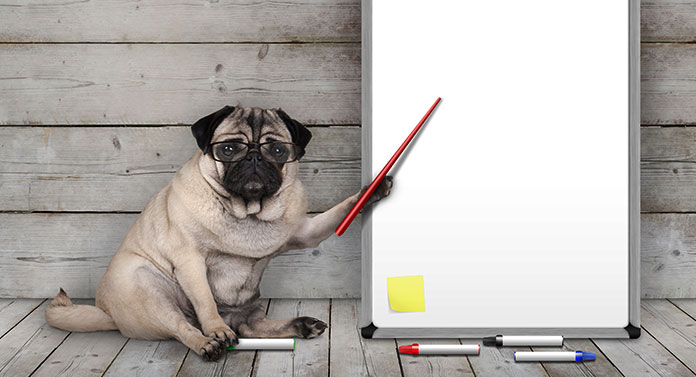 Lots of people looking for a small pet dog ask "are Pugs smart?"
Pugs are not generally seen as the most clever or easiest dogs to train. But, they still can be taught basic skills like potty training, and good manners.
The most effective way to achieve this is using force free, positive reinforcement training techniques.
Let's take a closer look at the question on everyone's lips: are Pugs smart?
Are Pugs Smart?
We all have to train our dogs to use the toilet in the right place, come back to us when we call them, greet people politely and so forth.
Some people like to go a bit further, and teach their dog tricks, dog sports, or the skills needed to become a working therapy dog.
What about if you get a Pug?
Are Pugs easy to teach basic manners? Or are Pugs hard to train?
Are they clever enough to learn tricks?
In this article, we take a look at the different kinds of canine intelligence, and how Pugs measure up.
Intelligence In Dogs
Intelligence in dogs is partly genetic and hereditary. This is why humans have been able to create super smart working dogs via selective breeding.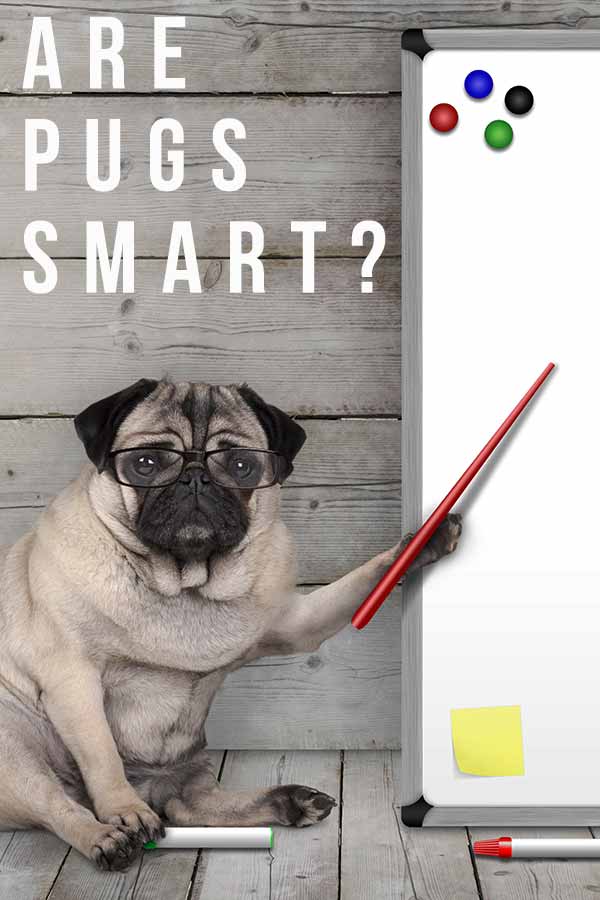 Hereditary intelligence in dogs is also polygenic, which means there are lots of different genes which contribute to it.
So, whilst the Pug might not have inherited as much innate intelligence as a Border Collie, that's not to say that they're completely devoid of genetic intelligence.
Canine intelligence also varies with age. Dogs' ability to remember new objects or where things are often declines as they get older.
Types Of Intelligence In Dogs
We know some people might automatically think "no" when asked "are Pugs smart?"
But, whether or not a Pug is smart doesn't just boil down to their ability to learn tricks or commands.
Some dogs which aren't known for being easy to train nonetheless have excellent problem solving skills (the roguish Siberian Husky is a frequently quoted example).
And other dogs are naturally good at fulfilling the purpose they were bred for, even without formal training.
The Pug is a great example of this.
How Smart Are Pugs?
There are records of Pugs dating back several hundred years.
And they have always, always, been companion dogs. First to the Chinese aristocracy, and now all around the world.
To make them great companion dogs, breeders chose the most sweet natured, attentive and affectionate individuals as sires and dams for the next generation.
So that now, modern Pugs have a strong built-in desire to seek out human company, and interact with us.
People who get a Pug for company are likely to be impressed by how intuitively they offer affection when it's wished for, or how sweetly they dote on guests.
Actually they're just doing what comes instinctively to them. But it can be interpreted as a kind of context-dependent cleverness.
What other ways can we measure the answer to: are Pugs smart?
What Is The IQ Of A Pug?
Canine intelligence can't be easily compared to human intelligence.
For example, dogs aren't as good as applying problem solving skills learned from one task to another one as we are.
Furthermore, human IQ tests attempt to measure reasoning and problem solving intelligence.
Which isn't really where the Pug excels anyway.
So it's impossible to quantify how smart Pugs are using an IQ score.
How Smart Are Pugs Compared To Other Dogs?
Pug's intelligence compared to other dogs depends a lot upon which kind of intelligence you're measuring.
One attempt to rank dog breeds by working intelligence and obedience placed Pugs at 108th position – just within the bottom 40.
That's partly because there are a lot of working breeds above them, which were breeds to carry out specific jobs and tasks.
But it might also be the case that Pugs are physically handicapped from being as clever and trainable as other dogs.
Face shape and intelligence
In humans we also know that oxygen is critical for brain activity, including learning and memory.
And oxygen deprivation inhibits learning and memory formation.
Pugs' flat faces mean they're prone to living in an almost continuous state of oxygen deprivation.
It's possible that this also makes them less capable of acquiring intelligence than other dog breeds.
So does that also mean that Pugs are also difficult to train?
Are Pugs Hard To Train?
All dogs, including Pugs, respond to positive reinforcement training.
Which means using food or toys to reward desirable behavior, so that dogs are more likely to offer those behaviors again.
Some dogs pick up new commands very quickly this way, with little teaching or practice.
Pugs are not one of those dogs.
Which means you'll need to persevere with patiently and consistently reinforcing behavior for longer, before they will reliably do it on command.
Are Pugs Stubborn?
Because of this, quite a lot of people describe Pugs as stubborn, and attribute difficulty training their Pug to stubborness.
In fact, dogs can't really be stubborn. It's a human trait which implies some kind of spiteful or belligerent motives, or trying to get the upper hand over someone else.
Dogs, including Pugs, simply don't think like this.
If a Pug is struggling to succeed in training, it's because the behavior you're trying to teach isn't rewarding enough (use better treats!) or they don't understand what they're being asked to do.
Labelling them as stubborn doesn't accurately describe how they're thinking or feeling, or get you any closer to your training goals.
Raising A Smart Pug
Here are some principles to help you raise a clever Pug who toilets in the right place and does what you ask.
Bear in mind that dogs perform less well in learning tasks while they're frightened.
It's hardly surprising. We all struggle to gather our thoughts and absorb information when we're scared.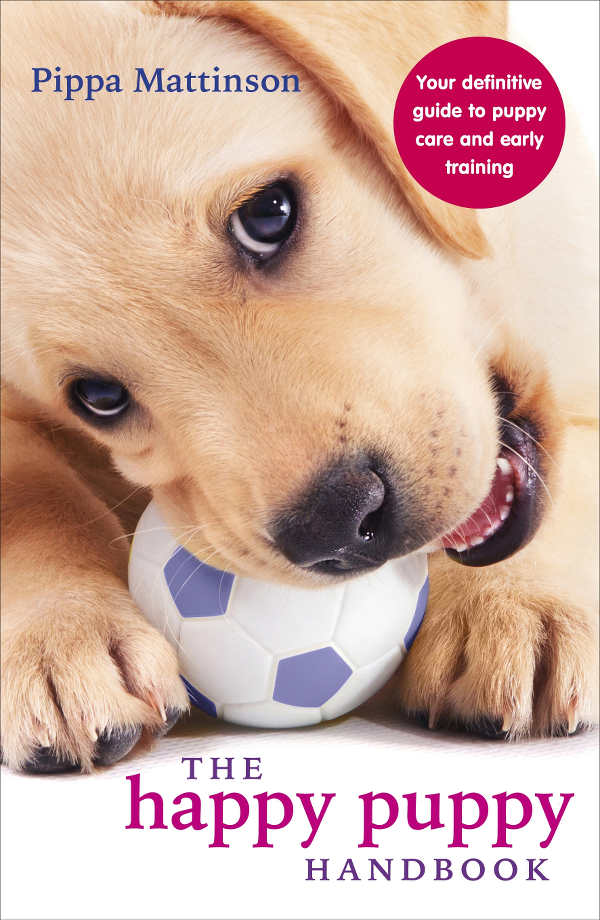 And it has two important implications for training Pugs.
Choose the Right Method
Firstly, don't use punishments in your training. They won't work, and they will hinder how quickly your Pug picks up new behaviors.
Whereas positive reinforcement training improves their ability to learn.
And secondly, don't underestimate the importance of socialisation as a building block for all kinds of training in future.
Undersocialized puppies are more likely to react fearfully to unfamiliar experiences when they're older.
So for example, a Pug who hasn't been socialized to traffic noise might find it harder to learn a sit command whilst waiting to cross the road.
Are Pugs Smart?
Pugs are companion dogs. They intuitively fulfil this role well, but they are less blessed with intelligence for learning new commands.
They are typically considered one of the trickiest breeds to train, possibly because their heritage or their anatomy means they're just not suited to learning new commands.
This means they're best left to more experienced dog owners.
But since they're plagued by physical health problems too, we think Pugs are best ruled out by everyone looking for a new puppy.
Find Out More About Pugs
Are Pugs Smart?
What do you think about this question? Do you have a smart Pug at home?
Tell us their best trick, and your top Pug training tips, in the comments box down below.
References And Further Reading