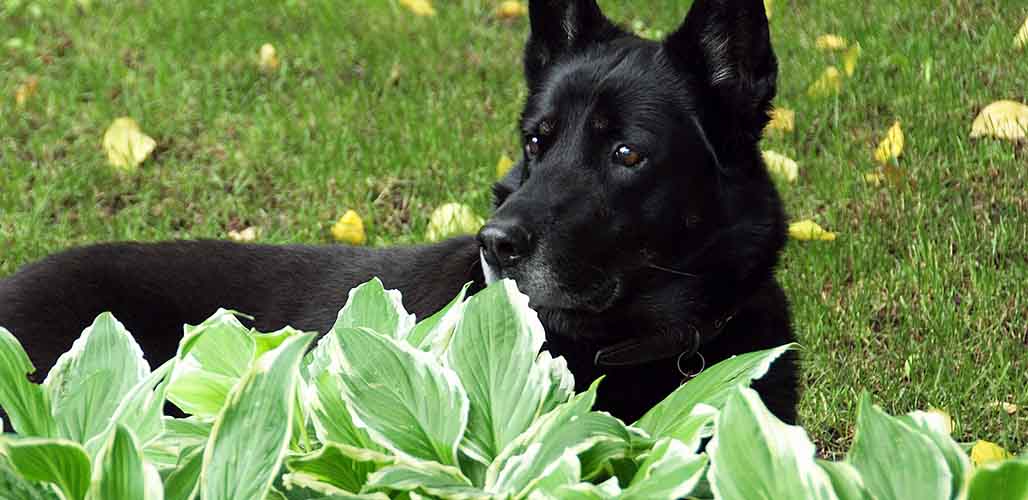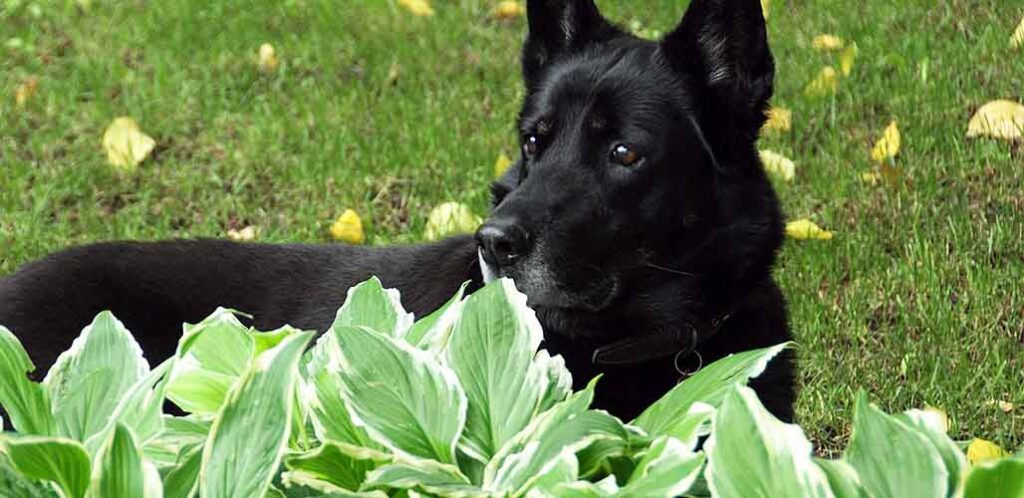 Are hostas poisonous to dogs? When I was looking to fill some of the shady parts of my garden, I kept seeing recommendations to use hostas. These plants are a favorite for gardeners and homeowners alike to bring a flash of color to a shady spot. But, as all dog owners know, it's vital to check if plants are safe for our pets before bringing them into our homes. Hostas are, unfortunately, bad for our dogs. Although they aren't usually fatal when eaten, they can cause gastrointestinal upset and more serious issues for smaller dogs, or dogs who have eaten a lot of these plants. In this guide, I'll take a closer look at the issues these plants and their flowers present to our pets and what you must do if your dog has eaten some.
Contents
What Are Hostas?
The hosta, also known as the plantain lily, is commonly used in low-maintenance landscaping. It is a part of the Agavaceae or lily family. You can recognize it by its long waxy leaves that are some variation of a green and white combination.
There are 45 different species, so the exact color design and variation can vary greatly. They can also produce flowers that are blue, purple, or white.
Are Hostas Poisonous to Dogs?
Yes, the entire plant is poisonous to dogs. This includes the stem, leaves, bulb, and flowers. The plant contains a mild toxin that will make your pooch sick. Typically, a dog isn't at risk of death from hosta poisoning. But, the risk can vary greatly based on the dog's size, the plant eaten, and the amount of the plant eaten. A small dog may eat a certain amount and experience poisoning, while a large dog could eat the same amount and experience no adverse effects.
Why Are Hostas So Dangerous?
These lilies have a chemical in them called saponins, which is Latin for "soap". As you can guess, ingesting soap isn't a good idea for you or your dog. The plants don't have enough saponin to make actual soap. However, they do contain enough to make your pup sick.
When your dog eats the hosta plant, the saponin chemical reacts with the liquid already in the stomach. It foams up as soap does when mixed with water. This foaming action blocks your dog's throat and makes it challenging to vomit. Once the stomach fills with foam, it also constricts the intestinal tract. This makes it difficult for the dog to expel the toxin from either direction naturally.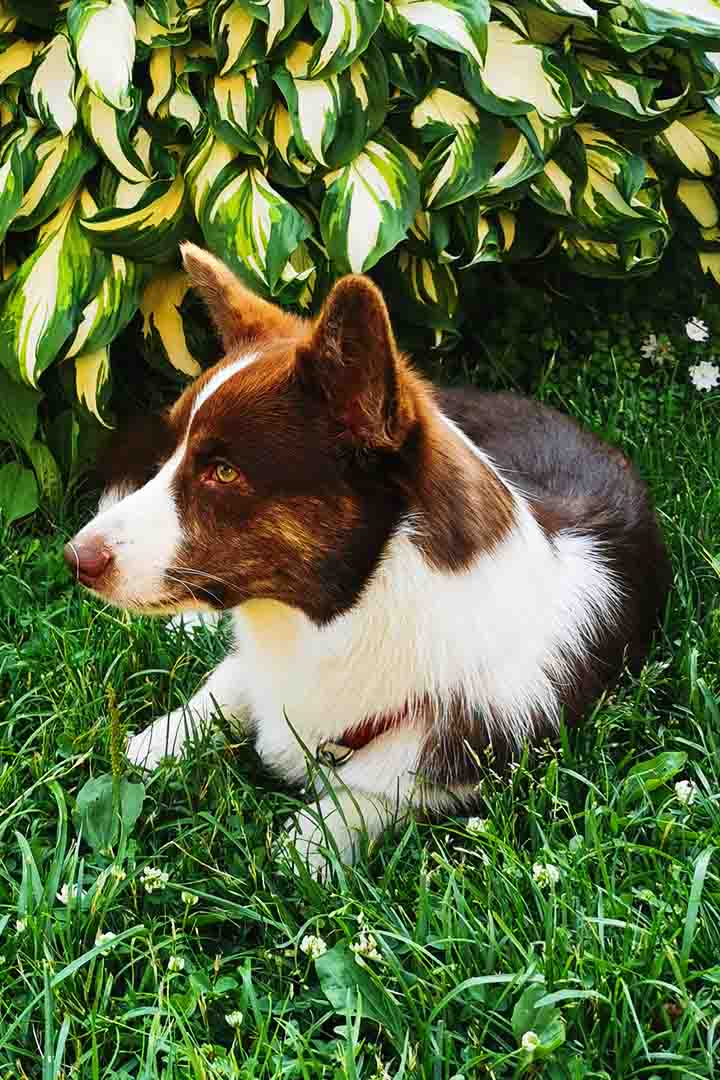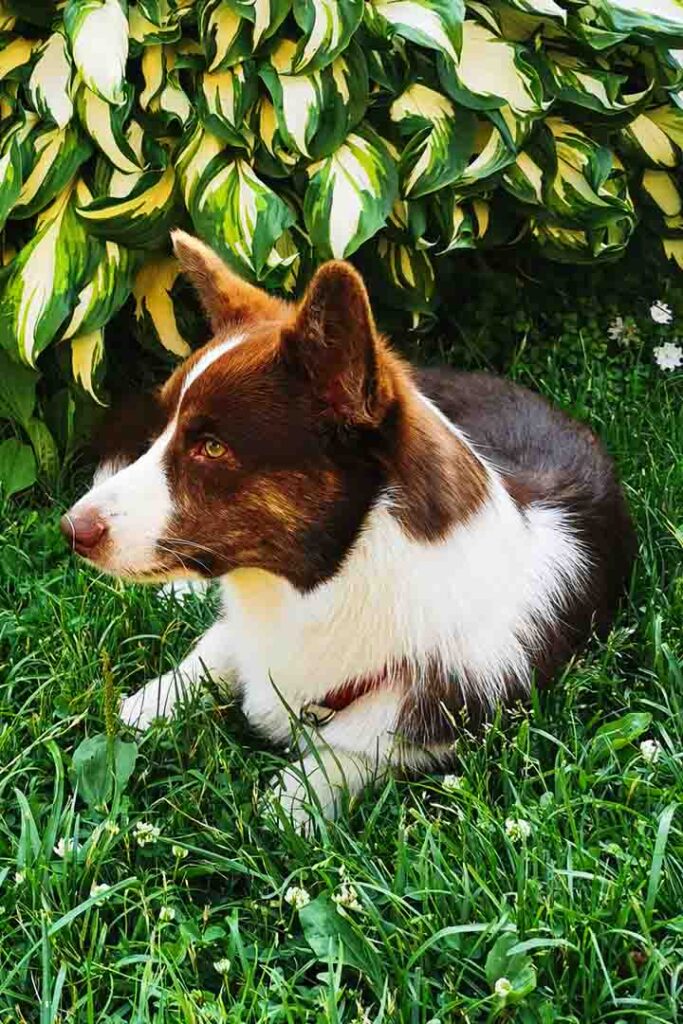 Signs of Hosta Poisoning in Pets
A dog that ingests any part of the hosta plant may experience a variety of symptoms. The exact symptoms exhibited can vary from one dog to the next, so be vigilant if you think your dog might have eaten them. In addition, it can take several hours for the symptoms to show up. Because of this, it may not be readily apparent that the culprit is hosta ingestion. Here's what to look out for:
Signs of internal and abdominal pain (whimpering, inability to get comfortable)
Abnormal heartbeat
Bloating
Distress
Diarrhea
Loss of appetite
Vomiting
What to Do if Your Dog Eats Hostas
If you catch your dog eating these plants or notice any of the symptoms I listed above, you should take your dog to the veterinarian as soon as possible. If your regular vet isn't available, contact the emergency vet. They will speak to you about the various treatment options. These are usually to induce vomiting (if the consumption was recent enough), to rehydrate your dog, and monitor their recovery. But, extreme cases may require surgery. Let's take a closer look at each of these.
1. Induce Vomiting
If your dog has not yet vomited up the plant, your vet may make your dog vomit to prevent further complications. This is most common if you have acted fast and managed to get your dog to the veterinarian as soon as you notice them eating these dangerous plants.
It's worth noting that you should never try this unless instructed by your vet. Doing so at the wrong time or in an unsafe way can cause more serious health issues.
2. IV Fluids
When eating hostas, most dogs will experience vomiting and/or diarrhea. This will lead to dehydration. To address this, the vet may want to use IV fluids. Proper hydration is required to ensure your dog maintains proper kidney function. The kidneys help regulate a dog's hydration while also eliminating toxins from the body. So keeping them hydrated is a must to help your dog get better.
3. Monitoring
In some situations, a dog's poisoning is so severe that your vet may keep the dog overnight for constant monitoring. This way, any new or worsening symptoms can be treated more quickly than if the dog were at home. It can be scary to leave your dog, but they'll be in the care of experts.
4. Surgery
In severe cases, your vet may suggest surgery. Surgery is a good way to prevent complications like bloat, which involves the twisting of the stomach. This can be fatal, so it's vital to prevent or fix it when it occurs.
When Will My Dog Recover?
The time it takes for a dog to recover depends on several factors. Poisoning can last several hours to several days. The more the dog eats, the longer it takes to recover. Additionally, the stronger the dog's body is, the faster it can recover. Smaller dogs generally need smaller amounts to make them sick. But, the time it takes you to get professional help can also impact recovery time, so get your dog to the vet as soon as you realise they've eaten this toxic plant.
How to Prevent Your Dog From Eating Hostas
Because hostas grow low to the ground, they are the perfect enticing nibble for your dog. The best way to prevent your dog from getting sick is to avoid planting these plants in your garden or home. As beautiful as they can look, it's simply not worth the risk of letting your dog get sick.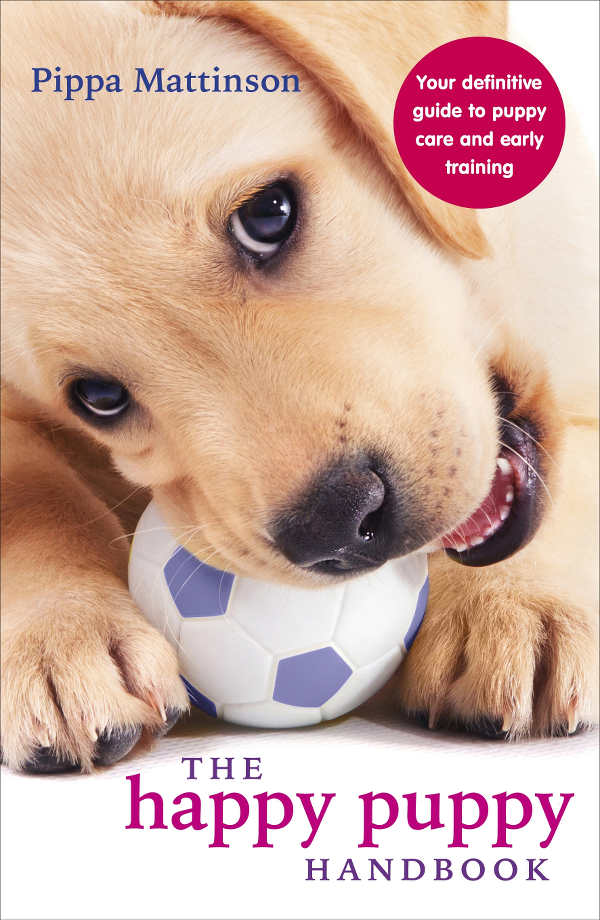 Some owners will block certain parts of their garden so they can plant whatever they want and keep their dogs safe. This is the best option if you feel that you must have hostas in the yard. But, even blocking off parts of your garden and using training can backfire, since dogs are often resourceful when it comes to getting hold of things they want to try! For peace of mind, it's best to avoid this plant altogether.
Are Hostas Poisonous to Dogs? The Bottom Line
While some plants are safe for dogs, hostas are not one of them. The best approach is to not have them in your home or landscaping. However, if you have your heart set on them, take steps to protect your pup.
If you notice that your dog has managed to eat this plant, or is showing any signs of poisoning, you should speak to the vet straight away for treatment.
More Dog Health and Care Guides
Gabapentin for dogs
How cold is too cold for dogs?
References