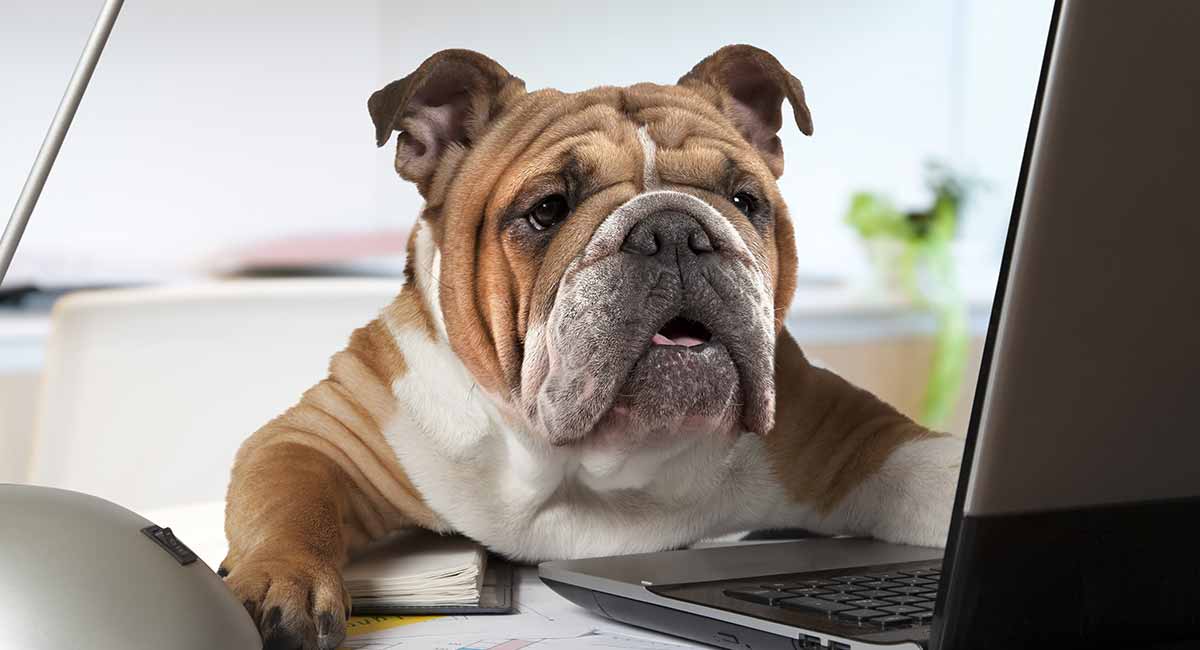 Are English Bulldogs good pets? Though they have a history as fighting dogs, English Bulldogs were the 5th most popular breed registered with the AKC in 2018.
English Bulldogs have easy going personalities, but their dramatically exaggerated physical features have left them vulnerable to a lot of health problems.
The English Bulldog at a Glance
To help answer the question "are English Bulldogs good pets," let's look at some basic information about this breed.
English Bulldogs are medium-sized dogs, if only because of their height — only 14 to 15 inches tall — but can weigh up to 50 pounds.
This makes them relatively hefty considering their short stature. And they are.
Bulldogs come in a variety of colors and markings and have a very distinct appearance. Their smushed faces are similar to a pug's face, plus some wrinkles around the muzzle.
English Bulldogs commonly have undershot jaws, meaning their bottom teeth protrude over the upper teeth due to a longer lower jaw.
Some people find these traits cute, but they are a result of decades of questionable breeding practices that, unfortunately, led to a number of common health issues with this breed. Plus, these health traits mean the English Bulldog becomes one of the most expensive dog breeds out there.
We will talk more in-depth about these health problems later in the article.
English Bulldog Temperament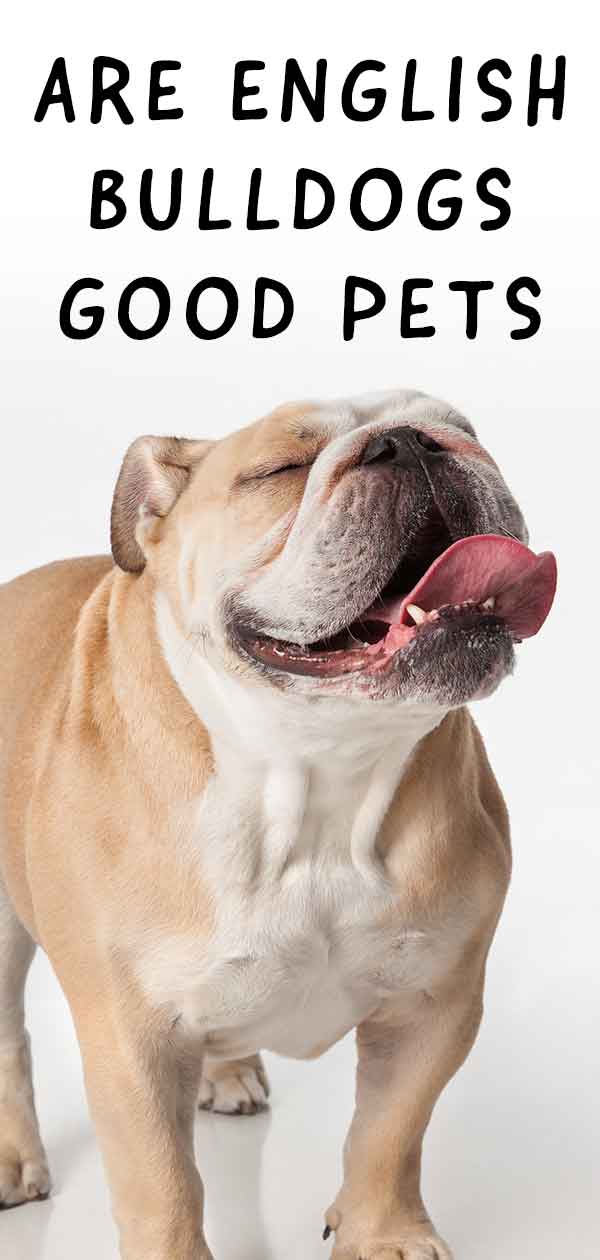 One of the most important things to consider when asking "are English Bulldogs good pets" is temperament.
Though English Bulldogs were once used in gruesome sports like bull-baiting, they've changed a lot since then.
Today's Bulldogs are companion animals and not quite as athletic. But they are calm, friendly, and affectionate dogs.
Many of them exude confidence, a trait many retain from their days as fighters.
They tend to do well with kids of all ages. But it is still important to monitor their interactions with children, especially very young ones.
Though English Bulldogs do well with people, sometimes they aren't so good with other dogs.
That's why early socialization is so important — with both people and other dogs.
If your pup has positive experiences with other dogs when they're young, they are more likely to be friendly toward other dogs as adults.
Feeding requirements
Another thing to consider when posing the question "are English Bulldogs good pets" is diet. Some dog's diets need more regulation than others.
You should feed a Bulldog the highest quality food you can afford.
Most English Bulldogs cannot exercise much as they are prone to breathing problems, so it's important that food is regulated in order to reduce the likelihood of obesity.
Since Bulldogs are also predisposed to issues such as hip dysplasia, it's especially important that they do not become overweight.
Ohio State University's Veterinary Medical Center has a useful article on how to calculate your dog's caloric needs.
Furthermore, it's common for Bulldogs to have allergies, so you'll need to speak with your vet if your dog displays signs of food allergies in order to eliminate offensive ingredients from the diet.
Potential Health Concerns
When asking "are English Bulldogs good pets," one of the most important things you should consider is their health.
Unfortunately, English Bulldogs have serious health problems. And many of them are a direct result of poor breeding practices that focus on appearance.
Sadly, some unethical breeders don't consider the possible harm they may cause to the dog.
One study published in 2016 examined the genetic diversity of 102 English Bulldogs and the many health issues they face.
Brachycephaly and malformations
For starters, Brachycephalic syndrome can cause a number of malformations.
With the Bulldog, these deformations typically include an overly large base of the tongue and palate, stenotic nares, and hypoplastic trachea. The lower jaw is also pushed forward.
Dogs suffering from this problem experience difficulty eating and breathing.
In addition to Brachycephaly, the body of the English Bulldog's body is also considered to be malformed.
Their characteristic short height is caused by chondrodysplasia, a skeletal disorder that results in dwarfism.
Chondrodysplasia can lead to the following disorders:
hip dysplasia
elbow dysplasia
patellar and shoulder luxation
intervertebral disk disease
cruciate ligament rupture
hemivertebra
torsional pelvic deformity
problems with normal copulation and parturition.
Bulldogs are sometimes born with a corkscrew tail. But his can indicate serious problems with the entire spinal column such as hemivertebrae.
A less problematic breed to consider may be the Alapaha Blue Blood Bulldog.
Other Common Health Issues
English Bulldogs are also predisposed to a number of other issues due to a lack of genetic diversity, including
heart valve defects
cancers
autoimmune disorders
immunologic disorders.
So, are English Bulldogs good pets? This long list of health issues would suggest they are not.
Not only is their continued breeding inhumane, but many vets recommend preventative care plans for this breed that may require more visits than normal.
You should also be aware that it's not uncommon for the Bulldog to require surgery to correct some of these issues, depending on the severity.
So, if you're seriously interested in getting an English Bulldog, we suggest rescuing one from a shelter. Instead of supporting further breeding of an animal with so many health problems.
Conclusion
English Bulldogs are fairly popular and are well-loved by many. No surprise since they have such a good temperament.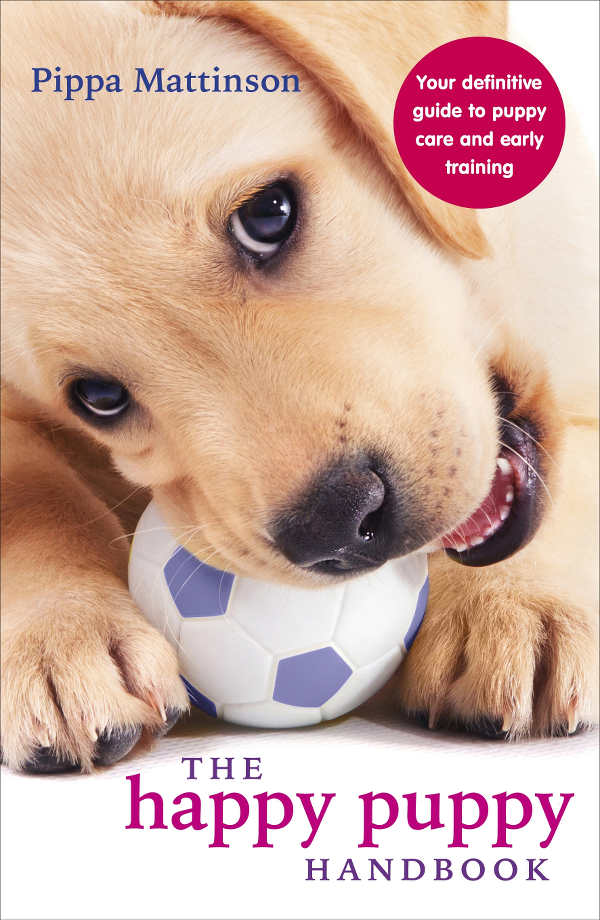 They are friendly and affectionate and even do well with children of all ages.
Unfortunately, English Bulldogs are often plagued with a plethora of health issues due to irresponsible breeding practices, mainly caused by selectively breeding for appearance rather than health.
As such, this breed commonly suffers from brachycephalic airway syndrome, which causes breathing problems.
The typically short build is a result of chondrodysplasia, which also puts them at a higher risk for hip dysplasia or patellar luxation.
If you truly love the English Bulldog, you probably shouldn't purchase one from a breeder.
It's better to avoid supporting unethical breeding of these dogs and instead adopt an English Bulldog from a shelter.
So, are English Bulldogs good pets? Because of all of their health issues caused by inhumane breeding practices, we have to say no.
Related Articles
References and Further Reading
The Ohio State University Veterinary Medical Center
Pederson N et al. 2016. A genetic assessment of the English Bulldog. Canine Genetics and Epidemiology. https://doi.org/10.1186/s40575-016-0036-y