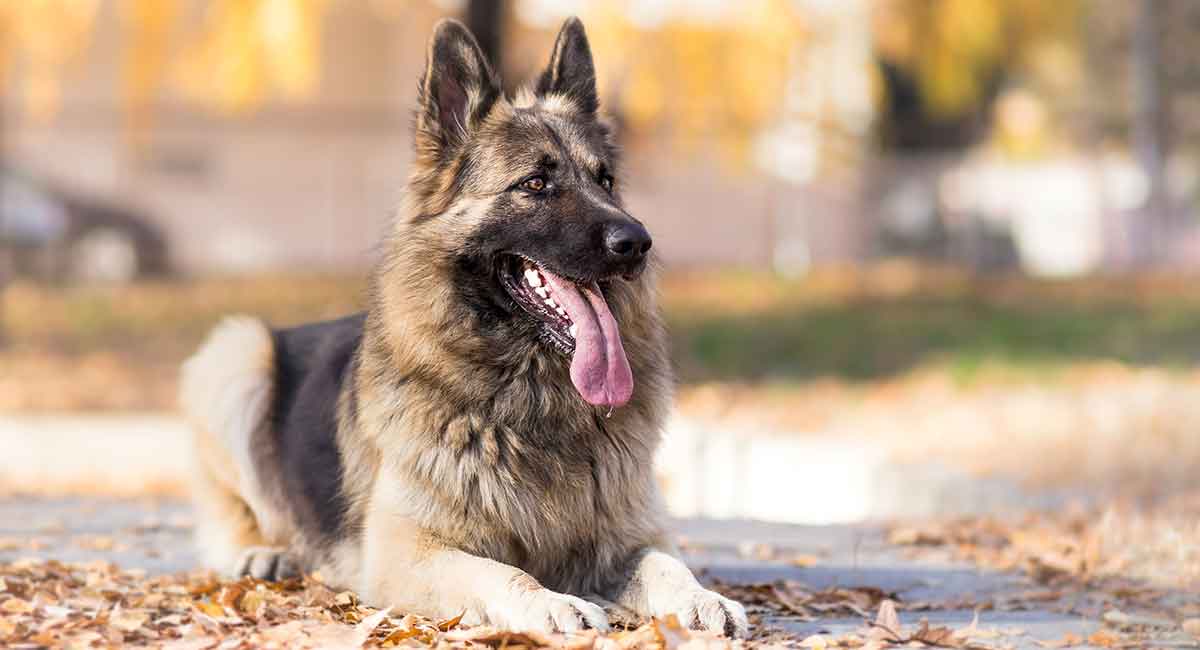 If you've been thinking about buying or rescuing a German Shepherd, you've probably heard the term "American German Shepherd Dog" while doing your research.
But what exactly does it mean?
Welcome to our guide to the American German Shepherd Dog. We'll take a look at the history of this dog, and how they differ from the classic German Shepherd Dog, or GSD.
In this article, you'll also find information about the American German Shepherd Dog's appearance, temperament, and health.
All with the intention of helping you find out more about these characterful dogs.
Where Does the American German Shepherd Dog Come From?
It's impossible to look at the American German Shepherd Dog, without also taking into consideration the German Shepherd Dog.
In short, the American German Shepherd is not considered a separate breed to the German Shepherd Dog.
It can help to think of the American German Shepherd, and the German Shepherd as different lines of the same breed.
Find out what happens when a German Shepherd is crossed with:
Let's take a brief look at the history of the German Shepherd Dog, before we examine where the deviation towards the American German Shepherd began.
The German Shepherd Dog breed can be traced back to 19th Century Germany. Cavalry Officer, Captain Max von Stephanitz, decided he wanted to create the perfect dog for herding sheep.
He dedicated the next 35 years to developing and perfecting the breed. And so the German Shepherd Dog we know today was born.
When these German Shepherd Dogs were exported to the United States in the 1900s, the variation that we know as the American German Shepherd dog began to evolve.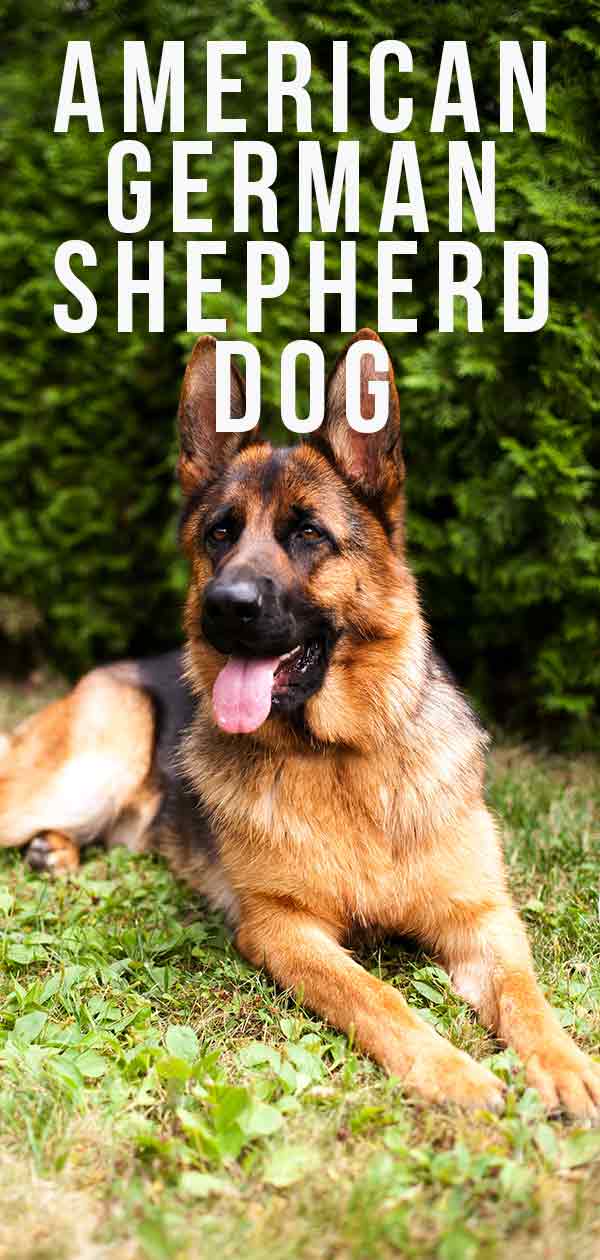 The Difference in Interpretation of Breed Standards
One of the main reasons that the American German Shepherd Dog began to develop as a separate line to the traditional German Shepherd, is due to the subtle differences in the interpretation of the breed standards in different countries.
On paper, the breed standard of the Federation Cynologique Internationale, and the American Kennel Club are very similar.
But, if you compared dogs from the two lines side by side, it's now quite easy for an experienced breeder to tell the difference between an American German Shepherd Dog, and a German Shepherd Dog.
One reason for the difference is the intended purpose of these dogs.
For example, German Shepherd Dogs are intended as
herding dogs
police dogs
search and rescue dogs
assistance dogs.
While they also excel in the show ring, the German Shepherd Dog was always meant to be a working breed.
In fact, the official governing body for the breed, the Verein für Deutsche Schäferhunde (also known as the SV) say that:
"German Shepherd breeding is working dog breeding, or it is not German Shepherd breeding."
And here lies the major difference between these two lines of German Shepherd Dogs.
Frequently, American German Shepherd Dogs are often bred for one purpose and one purpose only:
This leads to some fairly major differences in appearance, temperament, training, and health of the two different lines. Let's take a look at those next.
American German Shepherd Dog Appearance
An American German Shepherd Dog, of course, looks very similar to a German Shepherd Dog.
Male American German Shepherd Dogs stand 24 – 26 inches at the shoulder, and weigh 65 – 90 pounds.
Females stand 22 – 24 inches, and weigh between 50 – 70 pounds.
American German Shepherd Dogs can be long or short-haired. A medium length coat is considered ideal.
Their coats come in a wide range of colors, with black and tan being the most classic. There are 11 colors listed in the American Kennel Club breed standard.
So far, there doesn't seem to be much difference with the classic GSD.
But when we examine dogs of each line in more detail, there are some subtle differences.
American German Shepherds are usually slightly bigger, but with finer heads.
However, the biggest difference is that American German Shepherds have a steeper slope to their top line, with the rear legs showing a more pronounced angle.
We'll take a look at the effect of this on the health of American German Shepherds slightly later in this article.
American German Shepherd Dog Temperament
Since they have been bred more for appearance and conformation than working ability, this has affected the temperament of American German Shepherd Dogs.
They are, of course, intelligent dogs, with a desire to please their owners.
But it can be harder to predict the overall temperament of an American German Shepherd.
With some American German Shepherd lines, they can display signs of nervousness and anxiety which isn't usually present in GSDs.
For an inexperienced dog owner who isn't used to reading a dog's body language, this can lead to problems.
Training Your American German Shepherd Dog
In order to be approved for breeding in Europe, all German Shepherd Dogs must pass what is known as the Schutzhund.
This test is designed to ensure that a German Shepherd Dog is a capable working dog. The 3-part test involves sections designed to test the dog's ability in tracking, obedience, and protection.
There's no requirement for American German Shepherd Dogs to pass this test.
As a result, it's less easy to predict how your American German Shepherd Dog will respond to training.
We recommend taking your American German Shepherd Dog to puppy training classes as soon as possible.
This is an excellent way to ensure they are both well socialised and to lay the foundation for your future training.
As an intelligent breed, they will also relish the challenge of positive, rewards-based training.
Our guide to GSD training and activities includes some great suggestions for keeping your dog challenged, entertained, and well-behaved!
American German Shepherd Dogs are active, and will require plenty of activity. A combination of physical and mental exercise is required for this type of dog to flourish.
Does the dog in your life have a cat in theirs? Don't miss out on the perfect companion to life with a purrfect friend.

The Happy Cat Handbook - A unique guide to understanding and enjoying your cat!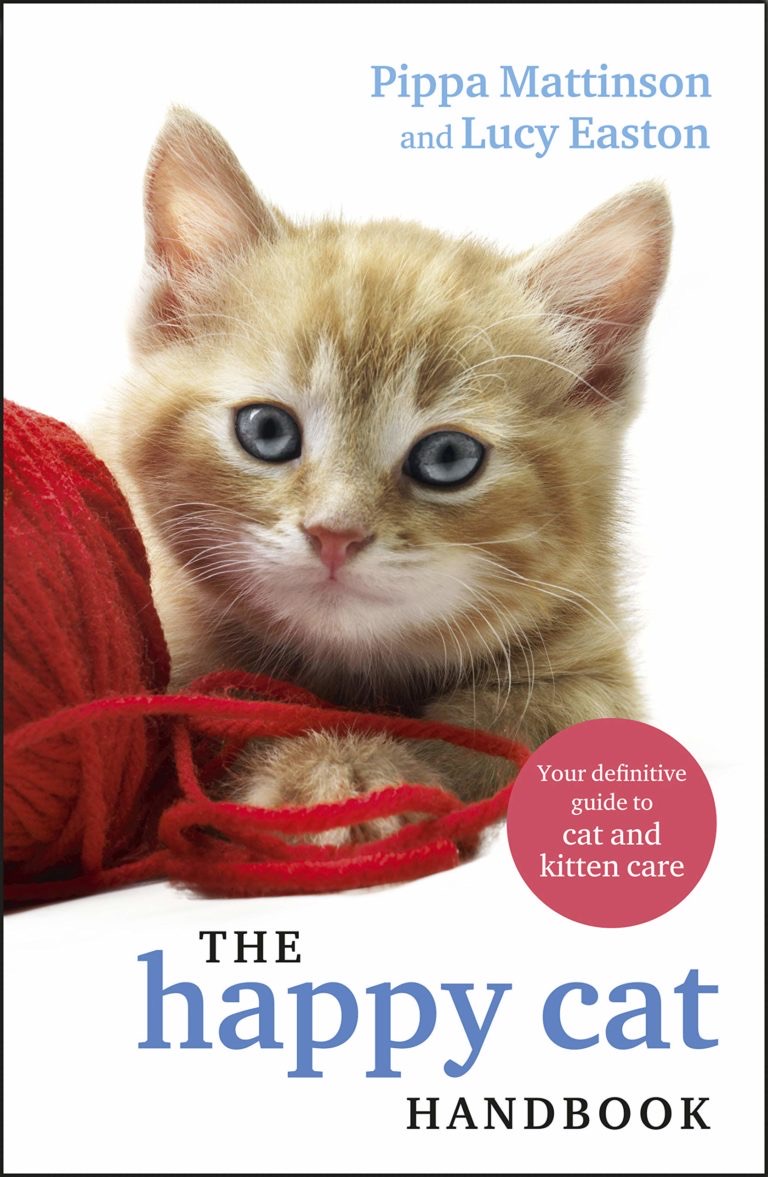 Agility classes are an excellent way to challenge American GSDs in a fun and rewarding way.
American German Shepherd Dog Health
The focus on breeding for a showing conformation in the American German Shepherd has led to some serious health issues.
Exaggerating the slope of the dog's back, as well as the angle of their hind legs to such an extreme as is sometimes seen in American German Shepherds, can compromise the dog's health.
While the same can be true for German Shepherd Dogs in general, the issue seems more pronounced in GSDs bred for showing, including the American German Shepherd Dog.
In terms of wider health concerns, American German Shepherds suffer from the same issues as German Shepherd Dogs in general.
This includes hip and elbow dysplasia, osteochondrosis dissecans (OCD), pancreatic acinar atrophy, panosteitis, degenerative myelopathy, and bloat.
The German Shepherd Dog Club of America recommend the following health tests
hip evaluation
elbow evaluation.
American German Shepherd Dogs live for around 7-10 years.
As they get older, they may develop complications relating to their conformation.
Grooming requirements vary depending if your dog has a long or short coat, although all GSDs will shed throughout the year. Twice weekly brushing can help keep this in check.
Because American GSDs can suffer from bloat, you may want to consider investing in a slow feeder to decrease the speed at which they eat their food.
Feeding from ground level has also been shown to decrease the incidence of bloat occurring.
Do American German Shepherd Dogs Make Good Family Dogs?
As a general rule, American German Shepherd Dogs are known to be softer than their European, working counterparts.
This does mean that they can be well suited to family life.
But, as we touched on earlier, their temperaments are not always predictable.
That means you may wish to proceed with caution if you have a young family, and are a first-time dog owner.
Rescuing an American German Shepherd Dog
If the idea of an American German Shepherd Dog appeals to you, but you don't necessarily like the thought of encouraging more breeding by purchasing a puppy, rescuing an older dog is a great idea.
We've listed some rescue organizations later on in this article.
Finding an American German Shepherd Dog Puppy
For American German Shepherd Dogs in particular, it's vital that you take the time to select a reputable breeder.
Avoid pet stores or puppy mills. There's no way of knowing the history of puppies from these sources, and it's likely the health and welfare of the pups and parent dogs has not been a priority.
If a breeder seems too focused on the conformation of the puppies, to the detriment of their temperament and health, it may be best to continue your search.
Instead, focus your search on reputable breeders. Those who are willing to let you meet both parent dogs.
Check they're breeding for temperament and health above conformation. They should also be willing to openly discuss health tests.
If you're still unsure, our Puppy Search Guide can help you identify the best puppy for you.
Raising an American German Shepherd Dog Puppy
Even though American German Shepherd Dogs are intelligent and friendly, you'll still need to devote plenty of time to their puppy training.
Take the time to consider how you'll introduce your puppy to concepts such as potty training, crate training, and walking on a leash.
As an intelligent, yet sensitive dog, you'll need to carefully consider the best method for training your American German Shepherd puppy.
And if you're unsure how to choose the best feed for your puppy, or when to start socialising them, our Puppy Care Guide is a great place to start.
Pros and Cons of Getting an American German Shepherd Dog
If you're considering bringing an American German Shepherd home, it's worth taking the time to think about the pros and cons of selecting this line, or type, of GSD.
Cons can include that the focus on conformation above all else in this line of dogs, has created issues. You may find your American GSD suffers from health issues due to their excessively sloping back.
Their temperament is also less predictable than some other breeds, including the more traditional, working German Shepherd Dogs.
Pros are that American German Shepherds are intelligent and loyal dogs. Once you've created a bond with them, they'll be happy to do anything with you.
Similar Breeds
If the cons of this breed, for you, outweigh the pros, then you might like to consider similar breeds.
Border Collies are also highly intelligent and energetic dogs, if that's what attracts you.
For another dog which also combines athleticism and enthusiasm, the German Shorthaired Pointer is a strong contender.
Or you could try a mixed breed, like the German Shepherd Husky cross! 
American German Shepherd Dog Rescues
Rescuing an American German Shepherd is an excellent idea.
You won't necessarily find this line of German Shepherds outside the United States, so we've looked at rescues within the USA only.
The American German Shepherd Rescue Association helps fund GSD rescues which fit their criteria. They have a list of affiliated rescues covering many states of the USA.
We think this is your best bet for starting your search for a rescued American German Shepherd Dog.
If you know of any other organizations specializing in this breed line, please let us know in the comments below.
Is an American German Shepherd Dog Right For Me?
Now you have all the information you need about this breed line, only you know whether they may be the right dog for you.
Their blend of intelligence, courage, and alertness can make these dogs a joy to be around. But unlike some other purebred dogs, it can be harder to predict the temperament of American German Shepherd Dogs.
The fact that some American German Shepherd Dog breeders prioritise conformation over health or temperament is, in our opinion, a little worrying.
But, if you're an experienced dog owner with the time and energy to devote to a puppy or rescue, they could be just what you're looking for.
Let us know your experience of American German Shepherd Dogs in the comments below.
References and Resources