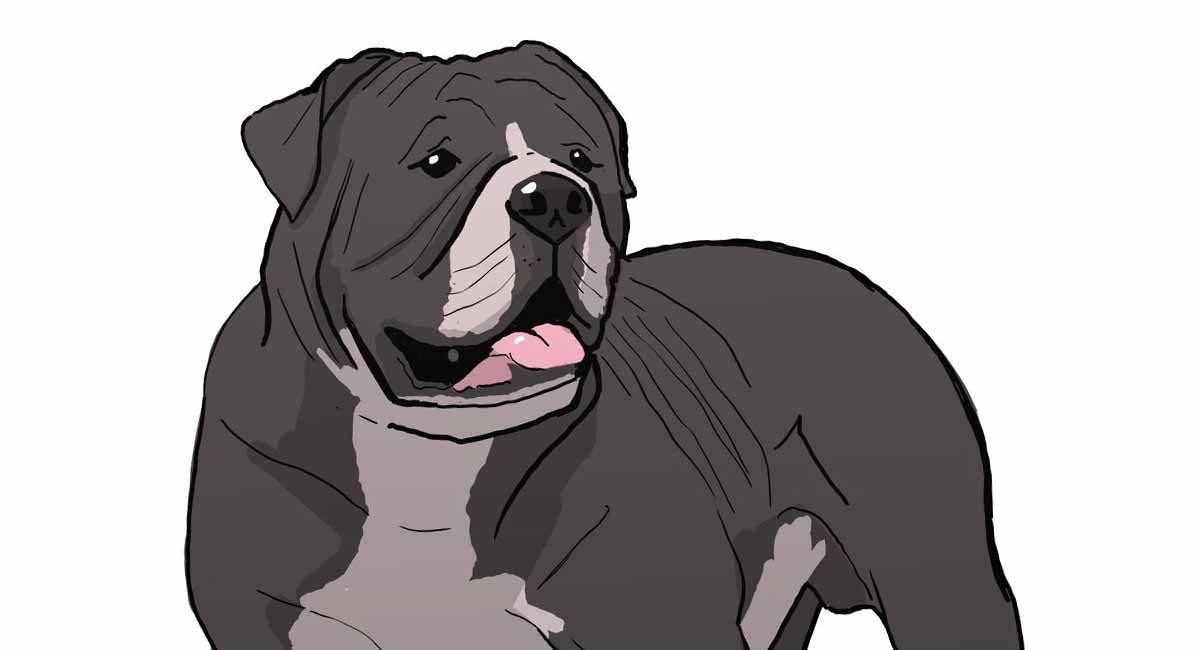 The Alapaha Blue Blood Bulldog is a rare and unusual catch dog. It was first bred for protecting and herding livestock.
They are stocky almost to the point of being square and weigh 55 – 70lbs. Adults grow to between 18 and 24 inches, with females being smaller than males.
Since they are less flat-faced, the Alapaha Blue Blood Bulldog might be a healthier alternative to the extremely brachycephalic English Bulldog.
Alapaha Blue Blood Bulldog
If you'd like to find out more about the unusual Alapaha Blue Blood Bulldog, then you've come to the right place!
This distinctive-looking dog has a rich history and a small but dedicated following of breeders and owners.
You may not know that much about this rare breed of dog. So let's take a look at the history of the Alapaha Blue Blood Bulldog next.
Where Does the Alapaha Blue Blood Bulldog Come From?
The history of this breed certainly seems to stretch back a long way. But until 1979 it was not well documented.
The Alapaha Blue Blood Bulldog Association suggest that a breed resembling the Alapaha has been in existence for at least 200 years.
It's thought that they descend from the extinct strains of the Mountain Bulldog, Old Southern White, and Old Country Bulldog.
The intention at that time was to create a powerful breed designed to guard the people and livestock of the plantations in the South.
Near Extinction
During the American Civil War, the population of the breed dropped so low they were threatened with extinction. A breeder called 'Papa' Buck Lane began a breeding program designed to revive the Alapaha Blue Blood Bulldog. And in 1979 the Alapaha Blue Blood Bulldog Association (ABBA) was formed.
In fact, the breed can thank Buck Lane for their name! He lived near the Alapaha River in Georgia, which explains the first part of their name. The second part he coined due to the fact that he regarded this breed as noble and regal. Hence the addition of 'blue blood'.
Since 1979, the ABBA have worked to maintain a breed registry for the Alapaha.
The Animal Research Foundation (ARF) also recognized the breed in 1986, and have kept a separate breed registry.
This breed is not currently recognized by the American Kennel Club.
Fun Facts About the Alapaha Blue Blood Bulldog
This breed is sometimes referred to as the Otto Bulldog. This nickname refers to one of the founding dogs, Otto, who belonged to Buck Lane.
You might also see them called the 'old plantation Bulldog of the South'.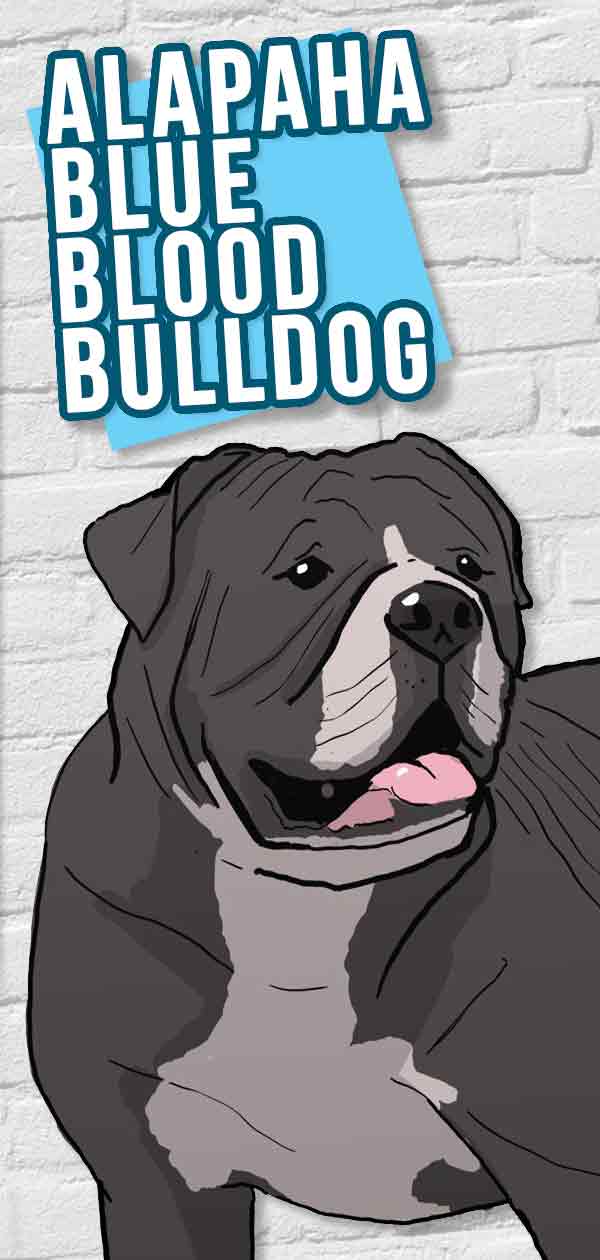 Alapaha Blue Blood Bulldog Appearance
According to the Official Breed Standard of ABBA, male Alapaha Blue Blood Bulldogs stand at around 20 – 24 inches at the wither and weigh 70 – 90 pounds.
Females are slightly smaller, standing 18 – 22 inches high, and weighing 55 – 75 pounds.
The Alaphaha's head should be boxy, with a broad skull and muscular cheeks. Unlike some Bulldog varieties, the muzzle should be a medium length of between 2 – 4 inches. This is still considered slightly brachycephalic, and this breed will have an undershot bite.
Their bodies are stocky, yet capable of athleticism and speed when required.
This breed comes in a variety of colors. They usually have a white base coat, with patches of black, red, brown, or blue-merle. A wide range of markings are permitted. But the preferred pattern is that the coat is 50% or more white, with patches of color. All-white coats are also accepted.
Their eyes can be any color, and heterochromia, or two different colored eyes, is not uncommon. Alapaha's have a short coat, which is glossy in appearance but with quite a coarse texture.
Alapaha Blue Blood Bulldog Temperament
The Alapaha is known as a 'catch dog', with the primary purpose of the breed initially being the protection and herding, or catching, of livestock such as cattle.
This means that these chunky dogs are courageous, with a strong territorial streak. They are exceptionally loyal to their families. Which can translate into possessiveness if not handled correctly.
They can be wary of strangers. So, plenty of early socialization and training is absolutely essential in this breed.
Unlike some of the more popular breeds, there's not any scientific research into the aggression of this breed.
But we can take a look at the English Bulldog, a similar breed, for a rough idea of the Alapaha's potential temperament.
Bulldog Temperament
One study found that Bulldogs ranked in the category of dogs considered to be far less aggressive than any other breed.
Another study, recording dog attack deaths and maimings in the US and Canada from 1982 – 2015 found that the English Bulldog breed was responsible for 24 attacks which resulted in bodily harm.
Of course, these results need to be taken with a grain of salt in relation to the Alapaha Blue Blood Bulldog, because the studies don't specifically refer to this breed.
As the Alapaha becomes so strongly bonded with their family, they will not cope well with being left at home alone for extended periods of time.
Training Your Alapaha Blue Blood Bulldog
Alapahas respond very well to training, and the earlier you can start the better!
Positive reinforcement training is a great idea with this breed.
Socialization is vital for Alapahas, so get your puppy used to a wide range of experiences involving other dogs, and people, while they're still young.
Potty and crate training are useful skills to teach your dog while they're still young.
Alapaha Blue Blood Bulldog Health
The Alapaha does appear to be relatively healthy. But because they're not a well-known breed, their health issues are not as well documented as some other breeds.
Problems which do seem to be common in the Alapaha Blue Blood Bulldog are:
Deafness
Eye problems, including entropion
Hip dysplasia
Brachycephaly
Let's take a look at each of those in turn.
Deafness
Alapaha dogs with white ears are at risk of pigment-associated congenital sensorineural deafness. The only way to be sure if a puppy suffers from this is to request Brainstem Auditory Evoked Responses (BAER) testing in order to check their hearing.
Deaf dogs can still be trained. But you'll need to adapt your techniques.
While we found one study to suggest that dogs of certain breeds with two blue eyes may also be associated with deafness, another study found no link.
Eye Problems
Eye problems may also be an issue. Some bulldog breeds can suffer from brachycephalic ocular syndrome, leading to pain and irritation. Cherry Eye is also common in bulldog breeds. The merle gene which is responsible for the coat color of some Alapaha's can cause merle ocular dysgenesis if a puppy inherits two copies of the merle gene from its parents.
Entropion is a painful disorder which can cause the eyelid to invert, or turn inwards. This can cause irritation, and eventually ulcers or loss of vision. It can be inherited and is common in brachycephalic breeds. Affected dogs will need eye drops, and potentially surgery.
Hip Dysplasia
Hip dysplasia is a genetic condition which can result in the hip joint degenerating. Responsible breeders will have parent dogs assessed and given a hip score. Be sure to ask to see these results.
Brachycephaly
Alapaha's are considered to be a brachycephalic breed, due to their shortened muzzles. While this isn't as pronounced as in some other breeds of bulldogs, they can still suffer from a range of health issues.
Head on over to our full article on brachycephaly in dogs to find out more about this condition.
Alapaha Blue Blood Bulldog Life Expectancy
An Alapaha dog should live for around 12 – 13 years.
Alapaha Grooming and Feeding
Given their short coat, the Alapaha only needs a quick weekly brush to keep them looking neat. During shedding season, simply brush their coat more regularly to remove the excess hair.
The Alapaha will do well on either a commercial or homemade dog food. We've discussed some of the pros and cons of kibble and raw food here.
Do Alapaha Blue Blood Bulldogs Make Good Family Dogs?
Due to the fact that the Alapaha does have the potential to show territorial aggression, we would recommend that this is a breed for an experienced dog owner only.
They can make excellent family dogs. But take care to ensure that they are trained to a high level of obedience.
Their possessiveness over their families means that they don't do well when left alone during the day, or when placed into kennels for long periods of time. This is a breed which wants to watch over their family at all times.
Some of their health issues may also result in higher than average vet bills.
Rescuing an Alapaha Blue Blood Bulldog
If you like the look of this breed, but would prefer not to have a puppy, then rescuing an older dog is a great idea.
Older dogs in a rescue shelter will have had their temperament assessed, as well as their suitability for living in a home with either other pets or children.
They'll probably also have been given some training sessions, and any rescue shelter will give you advice on how to carry on their training effectively yourself.
Finding an Alapaha Blue Blood Bulldog Puppy
With this breed, it's especially important that you do your research and find a reputable breeder.
Be prepared to pay a premium for an Alapaha pup – a quick search of some of the breeders listed on the ABBA website showed puppies for sale for around $2,000.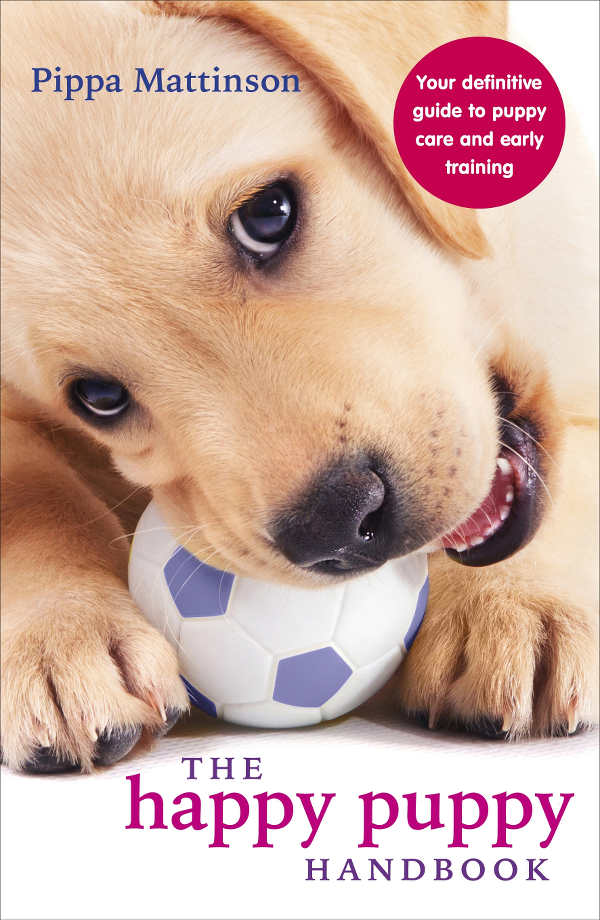 Any breeder should be happy for you to meet both parent dogs. They should also speak to you in detail about the temperament of this breed, and any special requirements they recommend in terms of training.
The ABBA suggests that a trustworthy breeder should be able to provide:
ABBA registration documents
A written guarantee or warranty
Health tests (OFA, PennHip, BAER)
A 3-generation pedigree for the parents
5 or more references from previous purchasers.
Where to Avoid
It's important to avoid pet stores or puppy mills. As well as focusing on profit over health, it's very unlikely that either of these could provide answers to the above questions.
As the Alapaha is a territorial breed, it's vital that you take the time to speak to any breeder about the temperament of both parents. And whether or not they consider that you can provide a suitable home for an Alapaha puppy.
Check out our Puppy Search as an informative guide for finding your perfect pup.
Raising an Alapaha Blue Blood Bulldog
If you have decided to bring an Alapaha puppy home, you'll need to consider how to raise them to be a well-socialized and polite pup.
While we've covered specific training requirements already, you can find some useful puppy care tips here as well as some general training information.
Pros and Cons of Getting An Alapaha Blue Blood Bulldog
To help you decide if this is the breed for you, here's a quick list of pros and cons.
Pros:
Loyal and loving
Good with children
Generally healthy with a long lifespan
Cons:
Territorial
Needs an experienced dog handler and trainer
Doesn't enjoy being left alone
Similar Breeds
While you might still be very tempted by the Alapaha Blue Blood Bulldog, the brachycephalic face shape of this breed, combined with their territorial nature means we wouldn't recommend buying this breed as a puppy.
Some similar breeds to consider instead include the Catahoula Bulldog or the Staffordshire Bull Terrier.
Is An Alapaha Blue Blood Bulldog Right For Me?
As we touched on briefly just before, we think that the health and temperament of the Alapaha mean it's not necessarily the best choice of dog for everyone.
While this breed certainly seems to be loving and loyal, it needs dedicated training from an experienced handler, right from the start.
As an unusual breed, it's also harder to predict what health problems they may suffer from.
If you're an experienced owner, with the time and expertise the Alapaha needs, then contacting rescue shelters to see if they have an older dog looking for a home is an excellent idea.
Do you have an unusual Alapaha Blue Blood Bulldog, or know someone who does? We'd love to hear from you in the comments below!
References and Resources