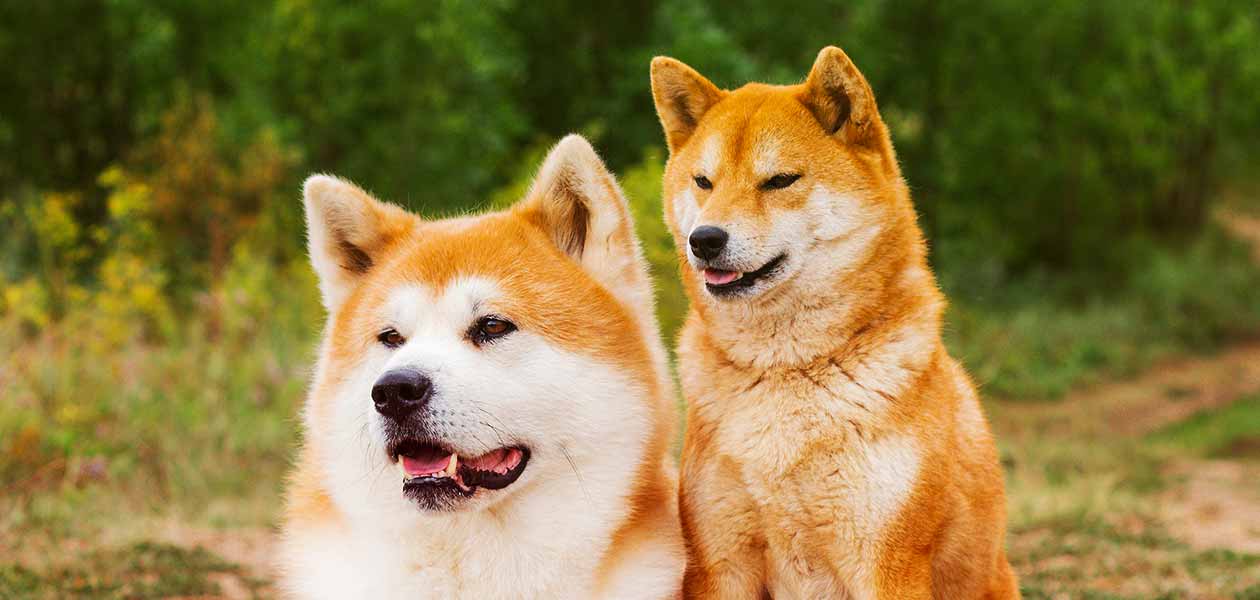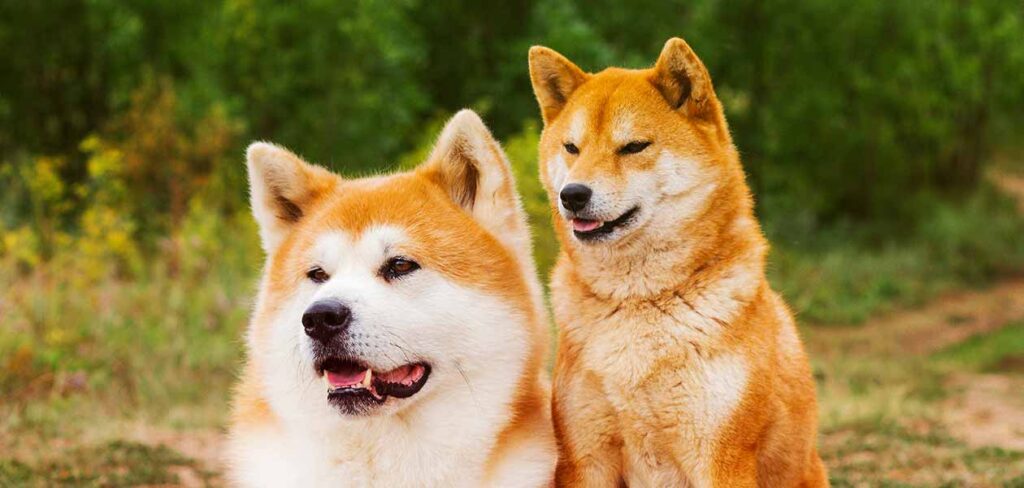 Which breed is best for you: Akita vs Shiba Inu?
Both of these dog breeds come from Japan. They each have triangular, pointed ears, and a fluffy curled tail that look quite fox-like!
These breeds also come in very similar colors. But, there are some key differences between the Akita vs Shiba breeds that you should learn before committing to one.
Let's find out more to see which is right for you.
Akita vs Shiba Inu – Which is Best?
It's important to remember that neither of these breeds is better than the other! But, we will be able to help you decide which one is better suited to your family and home.
It's important to learn about the care needs and temperament of a dog before getting a puppy. So, let's take a look at everything we're going to cover in this guide:
Contents
You can click on the links above to jump straight to certain sections. Or, keep reading to learn everything about these two breeds!
Akita vs Shiba Inu History
Both the Akita and Shiba Inu breeds have ancient histories that originate in the same country – Japan!
Let's take a closer look at how different their origin stories are, and what these dogs were originally used for.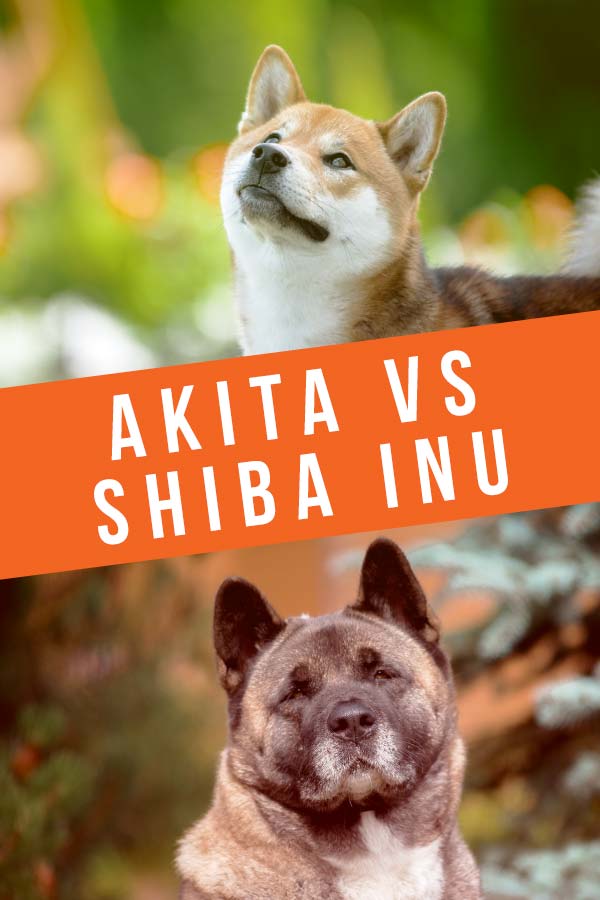 Akita History
The Akita breed comes from a line of hunting dogs known as the Matagi. The Matagi breed were used for hunting large animals like bears, boars, and deer.
Their strength, bravery, and size made them great hunters. Matagi dogs are known in Japanese history for being one of the oldest native dog breeds!
But, this isn't the only dog breed involved in the modern day Akita breed. Other dogs possible used in this line include:
English Mastiff
Great Dane
The Akita was brought across to America in 1938 by Helen Keller, who received one as a gift when visiting Japan.
Shiba Inu History
The Shiba Inu was also originally a hunting breed used in mountainous regions in Japan. This breed actually dates back to 300 B.C. They originally hunted large game, but as the breed developed, they were used on smaller animals.
During 7th Century A.D. the Japanese Yamato Court set an initiative to maintain native dog breeds as part of Japan's culture.
They set up a dog keeper's office to help achieve this. The Shiba Inu was one of these native breeds!
But, Shibas did face hardship when they almost went extinct in the Second World War. The government managed to keep the breed alive with a survival programme and three remaining bloodlines.
It wasn't until 1954 that the first Shiba Inu was documented in America. But, the breed wasn't recognized by breed registries there until the 1990s.
Akita vs Shiba Inu Fun Facts
'Shiba' in Japanese can refer to this dog's red fur color as well as brushwood in the mountains where these dogs originally hunted.
But 'Inu' just means dog! So, you may also hear the Akita breed called 'Akita Inu'.
There's also a beautiful story surrounding the Akita. In the 1920s, an Akita named Hachiko would follow his owner to the train station every morning.
After his owner died, Hachiko waited by the train station for nine years, until he passed away. He waited for his owner, even when other people tried to bring him home and care for him.
Hachiko's loyalty earned him a statue memorial at the Shibuya train station, which you can even visit now!
Akita vs Shiba Inu Appearance
Although appearance doesn't make much of a difference in how well suited a dog is to your family, you might want a dog that looks a particular way!
Let's find out how the Akita Shiba appearances compare.
Size
One of the major differences between these breeds is their size. Akitas are much bigger than Shiba Inus.
Akita dogs will grow up to 28 inches tall, weighing between 100 and 130 pounds when fully grown.
Shibas, on the other hand, can reach 16.5 inches tall, weighing up to 23 pounds. So, they're a lot smaller!
In both breeds, female dogs are likely to be smaller than males.
Key Characteristics
Other than size, the other features of these breeds are quite similar. Both have a solid, muscular build.
Both the Akita and Shiba Inu have triangular ears and a pointed muzzle. Although, the Shiba tends to have a slightly longer snout.
Both dogs have fluffy coats, bright eyes, and their tails curl up over their backs.
Coat Colors
Both breeds have a thick coat that will need general care. We will discuss this in more detail later.
The Shiba Inu comes in a slightly more limited selection of colors than the Akita.
Shiba Inus can be red, black, or tan, with white or cream markings on its chest, belly, legs, face, and tail.
Japanese Akitas can be red fawn, sesame, brindle, or white. But, the American Akita comes in even more shades, including Pinto (large patches of color).
Akita vs Shiba Inu Temperament
Temperament is a major factor that you should consider when choosing a new dog to bring home.
Let's take a detailed look at the personalities of these two Japanese breeds.
Akita Temperament
The story about Hachiko demonstrated that Akitas are loyal and devoted to their families.
Akitas are also intelligent, and active dogs that need lots of mental and physical stimulation.
And as we know from their hunting pasts, Akitas are very brave dogs. They also make great guard dogs.
Shiba Inu Temperament
Shibas are alert, bold, and can have feisty personalities. These are also loyal dogs who will be loving and affectionate towards their families.
Shibas can be independent, and they are also known for being quite vocal.
So, be wary of this breed if you're looking for a quiet dog!
Aggression and Guarding
One thing you need to be aware of with both of these dogs is a tendency towards aggression and guarding.
Both of these dogs were used to hunt in the past, so they can have strong chase and aggression instincts. As protective breeds, they may also be wary of strangers who approach their families or homes.
Families with other small pets may struggle with these breeds due to their chase instinct. Although puppies may be okay with animals that they grow up with.
It's really important to socialize your dog from a very young age to minimise the possibility of aggression when they are older.
Socializing your puppy will reduce guarding instincts, and make your dog happier to meet and interact with strangers.
Akita vs Shiba Inu Training
Training is important with every dog. And both Shiba Inus and Akitas are intelligent dogs that can take well to training.
However, they can both have an independent streak which makes it tricky to win them over them with the usual rewards during training.
Nonetheless, finding a reward which appeals to them and committing to obedience training and lots of socialization are really important for this breed.
Owing to their strong natural instincts, you should be careful walking with them off the lead outside.
Even the best trained dogs can struggle to listen to a recall command when they're chasing after a squirrel they've seen.
Socialization and training are important for both breeds, but especially the big Akita.
Larger breeds are more likely to frighten people, or knock them over by accident, so it's important to dedicate even more time to teaching them good manners.
Akita vs Shiba Inu Exercise
Both of these breeds need regular exercise. As hunting dogs, they originally would have spent a lot of their time roaming and chasing after animals.
So, if you decide to bring either of these dogs home, you must have the time to dedicate to their exercise needs every day.
Although, as we mentioned before, it is best to keep these dogs on a leash when walking them outside.
Akitas are very large dogs. But this doesn't mean they need more exercise than Shibas. In fact, too much exercise can put excess stress on an Akita's joints, especially at a young age.
Large dogs like Akitas don't mature until they are a few years old. So, don't push them too hard before then.
Akita and Shiba Inu Health
All dogs can suffer from potential health problems. So, let's take a look at each of these dogs in a little more detail, to see which is healthier.
Akita Health
The Akita is prone to certain health problems because of its large size. Here are some of the health issues you need to know about if you're preparing to bring home an Akita:
Hip and elbow dysplasia – malformed joints
Progressive Retinal Atrophy – degeneration of retina cells, causing blindness
Myasthenia Gravis – autoimmune disease affecting muscles and nerves
von Willebrand's Disease – clotting disorder
Uveodermatologic syndrome – autoimmune disease causing loss of pigment in skin and inflamed eyes
Some of these problems can be found with health testing. So, going to a reputable breeder who does health tests before they breed dogs can be a great way of maximising your dog's health.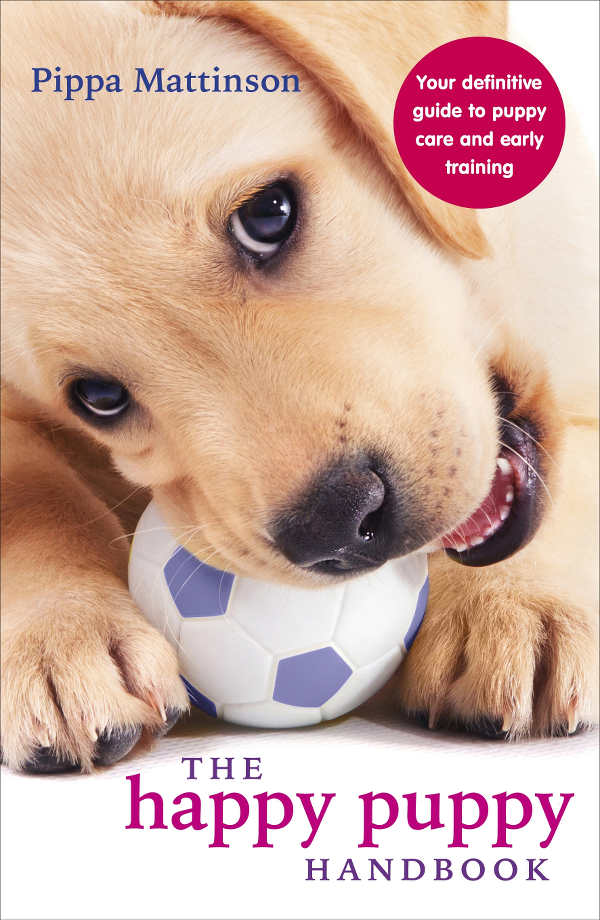 Shiba Inu Health
Although the Shiba isn't prone to all of the same problems that big dogs are, there are still some potential health issues you should be aware of.
Allergies
Patella Luxation – dislocated kneecaps
Hip dysplasia
GM1 Gangliosidosis – disease affecting brain and organs
Eye disorders, such as glaucoma
Once again, some of these health issues can be found with health testing, so ensure you go to a reputable breeder who can provide health certificates.
Grooming Needs
Both the Shiba Inu and Akita breeds have very thick, fluffy coats. But, this means they have a lot of grooming needs.
Whichever breed, you'll need to groom them regularly, and make sure that their coats don't get too dirty.
You may also need to bathe them every now and again.
Make sure to keep on top of checking their ears for excess wax and clipping their nails if they grow too long.
Akita vs Shiba Inu Puppies
Whichever breed you choose, you need to make sure you go to a reputable breeder.
Avoid getting a puppy from pet stores or puppy mills, as these places often don't care for the health of your puppy or the dogs they breed from.
Make sure you go to a reputable breeder with a long list of questions. They are likely to ask you questions too, to make sure their puppies are going to good homes!
Generally, Akitas are a little cheaper than Shibas. But, both of these breeds can be really expensive.
Akitas can cost anywhere upwards of $800. Whereas, Shibas will cost anything over $1000.
Shiba Inus tend to cost more because the breed has become so much more popular in recent years.
Which Breed Makes A Better Pet?
Overall, both the Shiba Inu and Akita are pretty similar dogs!
They look similar, and both have loyal, protective temperaments. But, the Akita is much bigger than the Shiba Inu!
If you're looking at the Akita vs Shiba Inu debate, make sure you choose the breed that is best suited to your home and family.
Do you have an Akita or Shiba Inu? Tell us about your reasons for choosing them in the comments!
References and Further Reading
Adams, V. (et al), 'Methods and Mortality Results of a Health Survey of Purebred Dogs in the UK', Journal of Small Animal Practices (2010)
Cottell, B. & Barnett, K. 'Harada's Disease in the Japanese Akita', Journal of Small Animal Practice (1987)
Duffy, D. (et al), 'Breed Differences in Canine Aggression', Applied Animal Behavior Science (2008)
Uddin, M. (et al), 'Molecular Epidemiology of Canine GM1 Gangliosidosis in the Shiba Inu Breed in Japan: Relationship between Regional Prevalence and Carrier Frequency', BMC Veterinary Research (2013)
Kutsumi, A. (et al), 'Importance of Puppy Training for Future Behavior of the Dog', Journal of Veterinary Medical Science (2013)
Kato, K. (et al), 'Possible Association of Glaucoma with Pectinate Ligament Dysplasia and Narrowing of the Iridocorneal Angle in Shiba Inu Dogs in Japan', Veterinary Ophthalmology (2006)
Howell, T. (et al), 'Puppy Parties and Beyond: The Role of Early Age Socialization Practices on Adult Dog Behavior', Dovepress (2015)
Glickman, L. (et al), 'Non-Dietary Risk Factors for Gastric Dilation Volvulus in Large and Giant Breed Dogs', Journal of the American Veterinary Medical Association (2000)