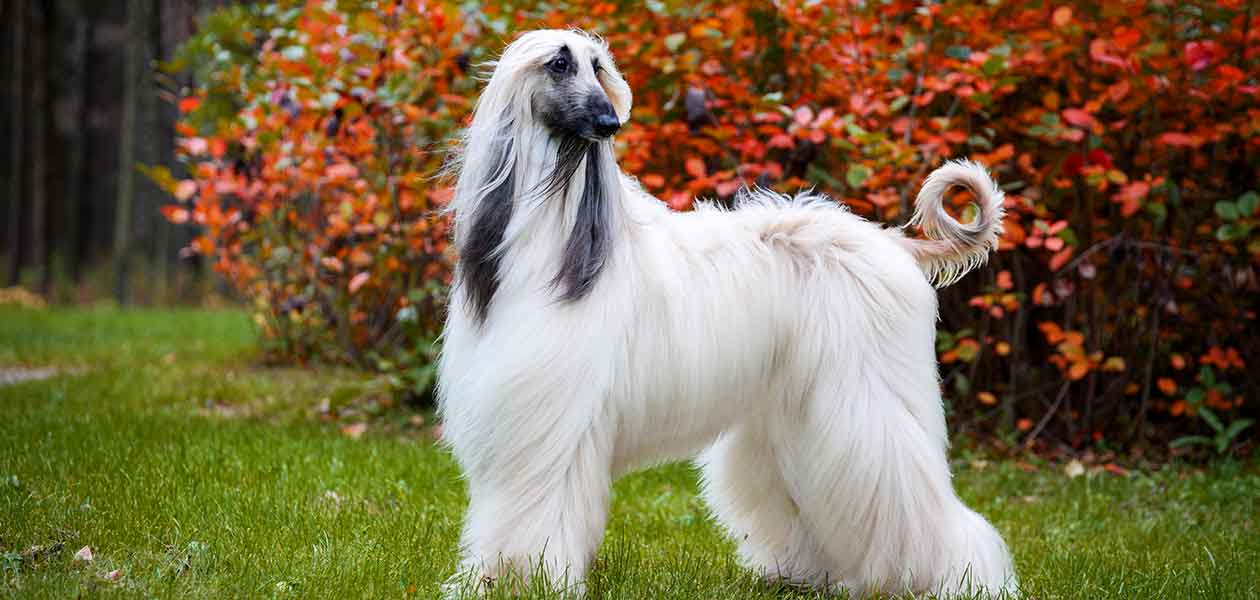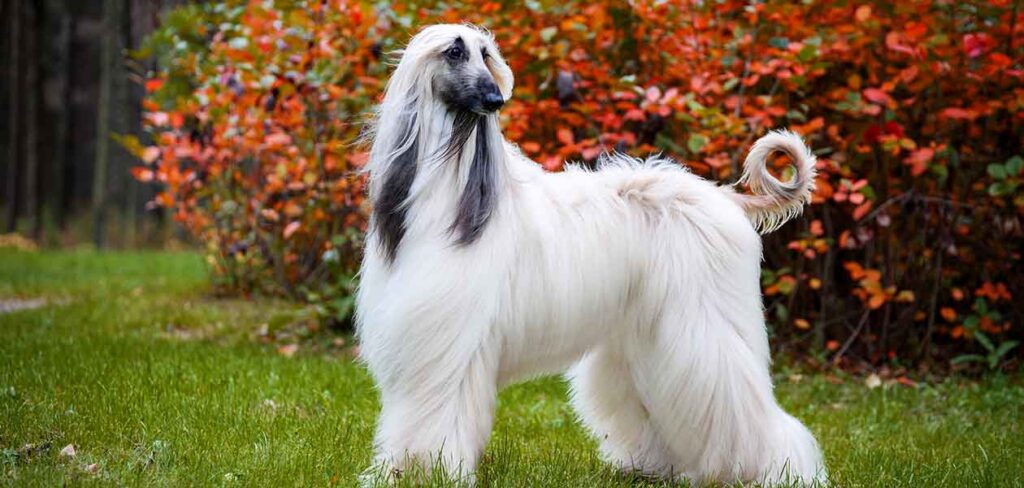 The Afghan Hound breed is independent, gentle, and calm. But, these ancient dogs are known for their lovable, playful streak.
They have a distinctive appearance, characterized by beautiful, flowing fur, long thin muzzles, and almond-shaped eyes.
In their past and the modern day, the Afghan Hound has excelled in the show ring.
So is this the right breed for you?
What's In This Guide
Afghan Hound FAQs
Take a look at our readers' most popular and frequently asked questions about this regal breed.
Let's start by taking a brief look at some stats.
Breed At A Glance
Popularity: 113 out of 195 AKC breeds
Purpose: Hound dogs
Weight: 50 – 60 pounds
Temperament: gentle, regal, independent.
Does this unique breed sound like it would fit in well with your family?
Breed Review: Contents
First things first, where does this dog come from?
History and Original Purpose
The Afghan Hound comes from the region of Afghanistan, Pakistan, and Iran.
However, canine biologists are not precisely sure where the first Afghans were born and bred.
These dogs were bred to serve as sight hounds, using their intensely keen panoramic vision to spot and pursue prey.
Today, the Afghan Hound is a staple on the show circuit, in many canine sports, in artist studios, and in caring homes around the world.
Interestingly, in some dog clubs today they are classified as "sight hounds" and in other clubs they are classified as "hounds."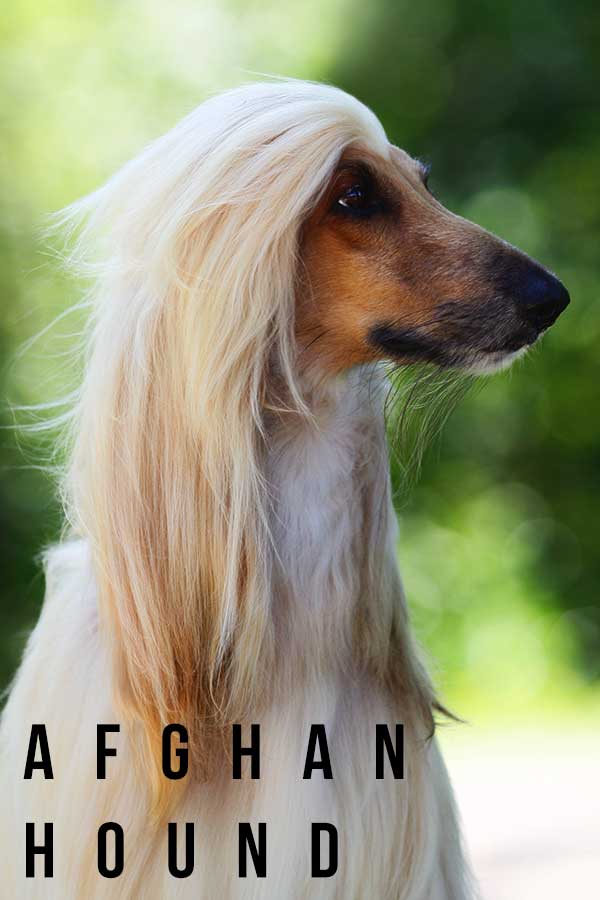 Early History
In the earliest times, it is thought that Afghan Hounds were a dog breed reserved for royalty.
Only nobility, from tribal chieftains to monarchs, were able to keep these highly intelligent, resilient, and resourceful dogs for use on the hunt.
When the breed first arrived in Britain, it created quite a stir in the show ring.
But then World War I began and people's attention focused elsewhere.
After the war ended, two different Afghan breeding lines developed: the Ghazi hounds and the Bell-Murray hounds.
It was these hounds who made their way to the United States and the rest, as they say, is history.
Fun Facts About Afghan Hounds
These dogs have long been admired by artists, photographers, sculptors, and even comedians. Most notably the famous Marx brothers.
But the Afghan probably got its biggest publicity boost when the toy maker Mattel came out with a Barbie doll that had a pet dog—an Afghan.
In 2005, the Afghan Hound "Snuppy" became the first cloned dog.
Snuppy was cloned from a single cell extracted from the ear of an Afghan Hound.
Snuppy lived at Seoul University as a much-loved mascot until he sadly passed away in 2015.
He also fathered his own litter of puppies using the old-fashioned method…no cloning required.
Afghan Hound Appearance
The Afghan Hound has a distinctively regal, noble, and graceful appearance. This is a dog that can readily turn heads.
The Afghan's long, silky ears give the effect of a dog wearing a human hair wig.
If there was a "supermodel" of the canine world, the Afghan would likely be a top pick!
How Big is the Afghan Hound?
The average adult weight of an Afghan Hound is between 50 and 60 pounds.
An adult typically stands 25 to 27 inches tall from paw to shoulder.
So, this is a medium to large sized dog breed.
Coat Type and Colors
This breed can display single solid colored coats or bi-colored coats. Black Afghan Hounds, blue, cream, red, silver, and white Afghan Hound coats are staple colors.
According to the breed standard, popular standard color patterns include black and silver, black and tan, and blue and cream.
Markings can take the form of a black mask, brindle pattern, brindle black mask, brindle domino, or domino.
A long-hairedAfghan Hound in full coat splendor is a sight to behold. These dogs truly can look like "walking carpets," with their long, flowing hair.
It is so human-like in texture and appearance, if not location!
Short hair only occurs in two places: the face and the saddle (the portion of the back body that extends out over the tail area). In all other places, the hair is long.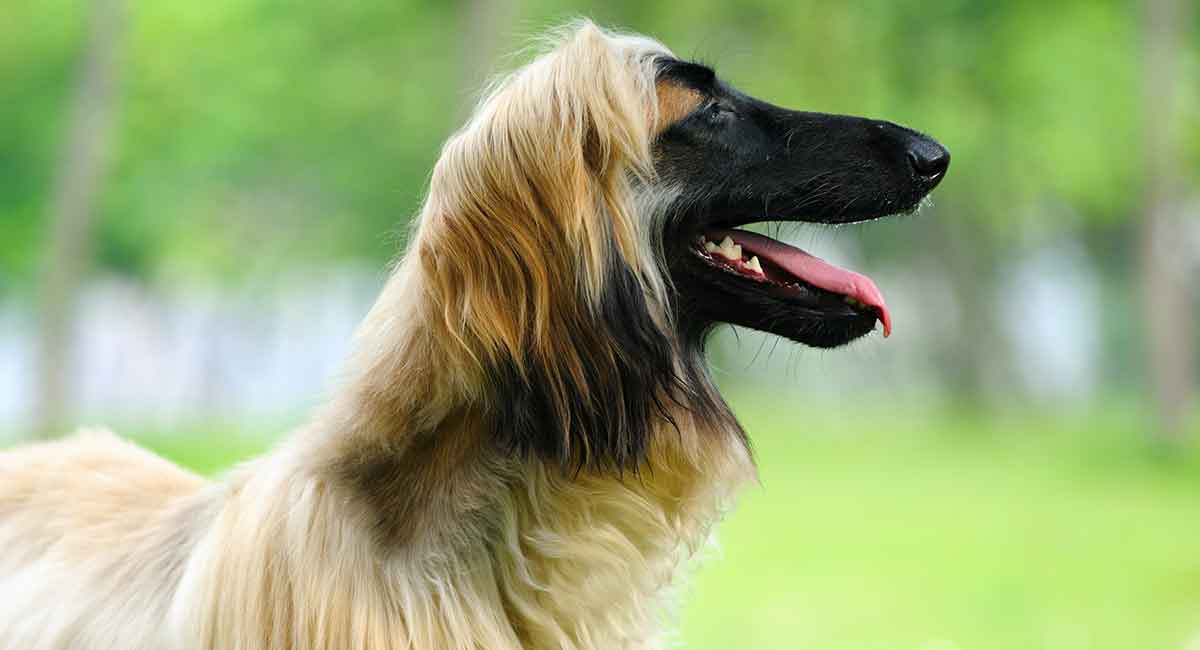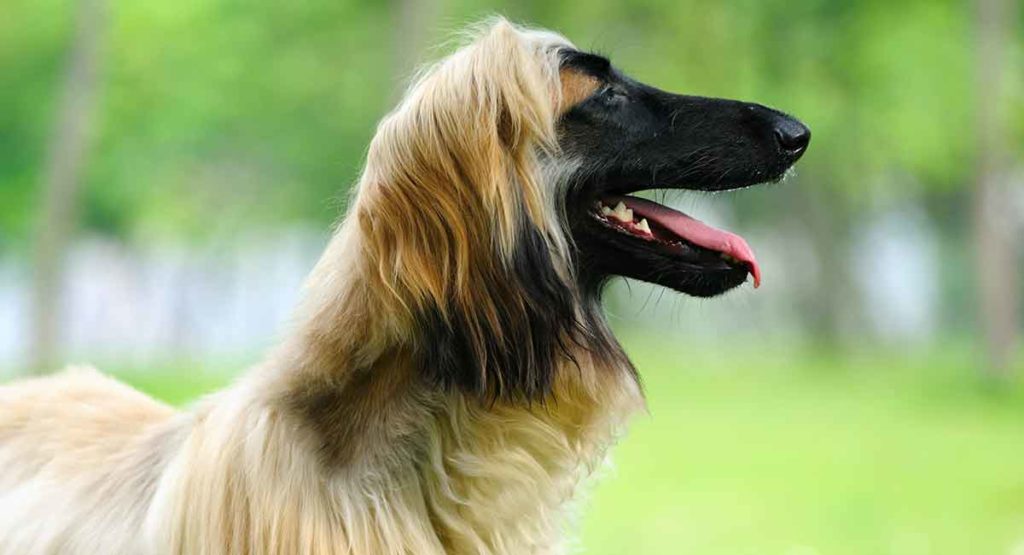 It's in the Genes!
Some Afghan Hounds will grow a beard called a "mandarin" beneath their chin, but not all Afghans will have this as adults.
Interestingly, canine biologists have discovered that the gene responsible for generating the long adult coat is one found only in the Afghan Hound.
No other dog breed has it!
Short Hair Afghan Hound
This breed is known for its long flowing coat, but is it possible to find a short hair Afghan Hound?
The long hair on this breed originally served to protect them from harsh climates. It's unlikely you'll find a short hair Afghan Hound unless you choose to clip their fur.
We will talk about this a little later on in the guide.
As puppies, Afghans do have much shorter hair. But, if you're keen on finding a naturally short hair Afghan Hound, you may need to resort to a mixed breed, or another dog.
Afghan Hound Temperament
The Afghan Hound temperament is often described as aloof and regal. However, these dogs can also be quite playful.
It's just that, in order to see the Afghan's silly, playful side, it usually takes owning an Afghan for yourself.
These dogs have been bred for centuries to think for themselves and to hunt and survive independent of human assistance.
So this is not the dog breed to get if you want 100 percent obedience.
Especially if your sighthound has spotted something pursuit-worthy, such as a fleeing squirrel!
Are Aghan Hound Dogs Affectionate?
Afghans are sometimes described as "cat-like dogs" because they keep their own counsel.
For example, you may want to pet your Afghan but your dog may not be in the mood to be petted.
But then later, when you are busy doing something else, your Afghan may decide she is ready to be petted.
Then she will allow you to pet her.
Natural Instincts and Loyalty
Overall, owners and breeders say that these dogs are typically gentle, loving, sweet-natured. And calm, unless they are on the hunt.
You should never let your Afghan off-leash, unless he has a great recall.
The Afghan will bond closely with one person or with one family.
They will tend to be standoffish with strangers or guests, which is something to be aware of if you entertain a lot.
Also, the Afghan's sighthound lineage means this is not the best dog to choose if you have other small pets in the house!
Training and Exercise Needs
Afghan Hound dogs have evolved to navigate sometimes rigorous terrain at top speed while chasing small prey using their keen eyesight as a guide.
This has made them quite independent. This is a breed trait and is not something you can "train" your dog to do or not do.
Because these dogs are quite independent, they might seem challenging to train. This doesn't mean they aren't smart.
Afghan Dogs are intelligent, but need consistent, positive training to achieve best results. This isn't a great breed for first time dog owners who aren't confident with training.
Start training your puppy from a young age to get a well behaved adult.
With consistent, positive reinforcement training, they are typically easy to housetrain and learn basic commands quickly.
Exercise
If you plan to keep your Afghan Hound as a pet dog, you will need to make time to give your pup lots and lots of exercise.
And this can then translate into lots of brushing and grooming to remove debris, mats and tangles afterwards.
Of course, Afghan owners say this dog is well worth the effort, but it is just something new owners need to be aware of going in.
These dogs excel at lure sports, tracking, racing, jumping and other canine sports.
Afghan Hound dog racing sports can give your active hound a great regular outlet for all that pent-up speed!
Love of Running
To see an Afghan Hound running at full tilt is an impressive sight.
Your Afghan can literally go from zero to 40, achieving maximum running speeds of 40 mph.
That's just five miles slower than the fastest dog on the planet, the Greyhound!
Endurance running is another breed trait, which means the Afghan could easily run down a cheetah or other large cat.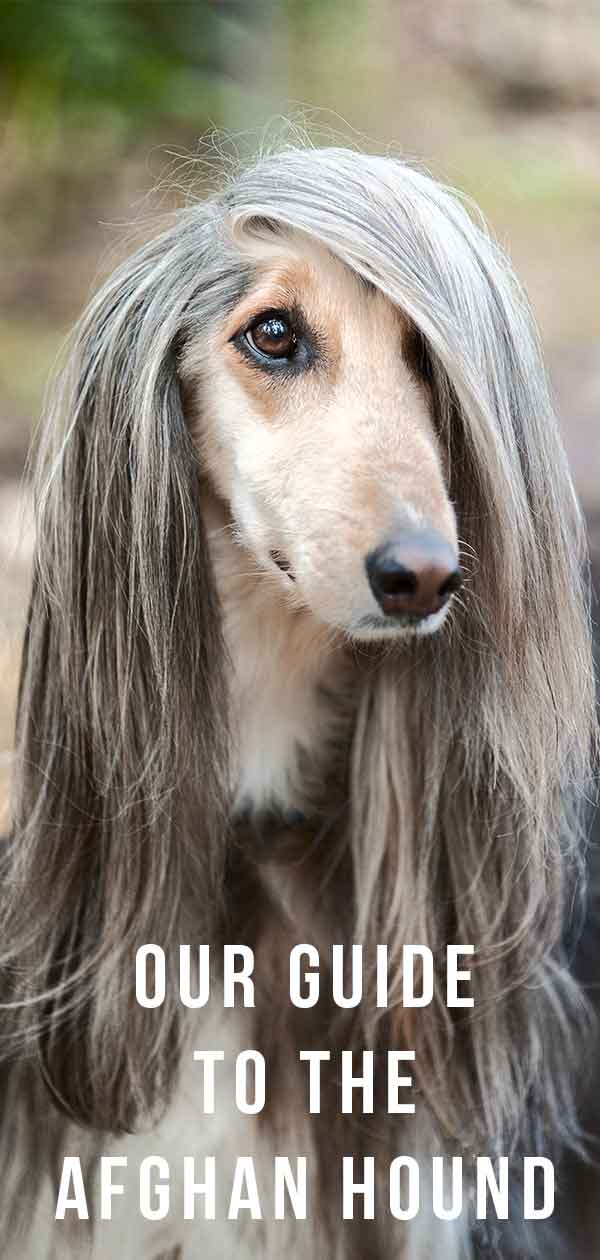 Socialization
Because of the natural instincts present in this breed, and the tendency to form strong attachments with owners, you need to socialize your dog well from a young age.
Introduce your dog to as many new people, things, and places as possible whilst they're a puppy.
You can find tips on socializing your puppy here.
Socializing your dog will help to prevent any aggression when your dog is older. So, it's really important.
Afghan Hound Health and Care
The Afghan Hound is a very lean dog overall. Their long hair coat can make this dog look much bigger than their actual body size.
Afghans don't have a lot of body fat, which means keeping a regular feeding schedule is very important.
Their leanness can also make them unusually sensitive to medications, including anesthetic.
Make sure your vet is aware and knowledgeable about how to treat sighthounds before treating your Afghan.
Common Health Problems
Here are some common health problems that are known to affect the breed.
Cataracts
Glaucoma
Progressive Retinal Degeneration
Hip dysplasia
Bloat
The deep chest cavity of the Afghan means this is a dog breed that is very susceptible to a life-threatening condition called bloat.
Bloat, or gastric torsion, happens when the stomach twists. It can be fatal quickly if left untreated.
Using a slow-feeder bowl at mealtimes and not feeding your dog just before or after intense exercise can be helpful preventative measures.
Make sure that any breeder you choose to work with to get an Afghan puppy has done all the required pre-screening health tests on the parent dogs.
Health Testing
The Canine Health Information Center (CHIC) currently recommends that breeding stock (parent dogs) be health tested.
Ask for proof of tests for hip dysplasia, eye issues and autoimmune thyroiditis.
Any breeder you work with should be able to show proof that parent dogs have been tested for each of these issues.
Lifespan
The Afghan Hound can live anywhere from 10 to 18 years. This is a pretty big range. But, you can have a major influence over your Afghan's life expectancy.
Specifically, feeding the right diet and only dog-safe treats. Giving your active hound lots of daily exercise and play time will help too.
And making sure you take your dog for preventative wellness checkups at the vet.
Not all Afghans will live long lives, and one study found that the average lifespan of this breed was 11.9 years.
But, great care and a healthy lifestyle will help keep your Afghan around for as long as possible.
Grooming
Just looking at all that hair, you can already expect that grooming an Afghan Hound may be a time-consuming task. And you wouldn't be wrong.
Grooming duties won't really kick in until your Afghan puppy begins to grow in the long adult coat.
As puppies, the Afghan coat is short and fluffy.
But then you may find your free time increasingly consumed with bathing, combing, brushing, and grooming your Afghan's tangle-prone coat.
Clipping Their Coat
Some owners elect to clip the coat quite closely on the body and legs, leaving only the topknot, ears, tail and hocks longer.
While this is a more convenient haircut, it is not permissible if you want to show your dog.
Either way, you will find your Afghan Hound needs frequent hair trims just like you do.
Afghan Hounds destined for the show ring can require daily grooming as well as other special accessories to protect the long coat.
It is not uncommon to see show Afghans wearing snoods around the ears and neck, booties.
Even full bodysuits to keep that long coat tangle-free and clean before a show event!
Do Afghans Shed?
This is the one that surprises most new Afghan owners.
Despite the long, silky coat, the Afghan Hound really doesn't shed all that much.
While the coat is thick, it is just one layer, so you don't have any undercoat shedding to worry about.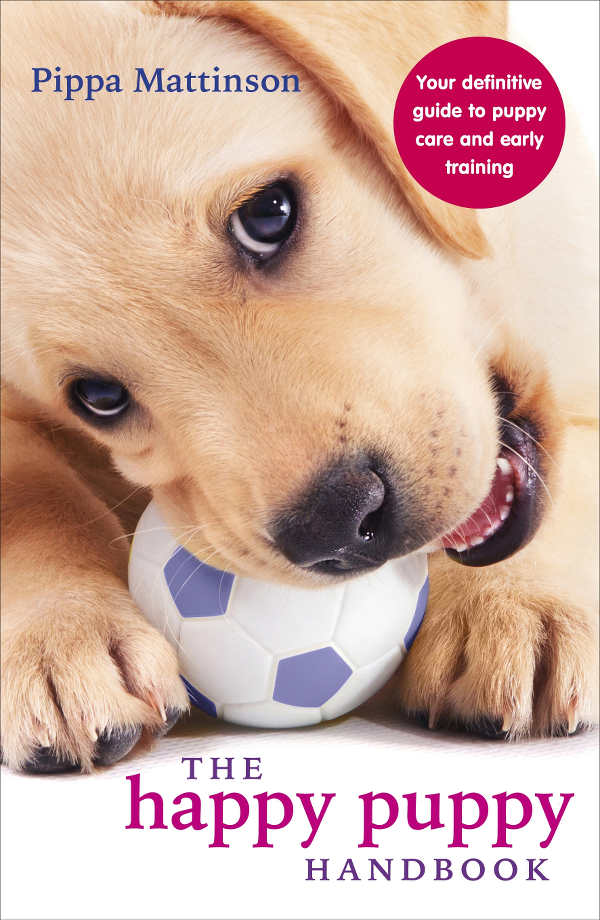 The time period when you are likely to experience the most Afghan shedding is during the transition from the puppy coat to the adult coat.
Do Afghan Hounds Make Good Family Pets?
The Afghan Hound dog makes a very loving family dog and is known to be good with small children, despite their aloof-appearing demeanor with people they don't know well.
But it is important to teach children not to pull at or hang on the long coat, which could cause injury to your dog's sensitive skin.
The Afghan doesn't tolerate being left alone for extended periods of time however.
This is definitely a dog breed for an active family that wants to include their hound in plenty of outdoor excursions!
Rescuing an Afghan Hound
If you're not fussed about getting a puppy, choosing an Afghan Hound puppy can be a great choice.
Rescue center dogs and puppies are often cheaper. But, you will need to speak to the rescue center to make sure your Afghan Hound rescue has no unknown temperament issues.
We've left links to Afghan Hound rescue centers at the bottom of this guide if you're interested in adopting this unique breed.
Finding an Afghan Hound Puppy
The best way to pick out an Afghan puppy is to start by choosing a reputable, health-first breeder that routinely health-tests all parent dogs.
Choose a friendly, outgoing puppy with clear eyes and ears, and healthy skin and coat. Make sure the puppy is willing to be held and shows a playful personality.
Avoid going to puppy mills and pet stores, as these places often don't treat the pups or their parents well.
Afghan Hound breeders generally charge around $1,000—at the time of the writing of this article—for a puppy. But, this price can fluctuate depending on a number of factors.
Including supply and demand, puppy coat color, gender, size, pet versus show quality, and other factors.
You can find out more information on finding a puppy with our puppy search guide.
Raising an Afghan Hound Puppy
The Afghan Hound is not going to be the right pet dog for every person or family.
But for an active, outdoorsy family with a keen interest in spending lots of time with a pup, it can make a wonderful pet dog.
There are some great guides to help you with all aspects of puppy care and training. You'll find them listed on our puppy care page.
Similar Breeds
If you aren't sure how well this breed will fit into your home, there are some other similar breeds that you may prefer to consider.
Take a look at these guides for more information:
Now, let's recap the pros and cons of this dog.
Pros And Cons of Getting An Afghan Hound
This distinctive breed will be great for the right family. Does he fit yours?
Cons
Intense grooming needs
Can be quite aloof
Very independent
Needs plenty of exercise
May not get along with other small pets
Pros
Very loyal to family
Usually has playful streak
Has a beautiful, unique coat
Comes in lots of shades and patterns
Relatively healthy breed with long lifespan
Now let's think of how to prepare for this breed.
Afghan Hound Products and Accessories
Take a look at our guides below for more ideas of what you need to prepare for this unique breed.
Read on for a list of breed rescues if you are looking to adopt.
Afghan Hound Breed Rescues
Check out the links below if you're looking to adopt pne of these dogs. If you know of any we've left off the list, just drop their name in the comments below!
References And Resources
Gough, A. (et al), 'Breed Predispositions to Disease In Dogs and Cats', Wiley Blackwell (2018)
O'Neill (et al), 'Longevity and Mortality of Dogs Owned In England', The Veterinary Journal (2013)
Tyler, A. 'Health Testing & CHIC.', Afghan Hound Club of America (2018)
Evans, S. 'Hemangiosarcoma: The Silent Killer.', Afghan Hound Pedigrees (2004)
Couto, C.G, DVM. 'Are Sighthounds Really Dogs?', Couto Veterinary Consultants (2014)
Kullarand (et al), 'Health Testing Results.', Al Khabara Kennel (2018)
Rhodes, S. 'Afghan: The Breed', The Afghan Hound Association UK (2018)
Cremin (et al) "Afghan Hound History', United Kennel Club UK (2018)
Dierks (et al) 'Allelic heterogeneity of FGF5 mutations causes the long-hair phenotype in dogs', Animal Genetics (2013)
Jung Kim, M. (et al), 'Birth of clones of the world's first cloned dog.', Scientific Reports/Nature (2017)
Miller, P. 'Breed Predispositions to Eye Disorders', Slatter's Fundamentals of Veterinary Ophthalmology (2007)
Evans, K. & Adams, V. 'Mortality and Morbidity Due to Gastric Dilatation-Volvulus Syndrome in Pedigree Dogs in the UK', Journal of Small Animal Practice (2010)