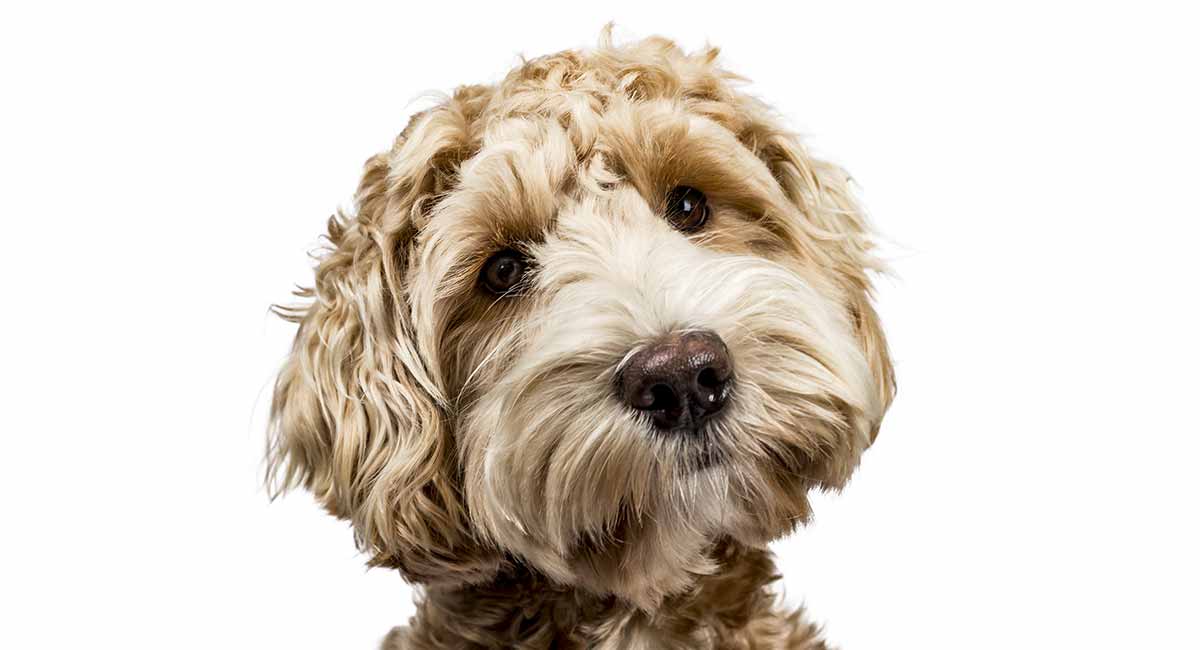 The Labradoodle dog breed is beautiful, fun and loving. And Labradoodle puppies grow up into intelligent, friendly, family dogs. The Labrador Poodle mix was one of the first cross breeds to become widely popular. We'll be looking at the brilliant pros and surprising cons of this clever but very lively, curly dog. And sharing some tips for finding and raising a puppy.
Contents
What is a Labradoodle?
The Labradoodle is one of the most popular mixed breed dogs. A combination of lovely Labrador and pretty Poodle, it's not hard to see why they are so popular as companion dogs and service animals.
Where Do Labradoodles Come From?
The Labrador Poodle mix is one of the most popular crossbreed dogs in the world. These adorable, curly haired dogs are so prized they often cost more than their purebred parents. When you cross two purebred dogs, the puppies are called designer dogs. Labradoodles were one of the very first designer dogs, created in the late '80s. They were bred in an attempt to create hypoallergenic service dogs.
Labradoodle Origins
A blind woman living in Hawaii wrote to the Royal Guide Dog Association of Australia in 1988. She needed a service dog, but her husband was allergic. So she asked if there was a way to have a guide dog that would not shed hair. Wally Conron was assigned the task of finding her a dog.
He first tried Standard Poodles. However, more than thirty Poodles, over the course of three years, all failed to make it as a guide dog. That's when Conron came up with the idea of crossing his best female Labrador Retriever with a Standard Poodle.
One of the Lab Poodle mix puppies ended up being a great guide dog. Conron decided to call these crossbred dogs "Labradoodles" as a PR gimmick. He made a statement saying, "No one wanted a crossbreed, but the following day we had hundreds of calls from people wanting these master dogs." Labradoodles had arrived!
Designer Dogs
There is a lot of controversy around designer dog breeding. And there have been many debates about whether mixed breeds are better or worse than purebreds. These debates are all centered around the idea of "hybrid vigor," in that crossbred dogs often seem to live longer and avoid some of the health issues of purebreds.
The Lab Poodle mix has been in the front lines of this debate. "Doodle haters" claim that the hype over dogs like the Lab Poodle mix is promoting unethical breeding practices. Conron himself is reported to have regretted his creation, saying, "I released a Frankenstein." This is not due to the dog itself, but rather due to some of the fallout.
Sudden popularity in any breed or mixed breed can result in lots of bad breeders jumping on board in the hope of earning a few dollars. And Labradoodles gained a lot of fans very quickly, which meant the demand exceeded the supply. Some, like Conron, began to worry about "backyard breeders," or breeders who don't follow standards or properly check and test the parent dogs.
Designing The Labradoodle
Of course, the worry about unethical breeding isn't a reflection on the Labradoodle itself. And as a matter of fact, mixed breeds are often healthier than purebreds. While this is difficult to prove, long life is a good indicator of health in a breed. And mixed breed dogs do live slightly longer, than most (not all) pure breeds.
But it's basically impossible for a breeder of designer dogs to predict what their mixed breed puppies will look like, or what their temperament will be. That's not the case with purebreds, which tend to be much more predictable. On the other hand, research has shown that purebred dogs lack vigor compared with mixed breeds. Lack of genetic variety causes small litter sizes, and lower survival rates too. To read more about this topic, check out this article on "Purebreds vs. Mutts."
As mixed breed dogs, Labradoodles are not registered with a kennel club such as the AKC. There are, however, a number of breeders and breeding clubs. Each club has their own breed standard. And these may vary from club to club.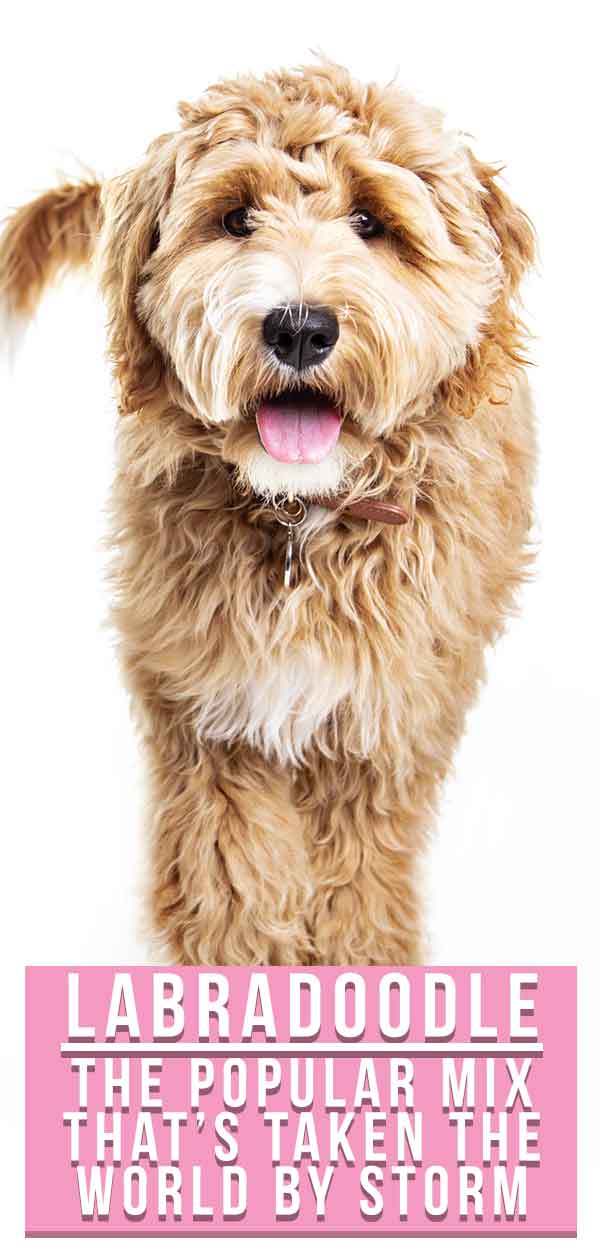 What Do Labradoodles Look Like?
This breed varies in coat type and colors, as they can take after either parent. It's impossible to predict exactly what your Labradoodle will look like. But you can get a good idea by looking at the parent breeds. Labradoodles could take on the traits of either parent breed, or they could share a mix between the two.
How big are adult Labradoodles?
A standard Labradoodle grows to between 24 and 26 inches tall, weighing anywhere between 55 and 95 pounds as an adult. However, this weight varies depending on the Poodle parent. You can also get medium, and miniature Labradoodles!
A Lab Poodle mix is not always a cross between a Labrador and a Standard Poodle. Labs mixed with smaller Poodles are still often called Labradoodles, but the difference in size from one parent gives Labradoodles a wide range of possible sizes. This means Labradoodle weight will primarily depend on what type of Poodle was one of the parents.
Standard Labradoodles range between 24 and 26 inches in height. They may reach 55 to 95 pounds in weight.
Medium Labradoodles can range between 21 and 23 inches in height. They may reach 25 to 45 pounds in weight.
Miniature Labradoodle size is between 14 and 16 inches. They may reach 15 to 25 pounds.
Miniature Labradoodles aren't often seen, as it is less common for a Labrador to be mixed with a Miniature Poodle.
Types of Labradoodles
Did you know that there are two different types of Labradoodle? The Australian Labradoodle, which is closer to the original created by Wally Conron, can actually have several different breed strains in the lineage. The Lomond Hills Labradoodles breeding society actually states their Australian Labradoodles have six different parent breeds:
Labrador
Poodle
English Cocker Spaniel
American Cocker Spaniel
Curly Coat Retriever
Irish Water Spaniel
You may also hear of smaller dogs called mini Labradoodles. Mini Labradoodles are Labs crossed with a Miniature Poodle. American Labradoodles are more stringently descended from Labrador Retrievers and Poodles, usually Standard sized.
Generations Of Labradoodles
As Labradoodles have been popular for some time, there are plenty of breeders working at crossing and recrossing the mixes. This has resulted in several different generations of Labradoodles. And the generation you get makes a difference in how much Poodle and how much Lab you can expect to show up in your mixed puppy.
F1 Labradoodles
An F1 Labradoodle is a first cross between a pure Labrador Retriever and a pure Poodle. How curly the coat is may vary. But it is usually looser than a Poodle coat. Other than size, the characteristics are typically the same between crosses.
F2 Labradoodles
F2 Labradoodles, on the other hand, are second-generation dogs. This means both parents were an F1 Labradoodle. F2 matings do not breed "true to type." That means F2 puppies from the same litter can look very different from one another.
F1b Labradoodles Bred For Curlier Coats
Labradoodles can also be back-crossed in order to accentuate certain characteristics from one parent or the other. For instance, an F1b Labradoodle is a first-generation back cross. This means an F1 Labradoodle was bred with a purebred Poodle to get F1b puppies. Typically, this makes the Poodle characteristics more dominant, such as a curlier coat that sheds less.
Weight and height ranges are typically the same. Curly coats are popular. That's because some people with mild allergies find curly coated dogs easier to live with.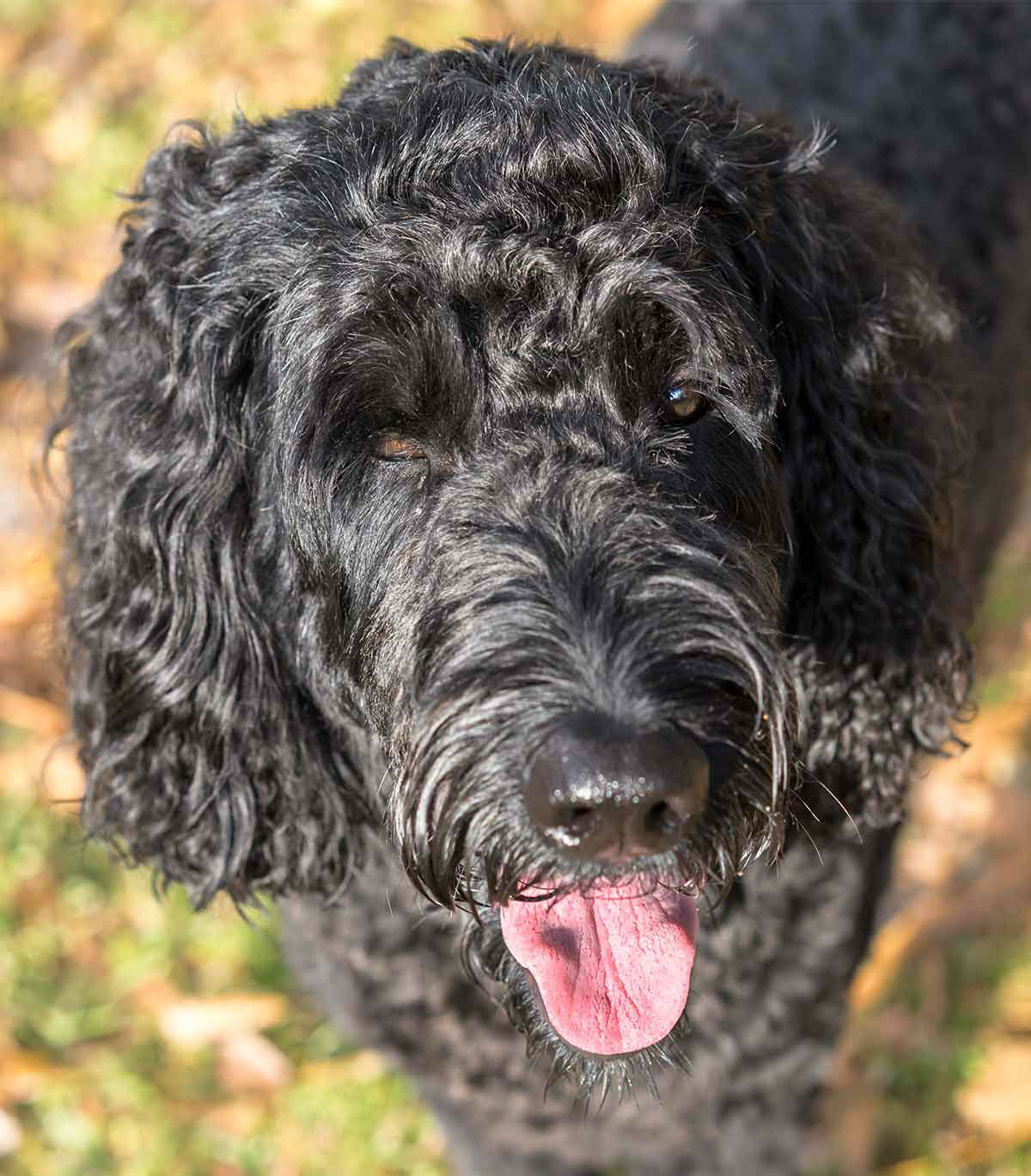 Labradoodle Coats
Labradoodles are typically square and compact in build. They should be strong dogs that are well-balanced and athletic. Labradoodles can have three different potential coat varieties.
They can have coarse hair like a Labrador, particularly in F1 crosses. However, this is typically seen as undesirable. They can have the wool coat of a Poodle, or they can have a fleece coat. Labradoodles only have a single coat, not the double coat of a typical Lab. The length can also vary, but is often 3-6 inches long. Coats can come in a variety of colors, including the following:
Grooming and Shedding
The ideal coat type is low maintenance and low shedding. Labradoodles are meant to avoid the heavy shedding of Labs. Nor are they meant to require the clipping and grooming of Poodles. But sometimes they do. Your Labradoodle's grooming will depend on the coat type your puppy ends up with.
If your puppy has the woolly coat of a Poodle, you may need to take it into a professional groomer once a month for a clip. It's important to make sure you brush your dog right down to the skin and never shave it to avoid causing painful matting. Matted fur is a big problem for some curly coat dog breeds. Many Labradoodles need grooming and clipping regularly to prevent matting. The curlier the coat, the more maintenance will be required.
Are Labradoodles Hypoallergenic?
Labradoodles were originally created in an attempt to find a service dog that would work well for owners with allergies. Unfortunately, no dog is 100 percent hypoallergenic. However, Poodles are one of the closest breeds you can get to completely allergy-free. And some people that are allergic to dogs are less sensitive to Poodles. That does not mean that Labradoodles always have the same traits.
According to Conron, in the first litter of Labradoodles, there were three puppies, only one of which was hypoallergenic. The next litter had 10 puppies, and three of them were hypoallergenic.
One of the arguments for F1b Labradoodles is that the second crossing with Poodles is supposed to increase the likelihood of the resulting mix not causing allergies. However, there is no guarantee that a Labradoodle will be hypoallergenic. To confirm whether one is, the hair and saliva need to be tested by a registered laboratory.
Labradoodle Temperament
Labradoodles are marketed as friendly, easygoing dogs. They are recommended as great with small children and perfect for families. And to some extent this is often true. On the other hand, both Labradors and Standard Poodles are big, intelligent dogs that have a lot of energy. This means that training and long daily walks are a must.
Labradors are known for being easy to train but they are also very friendly, and bouncy. Most love to rush up to other dogs and humans to say hello. This can be hard to manage when they are young. Poodles tend to be a bit more reserved, and some Labradoodles will inherit this trait. There is no guarantee that a Lab Poodle mix will be more laidback or calm than a Labrador.
Are Labradoodles Good Family Pets?
The Labradoodle is often a great family dog. Social, easy to train, and good with older children. If your kids are very small you might want to wait a while, or consider a mini Labradoodle, as Labradoodles are very bouncy when young. Your puppy will probably also be good with other dogs. And with a little supervision, he will be safe around cats and other pets. However, this is not a breed for homes that are empty all day, or for those that mind a bit of a mess.
These are social dogs that like company. They are also happiest out walking, and love to get muddy. And the curlier coated Doodles need quite a bit of grooming.
Training And Exercising Your Labradoodle
Labradoodles are active, energetic dogs that need regular exercise and mental stimulation. Both parent breeds are working class dogs, which typically have a lot of stamina. This means a short walk will not be sufficient. Daily long walks, hikes or runs should occur, as well as play sessions with you or other family members.
With two clever parents, your Lab Poodle mix should be a smart dog, and easy to train. They will do well with lots of mental challenges, such as obedience or agility courses. They may also do well with hunting and fetching.
Poodles and retrievers were both originally water dogs. So it's likely your adult Labradoodle will love the water and swimming, although this is not a guarantee. Labradoodles are eager to please and will respond well to regular training. Positive methods will give you great results and a happy dog!
Socialization
Proper socialization is a vital part of raising a happy, healthy dog, regardless of what breed it is. And it may be even more important for a mixed breed, since you can't be entirely sure what traits will arise. Socialize your puppy by introducing him to new people, animals, and environments from an early age. For more specific training, see our guides to puppy potty training and crate training.
Labradoodle Health
One of the arguments for designer dogs is the larger gene pool. More genetic variety should mean fewer health problems. Both Poodles and Labradors are healthy dogs in general. However, all animals do have to face certain possible health issues, and even mixed dogs like Labradoodles may not avoid all of them. Look out for these conditions:
Hip and elbow dysplasia
Epilepsy
Eye problems
Patellar luxation
Heart problems
Ear infections
It's important to check the hip and elbow scores of both parents to reduce the chance of a puppy having dysplasia. Both the puppy and the parents should also have eye tests conducted.
Labradoodle Lifespan
Labradoodle life expectancy can vary widely. Labrador Retrievers typically live 10-12 years. Poodle lifespan can vary anywhere from 10-18 years, depending on the type and size of poodle. This means Labradoodle lifespans could be 10-18 years.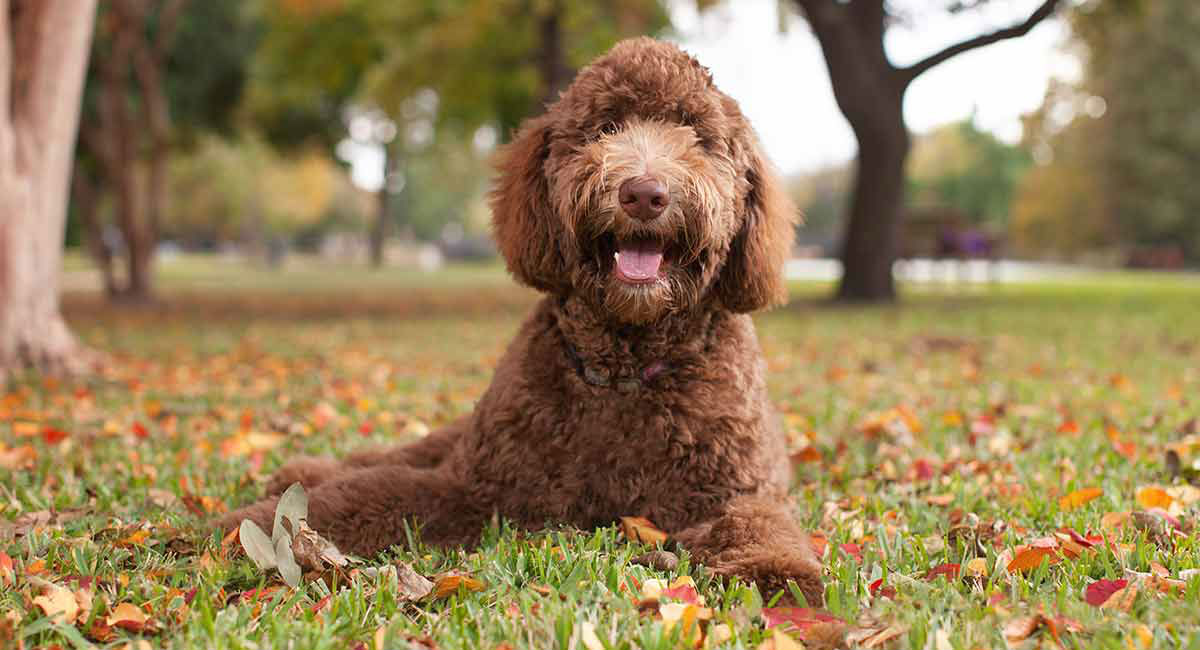 Rescuing A Labradoodle
f you choose Labradoodle adoption, make sure it's from a recognized shelter that has completed a temperament assessment. It is also wise to get it checked out by a veterinarian before adopting, if the shelter has not already done so. One of the nice things about rescuing a shelter dog is that you give them another chance at a loving home. And shelters are generally quite a bit less expensive than buying from a breeder, as well.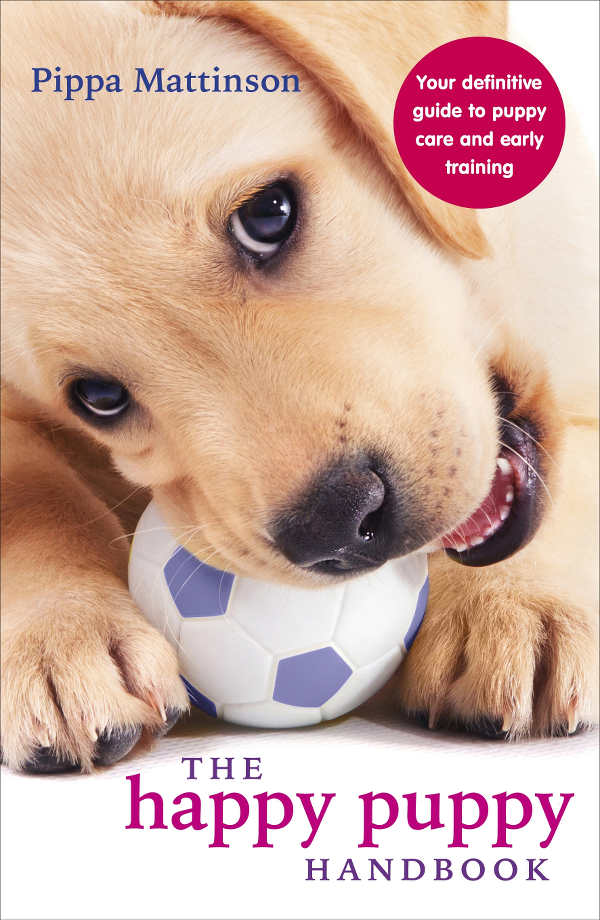 Labradoodle Breed Rescues
Labradoodles are, again, some of the most popular mixed breed dogs out there, and adoption is often sought after. So we've compiled a list of Labradoodle rescues around the world. If you come across any names that aren't on this list, please leave us a comment and let us know!
Finding A Labradoodle Puppy
A good breeder is vital to give a puppy the best start in life. And that good breeder can be hard to find when looking for a mix breed dog. Make sure any Labradoodle puppy has had all necessary checkups.
You'll also want to make sure the parent dogs have both been tested for common health issues in their breed. Ask to see those health certificates! Avoid puppy mills and pet stores. These establishments do not have the best interests of the dogs at heart. For more help, you can check out our puppy search guide.
How Much Does A Labradoodle Cost?
Puppy costs can vary across breeders. Labradoodle puppy price could range from $1,000 to $3,000. Avoid cheaper breeders as well as the more extremely expensive ones, because this could reflect on the level of care given to the puppies.
Raising A Labradoodle Puppy
Labradoodles will be excitable and energetic from the first day you bring them home. So raising them into happy, healthy adult dogs will come with some challenges, along with a lot of cuteness. Here are a few recommendations specifically for the new puppy about to enter your life.
Pros And Cons of Getting A Labradoodle
Cons:
A popular dog, so may be quite expensive
Mixed breed means it's not possible to guarantee a certain look or temperament
May inherit a more aloof personality from the Poodle parent
Needs lots of exercise
Pros:
Likely to be extremely intelligent
Will probably be very friendly
An excellent service animal
Comparing The Labradoodle With Other Breeds
To get the full scope of how the Labradoodle compares to other dogs of a similar type, we suggest taking a look at this article on Labrador Retriever mixes.
While there are some which you are likely to be familiar with, such as the Sheprador and the Goldador, you may not have heard of some of them! Cavador or Corgidor, anyone?
Similar Breeds
At the same time, you may very well be looking for some mixed breeds which are very similar to the Labradoodle. Here are a few suggestions that you may want to consider.
Related Articles
The Poodle,
Hypoallergenic Dogs.
References And Resources
Gough A, Thomas A, O'Neill D. 2018 Breed Predispositions to Disease In Dogs and Cats. Wiley Blackwell
O'Neill et al. 2013. Longevity and Mortality of Owned Dogs In England. The Veterinary Journal
Adams VJ, et al. 2010. Results of a Survey of UK Purebred Dogs. Journal of Small Animal Practice.
Schalamon et al. 2006. Analysis of Dog Bites In Children Who Are Younger Than 17 Years. Pediatrics
Duffy D et al. Breed differences in canine aggression. Applied Animal Behavior Science 2008
Strain G. Deafness prevalence and pigmentation and gender associations in dog breeds at risk. The Veterinary Journal 2004
Packer et al. 2015. Impact of Facial Conformation On Canine Health. PlosOne
Barnett, K.C. 1988. "Inherited Eye Disease in the Dog and Cat". Journal of Small Animal Practice.
Beuchat, C., 2014. "The Myth of Hybrid Vigor in Dogs…Is a Myth". The Institute of Canine Biology.
Harasen, G., 2006. "Patellar Luxation". The Canadian Veterinary Journal.
Lim, C., et al., 2011. "Cataracts in 44 dogs (77 eyes): A Comparison of Outcomes for No Treatment, Topical Medical Management, or Phacoemulsification with Intraocular Lens Implantation". The Canadian Veterinary Journal.
Oliver, J. and Gould, D., 2012. "Survey of Opthalmic Abnormalities In The Labradoodle". The Veterinary Record.
Patronek, G.J., et al., 1996. "Risk Factors for Relinquishment of Dogs to an Animal Shelter". Journal of the American Veterinary. Medical Association.
Pedersen, NC., et al., 2012, "Genetic Characterization of Healthy and Sebaceous Adenitis Affected Standard Poodles from the United States and the United Kingdom," Wiley Online Library.
Trbolová, A. and Ledecký, V., 2000. "The Relationship Between the Occurrence of Lens Cataract and Progressive Retinal Atrophy and Some Categories of Poodle Breeds". Folia Veterinaria.
Vredegoor, D.W., et al., 2012, "Can F1 Levels of Hair in Different Dog Breeds – Lack of Evidence to Describe Any Dog as Hypoallergenic". Journal of Allergy and Clinical Immunology.
This article has been extensively revised and updated for 2019.